As widower Phillip (Pierce Brosnan) walks cancer-stricken Ida (Trine Dyrholm) through his Sorrento lemon grove, the wealthy fruit and veg magnate explains how most of the trees bore oranges for a hundred years before being pruned with lemons. Trees that now have to be regularly nurtured so they don't revert back. Like Philip, the grove has gone from sweet to sour in old age. Dutifully writing a many-zeroed cheque for his son's Mediterranean wedding to Ida's daughter, Philip shows no visible sign of happiness whatsoever about the prospect of his only son Patrick (Sebastian Jessen) making a lifelong commitment to Astrid (Molly Blixt Egelind) and tying the knot.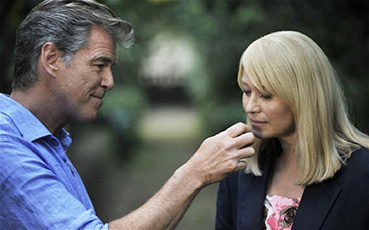 Alone with Ida and talking with such joyful enthusiasm and connection to these trees, it's clear that stonehearted Philip was happy once. Having his own lifelong commitment cut short and still mourning the loss of his wife in a tragic accident (Brosnan's performance plumbs these emotional depths with poignant resonance having dealt with marital tragedy in his own life), Philip's since pruned himself of all feeling and chosen not to revert back to caring about others.
A chilly father, Philip's emotional negligence is so purposely cultivated, its effects are felt by everyone he comes into contact with. Sharing a cab with Ida from the airport, Philip is seen barking down the phone at a colleague, insisting he miss his son's seventh birthday party for work. With unfeeling logic, he reasons that the boy isn't going to remember anyway, so he might as well just send him a card. This one-way conversation is played for laughs; in Brosnan's rat-a-tat-tat delivery and Dyrholm's appalled reaction, but the ex-007's performance impresses even more so in how he shades suave, supercilious humour with horrendous heartache and the delicate implication of buried feelings surging very close to the surface. In the many silences they share, Philip's anguished awareness of only having himself to blame for the lack of closeness between him and his son has a palpable yearning; the desire to embrace Patrick, hug him close and tell him how truly sorry he is, which of course he doesn't act on.
In this same scene Ida, returning home from a chemo session at the beginning of the film to find her husband cheating on her with his much younger receptionist, is all smiles, as sunny as the setting she and Philip are strolling through. Life has quite literally given her lemons and perhaps that's why she's so partial to the fruit, admitting that she "really can't imagine life without them."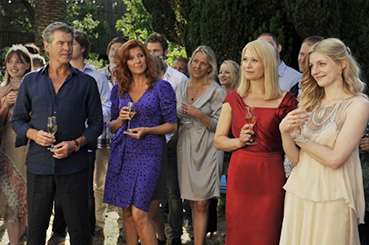 Love is undeniably in the lemon-scented air as Philip finds his high spirits restored by Ida's upbeat attitude of choosing to make the most of the present rather than wallow in the past, and the way she deals with the worst life can throw at her with dignity, grace and laughter. This mismatching of forlorn and inspiring characters is a recognizable recurrence from the downbeat dramas for which co-writer/director Susanne Bier is known and it's great to see this successfully translated for her first foray into romantic comedy.
Acclaimed foreign filmmakers all too often get lost in translation when working abroad or in another language, something Bier herself fell victim to with her stodgy, self-important and rightfully forgotten Hollywood debut Things They Lost in the Fire. It might take place in Italy with over half its dialogue spoken in English, but retaining a distinct Danish flavour disrupts the predictable "will they, won't they?" structure and helps the film stand above and apart from the bland expectations of the mis-marketed genre to which it belongs.  
In a radically lighter, life-affirming register than heavy-hearted woe-fests, Open Hearts, Brothers and In a Better World, when it needs to be, Love is All You Need is still surprisingly caustic and unsparingly truthful in its portrayal of fractured families on their best behaviour. A sunnier flipside to Bier's own After the Wedding, this rapturous fairytale romance is a picturesque passport to cobbled streets, ship-filled ports and days spent lounging on rocks in the sea, but during the wedding itself the participatory, at times punch-drunk camera is also strongly reminiscent of Bier's previous nuptials. Right in the thick of the celebration, DP Morten Soborg puts the Dogme in family dysfunction, finding sadness behind the smiles and rooting out volatile tensions.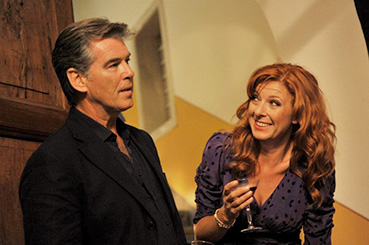 Paprika Steen as Philip's lustful sister-in-law Bendikte steals scenes as she tries to steal Philip for herself with drunken, come hither come-ons. A hilarious routine until Philip lets her down the hard way with both barrels. The script by Bier and her frequent collaborator Anders Thomas Jensen is extraordinary in the way the comedy goes from light and breezy to citrus acid so suddenly, providing an unexpected source of tension. Admittedly, the tensest moment is unintentional, with Brosnan busting out some Mamma Mia dance moves, though mercifully refraining from bursting into song.
Brosnan has always been a consummate comic actor (little seen gem The Matador is tour de force proof of this) but Dyrholm is a real surprise in this type of role. So used to seeing her screaming her head off and crying her eyes out, it's a delight to watch her be so effortlessly charming, kookily endearing and elegantly witty, engaging Brosnan in some screwball-lite, lickety-split patter that really makes you warm to them to you as a couple.
Frankly, it's a joy to see a general release film in which the two people falling in love aren't teenagers or twenty-somethings. The romance being as rustic as the surroundings, Philip and Ida's bumpy life ride has worn them down enough that they feel as substantial as they are gorgeous. Rare is it that we get romantic leads of such depth and age. The last great love story over forty was 2010's Cairo Time, a film ultimately not deemed worthy of UK audiences.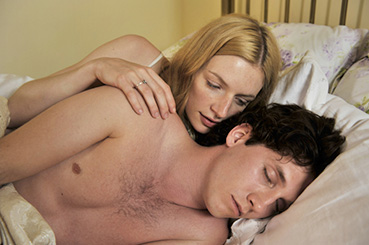 To Bier's credit, at least she does something with the young lovers who instigate the plot, unlike the upcoming The Big Wedding in which the betrothed couple (Amanda Seyfried and Ben Barnes) are nothing but good looking instigators for a series of buffoonish, sexagenarian mishaps and misunderstandings.
By contrast, this film's bride and groom are a plausibly beautiful, real world couple whose sexual confusion and last minute commitment jitters provide the ingredients for a secondary plot that's very much in the style of Bier's previous gloomier work, yet still as emotionally engaging as the central love story. Molly Blixt Egelind has a particular fresh-faced appeal and will hopefully use this as a platform for higher profile roles.
The au naturel approach in casting extends to the presentation of the setting. Richard Linklater's upcoming Before Midnight shows him to be the one and only American filmmaker who understands, that when you're in such stunning locations, it's best to let natural beauty and light take care of itself. There's simply no need to gloss up the sun-dappled splendour that greets you on every corner as if the film were a spread for National Geographic. In Europe it's the French who routinely excel at this sort of bucolic, organic look, but Danish DP Soberg has made an early claim for best looking film of the year.
A ray of sunshine in this time of persistent spring showers and a blessed relief from the date night doldrums of Safe Haven, I Give it a Year and Playing For Keeps, Love is All You Need is a gloriously, grown-up romantic getaway and one the best films of the year so far, regardless of genre.