"My name is Paul Raymond, welcome to my world of erotica."
I'm watching the biopic of porn baron Paul Raymond at the Soho Screening rooms in the very heart of his seedy playground. I've just walked through that same world of erotica to be here tonight. Burlesque glamour shows and keyhole revue bars have long since been replaced by sex shops and open door stairwells advertising second floor "models" (crayola coloured signage selling vag the same way the greengrocer down the street sells veg), yet the dank, dilapidated buildings of Walker's Court seem remarkably unchanged when you see them in the movie over fifty years earlier. The empire still stands and going by director Michael Winterbottom's period recreation, as tatty as it ever was behind all that velvet.
When I finally get to the screening room (screen one to be exact) the film starts and there's a scene of Raymond and his business partners reviewing rushes of a documentary about his life. They're sitting in screen one of Soho Screening rooms, identical to how it is now with not an inch of set dressing. Coogan is looking out at me disapprovingly, sat exactly where I sit watching him.
Talk about a meta movie moment. Like a stoner's jolting flash of sudden lucidity, there's the fleeting illusion of greater understanding and depth, a feeling the film lacks when it comes to the motivations of any of its characters.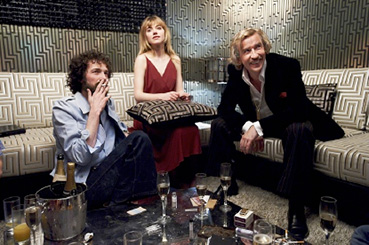 Seen through the eyes of the only three women Raymond hasn't broken down into constituent parts of bush, butt and breasts, this not so loving look at a philandering entrepreneur's life, re-claimed by women and told from a feminist perspective (even if none of them can hardly be called shining paradigms of womanly virtue) is a daring set-up, ultimately amounting to little more than a streamlining narrative device, giving the film its episodic structure.
Anna Friel is on fire as Paul's neglected wife, Jean, the only one who sees right through his bullshit, but why she lets him run his dick all over town and doesn't completely cut him out of her life is never satisfactorily explored. Tamsin Egerton is Men Only columnist Fiona Richmond, the slinky minx Paul leaves her for, all too eager to get down to her smalls. Nothing is left to the imagination except Paul's reasons for putting this bombshell on a pedestal above the flock of blonds throwing themselves at him. It's fast-rising star Imogen Poots who makes the biggest impression as druggie daughter Debbie, emulating her father's lifestyle as she follows Dad down the showbiz toilet. The darker side of a daughter's love is seen at its most unquestioning and naïve, Paul plainly encouraging debaucherous father-daughter bonding and always ready to pick up the pieces of their damaged relationship with a pick-me-up. Always there but never present, Paul lets his daughter do coke while he's in the next room having a threesome and Debbie's dabbling soon turns into dependency. Poots makes the most of limited screen time, really getting to grips with the unhealthy narcissism and desperate need for approval of a Daddy's girl driven to snorting self-esteem.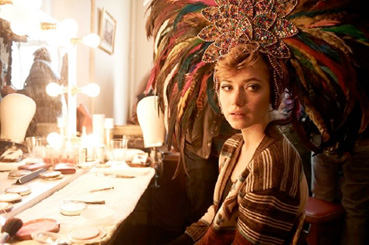 Steve Coogan himself has referred to Raymond as "the man behind the curtain", living in the fast lane to hide the fact he was desperately boring. He's not entirely wrong either. Of the two characters, Debbie is far more intriguing. It's Poots, not Coogan who gets the darkest scene in this otherwise curiously lightweight affair, screaming for coke and doing lines whilst giving birth. While the actors do a great job of shaping father and daughter's downward trajectory, there's nowhere for the characters to go but down from their very first scenes together. The pull of gravity exerts greater force on their story than any sense of emotional movement, as Winterbottom choppily hands the point of view back and forth between the three women, being overly reliant on split screen and montage.
The film displays plenty of skin but psychologically only ever goes skin deep. Raymond's portrayed as a fun-loving libertine, raging against puritanical sensors, but in his attempt to avoid 'Daily Mail judgmentalism', Winterbottom distorts the facts about the pernicious extent of Raymond's top shelf racket and softens the focus on some of the magazines' more abhorrent content, setting feminism back decades, at a time when the movement was finding expression in the mainstream.
If my earlier "meta moment" was a temporary distraction, the same might be said of the meta casting of Coogan as Raymond, a man who knows more than thing or two about the pathetic loneliness of pushing the limits of decadence. With a gaudy treasure trove of one-liners, Coogan is in theory, a perfect fit. On the failure of his West End sex farce, 'Let's Get Laid', Paul proudly proclaims that "to be described as the worst play in the last twenty five years is almost as good as being described as the best", a joke Coogan delivers with such fatuous self-seriousness, it speaks to something of Raymond's unshakable faith in his own version of the truth, a pervert's passion for rank values, though Winterbottom shies away from showing us just how rank. There's an attempt at profundity here, but behind his porno moustache, you can never quite shake the feeling that you're watching Coogan play out another iteration of the Partridge persona. When Raymond starts doing impersonations, you half expect Rob Brydon to walk on and try and upstage him.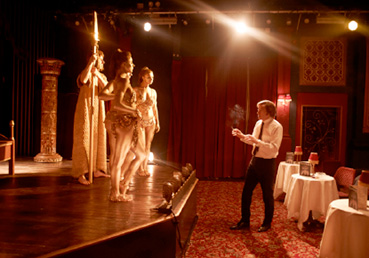 Wobbling unevenly between comedy and tragedy, it suffers in comparison to the majority of other Winterbottom films with a much surer, deft touch. It's neither as scandalous as the multiplex Sex-O-Rama 9 Songs, nor as dangerously hedonistic as 24 Hour Party People and never drips with sin the way it should.
Lacking in insight, you'll get a more salacious, sordid sense of Paul Raymond's world of erotica with a quick stroll through Walker's Court.