Ananda (Ananda Everingham) has recently returned home from University in San Francisco. Despite no prior acting experience, he's been cast in a Thai movie about a survivor of the 2004 tsunami. His Chinese-American college girlfriend Zoe (Cerise Leang) has flown in for an on set visit, only to find him preoccupied with work and uncommutative. Ignoring her obvious language barrier and irritated at having to play translator, Zoe is left to roam around the off-season hotel, making companions of the hotel staff with whom conversation proves harder still.
A year later, Ananda is now with May, a Thai publicist for the completed film, cringingly forced to revaluate her relationship when Ananda's trash mob of American frat friends pay them a surprise visit in Bangkok. This time, the impedimentary language barrier offers blissful relief from Beastie Boy ghetto speak, requiring no translation at all.
Too Thai for one, too American for the other, Ananda is a man comfortable in both cultures, belonging to neither. He's also a quick study of the culture he finds himself in on set. When his director asks for a second take of a key shot, reversing the blocking so that the dolly move speeds up and the leading man walks more slowly into frame, Ananda nails it on the first try. The film continues in this fashion, exploring character through canny, yet barely perceptible visual juxtapositions. Similarly, the sense of geographical displacement is largely intuited from the mood of the visual presentation, broadly painted in de-saturated, digital strokes. That these anxieties are only talked about in passing partly explains why Assarat fails to tap into the uncertain mental and spiritual drift of a man caught between two worlds.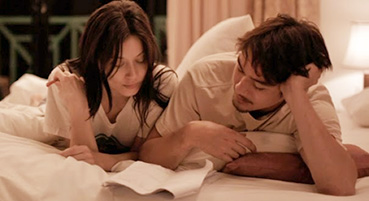 Assarat's technique of splitting the narrative down the middle into reflective halves feels obvious – the ways in which one relationship informs the other, less so. In both, Ananda translates text for his girlfriends; the lines he's learning that night into English and later, reviews of the finished film into Thai. If this doubling up is supposed to throw light on where Ananda does or doesn't fit in, allowing us to see him in a completely different way, his personality remains unchanged and untroubled. Perfectly content with his in-betweener status, the parallel of his playing an amnesiac tsunami survivor jogging his memory by revisiting ground zero and himself, so thoroughly westernised by his brief time abroad that he's already forgetting the language and customs of his homeland, is a tension merely hinted at but never explored. 
The idea of a movie star in high society (the film's native title), jetting to far-flung locations which they never see between the set and press junkets, is another tantalizing story thread left hanging. Moved aside as a supporting player in his own story, Assarat mistakenly frames this as a tale of two woebegone girlfriends left with no one to talk to. The misguided navel-gazing of these three culturally alienated amoureux is just as likely to alienate the film's limited audience.
Director Aditya Assarat will be in attendance for a Q+A following these two exclusive screenings..
Friday 1 March (6.15pm), Curzon Renoir – UK Premiere
www.curzoncinemas.com/cinemas/renoir
and
Saturday 2 March (2pm), Hackney Picturehouse www.picturehouses.co.uk/cinema/Hackney_Picturehouse
---
If you missed Friday night's Q&A, you can watch Timothy E. RAW's interview with director Aditya Assarat below. The video has been optimised to be viewed full screen at 720p.
---
http://www.facebook.com/HiSoFilmUK
https://twitter.com/day4night_films
HI-SO is in cinemas 1st and 2nd March. Check www.day-for-night.org for listings