Sprocket Holes is an irregular column focused on small release films either playing limited engagements in major cities or available on VOD. As well as appreciating indies on the fringes of the festival circuit, it also takes a second look at under the radar, underappreciated, unheard of films that have slipped through the celluloid cracks.
Biopics are a lot like adaptations of bestsellers. They often come loaded with unrealistic expectations. Be it Oscar Wilde, Margaret Thatcher or Ray Charles, if the personality, politics or artistic output of the life on screen has affected you in any meaningful or momentous way, the pre-conceived notions you have of that person are those by which the film is judged and the viewing experience shaped.
In the late nineties there was a lot of talk of Robert Rodriguez "getting serious" after his shoot-first-deliver-cool-one-liners-seconds-later double bill of Desperado and From Dusk Till Dawn, with a musical biopic detailing the drug abuse and alcoholism which fuelled the firebrand live performances* of blues guitar God Stevie Ray Vaughn. The film never made it past the early stages of pre-production, though Vaughn's tale of recovery and redemption with a tear-jerking tragic end is tailor made for the movies and his musical legend is certainly worthy of one. Here it's worth noting that Vaughn's music has been an important part of my life since an early age, his musicianship setting a gold standard against which all else has since been measured, so naturally, despite being Robert Rodriguez's number one fan at thirteen, even then I was more apprehensive than excited. It's well known that Rodriguez is an avid fan and would likely have made a film for the fans, but none of his previous movies (or more recent ones) suggested he had a tragedian's gristle and guts. The rebel without a crew is all too happy getting down 'n' dirty aesthetically but emotionally, he's always looking down the barrel of a gun. Interestingly, Rodriguez had also intended to author the script, in a genre defined by well-worn templates of award-winning formula.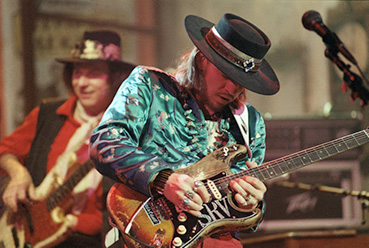 Though Vaughn's life and talents came to a premature end right at the peak of his musical powers and on the cusp of widespread recognition that left fans wondering what might have been, many of SRV's classic concerts have thankfully been well documented, ensuring his legend will never die. And that's why any seasoned screenwriter isn't looking to recreate the concert experience or go for a more expressionistic take driven purely by music over musical demons. Albums and live DVDs already do a far better job. If you want the greatest hits, get the CD. What you'll likely get instead is a greatest hits of the artist's life; a conventional compendium of ups and downs from birth right through to death, the screenwriter trying to cram as many years into two hours as possible without properly examining any of them.
With the best intentions, the screenwriter tries to build a narrative out of collated facts behind the music and give some insight into the personal life off the stage as well as on it. In so doing, the trick is not to separate the work from the life, by which I mean it's far easier (and supposedly more entertaining) to show Stevie partying and pumping himself full of drugs than it is to show him toiling away at his craft and honing his chops. Slanted too far in one direction, this approach rarely works. Showing the ugly side of an icon angers devoted fans there for the music and for the rest of us, the hero-worshipping filmmakers usually aren't prepared to make it ugly enough. As with many films attempting to inject conflict into the solitary creative process, the risk of trying so hard to show Vaughn as a certain type of musician through little known facts and sensational hearsay, is that he ends up playing barely any music at all. Somewhere in the middle of crafting the perfect bit of Oscar bait (see Ray and Walk the Line) the screenwriter successfully hits all the expected beats (tough childhood, musical salvation, fame, the fall that follows it, redemption at the end of life or in death), but forgets to pay due reverence and respect to the music that makes the man who he is. That same music which brings an audience to the cinema.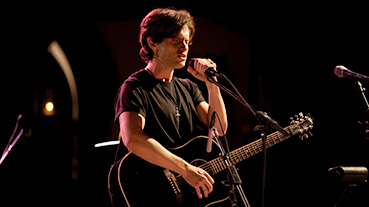 By contrast, I can't pretend to weigh in with any informed, invested opinions on either of the Buckleys. My only experience of Jeff's music prior to viewing the film comes from seeing rock band Alter Bridge do live covers of "Hallelujah" (itself a cover of a Leonard Cohen song). That does mean that I watched the picture purely as a piece of filmmaking without any bias or expectation, and on that level this is the story of a life that will please both audiences, with musical performances as good as you'll see in any biopic. Cause for celebration if you're a devotee.
Almost as impressive is the way writer-director Daniel Algrant and co-screenwriters David Brendel and Emma Sheanshang move away from standard biopic structure with a narrow time frame, parallel father-son storylines and a general low-key approach, though the script's structure eventually bows under the weight of its two-biopics-for-the-price-of-one deal, barely breaking the surface of its subject(s), a move that may leave hardcore fans feeling short-changed.
Tim Buckley's greetings reverberate from beyond the grave (and in flashback) when his son Jeff is reluctantly persuaded to participate in a tribute concert for his not so dearly departed dad, who wrote love songs on the road but spared little of that love for the family he left behind. Unable and unwilling to connect the musical legend to an absentee father, Jeff is sceptical of people paying worshipful tribute to someone they don't know – someone who found time to invite his son to his house only once in his life, and proceeded to spend the three weeks they were together completely apart, locked in the studio alone. Jeff holds his father's music in similar regard, discrediting it as nothing more than acid trip notebook scribbling that stopped when he ran out of pages.
Jeff's unexpected attendance just week's prior to the St Ann's Church tribute is compelled by curiosity strong enough to bring him all the way from Orange County, California to Brooklyn, New York in the spring of '91. If time spent with the musicians who knew his father best is a subconscious attempt to give the ghost who haunts him more substantive form, little is learned other than one vital bit of information from Tim's then tour manager (William Sadler), that his father used to drive hundreds of miles home from gigs late at night and sneak in through the window to watch his son sleep.
Not much else can be put into words and it's only when Jeff learns the songs of his father's legacy and plays them in front of a live audience that he begins to understand the higher musical calling he himself will soon answer.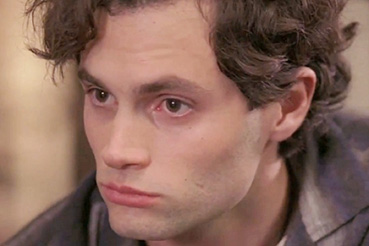 Two years prior to the recording of "Grace" (Jeff's only album that left its own influential legacy after he accidentally drowned in Memphis at age thirty), the St Ann's tribute is really the concert that announced Jeff Buckley to the world, while at the same time ensuring his father was gone but not forgotten. It's fitting that a church birthed a voice consistently described as heavenly in the years since his death, a setting also appropriate to the story. A celestial conduit, it permits Jeff to speak to his father across the eternal gulf and in his song, perhaps even hit a note of forgiveness.
Jeff Buckley's life was a brief one, so Algrant's choice to cover only a small section of that – weeks, not years – is a refreshing break with convention, undermined as he then tries to cover two lives in the space of an hour and forty minutes in what amounts to a damaging act of demystification. The quaint triviality of Tim Buckley's affairs on tour don't find a muse behind the music, nor do they come close to capturing the essence of the excessive sex-drugs-and-rock 'n' roll lifestyle that eventually took his life following an overdose. In budget-straining, period dress-up, Ben Rosenfield plays the older Buckley in flashback, his caricatured ramblings about Vietnam drunkenly obvious and sapping the character of any mystique. Overbearing sound edits are used to crosscut between generations but in no way does the past ever appear to inform the present. Neither pushing Jeff's story forward nor offering a different perspective from which to see it, all the events depicted are totally unknown to Jeff and have no part to play in his character arc. Seeing Tim return home at the film's conclusion to watch his son sleep is the one scene of a fragmented past that Jeff acquires knowledge of and the only one to have emotional resonance in the present. Restricting his father to a single appearance would have more effectively pulled at the heartstrings by keeping Tim an unknowable figure and underlining the fact that he's a man Jeff can no longer have any kind of relationship with, no matter how much more he comes to understand him.
A superfluous subplot in which Jeff takes a trip to his family home in upstate New York with the intern who falls for him (Imogen Poots, trying her best with manic pixie dream girl dreck) ends with him sobbing in a motel room having learned nothing. And isn't that the point? The only connection he has with his father now is the music, and the audience can't feel the same desperation he does when given a window into Tim's life (however unilluminating it proves to be) and are granted access Jeff is not.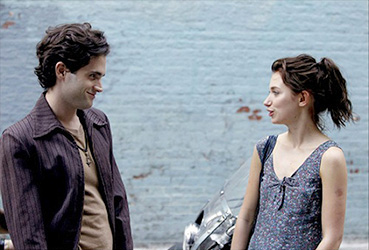 Buckley senior's storyline only ever feels like padding to bulk out the running time and Algrant should have trusted the tormented ambivalence of his lead performer and stuck with Jeff's abandonment issues, explored most tellingly when he steps out on stage.
Musically the film excels in just about every aspect; the staging, the rawness of the performance and editor Bill Pankow's judicious use of cutaways to various band members writhing in song, expressing what this man meant to them in the commitment of their playing. It's a poignant collage of bittersweet celebration with DoP Andrij Parekh favouring the unguarded intimacy of faces in close-up, a shooting style reminiscent of Jonathan Demme's concert films of Neil Young. Unlike most biopics, the concert feels like a real gig rather than a production designed showstopper, with actors inserted amongst real musicians (including Kate Nash) and playing their instruments. If you're still not convinced, the looks of awe and enjoyment from the audience of extras makes it clear this was done live without multiple takes.
The switch from narrative storytelling to concert expressionism is as surprisingly seamless as it is unexpected, Algrant taking the time in the early scenes to hang out backstage, wandering in the wings in Altman-esque fashion and capturing an authentic atmosphere of the preparations that go into such an event. In the organised chaos of being right up against the wire, confirming acts in dribs and drabs with musicians who don't gel till the very last minute, there's many a telling stressful detail, such as Richard Hell throwing a fit over the fact that they can't use the organ he wants because it would require five mics they don't have. By the time the show actually goes on it's as much a cathartic release for the viewer as it is for Jeff, finally making peace with the music that stole his father from him.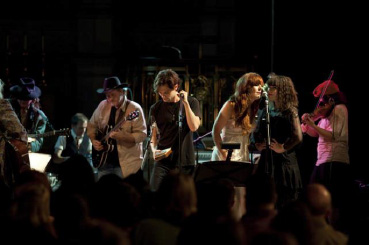 In Penn Badgley, you have the key to the film's success, a doppelganger who doesn't just look like a ghost when he steps up to the mic, he sounds like one too. Rather than leave you hanging with doubts as to whether Badgley will be able to do the songs justice until the big show, Algrant and his collaborators slyly insert scenes which soften the anticipation of his Buckley impersonation. These give an impressionable idea of the actor's vocal range without spoiling the magic of him singing Buckley's songs, held in reserve until the concert.
When Buckley finds himself vibing off a fellow band mate and getting in the zone as they feel their way through an extended jam of work-in-progress riffs, he's wailing notes that will later form the basis of his album's treasured title track. The scene itself is little more than a trivia note for fans, which doesn't move the story along in any way, but it's these true-to-life scrappy moments which don't fit so easily together in a narrative that remind us that the biopic doesn't have to be as smooth and straightforward as the Oscars would have us believe.
An impromptu date at a record store with Allie the intern is an early wowzer of flawless mimicry, Badgley doing A Capella renditions of the vocalists on each record he picks up as he moves down the aisles, ending with a rock star slide on the floor and belting out some Zepplin. The sudden switches of vocal style best encapsulate this personality in pieces; cocky exhibitionist one moment and slouchy little lost boy the next. A primal scream of unanchored, enigmatic youth, Badgley's incredible performance is sure to turn a lot of heads, proving there's much more to him than Gossip Girl.
By the time we get to long held takes of the star delivering stripped back, soulful interpretations of "I Never Promised to Be Your Mountain" and "Once I Was" in front of an audience, Badgley is living these songs in a way that goes beyond acting.  Doing much more than simply paying tribute, they stand alongside the originals in their own right, opening the eyes of the uninitiated to a musical legacy which will have them clicking through to iTunes before the credits have rolled.
Greetings from Tim Buckley plays its final Tribeca performance this Thursday at 8:30 PM at the AMC Loews Village 7 – 3. The screening is sold out but details on rush tickets can be found here.
Alternatively, the film is available on demand through either the UK or US iTunes store.
---
*SRV's performance of "You Better Leave My Girl Alone" in 1990 at Austin City Limits will melt your face!