"Cinema thrives on racial and sexual difference."
Isaac Julien
In the life of a filmgoer, there are certain landmark moments where films step out and speak to us from beyond the ordinary, where they are more than a film. But, let me be clear, I'm not simply thinking of films that stir emotions – whether happiness, sadness, fear or anger – I'm talking about films which where they appear to communicate something to you that makes you change the way you think about the world and yourself. A bold statement, I know, but you're already thinking about films that have affected you in some way through your lifetime. Though I could list my own personal filmic journey, I'll refer you to just one. My last film landmark is the first time I saw Isaac Julien's seminal biopic-turned-meditation, Looking for Langston, a founding text of the New Queer Cinema.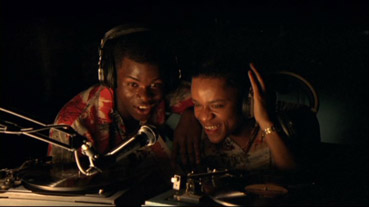 As a film student at the time, pre-viewing, I approached the task from the perspective of logic, learning about the various social, political, economic and historical contexts which surrounded the film, its subject and its director, getting a crash course in Julien, black history, 1980s film funding, the work of the Sankofa collective and the Harlem Renaissance in the space of a week. Talk about mind-blowing. For all that groundwork, I still found myself unprepared when I saw those opening frames, simply because, it was nothing like I expected. On the one hand, it was subtle, beautiful and almost ethereal. On the other, it was bold, antagonistic, powerful almost violent. This was a biopic not in the Hollywood rags to riches sense. Of course, I already knew Julien's film wouldn't be remotely mainstream; the subject alone made it less off the beaten path than John Maybury's Love is the Devil, Christine Jeffs' Sylvia or Laurence Dunmore's The Libertine, but reading about something and seeing it are very different things.
Intrigued, I sought out Langston's work and admired it, but had yet to make any real connection with it. However, as soon as I saw the film, his words took on a different kind of immortality, quite different from reading them in print. Langston Hughes, the Harlem Renaissance poet, who'd lived, loved and died before I was even born, suddenly meant something, suddenly felt alive to me in a way I hadn't anticipated. I considered this rather profound connection between myself, the film and Langston as a figure just to be a fluke, since I typically enjoy films about art and artists, but in truth, I'd never seen film where it actually felt like art. It was like watching the visual equivalent of a John Keats ode; like a love letter to from one artist to another, full of admiration rather than romance. Though, this was no ordinary love letter either, the nostalgic rose-tinted spectacles are most definitely traded in for honesty and openness – rather ironic considering the subject matter – but not at the expense of beauty.
Where Julien's work is concerned, expect the unexpected is a useful note of caution for the uninitiated. The subjects he chooses to cover – either in his film work latterly in his gallery installations – are not radical, they are merely an expression of his heritage as a black, gay man, but where Julien excels is how his eye sees the world, how he presents that material, what he uses to get there and the relationship between those elements. From the start it was immediately clear to me that Isaac Julien was no ordinary director, and surprisingly enough, my connection to his very particular brand of cinema was no fluke, and his work still retained a composed almost painterly feel.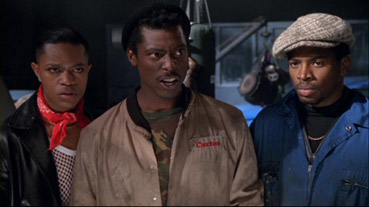 After I met with Langston Hughes, through Julien, I became acquainted with another side of black British youth culture, through his mainstream crossover hit, and Cannes Semaine de la Crituque winner, Young Soul Rebels (released by BFI to celebrate Black History month alongside Horace Ove's Playing Away). In all honesty, Julien was on to a winner with me from the start. I love films about music and/or youth and pop culture, whether they be sweet and nostalgic, like Cameron Crowe's Almost Famous and Tom Hanks' That Thing You Do! or follow a grittier, darker path in their depiction of the tortured and the talented, such as Iain Softley's Backbeat, Anton Corbijn's Control and most recently, Nick Moran's Telstar.
But let me be clear, Young Soul Rebels isn't the black East London forerunner to Richard Curtis' The Boat That Rocked. While both films are undoubtedly made for entrainment, their effervescent performers, period setting (1977 in the case of the former, and 1966 in the latter), and pirate radio narratives are where the comparisons end. As the O'Jay's once said, there's a "message in the music." Of course, it might sound like I'm being rather elitist, I enjoy a Richard Curtis comedy as much as the next girl – since they do a rather marvellous job of holding up a rather large part of our film industry by neatly packaging Britishness in a way that's globally palatable and successful – but I also like my film's with a bit of substance, and substance is where Julien excels. His origins with the Sankofa film collective set Julien apart as an artist – yes, I say artist and not filmmaker – who not only speaks for but speaks to his audience, primarily concerned with questions of sexuality, gender and identity. On the surface, Young Soul Rebels is a black Briitsh buddy movie, but like Langston isn't just a biopic, this isn't just a buddy movie either. I'm by no means accusing Julien of misdirection, but like all films, what you looking at, and what you see are sometimes two different things, and in Julien's work, such a distinction has never been more appropriate.
Set in the summer of 1977, in the days preceding the Queen's Silver Jubilee, vhildhood friends Caz (Mo Sessay) and Chris (Valentine Nonyela) run a pirate radion station, 'Soul Patrol', from the back of a East end garage, run by Caz's older brother, Carlton (Eammon Walker). Dreaming of making it big, Chris visits Metropolitan Radio to try and get a slot on the air, crossing paths with a idealistic production assistant Tracey (Sophie Okonedo, making her film debut), who tries to help him along the way. Following the murder of a local gay man, TJ (Shyro Chung), Chris comes under suspicion. As the Jubilee celebrations near, the social and racial tension within the community comes to a head, while Chris and Tracey work together to prove his innocence and find the true identity of TJ's murderer.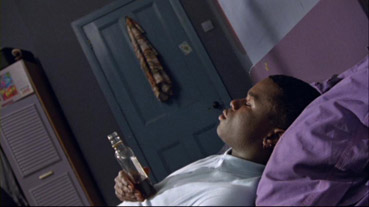 At times, the setting of the film is hard to decipher, and flounders under the weight of somewhat mixed signals given by elements of costume and dialogue, at times, it seems to emulate 1991 more than 1977, fusing the two time periods just like Looking for Langston did with the 1920s and 1980s. Odd it may be, but I don't believe it's merely a product of poor production design, and more a cue for us to draw parallels between the two eras. Fittingly, at the time of its release, it saw Julien being championed as the British answer to Spike Lee, after the film drew comparisons Do The Right Thing. Though such acclaim might have given the film extra attention in terms of column-inches and a little more in the way of box-office attraction – nothing does more for an independent film than being compared to something that's already garnered a lot of attention. However, Julien disliked the correlation, and having seen both films more than once, I'm rather inclined to agree, I've always felt it a rather reducitivist label. Lee and Julien explore, present and represent their respective worlds in very different ways, and if you wanted to draw a deeper link beyond the rather tenuous one of their identity as black who tell stories of urban youth, then I'd suggest that, broadly speaking, Julien is the ying to Lee's yang, the positive to his negative, challenging stereotypes rather than perpetuating them – though not all of the youths in Lee's films are typically 'bad'.
It seems odd to suggest that a film with a murder subplot is positive, but in truth, this isn't the focus of the film, merely part of the narrative threads which weave together to build a wider picture life for young black men at that time. Chris and Caz are endearing, likeable young men, and their energy really brings the film to life, due in no small part to the strong performances of the lead actors. You can't help but warm to their entrepreneurial zeal, determined to carve out a future for themselves by doing something they love, and in turn, sharing that with other people. Their love of soul music becomes a social mobility tool and a kind of currency, reinforced by the fact that Chris' belief that one day, he and Caz will become famous DJs on Radio 1, outshining their role model, Metropolitan Radio DJ, Jeff Kane (Ray Shell).
Music is the heart of this driving force of this film, its steady beating heart in more ways than one. The powerful soundtrack ties the film effortlessly to the period and ties into our collective cultural memory whilst binding us to the narrative. However, Julien's film is much more than a soul-infused jukebox. For Caz and Chris, music is both an expression and a representation of their culture and identity. One particularly memorable scene involves Chris being interviewed by a conservative – and probably middle class – radio executive, when his friend (later girlfriend) Tracey encourages him to make a mixtape to secure his own show. The executive states that although he enjoyed Chris' selections and liked his personality, he then asks him if he can be "more English." Understandably riled, since both his cultural and social identity are being attacked, Chris responds by mocking him in patois, mimicking Carlton and the other Rastafarian garage boys who spar with Chris and Caz for their love of soul music and 'soul boy' status.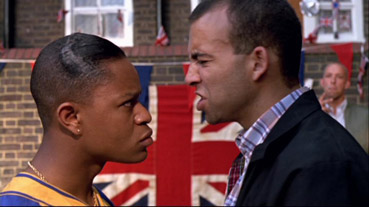 Perhaps one of most difficult things to understand about this film is the level of social integration the characters achieve through the music they listen to and the bonds of their friendship. The oil and water, tribal nature of the Rasta, soul boy, skinhead and punk sub-cultures is often challenged, especially during the concert scenes at the Crypt Club and the Jubilee celebrations at the park, leading to unlikely alliances. Though Chris in particular is harassed Sparky (James Bowers), the ringleader of a small neighbourhood group of skinhead lads, when he challenges another member, Kelly (Billy Braham), for playing down his status as a mixed-race man, and going along with the gang, he remains largely unchallenged, escaping the group when he flees to the park in search of Caz.
Likewise, the romance between Caz and Billibud (Jason Durr), a white punk activist who hands out copies of the socialist worker, seems completely implausible and yet at the same time, reflective of how people from different backgrounds can be brought together by love, playing out like a modern, British-accented spin on Hollywood culture clash studio dramas. It's even more refreshing to see that Caz's sexuality isn't overplayed; in fact, his possible attraction to Chris is one of the many intriguing little threads Julien leaves to dangle, unanswered.
Though it could be argued that this almost utopian vision of the boundary-breaking relationships between diverse social groups makes the film unrealistic, but it could also be an attempt on Julien's part to challenge received notions of different social groups and sub cultures – as Chris does during the radio meeting – to make a film which is not only reflective of youth culture at that time, but one which also makes strides to suggest how that culture can evolve in the future. This, more than anything else, proves that Young Soul Rebels is a film far ahead of its time, and is an incredibly important document of social and cultural history.
Young Soul Rebels is proof, if any were needed, that Isaac Julien is an exemplary and entirely unique British artistic voice that will go on speaking long into far into the future, whether his work is shown in a gallery, cinema or on a television.
A superb 1.77:1 anamorphic transfer what has to be a carefully preserved or restored master, whose sharpness, contrast and colour reproduction are close to reference quality. Prime colours are especially rich, and this is a seriously clean print for a 1991 film – there's hardly a dust spot to be seen.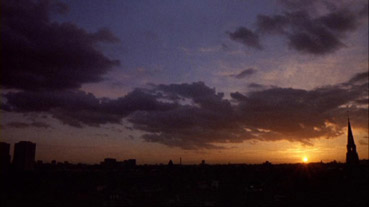 The PCM 48 stereo soundtrack is also a winner, particularly in the clarity of the dialogue and the richness of the music, which is really given a kick if you can route the bass through your subwoofer. There's also not a trace of background hiss here.
Original trailer (2:12)
Having become used to films which are often marketed on the back of success, so are dominated by award plugs and neat quote soundbites, it's nice to see the original trailer included here, just to see how it was sold on its own merit before all the plaudits were bestowed. Construction wise it gives a surprisingly broad picture of the film's themes – again the propensity to play up or play down certain plot elements seems to be a relatively modern editing convention. What really stands out however – even in spite of the age of the transfer – is the vibrancy of the film's colour palette.
Booklet
This is lavishly illustrated full-colour collection of short essays makes a great little companion to the film, since it approaches both it and director Julien from a variety of perspectives. The first of these, 'Young Soul Rebels,' by Stephen Bourne (author of Black in the British Frame –The Black Experience in British Film and Television), explores the film's reception and Julien's reputation as a black filmmaker. Second, comes Issac Julien's preface on Young Soul Rebels 'Time to rearrange,' where the director reflects upon the experience of making the film and his appreciation of it now. The third, and most interesting piece in this booklet is 'Introduction to Young Soul Rebels,' which is comprised of collated excerpts from Diary of a Young Soul Rebel, published at the time of the film's release, specially selected by the director for this DVD package. As ever, Julien's own thoughts on his work are revealing and really add to the collection, give a real sense of what of the background to the film, and the socio-political climate which informed its making. In the absence of any kind of interview material related to the film – since these days, Julien primarily works in the art world – this is a welcome addition, especially since the book isn't particularly easy to find. Last but by no means least, comes a B. Ruby Rich's brief, but nicely written biography on Julien, alongside production credits and transfer notes for the film itself.

Also included is a fold out BFI DVD and Blu-ray Catalogue, with twelve releases (spanning August to October) highlighted on one side, and the full catalogue on the reverse. There are some particularly nice treats here, including Gerry O'Hara's All the Right Noises, Peter Walker's Man of Violence, and Kevin Browlow's Winstanley.
As Issac Julien's mainstream crossover hit, Young Soul Rebels garnered a great deal of attention, and the intervening eighteen years since its release haven't damaged its impact in the slightest, proving that such talk was more than justified. The film remains a bold, bright evocative snapshot of youth culture circa 1977 that will undoubtedly resonate with a modern audience. This is another fine release from BFI, with a high-quality that transfer improves greatly on earlier DVD outings. For fans of British and/or Black cinema, this is an essential purchase, one which shows that art and entertainment can and do mix, though few do it as well as this. Highly recommended.