"See, there's so much to say."
František Vláčil
Documentary filmmaker Tomáš Hejtmánek's feature-length debut Sentiment is something special, not only because it's a debut, but also because of it's subject: acclaimed Czechoslovakian filmmaker František Vláčil. Constructed from taped interviews recorded shortly before the director's death and featuring contributions from actors František Velecký and Ivan Palúch (Marketa Lazarová), Jan Kačer (The Valley of the Bees) and Emma Černá (Adelheid), shot by longtime Vláčil collaborator, cinematographer Jaromír Kačer, I imagined this would be a heartfelt and warm tribute to a well-respected and much admired man, expressed through interview material and the odd clip, common practice in television and DVD documentary portraits.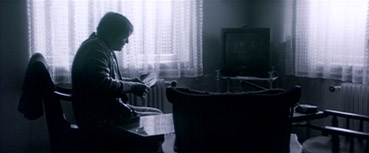 What I imagined, and what Hejtmánek's film actually turned out to be are two very different things. Made a decade after Hejtmánek's first short, Jedna setina/One Hundredth, itself an imagined portrait of famed post-war Czech artist Vladimír Boudník, Sentiment builds upon that foundation and expands upon it, blurring the lines between the documentary form and the biopic. It does indeed contain that infamous talking head material, but not in the way you expect.
The interviews Hejtmánek conducted the director are re-enacted by Jiří Kodet, taking on the role of the director, cutting back and forth between the ailing Vláčil smoking and chatting in his living room and abstract shots of nature, which over time change from striking abstract images and reveal themselves to be the locations Vláčil used throughout his career. Every so often, you'll hear a familiar note or two as the soundtracks to and dialogue from the director's work rise up from misty woodlands, snow-covered hills and the rolling shoreline, photographed beautifully by Jaromír Kačer in predominantly in black and white (with rather sublime smoky-blue tinge). Familiar too are the figures walking through these iconic landscapes, Kačer, Černá, Velecký and Palúch are transported back in time, just as we are. Though some simply walk around in silence, obviously reflecting on their experiences, others are more vocal, and speak of the late director with a great deal of reverence, but also with a great deal of affection.
With a director of Vláčil's calibre, it would have been easy for Hejtmánek to place him on a pedestal and further perpetuate the mythic image of the genius filmmaker, so often portrayed in the biopics he borrows tropes from. Though clearly an admirer of Vláčil and his place in Czech cinema history, it's to his credit that he deftly avoids this trap. Hejtmánek holds him in esteem, undoubtedly, but this is not the kind of film which foregrounds sycophantic behaviour. Indeed, Vláčil actively discourages this, by encouraging the young director to speak freely and frequently mentions to Hejtmánek that he should treat the house as his own. There's a wonderfully human quality to Sentiment that material of this type often lacks, since they're either sachrine or soulless. Neither accusation can be levelled at Hejtmánek.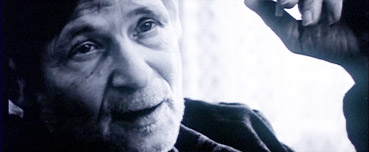 Inevitably, the director's passing does imbue with an air of sadness, but it never feels morose. The flow of the film means there's little to separate the man and his work, but Vláčil's passion is such that it's hard to believe there was a time in his life where it would have been possible to separate the two. One of the few times we do get a sense of narrative shaping, is when Hejtmánek reflects on how Vláčil's death changed the nature of the project, and what he wanted to achieve. A particularly poignant moment; this pensive narration is accompanied by a slow pan of the empty living room, where not ten minutes earlier, we saw Vláčil sitting in his armchair, sage yet jovial, expressing a penchant for rum.
The man we see here is no power-crazed egotist, but philosophical, particular and forthright, which out some rather lovely, humorous moments. You could easily listen to this man talk for many hours beyond the runtime of Sentiment and not become bored. While we do learn a lot about the director's work and what motivates him – the fire to create is still very much alive – this film is about much more than that. It's almost as if Vláčil is our teacher and we (or rather Hejtmánek) are his students, that he's passing his thoughts and ideas on to a new generation of filmmakers and artists to do with what they wish. I have a feeling he'd not only endorse Hejtmánek's approach, but be rather pleased by the result. Though I can't say with any degree of certainty how closely the Jiří Kodet's performance mimics that of the man himself, I can say that Sentiment has brought František Vláčil and his work to life in a way I never thought possible.
A unique film for a unique man.
Framed 2.35:1 and processed in blue-tinted monochrome, the film appears to have been shot on video, which during the interviews only results in a very slight softness of detail but in some of the exteriors is more visible, with what looks like standards conversion resulting in some occasionally visible scan lines and some minor shimmering on diagonals. Other than this the image looks very good, with well balanced contrast, a nice tonal range and no visible damage. If you've got picture overscan switched off then you'll see a blue vertical line on the extreme left of the screen for much of the film.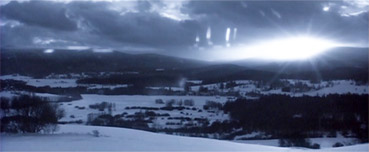 The soundtrack is subtle enough for there to be little difference beteween the Dolby 5.0 surround and the stereo 2.0 – both are clear with a very slight crispness to some trebles in the dialogue but are otherwise fine.
Sadly, there are none to speak of. Personally, I would have liked some extra sleeve notes or something from Hejtmánek regarding the project, but that's cinephile's talking. This is a film which stands up perfectly well on it's own without any supplements.
Sentiment is a skilfully executed, intelligent take on the documentary portrait. Tomáš Hejtmánek approaches his subject sensitively and a great deal of creative flair. For fans of Vlacil's work, this is a genuine joy to watch. A journey of discovery-turned pilgrimage that Vláčil himself would be proud of. Highly recommended.