"I am a teacher, first, last, always!"
Miss Brodie
"Well-behaved women seldom make history."
Laurel Thatcher Ulrich
Knowledge, they say, is power, but they also say that power corrupts. It's a vicious little circle, and one that Jean Brodie, the eccentric, passionate Scottish heroine of Ronald Neame's classic The Prime of Miss Jean Brodie, finds herself caught up in. If that sounds a somewhat dark description of this well-loved film, that's because there's definitely more to it than appearances suggest. In look at least, the film is exemplary of it's period, filmed in Technicolor, it has that beautifully, almost garish brightness. Couple that with the tinges of melodrama and the infamous, if rather twee theme song penned by Rod McKuen and you'd be forgiven for thinking this is a light, dare I say soap-ish drama.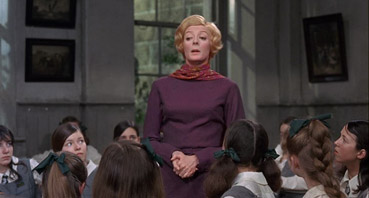 On the face of it, this film is simply another entrant into pantheon of award-winning, immensely popular inspirational teacher films, which occur roughly once a decade, ruling the box-office as they win over the hearts and minds of Joe Public and The Academy like. Indeed, if you were to write a list headed 'How To Make an Award-Winning Film,' Jean Brodie would tick most if not all of them. Nothing sells better than presale, and in the case of this film, Neame hit the jackpot. Based on the acclaimed Muriel Spark novel of the same name, Jean Brodie came to screen after successful runs as a stage play in London and New York (originated by Vanessa Redgrave and Zoe Caldwell respectively), bringing with it not one, but two built in audiences before anyone had seen a second of Maggie Smith's career-defining performance in the title role.
Like most films of this type, Jean Brodie is a character study, and an intense and complex one at that As with many cinematic teacher before her, Miss Brodie is seen as something of an outcast, with unorthodox teaching methods. By modern standards, that sounds something of a cliché, since it's become such an expected part of these stories, but when you consider that Neame's film is set in early 30s Edinburgh rather than 60s London, or 90s California, Miss Brodie really is a revolutionary. By those standards, she is most certainly ahead of her time: charismatic, passionate and a definite breaker of rules, she's dedicated to equipping her young charges at Marcia Blaine School for Girls with skills and knowledge that are very much outside of the confines of their textbooks and the school gates.
Inside its walls, she's queen, adored by the pupils under her care. Over the course of the film, we follow one small group of girls, Sandy (a particularly strong Pamela Franklin), Jenny (Diane Greyson), Mary (Jane Carr) and Monica (Shirley Steadman), who become known as Brodie's Set. Taken under her wing, she helps them to blossom and reach the potential she believes them to be capable of, spending time with them outside of the classroom on day trips and picnics. Under her influence some of the girls rise to the challenge and excel, while others wither. Though dedicated to her job, he flamboyant, Miss Brodie is no spinster, and isn't short of male attention, juggling the attentions of two different suitors; the mild-mannered music teacher, Gordon Lowther (Gordon Jackson) and the handsome and rather lascivious art teacher, Teddy Lloyd (Robert Stephens Smith's then husband).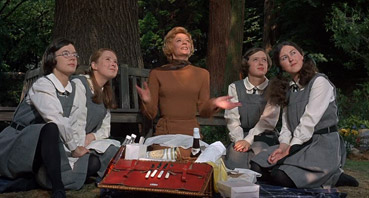 However, the adoration for Miss Brodie is by no means universal. Something of a mystery to her fellow peers, who describe her as "extreme" and "dangerous." Though to an extent, they may be right, you can't help but wonder if the other members of staff are jealous and perhaps a little fearful of this rather extraordinary women, who challenges their traditional values on an almost daily basis. Her antithesis in every respect is Marcia Blaine's prim and proper headmistress Miss Mackay (a fabulous Celia Johnson), who is constantly fighting to keep her in line, looking for any opportunity to oust her, in favour of a teacher who more readily accepts her rigid, moralistic outlook.
For the most part, as you'd expect, Miss Brodie is condemned for her transgressions rather than valorised. Though this film has touches of romance and echoes of melodrama in it's style, it does veer into darker territory than its Technicolor stock would suggest, and a world away from it's glossy, rather clichéd Hollywood contemporaries, such as John N. Smith's Dangerous Minds and Richard LaGravenese's Freedom Writers, which end in triumph for the embattled teachers, LouAnne Johnson and Erin Gruwell, after a series of easily resolved trials. Miss Brodie is afforded no such happiness or anything like a neat resolution. In that respect, Jean Brodie rather progressive, allowing its protagonist to be seen as fallible and do things that are unlikeable, making her human, rather than a saint, akin to the representation of Glenn Holland in Stephen Herek's Mr Holland's Opus and Dan Dunne in Ryan Fleck's Half Nelson, made many years later.
This is just one of the many surprises Jean Brodie provides it's audience. To reveal specifics, even when the film is as well-known as this one would severely dent the power of its denouement, but I will say this. The film and it's main character become even more interesting when it becomes clear that her machinations are less about the careful shaping of the young girls in her charge, and more about manipulation. However, let me be clear, I don't for one second believe that any of Miss Brodie's actions are motivated by malice. In fact, it's the reverse. The love Miss Brodie has for her students is clear, overflowing in fact, much like the eponymous Mr Chips, To Sir, with Love's Mark Thackeray and Dead Poet's Society's John Keating. Whatever her motivations, her dedication can never be questioned, and to my mind, Miss Brodie is more misguided than malevolent. Her very nature means she lives without limits, which translates into her not knowing when or indeed where she should stop in her tutelage of the girls.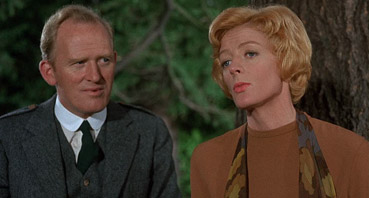 There is, inherently a danger that comes with extreme feelings of any kind, something which the film makes resolutely clear, and it is perhaps Jean Brodie's greatest lesson. In shifting away from the rather more theological basis of Spark's novel, fidelity issues aside, the film becomes that bit more accessible, and marketable - I can't imagine where you'd begin to sell a film which includes references to Calvinism - but, for me a least, it loses none of its social and political underpinnings. In light of that, you'd be forgiven for thinking this might be a rather dry, preachy film, but that's not the case. One of its many pleasures, besides the performance of its cast definitely arises from it's humour, whether expressed in Miss Brodie's dry wit; the bawdy Carry On-esque comments of Teddy Lloyd; or the giggling and gossiping which goes on between The Brodie Set. The girls have great chemistry, and bounce of each other well. Their bond with each other and Miss Brodie is believable and strong without becoming schlocky or overly sentimental, something that all too easily and all too often detracts from films of this type; a case in point is Mike Newell's beautiful but flawed Mona Lisa Smile. Luckily, for Neame and his cast, there are no such missteps here. Even the Technicolor processing, which can so often date a film, makes it look bright and fresh. I often had to remember the date of its setting, because it looked so modern, before you take into account the ideologies of the forward-thinking, free-spirited Miss Brodie.
The Prime of Miss Jean Brodie is a true joy and is just a small part of Ronald Neame's considerable filmic legacy. Over the years, it's managed to achieve that much-strived for moniker of a timeless film transcending the boundaries of it's production to take on the cinematic immortality others rarely attain. Its mythical status is a different kind of power; though less dangerous it may be, it's just as potent and influential.
You see, this is why many people have yet to see a good reason to upgrade to Blu-ray. We've come to expect transfers of mainstream modern movies to look pristine on DVD, but given that the very idea of preserving and restoring older films didn't come into vogue until shockingly late in the first century of cinema, to see a film from the late 1960s looking every bit as good as one made in 2010 is always an eye-widening experience, but to find one that looks this good is a rare treat. Framed 1.85:1 and anamorphically enhanced, the picture boasts a sharpness and level of detail that belies the film's age, a finely balanced contrast range and well judged if slightly warm colours. It's also very clean, with no sign of damage and almost no sign of dust or dirt. An excellent transfer all round.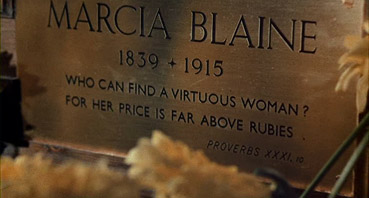 The Dolby mono 2.0 soundtrack does well for its age, with no sign of background hiss and clear reproduction of dialogue and music. There is some minor clipping at times due to the inevitably narrowed dynamic range, but otherwise fine.
A small batch, which isn't unsurprising given the age of the film, and yet is given its cultural status. In an age where feature-laden releases are common, it's easy to be disappointed by ones which don't offer all that much besides the film, but when the film is one like of Jean Brodie, it's definitely enough. Thanks to the bright, clean transfer, I'm sure that this film's never looked better.
US Teaser Trailer (0:55)
A good sell by any standard, which foregrounds Maggie Smith's performance. Clips are interspersed with American reviewers' quotes, read by deep-voiced trailer man, to give it some added legitimacy; amongst them are the thoughts of then chief film critic for The New York Times, Vincent Canby. For once, all the hyperbole is actually justified.
US Theatrical Trailer (3:48)
This might just be indicative of how tastes change, but my first thought regarding this was that it's rather strange. A long piece, which is more like an introduction to the film than a trailer, centred on the now iconic figure of Miss Brodie, showing clips from the film (some of which are cut rather roughly, so it's a little jarring), the majority of which, are scenes where characters are either referring to or describing her. Things are embellished with a rich-toned voiceover, and some rather lovely, sweeping strings.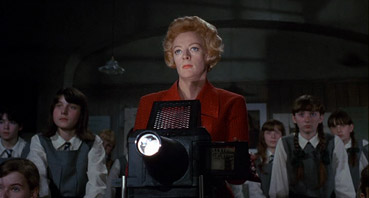 Muriel Spark Biography and Bibliography
A four-page text biography of the celebrated novelist and a bibliography of her published works, including, of course, The Prime of Miss Jean Brodie. A nice little touch, and rather left me wanting to know more.
Director Filmography
A selected text filmography of the late Ronald Neame. Even this short list shows what an immensely talented man he was. If you've somehow missed some of these, then now's the time to right that wrong.
Cast Filmographies
Short text filmographies for Gordon Jackson, Celia Johnson, Maggie Smith and Robert Stephens, accompanied by a picture, which show off what an impressive body of work they've each created over the course of their careers. After reading through these, I noted, with some sadness, that of this talented group, Smith is the only one still with us.
The Prime of Miss Jean Brodie is a rich, powerful film, which holds up surprisingly well given it's age. Maggie Smith's masterful portrayal of the eccentric Miss Brodie remains one of cinema's greatest, and will be likely be the draw for most to make a purchase, but this is much more than one woman show. Well made, and well-acted, this is a fine testament to all the creative talent involved, not just those of Smith. Do something old fashioned, and buy this or the film instead of the extras. You won't be disappointed.