| | |
| --- | --- |
| | "Neither can the wave that has passed by be recalled, nor the hour which has passed return again." |
| | Ovid |
When I first began to research writer-director Dan Castle's debut feature Newcastle Australia (the Australia has been added for the UK market to avoid confusion with the northern city of the same name), I was surprised to learn that Castle was an American rather than an Australian. I'm not suggesting for a moment that directors have to originate from the countries or cultures about which they make their films. Some of cinemas most lauded directors are émigrés, such as Jean Renoir, Max Ophuls and Milos Forman, who have all brought their unique outsiders perspective to make some of cinemas most memorable films, proving that a few degrees of separation from a culture can work wonders for a filmmaker wanting to get under the skin of a city and it's culture. In the case of Newcastle, the scope is much smaller, with the microscope trained on a single place and a person: the Australian colliery town Newcastle, and a young, talented teenaged surfer, Jesse Hoff.
Jesse (Lachlan Buchanan) sits in the middle of a dysfunctional family, constantly in competition with his older brother Victor (Reshad Strik). He's very near to outshining his brother's past glories as a professional surfer, but still very much in his thrall. Bitter and angry after his own career was cut short by injury, Victor clings to his former life as he works out his days on the coal barges with father Reggie (Shane Jacobson, in a rare non-comedic turn), with whom he has a strained relationship. The Hoff family is rounded out by quiet, introverted Fergus (a wonderful Xavier Samuel), coming to terms with his sexual identity, nursing a crush on Jesse's surfer friend Andy (a rather charming Kirk Jenkins). His differences leave him isolated and for the most part ridiculed by his brothers and their circle of friends (cruelly nicknaming him Fag-gus), and he's never invited to surf with them. His only form of support comes in the form of his mother Flora (Joy Smithers) and Gramps (a woefully underused Barry Otto).
When Jesse fails to make the cut for the Junior Surf Pro, losing out to Andy in the fight for spots, his other surf buddies Scotty (Israel Cannan, who also provides music for the soundtrack) and Nathan (Ben Milliken) rally round, suggesting they leave town for the weekend to escape from the pressure of the competition, headed for Stockton Sand Dunes, bringing along local girls Leah (Rebecca Breeds, of Home and Away fame, who's sadly wasted here), and Debra (Debra Ades, just as short-changed as Breeds) for the ride. Fergus overhears their plans, and manages to get himself an invite from Andy (the only one of the incredibly macho group to show him any kindness). The weekend goes well, and Jesse manages to let go of his jealousies, surfing with his friends for fun rather than competition, and even begins to bond with Fergus. The group's idyll is disturbed when Victor arrives unannounced with friends of his own, challenging his younger brother to an impromptu surfing contest, determined to assert his dominance once more.
Even though it depicts sunny, picturesque climbs far from here, Newcastle will feel familiar, torn from iconography of surfing magazines and documentaries, but most importantly, the Australian soap opera, and that's not just because some of its young ensemble cast appear as regulars. There's a distinctly soapish feel about this film, from the narrative structure to the pretty, tanned bodies that appear on the screen. However, Castle's kids aren't a squeaky clean bunch. If your only contact with Australian culture has been those famed soap imports, then the language used in the film will come as something of a surprise (it's not played as such, rather it's just part of who these teenagers are) until you become acclimatised to it, which doesn't take all that long.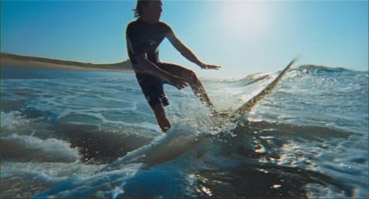 It's to Castle's credit that although he first viewed Newcastle as a tourist, he doesn't into the traps of making everything look perfect and lovely. The film's early moments could have descended into an advert for the town's tourist board, but instead it gives a rather broad flavour of place, rather like a satellite, zooming in on a progressively smaller location as we see Jesse for the first time. Yes, his cast is full of pretty young things – the male of which contingent could easily be a boyband – and the surfing scenes in particular are breathtaking, thanks to Richard Michalak's cinematography.
However, Castle does allow for things to look less than perfect and less than pretty. The interior of the Hoff household looks cramped and near drained of colour, the polar opposite of the bright blue skies and brilliant aqua-hued sea around them. Jesse and his friends not only live outside – sightings of mum are fleeting, and any other parents aside from Reggie and Flora are absent – they live for finding an escape. Jesse in particular is all too aware of becoming his father. The barges and boats are a constant looming presence here, almost threatening, presenting a bigger danger to Jesse than the sea itself. Newcastle is very much a character in its own right. The film is as Castle puts it 'geographically mapped,' with the town shaping the narrative. Until the group borrows a van to make the journey to the dunes, they go everywhere either on foot or skateboard. Accordingly, the majority of the locations are within walking distance. It's a nice touch, and just a small indication of the almost evangelical approach to realism adopted by Castle and his crew.
Things enter more symbolic territory through the sound design and edit of Newcastle, with each boy given a particular soundscape and editing pattern that comes to represent them. Though that might sound a little pretentious and grand, it's incredibly effective. A good case in point comes in the treatment of Jesse and Victor. While both the Hoff boys choose to fight with the water, the aesthetic chosen for the older of the two brother's is notably louder, harder and faster when compared to the other, quieter symphonic style used to score the rest of the film. The use of slow-motion particularly comes into it's own for Andy, naturally gifted and at ease when on the water, his sections bring the pace of the film down a little, and there's an almost zen-like feel to it all, which comes as a rather lovely, and welcome breather.
This isn't Blue Crush for boys, but it isn't Big Wednesday either. In fact, Newcastle doesn't know what film it wants to be. Appropriately or ironically, depending on your perspective, Newcastle is a film which is undergoing something of an identity crisis. The ensemble nature means that there are a lot of characters to follow (I'd argue there's' rather too many) resulting in subplots that could have been entire films on their own being reduced to a few scenes. The implied love story between Fergus and Andy is a case in point – though such understating of the relationship is both refreshing and commendable – as well as Scotty's struggle with playing the clown, concealing is insecurities and loneliness. The central strand, a classic coming-of-age tale, is a good one, and the material surrounding the Hoff family and their struggle to relate to each other brings about some of the film's best and most poignant moments. Every now and again and there are flashes of promise peppered throughout, such as Andy and Nathan teaching Fergus to surf during their weekend is particularly lovely, and he's accepted into the group for who he is, with the taunting he's suffered previously giving way to light teasing.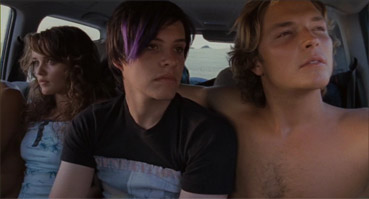 For the most part the shifts in tone are managed well, but it does veer wildly from the comedic to the serious, sometimes within a few seconds. The short sequence with a drunken Victor, his long-suffering girlfriend Sandra (Gigi Edgley) and young daughter Kylie (Cherry Ingle) is entirely misplaced, sandwiched between lighter scenes of Jesse and his friends at the dunes, and feels like it belongs to another film.
Given how much time and effort Castle and his team have obviously taken in shaping the characters and the narrative, it's a shame that this film feels rather patchy, almost episodic, very much like a soap opera. The last half an hour of the film particularly suffers due to this, and the pace picks up considerably compared to the earlier acts. Unfortunately, this occurs at completely the wrong point, during a time where the characters should be full of contemplation (they are), but it passes by in a blur in favour of a neat resolution. The ending itself is almost brutal in how startling it is.
This isn't a film which runs out of steam or ideas, it's quite the reverse. If anything, there's too much here, and not enough time to show it in. So often when watching low-budget films, you get the feeling they ran out of money, and while they certainly managed to get a lot for their dollar – it looks incredible and therefore looks expensive. Beauty has an incredibly high price, and it's obvious that given a few more (thousand) coins in the metre, this could have been a special film indeed, allowing just about everything to expand, and fully realise onscreen the obvious care and attention put into this project off it. In doing so, Newcastle would change from something that wouldn't look out of place on television (the soap opera style cast credits just strengthen that connection) toward something more cinematic, bringing a level of depth and development it can currently only really hint at.
Technically, Newcastle is an outstanding film with a meticulous approach to editing and sound design in particular, the minutia of which will probably be undetected by the majority of people watching, and that certainly sets it apart from its generic counterparts. Narratively, it has good intentions, and like its young ensemble cast, a great deal of potential, which it sadly only just fails to reach. Newcastle Australia is the filmic equivalent of a talented surfer, prepared to the hilt, who possesses considerable skills honed from months, no years of practice. In a split-second, he misjudges his approach to the final wave he'll catch in a championship contest and then, he wipes out. As he flails in the water, kicking for the surface, and the seconds pass, he knows all is lost, and he'll probably never get another opportunity to prove how good he really is. Though he'll forever be talked of with fond words, everyone will always wonder what could've been.
Spmetimes you just know. From the very first scenes I was convinced that Newcastle Australia was shot on Super-16, long before I heard it confirmed in the making-of documentary on this very disc. Still a favourite format for low budget filmmakers who still prefer film over digital, it has a texture that is often instantly recogniseable, its grain more visible than on its 35mm cousin (all of which depends upon the film stock used, of course) and sharing its richness and warmth, but usually lacking the pin-sharp crispness of of either 35mm or high-def. The 1.85:1 anamorphic transfer copes better with daytime exteriors – which look terrific – than the night footage, where black levels and colour integrity drop off a little.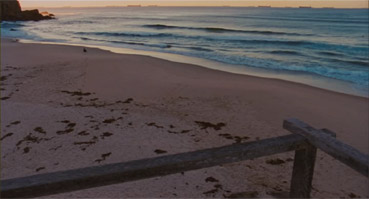 The Dolby 5.1 surround track wins out over the stereo 2.0 on volume and spacial spread, with the music making the most use of the surrounds. Both tracks are as clear and well balanced as you'd expect on even a low budget modern film, though a couple of notched below the current studio standard. Frontal separation is sometimes distinct on both tracks, but surprisingly little use is made of LFE bass on the surround, given the potential offered by the roar of surf.
A nice little clutch of extras here, including optional English HOH subtitles, which can come in useful early on when picking up the names of the characters and catching the odd word in scenes with softer spoken dialogue or those with busier background sounds.
Director's Commentary
Conducted with writer-director Dan Castle, director of photography Richard Michalak, sound designer Andrew Plain, and composer Michael Yezerski, this is a highly detailed commentary, which is primarily concerned with the technical aspects of the film, which is both insightful and enlightening, especially if you're into the craft side of cinema as well as the art. If you sandwich this between two viewings of the film, you'll really feel like you're watching something different because of the extra things you learn from those involved. Its approach means it won't be for everyone, and while there's the odd dead spot, I think it illustrates how important these tracks can be in fully understanding a film like Newcastle, and most importantly of all, its origins and identity. Anyone who still believes that these are a redundant supplementary feature, created with the sole purpose of documenting anecdotes and mutual appreciation should listen to this one.
The Making of Newcastle (23:43)
A great little companion to the commentary, it's the yin to its serious yang. An appropriately free-wheeling featurette, focussed on the young ensemble cast, incorporating on location footage with interviews and some excerpts. This is a little rough around the edges in comparison to its bigger-budgeted cousins, but that alone lends it a certain charm. It's worth noting from the outset that this does give away some plot points, so if you're yet to see the film entire, this will be best viewed afterwards.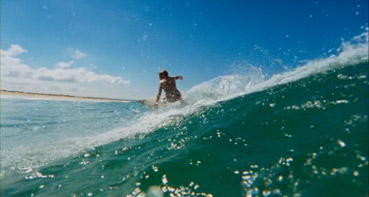 We get a fairly broad picture of the film's production early on, but things become a lot more interesting when the discussion turns toward Newcastle's authenticity and the working methods used during its making (there's a somewhat surprising reference to adopting Mike Leigh esque rehearsal workshops). The extra attention paid to film's editing and visual style is a particularly nice touch, taking it outside of run-of-the-mill EPK material.
Though it sometimes veers into over appreciative territory, it's clear that all involved worked hard, but most importantly, if this is anything to go by, a good time was had by all, and that certainly comes across in the finished film.
Trailer (1:57)
A good-looking little thing that's fairly well-balanced, but also clearly created to capitalise on the aspirational qualities of sunny beaches, big waves and pretty young Australians. Gimmicks aside, it does capture the spirit of the film and maximises its qualities as a teen coming-of-age film, with a touch of intrigue for good measure.
Picture Gallery
A collection of stills and behind-the-scenes images, which are accessed using the 'next' or 'previous' buttons on the menu. Worth a glimpse, if only to be reminded of Newcastle's great cinematography.
Also included are a selection of trailers spanning Peccadillo's catalogue, whether on cinematic or home release.
Newcastle Australia is a visually stunning film, with incredibly high production values that can't be faulted. Despite the considerable and obvious talents of the cast and crew, it's let down by underdeveloped characterisation and plot. Buy this for the surfing sequences and to listen to the commentary, since both will make you realise that for want of extra time and money, it could have been a landmark film befitting of the creative team behind it.