In spite of the opening scene decapitation of former insurance investigator Paradisi by a mechanical dredger, Tonino Valerii's 1972 My Dear Killer (an unusually accurate translation of the original Italian title of Mio caro assassino) quickly establishes its credentials as one of the classier releases from the Shameless label. And I'm not knocking that opening scene, which is smartly staged and instantly confirms the film's giallo credentials with an act of unusual and extreme violence.
Unlike many of its ilk, My Dear Killer is driven by plot rather than incident, which is good news for the narrative and the characters, but does welsh a bit on the promise of its opening and the curse of genre expectations. We are, after all, in 1970s Italy, there's a killer on the loose and there are potential victims being stalked, and we thus expect to see them offed in spectacularly bloody fashion. That we only get one such killing may leave genre fans feeling a little short-changed. But take heart, it's a good one, the sort that would make Argento proud. There's even a hint of black humour (probably unintentional) when the police later remark that "they're sending the pieces along for autopsy."
Investigating Paradisi's murder is Inspector Luca Peretti (George Hilton), who spends half his spare time arguing with his girlfriend Anna and whose case quickly complicates when the operator responsible for carrying out the killing is found hanged. Using some convincing-sounding reasoning worthy of Quincy, Peretti deduces that this was murder rather than suicide. So just who's behind all this?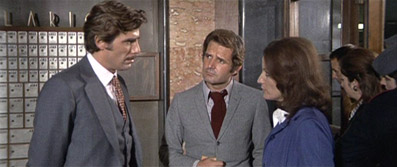 The case shows brief signs of being helped along when Paradisi's widow works out that a key discovered in her dead husband's pocket could well fit a locker at the local post office. She dutifully phones the cops and informs them. Do they rush round to investigate? Do they hell. Seemingly unaware that there have already been two murders, they advise her to go and check it out for herself. Want to guess what happens? One murdered widow later, the police turn up and find a child's drawing in her hand, one that Peretti believes could provide an important clue to the murders. Increasingly there appears to be a connection to an earlier case involving a child kidnapping that resulted in her father's death.
Peretti's investigation is detailed and rather interesting, and since it occupies the meat of the film it needs to be. In the course of his enquiries, what starts as a serial killer police procedural mutates into a whodunit, complete with a collection of possible suspects who are individually introduced and then rounded up at the end for Peretti's Agatha Christie-style address and identity revelation. Red herrings are liberally sprinkled, inviting us to suspect almost everyone at one point or another. Easily the most provocative of these is the cloaked insinuation that artist Beniamino might be a bit of a paedo, suggested by the naked pre-pubescent girl he's using as a model and who walks in on him and Peretti, a moment I'm genuinely surprised made it through the BBFC scissors, despite its fleeting and inoffensive nature.
It may be a bit short on gore for the devoted giallo crowd, but My Dear Killer is nonetheless true to the genre's whodunit literary origins, and features some smart scope cinematography from Manuel Rojas and a creepily effective and very giallo-esque score (complete with la-la-la chanting children) by none other than Ennio Morricone. The plot density alone lifts its above the genre average and there are enough inventive directorial touches – the encounter between killer and victim shot entirely from the killer's point of view is a personal favourite – to mark it as a should-see for any fans of this very Italian sub-genre. There's even what plays suspiciously like an in-joke dig for those who revel in such things, as one character complains to her unseen visitor that she's just been watching "some terrible western on television" and is promptly slaughtered. The film in question is Sergio Corbucci's Django, an Italian western with a cult status that the 1973 My Name is Nobody [Il Mio nome è Nessuno] – made by this film's director Tonino Valerii – would soon come close to matching.
A solid anamorphic 2.35:1 transfer that nicely showcases Manuel Rojas's cinematography, with sharpness, contrast and colour all rather good and black levels solid even in darker scenes. Grain is visible at times and there are a few dust spots here and there, their frequency increasing slightly around what were likely the reel changes. On the whole though, a nice job, despite what looks like just a hint of edge enhancement.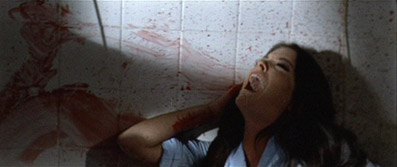 The soundtrack is not quite so sparkling, with some audible hiss, crackle and even the odd pop, but the dialogue and music are clear enough. As ever with Shameless we get the English soundtrack only, which is how the films were first released in the UK, and just this once I really wished I could have watched the film in its original Italian. The guy dubbing excitable old man Luigi in particular needs to reign it in a bit.
Theatrical Trailer (1:20)
A niftily edited trailer, but again I can't help suspecting this was created for this DVD release rather than back in the 1970s. There's something about that font...
As ever there are also trailers for other current and future Shameless releases and a neat reversible DVD cover. And the box is yellow, of course.
An above-average giallo thriller that skimps a bit on the gore but does deliver on a centrepiece scene, a pleasingly complex plot and a few sequences in which atmosphere and tension are effectively built. High marks for the transfer, too, at least the picture side of it – this is how we want these films to look.