| | |
| --- | --- |
| | "This is a personal story not just for me but it is a story which has been a part of the autobiography of many people of our generation." |
| | Maria Saakyan, 2011 |
For most directors, the catalyst for stepping into unknown to make their first feature stems from the desire to make something never before seen, to shed light on some unknown facet of society, or perhaps, explore parts of their own past. Maria Saakyan's debut feature-length film Mayak/The Lighthouse achieves all these and more.
A graduate of the prestigious VGIK school in Russia (the Russian State Institute of Cinematography, named after celebrated director Sergei Gerasimov), Armenian born Saakyan's film makes history as well as explores it. Featuring a multi-ethnic cast and crew, with financing from Russia and the Netherlands, it's a film that's progressive both in terms of aesthetic and outlook. Fittingly, it's the first film to be completed by a woman in Armenia since the inception of their film industry in the early 1920s, with Saakyan standing out as a lone female voice in a male-dominated profession. When considered in those terms, The Lighthouse is an appropriately named film, with it and Saakyan standing out like the single beam of light on that familiar, stoic building, piercing the blackness. For the lost souls at sea, that light represents hope, a gift, is the glimpse of something better. For the lost souls of the Caucasus who were caught up in the turbulent years of war throughout the 1990s, Saakyan's Lighthouse sheds light upon their stories and their struggle, providing the world at large with a previously unseen perspective on the period.

This semi-autobiographical story follows Lena (Anna Kapeleva) as she returns home to her grandparents' village in Armenia. Lodging with her elderly aunt Kasiana (Sofiko Chiaurell), she tries to persuade her beloved grandparents (Olga Yakovleva and Sos Sargsyan respectively) to leave with her for the safety of Moscow on the next available train. Though she only intends to stay a short while, she quickly becomes involved in family life, helping those around her to survive. As the war carries on all around them, it becomes increasingly difficult for her to leave them behind, and she finds safety in her routine.
Lighthouse is an intensely poetic film. Sometimes it's a celebration, as in the early sequences of villagers dancing. Sometimes it's a lament, such as the times we watch the villagers struggle to carry on as normal when they're woken by gunfire and the thunderous sounds of helicopters. Sometimes it's an ode to solitude, when we see Lena walking back from the train station through the desolate landscape dotted with solitary animals, quietly grazing. The only sound to be heard are the wheels of her black trolley case, rolling around the uneven ground as she gets closer to home, revealing the crumbling bombed-out buildings as she goes. While overall, the film continues this muted, naturalised palette of black, grey, green. When bright colours do appear, they're obvious and quite jarring, because the film has an old-fashioned, washed-out quality, like old film stock or bleached photographs. Almost like it's been preserved in aspic as a monument for the youth.
A sensory and visceral experience. It almost feels like it has a physical presence beyond its existence in the form of a moving image, not least because painterly aesthetic created by Saakyan and her cinematographer Maksim Drozdov, which is foregrounded most overtly in the titles for the film, with the actors' names unfurling across misty landscape in plumes of ink, appearing from the ether like ghosts, introducing the haunting quality that's present within the whole film.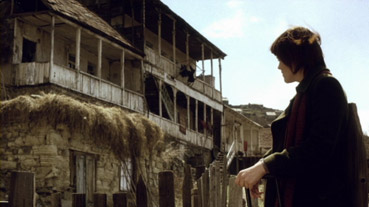 However, this isn't a film of singular tone, and is rather more mercurial; an explosion and expression daily life in all its forms. Givi Shavgulidze's script neatly oscillates the tragic and the comic (mirroring the wonderful scoring work from Kimmo Pohjonen and Oleg Mazny), with an obvious nod to Emir Kuristica, when the two modes collide to great effect. One particular moment amongst many comes when a family dinner descends into farce after a drunk Lena fires off the house shotgun, hitting some fragile furniture and causing it to collapse. It's an incredibly human moment as well as a humorous one, and underlines the fact that though the lives of these people are incredibly difficult, lead within strict confines and under constant pressure, there's still room for lightness and hilarity. Lighthouse does show that the villagers are afraid and latterly, desperate and distressed, but they're never shown as weak. Instead, they're proud, resilient people, trying to get through the best way they know how.
Similar tonal variations come through in the look and feel of Lighthouse. Replicating memory and the non-linear connections it makes, Drozdov and Saakyan both take relish in playing with light, shade and texture, women villagers sawing the tree for fire wood, or the remains of the burned book we see in the opening moments of the film. In line with the texture play, there are also differences in the stock; noticeable when cuts between archive and filmed footage occur, but rather than feeling out of place, they only serve to expand the world of the film beyond the small piece we see in such detail, enmeshing the private and the public, the real and the fictional in the manner of Artavazd Peleshyan. Through this, we learn – as Saakyan herself as stated – that the people of the unnamed village stand for many, for a generation. This is repeated in the first recurrent image in the film; birds in flight. In the early parts of the film, they appear as a loud flock, circling, then as Lena settles in the village we see a lone bird, against a perfect blue sky (in a rare moment of vivid brightness), and towards the end, the flock returns, but this time their calls seem more desperate.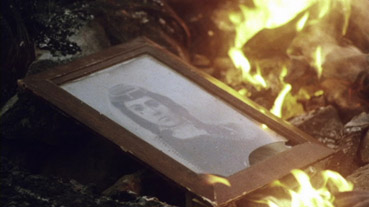 In structure, the film is particularly dream-like and it's here where the most obvious influence on Saakyan shows its hand in Andrei Tarkovsky. The film itself has a timeless quality, both terms of the setting and how events within the narrative relate to each other. We have no idea how long Lena intends to stay, how how many days pass between her visits to the station or how much time passes throughout the film as a whole, much like the same temporal dislocation we experience when asleep. The film's second reccurring image of Lena splashing water on her face mimcs what we all do when wanting to wake ourselves up from a dream, or more fittingly in the case of Lighthouse, a nightmare. Lena knows that staying is dangerous, but as the film progresses, her routine becomes a trap, and everytime she awakens herself with the water, we think that this time her journey to the station will be her last, only to see her walking the return path a few moments later. After a while, her return becomes inevitable, and resistance futile, even when death gets closer to home.
The Lighthouse is powerful, unque film that expresses a personal, and sometimes unvarnished truth, one that is unfraid to shed light on the darkest years of recent Caucasus history. When rescue came, it provided a route toward a life with less certainities, but it did provide an escape; a glimmer of hope within the darkness.
You would expect, I would think, that any film made as recently as 2006 should look good on DVD, and for the most part The Lighthouse doesn't disappoint, though with a couple of small caveats that I suspect have little to do with the transfer itself. The film's chosen aesthetic involves variations in colour hue, contrast and even sharpness (witness the divinely divised but indistinct opening shot for an example of the latter), sometimes on a shot by shot basis, but judge the transfer on those moments when the image is at its most stable and least altered – the opening wide shots of the rail station are a good example – and the results are very pleasing. The blacks are a little aggressive at times, but this really does feel organic to the film's mood. The framing is 1.78:1, suggesting the film was shot on HD, but the visible grain, tone and a bit of research suggests the film originated on 35mm.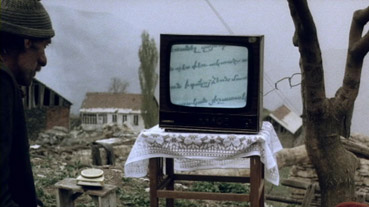 According to the booklet and DVD cover, the Dolby 2.0 stereo soundtrack has undergone restoration, which does make you wonder what misfortunes could have befallen a film print whose soundtrack requires restoration just four years after it was completed. A clear and expressive track that's particularly crisp on sound effects and richly resproduces Kimmo Pohjonen's haunting score. The stereo separation is subtle but still effective.
Those new to the cinema of Maria Saakyan are in for a real treat, since its supplemental features aren't merely an adjunct to the main feature, they form part of the introduction of Saakyan's work to a wider audience. Like many of Second Run's releases, Lighthouse is making its debut in the English-speaking world. As has become standard for their discs, the film comes with a director-approved digital transfer, along with improvements to the subtitle translation.

Proshchanie/Farewell [short] (24:41)
This startlingly assured, award-winning short film is the culmination of Saakyan's years at Russia's VGIK as part of celebrated filmmaker Vladimir Kobrin's workshop, premiering at the Rotterdam Film Festival in Europe and Telluride IFF in USA. Though somewhat different in terms of style and aesthetic from Lighthouse, it covers similar thematic ground. With little to no dialogue, this incredibly evocative mediation on love, loss and leaving is essentially a series of tableaux, and relies solely upon how we interpret the connection and/or disconnection between image and sound. Over time, this creates a language all of its own that transcends the barriers of the spoken word as well as the borders of a nation. Appropriately, its better watched and experienced than dissected and described.
It came as no surprise to me that Saakyan cites Peter Greenaway and fellow countryman Artavazd Peleshyan as influences, since there are notes of both in Farewell's avant-garde touches. Sublime.
Note: Farewell is presented without subtitles in line with the director's wishes.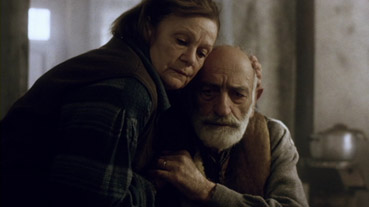 Booklet
This is beautifully illustrated booklet packs a lot into its nineteen pages. It features an interview with Saakyan, and two essays, one of which is written by film and art historian Vigen Galstyan, and the other by author Sophie Meyer along with production credits for the film.
As someone new to Saakyan's work, the interview was a particular bonus, since its broad scope covers everything from her beginnings in filmmaking to the reception of Lighthouse and beyond. The real stand out for me, though, was thoughts on women filmmakers and their approach to directing. Equally intriguing is the discussion put forward by Galstyan, in his piece 'Blurred Peripheries: Maria Saakyan's Mayak,' focussing on the film's semi-autobiographical basis, and the parallels between director Saakyan and her protagonist Lena. It's wonderfully written, and contextualised in such a way that will give any reader, regardless of their knowledge, a better appreciation of the film and its director both. Meyer's 'Of Lights and Houses: Maria Saakyan's The Lighthouse,' explores the film from a fittingly artistic perspective, as if she herself is telling or rather re-telling Lena's story. Part commentary, part poetry, this is a rather lovely compliment to the other writings presented in the booklet that's built upon Lena's (and by extension Saakyan's) homecoming, constantly referring to her as 'a girl who came home,' each repetition only seems to make the words, and the themes film itself, resonate even more deeply.
Given the level of detail expressed in the booklet as a whole, I'd suggest that if you're seeing Lighthouse for the first time, then wait until afterwards before reading it.
An extraordinary debut from Maria Saakyan, that's equal parts cultural document and creative expression. The Lighthouse is a visually arresting and deeply affecting film that deftly weaves together personal and social history to explore a rarely seen, particularly turbulent period in the history of the Caucasus. A true landmark film.