If you've never heard the term nunsploitation then there's a gap in your film education. Whether it's a gap you'll want to fill may depend on your reaction to the following words: cult, exploitation, historical drama, sex, nuns, lesbian, sadomasochism, religious corruption. I think that covers the basics.

Let Us Pray is a recently released three-film box set from Redemption, a video label that specialises in the sort of delights that such films promise, and is clearly aimed at fans of the genre and newcomers looking for an introduction. All three of the films contained within have been released previously as stand-alone discs by Redemption and are gathered together here for their romp-in-the-convent factor. There are no classics here, even by this genre's sleazy standards, but there's still enough to intermittently interest us connoisseurs.
It's a fact of the subgenre that nunsploitation films tend set largely in convents and take place in what could loosely be described as olden times (a notable exception is Giulio Berruti's notorious 1978 Killer Nun). Most of the nuns appear to have joined the order by mistake and are now sexually frustrated to the point of madness. They usually relieve their tensions on each other or any passing priest, most of whom are up for it at the drop of a cassock. The more imaginative examples may have thinly disguised digs at the Catholic church, and almost all trade on the perverse appeal of what a largely male audience likes to imagine goes on behind convent walls. As a sub-genre it does count among its members at least one genuine classic (Ken Russell's 1971 The Devils), one banned video nasty (the aforementioned Killer Nun), and a tidy of collection of mediocre works whose primary purpose is to rip the clothes off their cast.
Sacred Flesh is without question a nunsploitation movie, but clearly also has aspirations to art. Not high art, but art nonetheless. The two, it has to be said, make peculiar bedfellows. If you're tuning in to watch pretty young nuns get their kit off and play with each other, then you'll probably be bemused by the sinister music that underscores the fondling and the strange montages and religious discussions that repeatedly interrupt it. If, however, you're looking for a serious discourse on sexual repression in the Catholic church that's spiced with a little sex, then the plot, the dialogue and some of the acting will probably make you weep.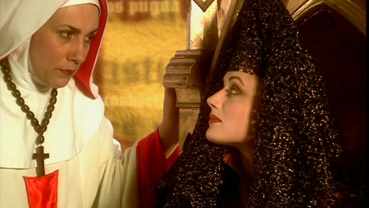 There is a story, but it's largely irrelevant. At an unspecified convent, the nuns suspect that their Mother Superior is possessed by devils. We know this because they ask questions of each other like "Is she really possessed by devils, Reverend Mother?" A minute later the Reverend Mother is writing a letter to the local Abbot, which she begins with the words, "I fear our dear and respected Mother Superior, Sister Elizabeth, has been possessed." Most of the exposition is delivered like this. The letter does not please the Abbot, who I found myself referring to as Father Bloke. That's because he sounds less like a pious holy man and more like a builder who's been handed his lines two minutes before the camera rolled. He sets off for the convent with his assistant Richard in tow, a randy young sod whose accent places him somewhere between Cornwall and Norfolk. When they arrive, Richard nips off with some girl who hangs around and does jobs for the sisters, while Father Bloke goes for a long walk with the Reverend Mother to discuss sex and the church.
Up in a tower somewhere in the convent, meanwhile, Sister Elizabeth is having troubling visions, which take the form of Mary Magdalene (a rather enjoyable turn from a sneering Kristina Bill), a handful of demonic handmaidens – one of whom I started to think of as Sister Skeleton – and some computer animated backdrops. It's here, after the longest monologue you'll probably ever hear in such a film, that we get down to business. The mischievous Mary proceeds to torment Sister Elizabeth by reminding her her of the terrible confessions she's been hearing from the nuns. The first one involves masturbation, the second lesbianism and some mutual whipping, and the third a two-on-one from a couple of scenery-chewing priests. Oh, the horror.
This particular convent's dress code appears to insist on bright red lipstick and suggestive eye make-up, while they no doubt keep a stock of extra-large robes to cover those oversized breasts. Not that the sisters stay clothed for too long. Yes, it's that sort of film. It's ruder than the average Hollywood flick, but in the days of hardcore internet porn and a specialist site for every fetish, this is hardly taboo-busting stuff. And that's despite the presence of performers whose CVs include the likes of Majella's Lesbian Fantasies, Spanking the Teacher, Pussy on Pussy and that old favourite, Amanda's Anal Adventures. Mind you, I'm sure there are a few out there who would pay good money to be whipped by the likes of Sisters Mary and Helena. Now where did I put my credit card?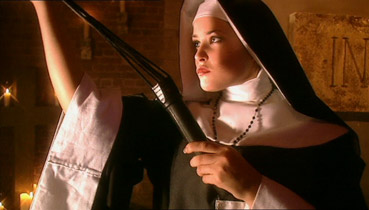 It all looks quite nice, or as nice as high-band video can look when trying to be film, and I rather liked the sinister groans of the distinctly non-porno score by Steve Pitts and The Band of Pain. There are also hints that the film is trying to engage in a debate on religion and sexual freedom, but here it tickles rather than bites. This really is one for the nunsploitation and oddball cinema fans only, although the image of a half-naked crucified female Christ snogging one of the sisters provides a last act moment of daring that should keep the Mel Gibson crowd firmly at bay.
Sinful Nuns of Saint Valentine
---
I've seen more than one complaint about Sinful Nuns of Saint Valentine [Le Scomunicate di San Valentino] that specifically targets that title. I'm not a bit surprised. For nunsploitation fans it makes promises that it largely fails to keep. It's not that the title is wilfully deceptive. After all, the main location is a convent named Saint Valentine, it's populated by nuns (as these places tend to be), and by Christian traditionalist standards their behaviour is genuinely sinful. It's just that we don't get to see much of it. And that, frankly, is why most of us tuned in.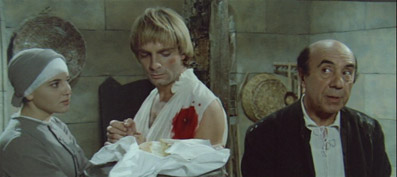 The setup certainly has fruity potential. Accused of heresy and murder, good-looking young Esteban is injured while fleeing the soldiers of the Inquisition and takes refuge in the lodge of Joaquin, the verger of the Saint Valentine Convent in which Esteban's girlfriend Lucita resides. Joaquin acts as a reluctant go-between for the pair, knowledge of which is used by roommate Josefa to blackmail her way into Lucita's nightgown. When the naughty Josefa is killed in the corridor by an unseen assailant, it's Lucita that gets the blame. And when she's placed in the hands of the Inquisition's most notorious persuader, Father Onorio (whose assistant looks a bit like Lance Henrikson), the deliciously named Abess Doña Incarnación Diez de Montalbo begins making moves on young Estaban.
It all sounds like the recipe for nunsploitation heaven – a convent, a strapping young man, a sexually frustrated mother superior, a lesbian roommate and the prospect of naked torture. And if you want to keep on believing that the movie will deliver on all of these then skip to the end, as I'm about to go on a small spoiler binge.
There's flesh on display here, but less than you might reasonably expect or hope for, and the sex tends to play out on the wrong side of tasteful, thanks to a careful arrangement of bedsheets and bodies and a refusal to get beyond the grappling stage, at least while the camera's present. One naughty sister gets a topless whipping, and Josefa gets really fond of Lucita's bed sheets, but don't get your hopes up for Lucita's encounter with Father Onorio, as faced with the prospect of being tortured for Jesus, she rolls out a false confession and calmly prepares herself to being burned alive for her heresy. Sinful Nuns was either unwilling to go the whole hog or was the victim of censorial times in a country where the Catholic church, at least in the early 70s, still had some serious clout.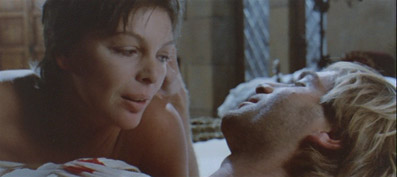 This leaves the plot to carry the can and it's not really up to it. Credibility takes a nosedive in the final third, when walled-up nuns need only about two hours to go all Devils of Loudun in distinctly sub-Ken Russell fashion, while conflicts are brought to an impossibly neat conclusion by a Grand Inquisitor whose smiling understanding and benevolence suggest that the Inquisition was actually overseen by Father Christmas.
Sinful Nuns is briskly paced, but for the most part treads an unexciting and unadventurous genre path to its too-neat conclusion. It's not without interest or merit, however, particularly in the character and actions of the mother superior (an enjoyable turn from Françoise Prévost, who creates in her a woman who you might just risk the consequences to get seduced by). But nunsploitation fans tend to judge a film on the delivery rather than the build-up, and many are likely to regard Sinful Nuns of Saint Valentine as, if you'll pardon the expression, a bit of a cinematic cock-tease.
How do you fancy seeing your name turned into a descriptive noun? It doesn't happen to many of us and is usually confined to a specialist field. I mean, when was the last time you heard a person described as Hitchcockian or Orwellian or Churchillian? But sadistic? In this particular field, the Marquis sits at the top of the torture tree.
Justine was one of a duet of novels written by De Sade exploring alternate paths to moral salvation or damnation. While Justine searched for purity, her sister Juliette followed a path of wanton depravity. Guess who had more fun? Of course, you might have to make some adjustments to your definition of what actually constitutes fun to appreciate this.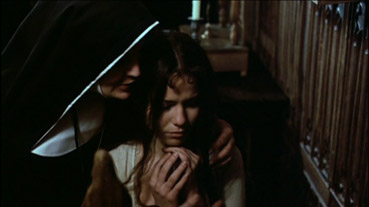 Justine the novel has been made into a number of the films over the years, none of which have come close to capturing the head-on depravity of the written word. That might not be a bad thing, as it happens. Give the book a read and you'll see what I mean. The adaptation under discussion here was originally released back in the late 70s as Cruel Passion with bits snipped out for our moral protection. Those of us who caught it then only tend to remember it for its young female star, the improbably named Koo Stark, who inevitably ended up copping nicknames like Koo Starkers or Koo Stark Naked. If the name rings a bell then that may be because she later dated some newsworthy guy named Andrew who hangs out at Buck House.
Koo plays the innocent, 16-year-old Justine who, following her father's suicide and her mother's subsequent expiration from shock, lands in a convent school with her 17-year-old sister Juliette. Of course, this turns out to be one of those convents, the sort where almost all the nuns have their fingers in each other's knickers. Despite her contempt for the church and its representatives, Juliette takes full advantage of the services on offer. But after the nasty mother superior unsuccessfully tries it on with the mortified Justine, the two are turfed out and left to find their own way in the world. They head to London to make their fortunes as prostitutes and are taken in by Madame Laronde, whose greed gland goes nuts at the news of their virginal status. The pair receive instruction from their new workmates and an outrageous fop named George, and while Juliette takes to the work with some enthusiasm, Justine is out of there before anyone can claim her particular prize.
Don't be fooled by those previous BBFC cuts (some of which appear to be still in place), as this is De Sade light, a watered down version of a novel that I wouldn't recommend to even the mildly sensitive for a holiday read – the Justine of the book is 12 years old and is subjected to all manner of depravity in her quest for a life of innocence. Koo's Justine may look young and innocent, but she's clearly of legal age and for the most part does a bang-up job of sidestepping the advances of the many sexual aggressors she encounters.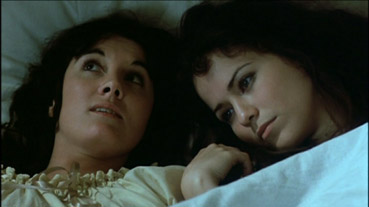 Stylistically caught between a rock and a hard place, Justine trades on its sex and nudity but still wants to play serious with its drama, but is neither naughty nor compelling enough to score highly in either camp. But it's also nowhere near as bad as some would have you believe. There's some above-average cinematography from one Roger Deakins – later to become the Coen Brothers' regular lensman – and the screenplay by actor Ian Cullen (who also has a brief role as a brothel customer) is sometimes smarter than most seem prepared to credit. The then 21-year-old Koo is actually rather engaging as Justine, blessed as she is with the looks of a genuine innocent and a body that men would fight duels to get a lingering look at. I also enjoyed Lydia Lisle's Juliette, both for her no-nonsense self-confidence and her brazen contempt for anyone in a position of religious authority. It's she who gets some of the nicest lines, particularly her advice to her sister regarding the opposite sex. "Is there no honour left in men?" Justine asks her. "Precious little," Juliet replies. "Not worth the search."
Say what you like about Sacred Flesh, but hats off to the transfer. The contrast levels and colour are bang on, the detail is crisp and the colours in the stylised opening credits in particular are vividly reproduced. The odd area of single colour (a blue sky in one early shot, for example) displays compression blocking, but it's rare. Framing is 1.78:1 and the picture is enhanced for widescreen TVs. The Dolby stereo soundtrack does particularly well on the Band of Pain music, and the stereo separation is sometimes very distinct.
The picture on Sinful Nuns of Saint Valentine is 2.35:1 and letterboxed and at its best is rather good. Consistency is the main issue here, with contrast in particular varying quite a bit, sometimes from shot to shot – occasionally, as with the discovery of Josefa's body, the picture is faded enough to make you wonder if the scene was left in a shirt pocket when it was put in the wash. On two occasions a reel change throws the racking out a bit, but it's quickly teased back into place. The soundtrack is on the crispy side, distorting sharp trebles such as the dings of clashing swords, and is underscored by a hiss that is inevitably more noticeable in quieter scenes. Just occasionally, it's joined by a hum or some crackle and pop and even a couple of bonks. Other than that it's clear enough to follow the dialogue if you're an Italian speaker. And full marks to Redemption for presenting the film in its original Italian with optional English subtitles.
The anamorphic 1.78:1 picture on Justine looks rather good when the dust settles down after the reel changes, and the colour and contrast are on the whole sound, although the latter feels a little cranked up in places with a subsequent loss of shadow detail. On the whole, it's better than I was expecting. There are some very audible pops and clunks about an hour in, but for the most part the soundtrack is clean and clear, if of inevitably limited range.
On the Sacred Flesh disc there are 13 (spooky, huh?) small stills from the film and 23 from behind the scenes, 5 reproductions of publicity artwork and 8 pages of storyboards, which I quite liked. Also included are two trailers, the teaser trailer (0:35), which is not too bad, and the theatrical trailer (2:03), which is an extended and more risque version of the teaser. Both are anamorphic widescreen.
Sinful Nuns of Saint Valentine has the original Italian theatrical trailer (2:36), which is presented without subtitles and includes some of the 'stronger' stuff. Also included are a pointless stills gallery consisting of 9 frame grabs (why?), a video art gallery featuring two Redemption covers, a filmography but no indication who it's for (it's actually director Sergio Grieco) and trailers for Black Magic Rites & The Secret Orgies of the 14th Century (3:20) and Nude for Satan (3:52), both of which are excellent titles, though I haven't yet seen the films themselves. There's also a music video for White Slaves by The Nuns, signed on Redemption's Triple Silence label. It's a video that has Redemption written all over it.
Justine has the usual stills gallery, which consists of 24 pictures of variable quality, a mixture of frame grabs and promotional black-and-whites. Promo art has 3 grabs from the original publicity booklet. There are also trailers for Requiem for a Vampire (3:00) and Les Démoniaques (6:05).
OK, none of the films are retrospectively going to find themselves championed as forgotten classics, but collectively they do represent an interesting introduction to a genre many have no doubt yet to flirt with. They demonstrate the genre in evolution – Sinful Nuns of Saint Vincent takes its drama more seriously than its debauchery, Justine has equal time for them both, while sex and big breasts are pretty much the raison d'être of Sacred Flesh, despite dramatic elements that sometimes wander into the surreal. Nunsploitation fans who have none of the films in this box set owe it to themselves to at least see Justine and Sacred Flesh (despite the fact that only the first third of the former takes place in a convent), and the set as a whole would make a neat Christmas gift for that friend with a taste for the everso slightly perverse.