"Do the junkies come here to drink? Or do the lushes come here for dope?"
Inspecteur Jean Lavardin (Jean Poiret)
It's rare these days that I come to a film without an idea, opinion or any kind of foothold whatsoever on what I'm about to sit down and watch. Claude Chabrol is of course a legendary figure in French cinema, but my exposure to him thus far has no middle ground between the poles of his most famous films of the 1960s and his flailing output of the 2000s that seems hell bent on tarnishing that renowned reputation. Put another way, I'm still carrying around in my head the popular yet harmful opinion of him as the "French Hitchcock". I do this in spite of being fully aware of the reductiveness of this label, particularly for a startlingly prolific career that spans over fifty years with no signs of slowing. As with music, it's unfair to expect a band to keep replicating the character and success of that album and angrily flaming against any or all attempts of growth beyond that for which they are most well known. Watching A Girl Cut in Two (also put out by Artificial Eye) with friends who offered little more than disappointed shrugs at it's conclusion, I felt the embarrassment of finally introducing a much-talked about best friend, who then spectacularly fails to impress your mates due to a combination of hype and an off-character bad night – "No guys, Claude really is a great filmmaker, honest!"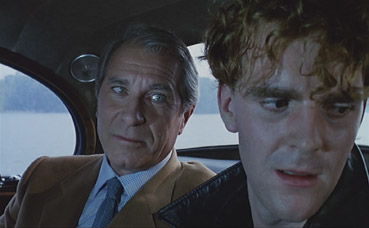 Artificial Eye's first of two volumes on the eminent master, seemed to have been tailor-made to help bridge two ends of the spectrum I've so far been unable to reconcile. Bravely sidestepping Chabrol's most noted work, already covered by the first of two earlier boxsets from Arrow Films, the "Vol. 1" subtitle, is understandable but misleading. While it might suggest a fresh perspective as a jumping off point for the uninitiated, I'd strongly caution against using this as introduction. What I'd recommend (and most seem to agree is the obvious place to start), is the always-impressive one-two punch of La Femme infidele and Le Boucher, two reasons why Chabrol will always be celebrated. I point the newbies there first, not least because the first of three films included here, Inspector Lavardin (1986), has the alienating effect of feeling as if we've opened in medias res – no wonder, as the film is in fact a sequel to the previous year's Poulet au Vinaigre and part of a series of four films focusing on the cases of the titular detective. Nowhere on the packaging are we warned that we are about to be thrown into the deep end with an already established character and because of this, I spent the first twenty minutes of the film trying to get past the distinct impression I was missing something. With some quick internet research however, this choice by Artificial Eye is by no means arbitrary and actually rather shrewd. As it turns out, the first film of the series doesn't introduce Lavardin until forty minutes in and the consensus seems to suggest Chabrol had a much firmer handle on the character with the second attempt. The two films that follow the sequel are both made-for-television efforts, widely regarded as not of the same caliber and of interest for completists only. As an introduction to the series, Artificial Eye has gone ahead and picked the best of the bunch, a film that seems at first as heavy-eyed as the sleepy sea-side village in which it takes place.
When Raoul Mons, a successful writer, is found dead on the beach with the word 'pig' written on his body in lipstick, suspicion is immediately heaped on a traveling theatrical troupe whose play "Our Father Who Farts in Heaven" he condemns as blasphemous after some concerned citizens arrive on his doorstep and pressure him into lending his support. In detective movies, there is of course, no such thing as an open and shut case and the plot thickens almost immediately when Inspector Jean Lavardin is contacted by his one-time lover – and Raoul's widow – to investigative. Lavardin quickly begins to uncover her husband's sordid double life and in so doing, Claude Chabrol is back on home turf, piercing the respectable bourgeois veil and revealing the rot underneath.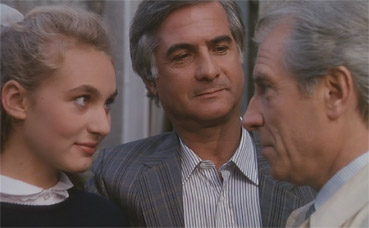 A familial stew of sex and murder that recalled my recent viewing of his 2003 misfire, The Flower of Evil (Chabrol's final collaboration with producer Marin Karmitz, whose name opens each film in this set), I was relieved at finally being able to locate that anchorless film, not very much of its time at all, within the Chabrol cannon. This 1986 effort serves to reinforce the fact that murder mysteries of this sort have little or no place in the cinematic landscape of now, other than as directorial exercises in self-deprecating, constantly referential cine-mania exemplified by the films of Quentin Tarantino or the likes of Rian Johnson's, Brick. Were it made today, a film like Inspector Lavardin would never simply be viewed at face value in order to be taken seriously. It's a depressing sign of the times, when even the likes of Martin Scorcese, while promoting a "throwback" film like Shutter Island has to spend the majority of his time talking about other people's films before his own in order to legitimize it for members of an all-too knowing pop culture with absolutely no sense of film history outside their own life spans. Scorcese has to mention the name of Val Lewton and films like Shock Corridor, even when most people have no idea who or what he's talking about, just to prevent an audience from deriding him for being 'cheesy' or 'corny' and to get them to buy into taking all this silliness of dressing up in trench coats and speaking in clipped tongues half as seriously as he does. The distancing effect of ironically winking at films not of our time, so that they might play in ours, of course only allows us to spectate on a film rather than let ourselves go and truly be involved with it. In such cynical times, the act of willful escapism and suspension of disbelief is one of insubordination.
I feel that such a digression is necessary if only to measure how refreshing I found the experience of watching Inspector Lavardin. While the too-cerebral-for-their-own-good, cine-hipsters of today, would no doubt balk at how unafraid Chabrol's film is to reveal itself as nothing more than a barely-sufficient trifle, I was relieved not to be met with another stringent analysis of the male psyche, the kind that typified Chabrol's early work. Instead I could lounge in the morally dubious sense of humor devoid of any inclination to have to answer for itself. These were indeed simpler times, when a policeman's questionable stance at the film's conclusion, of two wrongs making a right, is explained almost as an afterthought: that Lavardin was a thug before he became a cop. It comes from the character and honestly drives the story rather than the director's own agenda with his audience.
Yet even this film is not without its points of reference. Upon his arrival, Lavardin is assigned to work alongside a local bobby he henceforth affectionately refers to as "Watson". An all too apt comparison, as the comic actor, Jean Poiret in playing detective, displays much of the same caustic wit, imperiousness and dismissive impatience that marked the late, great Jeremy Brett's portrayal of Sherlock Holmes for Granada television. I couldn't help but be reminded of Brett, as both actors draw you first to the wizened glint in their eye, that of frolicsome provocateur one minute and a stare of steely determination the next.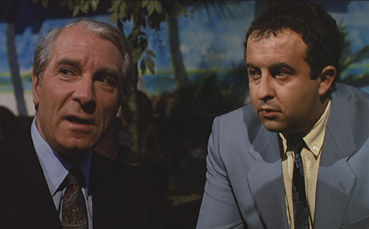 Jean Poiret is an actor primarily associated with comedy and because comedy is often the first thing lost in translation when foreign films travel abroad, he's not very well known here in the UK, except as the writer of French cult classic La Cage aux Folles, a film later remade by Mike Nichols in America as, The Birdcage, one that I would argue is just as deserving of the accolade. That film demonstrated a sharp intelligence in the writing that is certainly brought to bear in Poiret's performance here. It bears mentioning; because this is the first time I've watched any of Chabrol's work and been able to make that critically established connection to Hitchcock, that in the past I've only ever found to be tenuous at best. Yes they are both 'masters of suspense', but each generates tensions that don't correlate, and their contrasting methods of psychological profiling are employed for specific effect, achieving different ends. The similarities are perhaps more obvious in their casting decisions than their directorial styles. Chabrol's employment of Poiret is not dissimilar to Hitchcock's repeated use of Cary Grant and James Stewart. The three actors are known outside of their work with these auteurs for their 'everyman' lighter roles, and it was through these continued, mutually supportive relationships that they were allowed to reveal and revel in a darker side. The effect is that this lightweight thriller still ends up wringing palpable suspense, not from its plot machinations but the unpredictable behaviour of its protagonist. At times, it's surprising and unnerving to see the often blithe inspector suddenly wail on a suspect, unleashing verbal torrents and manhandling them, before suddenly reverting back to a demeanour of indestructible self-control. This one man, good cop/bad cop routine is as suspicious of the viewer as it is those being investigated and Poiret withholds his character's thuggish background right until it is absolutely necessary to give him the best advantage in acquiring information and grab our attention.
Directorially, Chabrol is equal to his lead actor in the task of keeping the audience on edge. At the time of making the film, he followed through on his assertion that "there wouldn't be a single shot at exact eye level", an insightfully artful choice for a series of films preoccupied with the new media of surveillance. These subtle camera techniques (as unassuming as I'm sure many will pass this film off to be), coupled with the inclusion of a "gay widower" who paints glass replicas of human eyes that survey his study from every angle, pay off in the film's iconic climax, viewed from an overhead camera concealed in a bedroom. Much pleasure can also be derived from the many blink-and-you'll-miss-them directorial subtleties that extend as far as the minute. The murdered author is on-screen for no more than a few minutes, but Chabrol takes every opportunity to fit the description of 'pig' written on his corpse with that of his character. He is referred to as such before he is brandished with the word, and his dying breaths are pig-like squeals.
The plot may feel inconsequential, but the protagonist proves the most fascinating aspect of an uneven film in which the tone of the story is at odds with the dynamism of Poiret's lead performance. A bumpy hour and a half that all but Chabrol devotees will have a hard time settling into. With the strongest directorial choices at their most simplistically subtle, Inspector Lavardin the film is often even harder to read than the character.
None of the three films gathered here may be particularly accessible, but this is certainly the least definitive in characterizing its director. Artificial Eye's package may have been better served had they front-loaded it with the more critically regarded Merci pour le chocolat as disc one, before serving up the deeper cuts of the other two DVD premiers.
A clean 1.66:1 anamorphic transfer whose colours are a touch on the warm side and whose contrast varies a little – the image has real punch in brighter exteriors, occasionally at the expense of some shadow detail, but the blacks soften to grey in darker scenes. The level of detail is very good, but does feel just a little edge enhanced.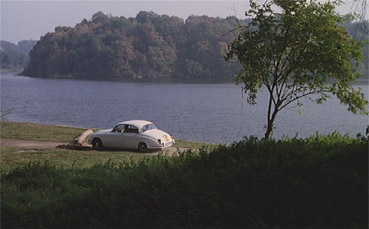 The Dolby mono 2.0 soundtrack is a little restricted in range, but is otherwise clear and free of noise or hiss.
Extras comprise solely of trailers for the combined six films featured in both volumes 1 & 2 of The Essential Claude Chabrol, as well as the director's latest on Region 2, The Girl Cut in Two. Still, one shouldn't complain given that two of the three films in this set are DVD premieres.
Both director and star seem to be working at the top of their game, but not quite reading off the same page and from material that doesn't justify their efforts. While this stands as the best introduction to the character of Inspector Jean Lavardin and the four films that feature him, this is far from the best starting point for getting to grips with Claude Chabrol's mammoth body of work. If you're going to buy this three-disc set, start with Merci pour le chocolat.