Continuing where the last volume left off, Yagami Light continues to evade the cameras placed within his home while still attempting to murder criminals undetected. During the first episode, the cameras are removed, but not before they show him going into details about how Light managed to continue to commit murders by hiding piece of the death note and a portable camera within a packet of crisps. Although a simple solution, he managed to pull it off perfectly, causing L to remove the cameras due to a lack of evidence that Light is Kira.
As with everything in Death Note, the sequence is thoroughly explained through the eyes of both Light and L, leading to a highly enticing episode where the viewer is left wanting to know more about the way Light and L think during their cat and mouse mind games. Even with this, L reveals he still has reason for a 5% probability remaining that Light is Kira and decides that if he has Light helping on the investigation he can both keep an eye on Light, in case he reveals himself as Kira through his actions, or it will help solve the mystery behind the deaths.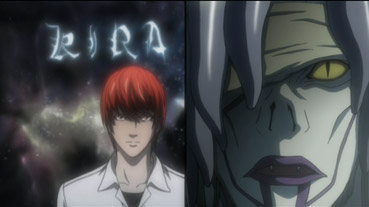 New environments outside of the first volume are introduced, where Light and L meet in person for the first time at University. After a few initial discussions, and L revealing to Light who he is, a Tennis match ensues which is the only physical battle in the entire series between the main characters, although it is heavily influenced by their thought processes. L attempts to use the match to find Light's personality traits, but Light recognises this and manipulates his own competitive nature. A lot of dialogue ensues that requires complete involvement from the viewer, which on its own might have seemed out of place, but due to the nature of the anime it seems entirely logical. The deeper part that impresses is that the show is nothing like that has gone before, and the way this particular event is presented shows the skill of both the writer and the artists involved, and their ability to hold the interest through something that otherwise might appear to be mundane if described in a passing discussion.
To make things more complex, a second Kira is thrown into the equation when murders start taking place that Light has not put in place through writing in his Death Note. The second Kira is quickly revealed to be a girl called Amane Misa, who has a gothic Lolita sense of fashion and holds a second Death Note in her possession. After being introduced, the anime reveals how she got her Death Note, and how her death god, Rem, knew Ryuk in the Shinigami realm.
The story continues once Misa has made herself known to Light through visiting him at his home, pretending to be his new girlfriend (who he had already told his family about, due to another love interest while at university). Eventually L decides to lock both Misa and Light up to attempt to clarify if they are both Kira, leading to the end of the second volume of this DVD compilation.
Once again, Volume 2 consists of 2 DVDs that cover episodes 9 to 16, giving great value for money which follows on in a different direction from the first Death Note volume. If you are an anime fan, or even someone who would like to see quality entertainment, Death Note is a series that should not be missed. All of the main characters are now introduced and the story takes on a huge number of twists and turns that will keep the viewer entertained for a good few hours. Definitely worth the purchase, Death Note is essential viewing for anyone remotely interested in anime.
A clean, reasonably detailed NTSC to PAL transfer with good colour and contrast. Brighter scenes in particular look impressive, with only the darker scenes and fast movement betraying the standards conversion.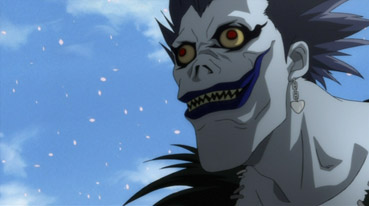 Once again the original Japanese and English Dolby 2. stereo tracks are sonically identical and both display excellent clrity and range. Seperation is largely reserved for the music.
Production Art Gallery
This is interesting to view if you are an art fan and want to see how the characters and environments were drawn during the creation of the Death Note series. The only disappointment is that this is spread over each DVD, as such they always appear to have too few drawings when if put together as a more substantial feature would be worth the watch (the gallery works by displaying static imagery that you are able to flick through with the controls on your DVD remote).
Audio Commentaries
Much the same as the commentary on the previous volume, only worth listening to if you have a fetish for pain... or a need to understand how American voice overs ruin the industry. Alternatively, a way to hear the American voice cast get things wrong and ask the viewer if they have their facts correct.
English Voice Actor Interviews
Pointless. If it were Japanese voice actor interviews, that would be something worth viewing, but this on its own is pretty pointless as the English voice overs appear clueless when it comes to the original vocal inflections used by the original Japanese cast.