I always find myself a little stuck for words when reviewing a re-release of a film I've not so long ago covered. Like my fellow site writers, I tend to put a lot of thought into my coverage (it may not always show, but I do try), and having completed a review I may well then spot and correct a few howling grammatical errors, but I don't tend to have a massive rethink a couple of years later about what I should have said. This is particularly true of favourite films, as by the time you get to write about them you really should know just what it is that makes them so special to you, and if you've done the film justice there really should not need to add to it. But you feel obliged to do so anyway, hence this somewhat directionless preamble.
Such is certainly the case with Mizoguchi Kenji's haunting 1953 masterpiece Ugetsu monogatari, which despite some stiff competition remains my favourite Mizoguchi film, at least of those I have been able to see. The film first appeared on UK DVD as part of Eureka's lovely Masters of Cinema label, and in common with the label's other Mizoguchi releases, was teamed with one of the director's lesser-known works, in this case the 1951 Oyū-sama, an adaptation of author Tanizaki Jun'ichirō's novella Ashikari (The Reed Cutter). The beauty of this approach is that when buying films we know and love, we are also introduced to works that few of us have previously seen, widening our appreciation of Mizoguchi the storyteller and master filmmaker.
In line with other recent Masters of Cinema dual format editions of their earlier titles, the content of this new release is the same as its double-disc DVD predecessor. Thus for a review of the films and details of the extra features, check out our coverage of the earlier DVD release here.
The key difference here is that both films have been given a Blu-ray upgrade. This doesn't always mean the big jump in sharpness and picture detail you may be expecting – a lot depends on the condition and nature of the source material and just occasionally the Blu-ray does not represent a substantial improvement over the DVD, particularly as most Masters of Cinema DVDs are pretty spiffy anyway. So what about Oyū-sama and Ugetsu monogatari?
Although both films underwent some restoration for the earlier DVD release, wear and damage were still visible and the contrast could vary a little depending on the light level of a particular scene. Comparing the new Blu-ray transfer directly with the previous DVD release, the improvements on Oyū-sama are not instantly evident, due in no small part to the imperfect condition of the source material. The contrast is generally good but the image is never pin-sharp and at first glance there appears to little to no difference between the DVD and Blu-ray. But a more detailed examination confirms a higher level of detail on the Blu-ray transfer, though this is more evident in some shots than others.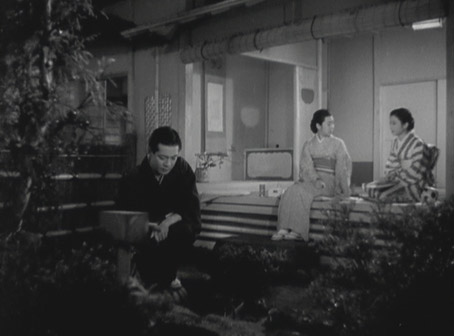 At first glance the transfer on Oyû-sama looks almost identical to
the earlier DVD (particularly at this reduced size). However...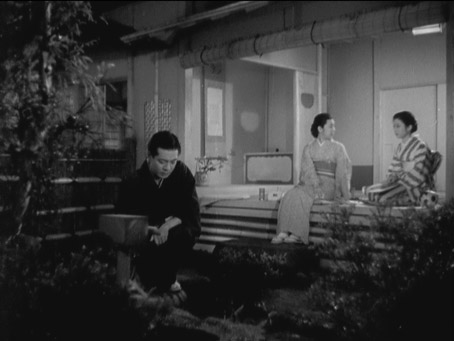 ---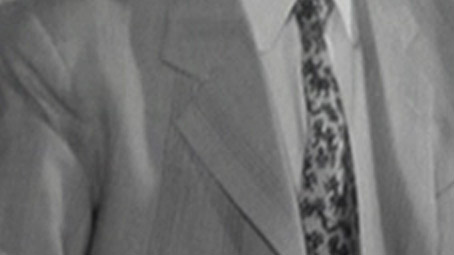 ...a frame enlargement shows the difference between the previously
released DVD (above) and the new Blu-ray (below)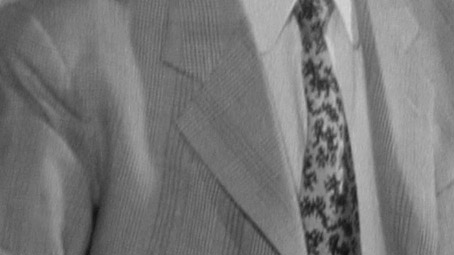 It's a different story with Ugetsu monogatari, whose increased sharpness and detail is immediately apparent and particularly visible in wide shots, textures and the detail of clothing. A good example is straw hat worn by Lady Wakasa when she buys pottery from Genjuro in the marketplace – the fine detail is lost in a resolution blur on the DVD but clearly defined on the Blu-ray. But there's more. The picture on the Blu-ray is also noticeably brighter on some sequences than the previous DVD, which makes the image clearer in darker scenes and give the brighter ones more vibrancy, making some shots on the DVD look a little muddy by comparison. This does raise the question about which of the two is truer to Mizoguchi's original intention, as while the Blu-ray transfer is definitely more attractive, the picture brightening does make a couple of the twilight scenes feel a little more like they are taking place in daylight (see the screen grabs below). This adjustment is not global, however – in terms of its brightness and contrast, the night-time on-sen scene is identical on both discs.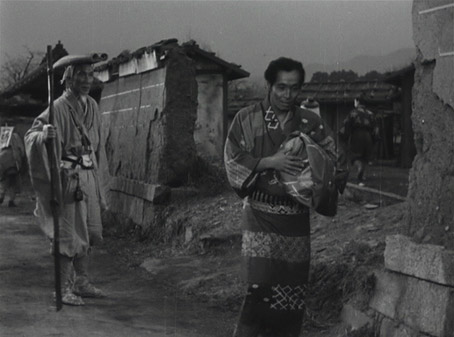 The previous Masters of Cinema DVD release (above) compared
with the Blu-ray transfer in the new dual format release (below)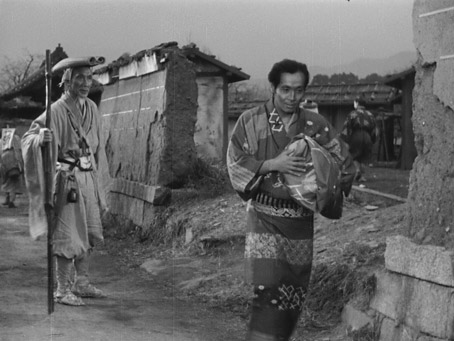 ---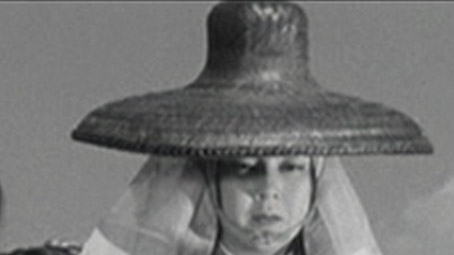 Enlarging the frame clearly shows the extra picture
detail on the Blu-ray (below) over the earlier DVD release (above).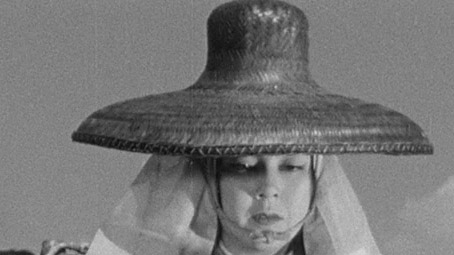 One unexpected side-effect of the increased sharpness on both films is that scratches and other sundry print damage that were softened on the standard definition transfer are brought crisply into focus on the Blu-ray, making it feel a lot more visible, particularly when there is a lot of it on screen at once. Frankly it's a trade-off worth making for the picture quality improvements, but it's worth being ready for.
Given the age of both films, the DTS-HD Master Audio 2.0 mono soundtracks were never destined to push the capabilities of uncompressed digital audio. Oyū-sama in particular really shows its age, with a very narrow range (the music sounds like it might if it were played on an old gramophone) and plenty of background fluff and crackle. The dialogue is still clear, though, and there is no obvious distortion. Ugetsu monogatari also has its share of background crackle, but it's a lot less pronounced and the dialogue and music is clearer and cleaner than that of its companion film.
Exactly the same as on the earlier DVD, only presented in HD. The booklet should also be the same as the one supplied with the previous release (one wasn't supplied with the review disc, but it's a reasonable assumption) and is absolutely worth having.
Yes there is still some visible print damage and yes, Oyū-sama doesn't look quite as crisp as its more famous stable mate, but for only a couple of quid more than the price of a standard DVD release you get a high definition transfers of two films – one very fine and one bona fide masterpiece – plus two fact-filled Tony Rayns video introductions, two trailers, and one of Eureka's most content-rich booklets. If you don't already own the DVD then this is a must-have, and even if you do then the picture quality improvements on Ugetsu Monogatari make this an irresistible upgrade. Highly recommended.