What true horror fan wouldn't dribble a little with anticipation at the prospect of a film titled Two Thousand Maniacs!? Look, it even has an exclamation mark! And if that doesn't hook you, you should know that it's the second film in Herschell Gordon Lewis's retrospectively titled Blood Trilogy, and for my money the best. Indeed, if you're looking for a film that typifies the cinema for which Lewis is famous and that showcases him at his most nefariously confident, then this is the one to go for.
It kicks off in lively fashion, as a couple of overexcited hillbillies named Rufe and Lester use a hand-painted 'Detour' sign to reroute two cars towards the small southern town of Pleasant Valley. The inhabitants are a cheerfully welcoming bunch who surround both vehicles as they roll along Main Street and inform their drivers and passengers that they've arrived just in time for the town's centenary celebrations. Apparently, this celebration requires a small group of Yankees to be their guests of honour, and the perennially jolly Mayor Buckman insists that they stay with them for a couple of days, all expenses paid. How could they refuse? As it happens they probably should, but then we wouldn't have a movie, or at least not this movie.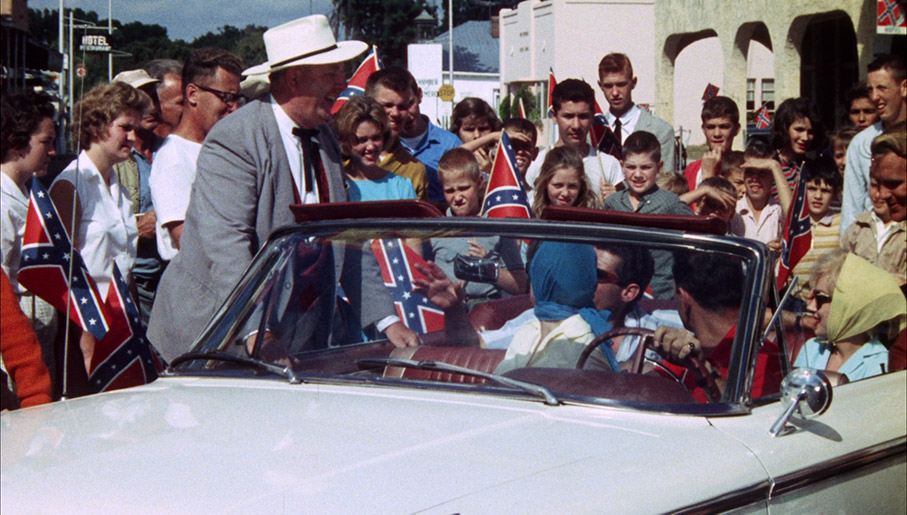 First to be targeted are bickering couple John and Bae – two of the four occupants of the first car to arrive – when they are individually tempted away from each other by giggling flirt Betsy and beefy hunk Harper. Bae is the first to discover that the townspeople are not quite as harmless as their happy demeanour suggests when, after taking her to a quiet spot and snogging her for a few seconds, the smiling Harper nicks her finger with his big knife. When she squeals in shock he responds by cheerfully cutting off her thumb. This still works as a shock moment, in part because it seemingly comes out of nowhere. Harper then takes his understandably hysterical victim to see Mayor Buckman who, with Rufe, Lester and Harper's help, lays her out on the table so that Rufe can cut off her arm with a felling axe. "I reckon we got ourselves the makin' of the barbecue," barks Buckman in delight as the others fall about laughing. Wait a minute, what year was this made? 1964? Bloody hell. By this point husband John is pissed as a fart on moonshine, so has a bucket of water thrown in his face to wake him enough to realise he's about to be torn apart by the four horses that have been tied to his arms and legs. In one of the film's most intriguing moments, the result of this ancient, barbaric and very real form of execution briefly seems to give the murderous locals pause for thought, but they're soon whipped back up into a Dixieland frenzy again by Rufe and Lester, like attendees at a Donald Trump rally who suffer a pang of conscience and are snapped back into line by the pre-programmed chanting and sloganeering of others.
The following morning, John and Bae's companions David and Beverley start to suspect something is not right when they are told that their friends were up long before them and have gone for a walk. "Have you ever known Johnny boy to get up before 10.00?" asks David with convincing concern. By this time the occupants of the second car – the attractive Terry and hitchhiking schoolteacher Tom (his own car broke down) have worked out that their lives are probably in danger and have already made their first escape attempt and are working on the second. David and Beverley's concerns, meanwhile, are not urgent enough to protect them from danger, as David finds out when the locals insist he help them with the traditional barrel roll. Ah yes, the barrel roll. If you somehow think a film made back in 1964 couldn't possible make you wince with horror, just you wait until you get to this scene. And believe it or not, this time around it's not what you see but the horrible implications of what is about to happen that should have you sucking air through tightly clenched teeth. The death that follows this is unquestionably the most protracted and in some ways anticipates the torture porn sub-genre to come. It's made all the more unpleasant by being transformed into a fairground game in which locals can test their throwing skills for the prize of seeing a Yankee crushed to death by a huge rock.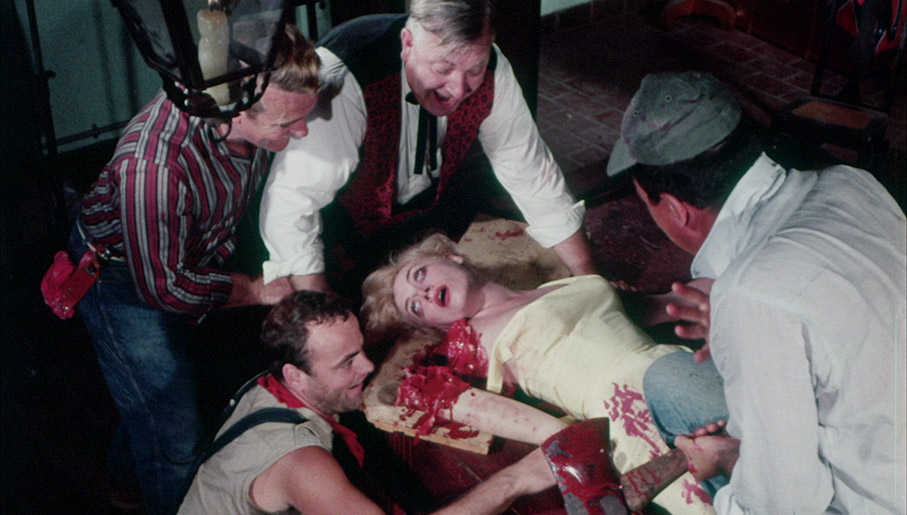 I'll admit I took the piss out of Lewis's game-changing Blood Feast a bit (it's easy to do, and let's face it, I take the piss out of everything), but I still have a huge affection for the film and believe it to be one of the most important horror movies of the 1960s. There are certainly aspects of Two Thousand Maniacs! that it would be just as easy to take pot-shots at, but where Blood Feast seemed to be testing the water, Two Thousand Maniacs! swims in it like an Olympian athlete on steroids. Even more completely than Blood Feast, it lays out the template for the slasher genre to come, as members of an initially innocent group of youngsters (well, youngsters by the standard of early 60s genre cinema) are individually dispatched in a variety of creatively hideous ways. That we don't get to know the victims well enough to seriously fret for their fate is a shame (this also went to be par for the slasher sub-genre course), but pitting six unwary travellers against a town of two thousand potential killers – and Lewis clearly did get a whole town of people involved in the making of the film, creating a real sense of scale to the threat – does create an empathic bond with the potential victims. And while there is still an air of "quickly read this then say it" to some of the line delivery, a couple of the performances are rather good, with Michael Korb and Yvonne Gilbert pleasingly low key as David and Beverley, and Lewis favourite William Kerwin making for a likeable lead as Tim, despite working under the alias of Thomas White. What was he trying to hide, do you think?
Where Two Thousand Maniacs! really does feels ahead of the game (I had to keep reminding myself when it was shot and released) is in Lewis's decision to portray the townspeople not as leeringly sinister but as relentlessly cheerful and brimming with southern hospitality. And this almost never wavers, even when they are violently executing (and at the barbecue, eating) their hapless guests. And they include in their number women and young children, all of whom think this is an absolute hoot, which takes these scenes beyond their initial function as gory spectacle and into somewhat more disturbing territory. It's a risky comparison to make, I know, but watching whole families cheer as David is rolled down a hill in a barrel punctured with ten-inch nails or jumping with excitement at the prospect of seeing Beverley crushed to death by a rock can't help but anticipate the bone-chilling climax of The Wicker Man. And the kids are shown to be as morally bankrupt as their elders, as epitomised by the obnoxious Billy, who is shown early on amusing himself by throttling a cat with a home-made noose in a nasty but effective bit of plot foreshadowing. Even the music – a mix-tape of lively country tunes that celebrate the South and include an infuriatingly catchy theme song composed and performed by Lewis himself – creepily counterpoints the looming threat more effectively than a traditional horror score would have. The effect is enhanced by having the songs delivered on screen by a trio known as The Pleasant Valley Boys, who wander through the town as a sort of musical Greek chorus and serenade David and Beverley outside their hotel room window like musical angels of impending death.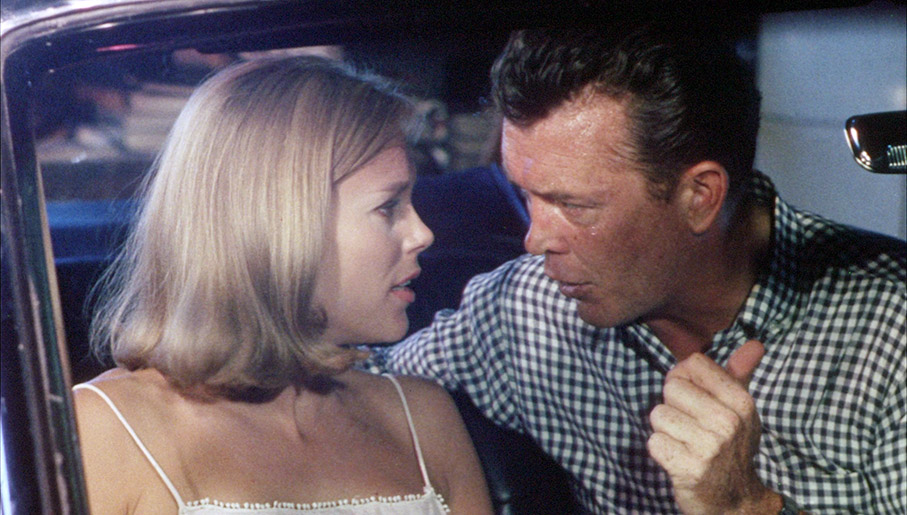 Yes, there are still a few hesitant moments, and as the double-act of Rufus and Lester, Gary Bakeman and Ben Moore push the concept of over-excited hillbillies to the max. But for my money, this is not just the film where Lewis really found his horror feet, but is far and away one of his most accomplished features. Lewis's own camerawork and Robert Sinise's editing are both solid here, and in some respects the film as a whole – for better or worse, depending on your taste in film – really was a good decade ahead of its time. Even the ending – which confirms the inspiration of a celebrated play that I'm not about to name here – is deftly and even thoughtfully handled. Colour me amazed. Go, Herschell!
Six years ago (where has the time gone?), Virginia-born comedian Rich Hall made a documentary titled Rich Hall's The Dirty South, in which he took a disapproving look back at the too-often stereotypical and unflattering representation of the American South in movies. I can't help wondering what he'd make of Moonshine Mountain, a film made by Herschell Gordon Lewis immediately after Two Thousand Maniacs! to cash in on the phenomenal success of the south-set Thunder Road. And if it's troubled you in the past that folks from down south have been portrayed as being just a little primitive and backward, just wait until you clap your eyes on some of the lads and lassies here.
It all begins when celebrity folk singer Doug Martin arrives in the region looking to draw new inspiration from local people and their music. At the airport he's mobbed by a small but enthusiastic party of squealing female fans, then grilled and laughingly mocked by a posse of cynical reporters. When he stops at an isolated and run-down excuse for a general store, he's banged on the head by local hillbilly Raf, who robs him of his 'fancy' jacket, in the process also stripping him of his money and travellers cheques. In Raf's eyes it's a straight trade, as he leaves his own insect-infested denim top in exchange, and we later learn he wasn't even aware that Doug's jacket had all those fancy papers in its pockets. Yeah, I know, it sounds as though I'm taking the piss again, but this is exactly how it plays out in the film, and in those very words. Doug borrows a dime from the general store owner – whose delivery is so slowly drawled that you may have to watch it on fast forward to make out what he's saying – and uses the store's "new-fangled phone" to call New York and have some money wired to the hotel (which is named 'The Hotel') where he'll be staying.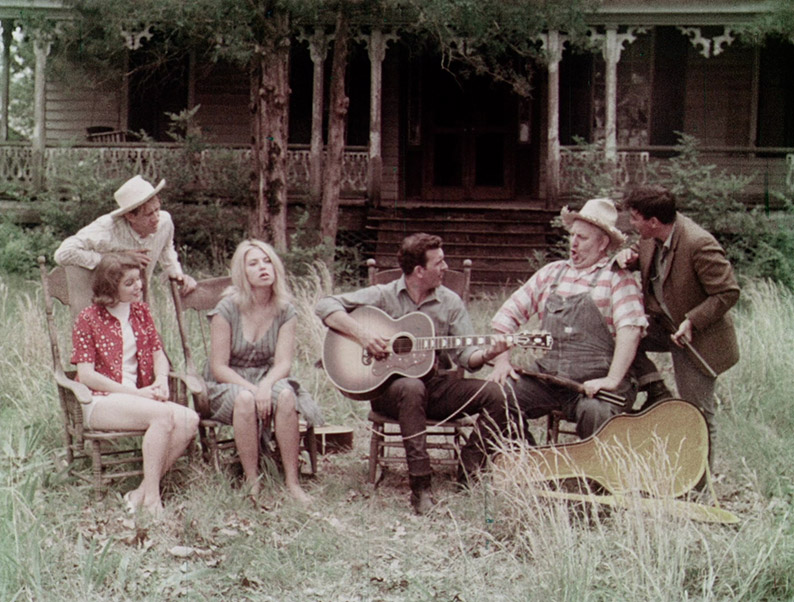 After checking in, Doug goes a-wandering with his guitar and tape recorder and quickly stumbles across a family who are singing in their front yard, just the sort of thing he was seeking for his research. And wouldn't you know it, one of their number is the jacket-stealing Raf. After getting his wallet back he's introduced to the family. The father, Jeb Carpenter, is a welcoming fellow (then again, given that he's played by Jeffrey Allen, the friendly-seeming mayor in Two Thousand Maniacs!, that doesn't mean much), and aside from Raf, Jeb has three other adult children. Second son Hutto is clearly as dumb as tree stump, pretty Laura seems a bit more on the ball and takes a shine to their visitor, and Mary Lou looks as if she's been through a year of wildly excessive electroshock therapy and emerged with only her singing voice unscathed. And these people can sing. It turns out that Dougie also has some serious musical talent – as the end credits remind us, "he sure can pick that gittar." I'll be coming back to those credits in a minute, as they deserve a paragraph all of their own. If Doug's face looks vaguely familiar then that's because actor and musician Charles Glore (here appearing as Chuck Scott and who also wrote the screenplay under his real name) was one of the Pleasant Valley Boys in Two Thousand Maniacs!.
For the first half, the impression is that the threadbare plot has only one function, to move us from one musical performance to the next in the same way that Blood Feast did with its gore scenes. As it happens, this is no bad thing, as it's through the musical that the film comes to life. I'd even claim that the first-half barn dance, where songs are performed before a crowd of enthusiastically clapping locals, who then get up and twirl around the floor in a lively square dance, is closer to a documentary than a dramatic feature, as Lewis's camera watches on from the stalls and intermittently homes in on the musicians and singers in full flow. Indeed, when Doug first asks Jeb if he can just sit and listen to the family sing, I was reminded of those TV shows in which a musician of note would trip around the southern states of the USA in search of authentic country, folk and bluegrass tunes and then sit and play with the musicians they encountered. Man, did I just try to sell Doug Martin as Aly Bain?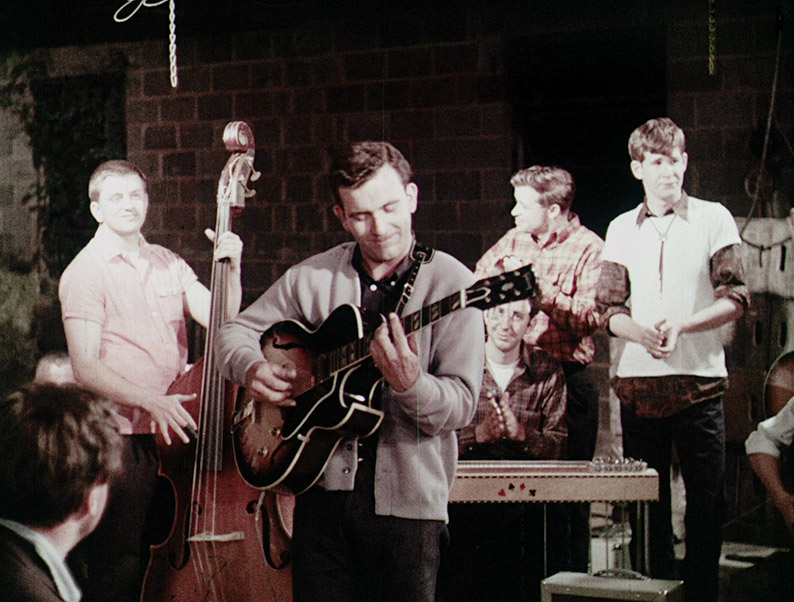 In the second half the music takes a back seat, however, as the Carpenters introduce Doug to their head-spinning moonshine and he and Laura start falling for each other, which is given a jolt when Doug's jealous and pampered city girlfriend Della turns up to accuse him of philandering with the local ladies. Which he kind of is, of course. Following a noisy breakup that entertains hotel manager Zero, Della heads off but is followed, stopped and seduced by the town oily toad of a sheriff, Asa Potter. It's he and his lumbering simpleton of a deputy Luther who drive the story in the film's second half, and his actions that shine a light on what an essentially decent lot the rest of the townspeople are. Lewis gets to have his cake and hungrily scoff it here, painting some of the townspeople as spectacularly dumb for comic effect and then having the balls to suggest we've misjudged them. It's revealed, for example, that far from just trying to marry Laura off to anything in trousers, Jeb is sending her to college in the hope that she might make something of herself. And any suggestion that the others are lacking in education is amusingly undermined when Doug is arguing with Della in front of Zero, who's watching this like it's a comedy performance put on purely for his benefit. When Della delivers the surprisingly close to the knuckle accusation about Doug's philandering, "You have more horns than a heard of rhinoceroses," Zero helpfully interjects. "Rhinoceri," he informs her. "That's the plural."
Cinematically, Moonshine Mountain is more primitive than its companion feature on this disc. Whole sequences are covered in single, long-held wide shots that sometimes cry out for some coverage, though you could argue that this adds to the film's observational feel. Yeah, let's go with that. It's unlikely you'll give a hoot about Potter's attempts to cover his tracks by crapping on members of the Carpenter family (which includes, at least by implication, raping one of them, which does sting due to the personality issues of the victim). But Lewis clearly doesn't expect us to take his film remotely seriously, and clearly intended it as bit of low-budget fun that dances with stereotypes, does right by its music, and is rather fond of the very people it initially takes the piss out of.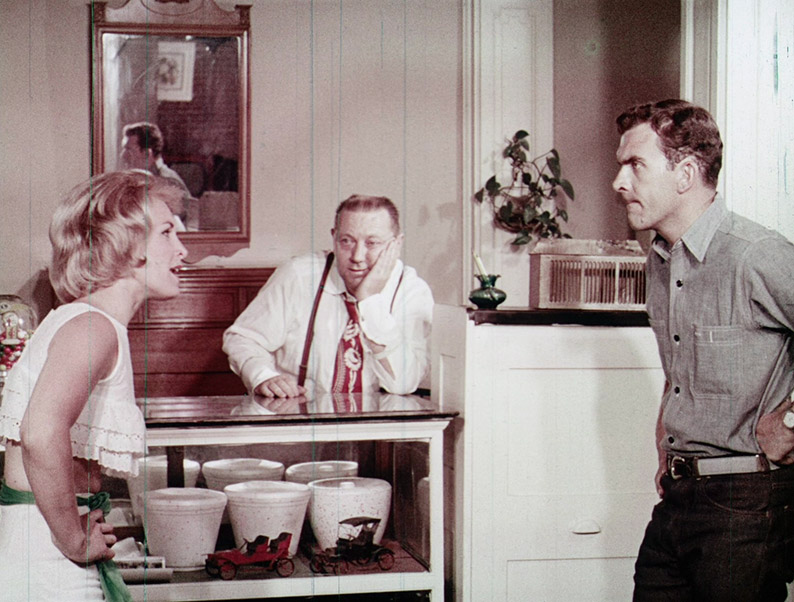 Which brings me back to the aforementioned opening and closing credits, which are far and away the funniest thing in the film, passing comment on almost its every credited job and role as if written by one its characters. I'll leave you to savour them for yourself as they appear, but my personal favourites include "Sound Recordist, who erased most of it," "Other Fellers who hung around and watched," "Filmed in EASTMANCOLOR, all red and green and blue and all," "These boys didn't do much but their names look nice," and, tempting fate a little, "Produced and Directed by Herschell Gordon Lewis, who ought to know better but don't."
While not as eye-poppingly gorgeous as the transfer of Blood Feast on the first disc in this collection, this restoration of Two Thousand Maniacs!, carried out by Something Weird from the original elements, with additional sections sourced from standard definition tape masters to create the most complete version possible of the film, is still pretty damned fine. The sharpness and level of detail are very good for the most part, though do drop a little when the tape source has been used. Surprisingly, these moments do not jump out in the manner you might expect, with the main giveaway being a slight narrowing of the aspect ratio, although the content of the shots between the two sources is always precision matched. The contrast is punchy and the colours often vibrant, notably the rich red of the blood and the confederate flags. Read into that what you will. Some instances of small damage do remain but have been largely minimised, though there are a few very visible scratches, and there's an explosion of dust and damage at one of the reel changes, but it doesn't last long.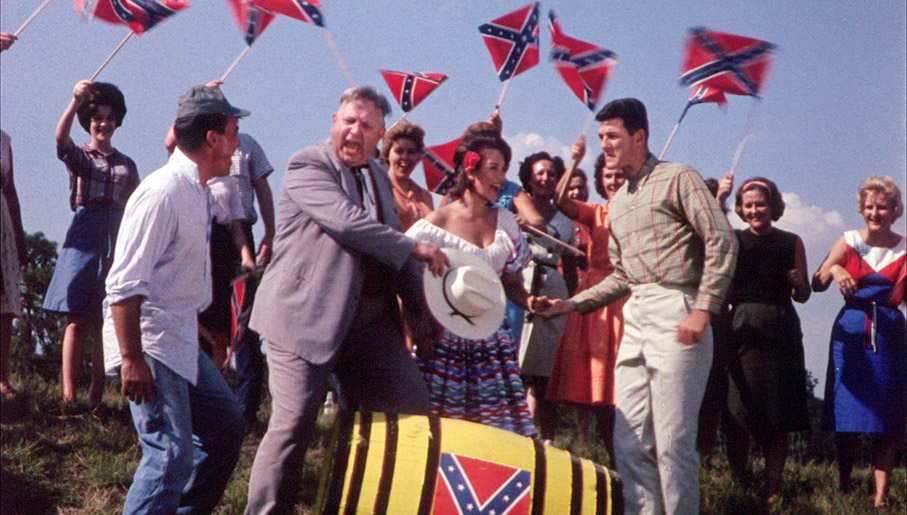 The Linear PCM 1.0 mono soundtrack is clear enough, with the expected restrictions on the dynamic range and a treble bias to the music. The dialogue was clearly recorded on location and not redubbed in post, which occasionally means it falls victim to room acoustics, but it's never rendered incomprehensible. Some occasional background hiss and light crackle and small instances of damage remain, but are not a major issue.
At the opposite end of the quality scale we have a transfer of Moonshine Mountain that practically defines the concept of having the odds stacked against you, and the film is preceded by a lengthy caption outlining the problems faced by the restoration team. The original negative has been lost, so a selection of 35mm prints have been sourced for the restoration, and even these are described as "extremely poor quality." Scratches and other damage abound (at one point three floating blobs appear that look a little like dancing UFOs) that were too extensive to digitally restore, and there are numerous missing frames that prompt sudden jumps in the action, which almost transforms the opening few seconds of the title sequence into a jump-cut art film. A standard definition tape source has also been used when no film elements were available, which can cause the quality and even framing to dramatically change midway through a shot, though once again the restorers have done a hell of a job to precisely match the position of the content between the film and tape sources and lock them solidly in frame. The most startling casualty, however, is that the colour has faded to such a degree that the film plays almost as a monochrome feature with just the faintest whiff of a colour tint here and there. But given this sizeable mountain of restrictions, the restoration team have still done a solid job, as evidenced in the level of picture detail, the well-balanced contrast and the robust nature of the best materials. And once you accept the insurmountable problems that they faced, you quickly get used to and accept what you've been served as the best the film is likely ever to look now.

For some reason we were unable to grab a still from the Moonshine Mountain trailer,
so here's one from Weird Video's US release for colour comparison .
The soundtrack also has its share of small issues, notably a spectacular buzz that appears on the scene that follows Potter's seduction of Della, which for a short while tries its evil best to overwhelm the dialogue. Yet expected range restrictions aside, the dialogue and the music are still surprisingly clear. There is some light fluff and crackle and the occasional subdued pop in quieter scenes, but it's not a major issue.
Optional English subtitles for the deaf and hearing impaired are available for both films.
Two Thousand Maniacs Can't Be Wrong (9:54)
Filmmaker Tim Sullivan, who directed the 2005 remake 2001 Maniacs, recalls how he first read about Lewis and his films and celebrates the strengths of Two Thousand Maniacs!, which is the film that he believes best sums Lewis up. He rather neatly suggests that Lewis was to 1960s cinema what EC comics were to 1950s comic books, and remembers first seeing the film on an extraordinary double-bill with Don Coscarelli's Phantasm, about which he remarks, "Phantasm felt like a film that was made by people, Two Thousand Maniacs! felt like something that was observed."
Hicksploitation: Confidential (7:14)
A brand new visual essay on the depiction of the American South in exploitation cinema, narrated in a fake Southern accent by film historian and author David Del Valle and illustrated with posters, stills and the odd film clip. It's OK, but is seriously lacking in depth when compared to the aforementioned Rich Hall's The Dirty South.
David Friedman: The Gentlemen's Smut Peddler (9:22)
A heartfelt tribute to David F. Friedman, Lewis's partner and regular producer until they parted company when Friedman returned to California to further his film career there. Contributing a number of engaging stories are Lewis himself, filmmakers Fred Olsen Ray (Hollywood Chainsaw Hookers) and Tim Sullivan (2001 Maniacs), and editor Bob Murawski (Spider-Man, Army of Darkness). That Friedman's promotional and interpersonal skills were key to Lewis's success is repeatedly made clear, and it's even suggested that once Friedman departed, Lewis's films were never quite the same. We shall see.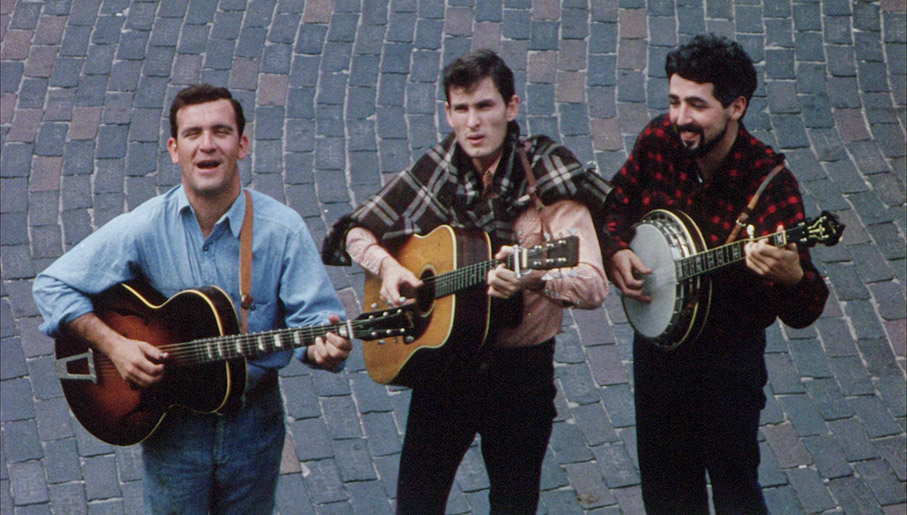 Herschell's Art of Advertising (3:33)
Lewis outlines his favoured approach to selling a film and reflects on how things have changed in the digital age.
Maniacs! Outtakes (16:28)
A disorderly collection of outtakes thrown together in no particular order and missing the soundtrack, so we've got some of the tunes from the film instead. There's no escaping that theme song!
Promo Gallery
The Two Thousand Maniacs! Trailer (2:14) kicks off with a warning that you get your kids out of here now, then treats us to a handful of the film's bloodier shots and the news that this is "brutal, evil, ghastly beyond belief." The Moonshine Mountain Trailer (1:29) delivers an instant jolt to the system by being in vibrant colour, giving you an idea of how the film itself once looked. It's introduced by Jeb Carpenter, surrounded by his family and close friends, and includes extracts from the film that you can use for colour comparison purposes.
Maniacs! Commentary
As with the commentary on Blood Feast, this features Herschell Gordon Lewis and David Friedman and is moderated by Mike Vraney of Something Weird Video, with occasional contributions from the back of the booth from Jimmy Maslin of Shock Films. As before, it's the enthusiastic double-act of Lewis and Friedman who rightly take the lead, delivering a barrel full of facts and anecdotes about the making of Two Thousand Maniacs! and responding to some effective prompting on specific scenes and elements from Vraney, who at one point sums up the film's continuing appeal when he says, "Even today this movie looks out of control." I particularly enjoyed Lewis's admission that the music on one scene was there primarily to hide a hum on the recorded soundtrack (ah, the trials of low budget filmmaking) and that he would always listen to any suggestion made by anyone and incorporate it into the film if he thought it was any good.
I fell for Two Thousand Maniacs! on my very first viewing and it remains perhaps my favourite of all Lewis's films. When I first watched Moonshine Mountain, however, I initially was left wondering what the hell I had just seen, but returned to it anyway and grew rather fond of it. The two certainly make for a well-matched double-bill, in their southern small town setting, their shared cast members and countrified music, and they gave me an unexpected appreciation for Lewis's unexpected talent for composing (or, as the credits on Moonshine Mountain claim, decomposing) catchy country tunes. The presentation of Two Thousand Maniacs! is solid, and while Moonshine Mountain is a serious victim of lost and degraded materials, Arrow have done their best with what is available. The special features, once again, are generally top notch. Splendid!