| | |
| --- | --- |
| | "I'm sort of interested in that confusing, blurry life-art divide. I like to watch work where I feel like it's closely connected to someone. That's appealing to me." |
| | Lena Dunham |
Dedicated to Nora Ephron (1941-2012).
Familiarity, they say, breeds contempt. If that's true, then hype breeds something much harder to define, something limitless in its potency. There's a scale to hype; though not quantifiable, it's telling. At one end is the good, stirring excitement and hope, born from the promise of something new. At the other is the bad, where disbelief and an extreme level of jealousy reside. Hype for any given person, film, show or product can fall out of favour. When that hype originates from the internet, that shift can happen within the blink of an eye. If you haven't got the talent to back up that hype, it can sour and bite back hard.

Someone currently negotiating the hype gauntlet is Lena Dunham, a multi-hyphenate creative force – filmmaker, writer, actress, and now showrunner – widely touted as the emergent voice of Generation Y. Thanks to the success of her HBO comedy-drama Girls, she's the media's favourite new chew toy, seemingly everywhere out of nowhere. However, the buzz surrounding her is by no means new, it's just louder. Built upon the foundations of her strong web presence cultivated since 2006 – a practical eternity in internet terms – Dunham's semi-autobiographical confessional comedy is fast becoming the go-to creative talent of choice for anyone swallowed up by the perils of quarter-life crisis as well as those looking back on those years full of relief that they made it out alive.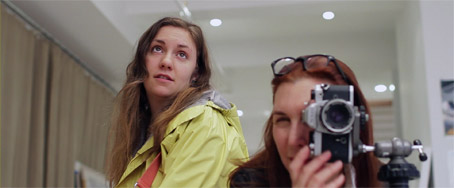 A girl yet to make that transition is Tiny Furniture's Aura (Lena Dunham), recently returned to the comfort of her mother's Tribeca loft after graduating from an Ohio arts college with a head full of film theory and little else to prepare her for adult life. Far from bursting to the brim with plans for her future, she's in stasis and significantly down on her luck. She has no money, no boyfriend, and no plan. The only light at the end of the tunnel is the hope she can eventually move in with college friend Frankie (Merritt Wever) when she finishes her studies, and everything will magically fall into place. Looking for sympathy, and more than a little bit of attention, she's gets neither from her artist-photographer mother Siri and precocious younger sister Nadine (played by Dunham's real-life mother and sister); they're too busy with their own lives to worry about the state of hers. There's constant tension between the three women as they struggle to accommodate each other and reconcile the people they are with the ones they once knew.
Life doesn't come with a manual and Aura's in desperate need of one. She, like many of Dunham's characters, is floundering in that strange in between place of not feeling like a child, but not feeling anything like an adult either. The world dictates that Aura grow up and become responsible, that she stand on her own feet, but the odds are stacked against her. Aura's only taste of anything nearing responsibility is caring for her hamster Gilda. Her tiny pet is something of an echo of childhood, one that she clings to fiercely. A constant amidst the unfolding chaos that is her life.
She lurches from one mistake to another, acutely aware of each and every one.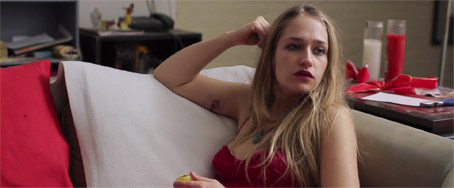 Taking solace and perhaps regressing by reconnecting with her reckless but well-meaning school friend Charlotte (an impressive Jemima Kirke, a friend of Dunham's since their years at St Ann's school), Aura procrastinates further, delaying the future for as long as she can, but in the end, it's Charlotte that comes to the rescue. With her support, Aura gets a job as a hostess at local restaurant, and an in with the art world crowd she so longs to be a part of. However, Aura soon finds that realising her dreams isn't as easy as she expected, and complications arrive in the form of sous chef Keith (David Call, a great foil to Dunham's naïve Aura) and self-styled YouTube video artist Jed (Alex Karpovsky, staple of indies and mumblecore who plays the flipside to his character in Andrew Bujalski's Beeswax). Aura quickly realises that living the dream isn't quite what she expected. In fact, it's more like a living nightmare.
Filmed in the Dunham family home, Tiny Furniture won over audiences and critics alike after its premiere at SXSW in 2010, winning Best Narrative Feature, and went on to secure the Best First Screenplay at that year's Independent Spirit Awards. When making the film, Dunham's main aim was to get it to play at SXSW, and perhaps secure a release via IFC's video-on-demand services, similar to her first feature, Creative Nonfiction. The critical reception the film received, and the connection audiences made with it, came as something of a surprise. To see it as part of the Criterion Collection two years later proves that Dunham's style, though somewhat divisive – you either adore it or think it pretentious and ridiculous – is also something that resonates with audiences. If the fact it exists within the collection at all doesn't speak to its quality, there's little else that can. Despite the fact that some may not agree with it's inclusion – thinking it falls short of fulfilling the distributor's remit – to dismiss Dunham's work because of who she is or indeed, to reduce it to one-note riffs upon white privilege is to do her a disservice.
Criterion may have taken risk with Dunham, but it's one that pays off.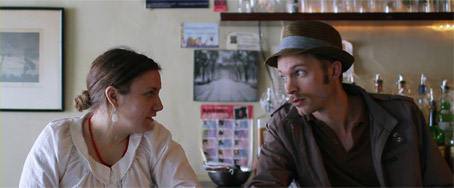 In many ways, Tiny Furniture isn't just a second feature, it's the culmination of a line of thought – narrative preoccupations, if you will – that began four years prior, in her first experimental short Pressure (discussed in more detail along with other shorts below), that she's continued to explore in various avenues and platforms since then. With each outing, whether features like Creative Nonfiction or web series like Tight Shots and Delusional Downtown Divas, Dunham has experimented and managed to do something new, but one thing remains the same: her eye for detail and ear for accuracy, particularly when it comes to dialogue. Characters in films sometimes sound like characters rather than real people. In the case of Dunham's work, it's the reverse, and they sometimes feel a little too real – there's no movie-star make-up here.
Throughout the film, Aura (and Dunham) is refreshingly unkempt, walking around the loft half-dressed, with messy hair and no real concern to smarten up. Even when she makes an effort for a party or a date, there's still something amateur and ordinary about it. In our perfection obsessed culture, it's a brave move, particularly for a young woman (something that's caused debate in Dunham's work ever since her YouTube days). There's certainly an echo of Dunham's inspiration, Woody Allen, in that choice too. The immediate link is, of course, that Allen doesn't look like a 'conventional' leading man, but more importantly, Allen's choice to become a leading man and therefore active part of the worlds he creates. By following such an example, it means that different kinds of faces and body types are shown onscreen, and encourages someone like Dunham – typifying the ordinary twenty-something – to appear as she does. However, it's a sad reflection of our relationship to visual image and body shape that this is still a topic of debate in 2012.
Beyond that, it's important to consider why Tiny Furniture has resonated with audiences, and it's not just related to Dunham herself (though to some degree, this is always at play) it's connected to the world she creates and its difference from mainstream media representations of young women like Aura. While Dunham presents a very particular world view – that of 'post graduate delirium' to borrow from Aura – she also manages to transcend that, and appeal to a surprisingly broad amount of people. The answer as to why is a simple one; at some point in our lives, we've either felt or behaved like one of her characters. The key to the successfulness of Dunham's work is the relatability of her characters; though sometimes spoilt, selfish, self-absorbed or misanthropic, they're also human. You can't help but want them to succeed and cross your fingers that it turns out fine. You'll never cross them tighter than you do for Aura. She's so incredibly close to achieving what she wants – or what she thinks she wants – that it's frustrating.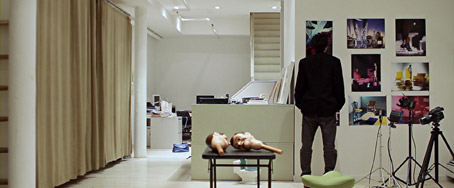 Thematically, the film is something of a primer for her HBO series Girls, covering similar ground on a smaller but no less detailed scale. Aura is a restless soul; though obviously intelligent, she's somewhat socially and sexually awkward, struggling to adapt to her post collegiate life. Her biggest challenge is to truly discover herself and the potential she possesses – her oft-mentioned ex-boyfriend Owen went off to do much the same thing. Aura is typical of the characters that populate Dunham's work, and the heavy meta-referencing to her own life means their differences are, by her own admission, slight. However, Tiny Furniture is no artful meditation on the 'poor little rich girl' malaise, it's much more than that. Dunham isn't afraid to critique the world she presents or treat her characters harshly. Aura's biggest flaws are her smugness, and sense of self-entitlement, and it's something Dunham draws attention to rather than shies away from. Those flaws are not entirely Aura's fault of course, it's a nature versus nurture thing. The world tells her that she can have everything, and everything has a price – even if she's rarely the one paying for it.
If you're after filmic comparisons to give an idea of what Tiny Furniture is like to watch, the closest and easiest one to suggest is Azazel Jacobs' Momma's Man. Of course, there are immediate similarities between the two films, not least because of the subject-matter, their creative process (Jacobs' parents are featured in their real home), but also the backgrounds of the two directors. Tiny Furniture isn't simply Momma's Man for girls, even if it would provide something of an introduction to it. They're cinematic friends, not cinematic twins. The indie origins of Dunham's work, its style, and her self-confessed appreciation for Andrew Bujalski has seen Tiny Furniture tarred with that brush by critics in an effort to label what the film is and the kind of cinema it belongs to. Mumblecore has become something of a dirty word now, and an often misappropriated one. Like the Jacobs comparison, it's an easy one to draw. Tiny Furniture is however, expressive of a different kind of filmmaking. Straddling the line between mumblecore and something more artisan, like the early Woody Allen films Dunham so admires, there's an undercurrent of tension between the two that gives the film its own kind of energy.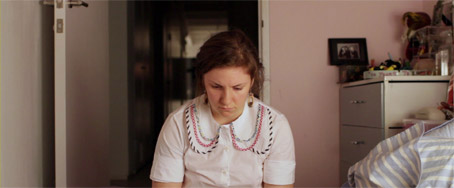 A tightly scripted and considered affair, there's also nuance and subtlety in the film's visual style, photographed beautifully by Jody Lee Pipes. Everything looks clean, careful and constructed, much like the décor in Siri's immaculate loft, and her photography, which display the tiny furniture of the title (themselves a reference to Laurie Simmons' photography). Cinema of this kind; that's languidly-paced, without any great action, dialogue and pop culture reference heavy (everything from Saturday Night Live to the writings of Sebald gets a look in) can often feel cold and distancing regardless of their artistic merit.
Somewhat at odds with its bright palette and indie-electro infused scoring from Teddy Blanks (formerly of The Gaskets), Tiny Furniture is a surprisingly mellow film and an intimate one. From the opening moments, you're drawn into the film, and then drawn toward Aura. You can't help but be won over, not least because Dunham is such a charismatic figure. By the close, you're completely on her side. The humour on display is clever, often of the laugh out loud variety, but there's a real depth and poignancy to the film too. The final scene in particular, packs an impressive emotional punch, and one that leaves its own kind of mark.
How things have changed in the digital age. Once even a low-budget film would have to shoot on at least super-16mm to achieve a respectable picture quality, while Tiny Furniture was shot on a Canon EOS 7D digital SLR – which you can buy outright for a little over a grand – and it looks terrific.* The detail is crisp, the colours are naturalistic but vibrant when they need to be, there is no sign at all of compression issues (and that's despite being recorded on H.264, by nature a compressed video format) and the contrast is as close to perfect as I've seen on a disc all year. The image is certainly identifiable as HD rather than film, but most attractively so, and it has been lit to take best advantage of the format. A superb transfer.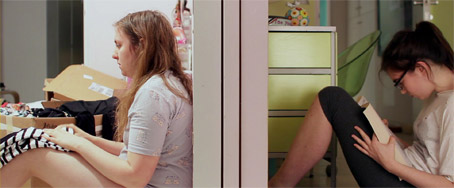 The DTS-HD Master Audio 5.1 surround audio sits largely front and centre, appropriate for a largely dialogue driven film. Some ambient sound and the music is more widely spread, but still favours the front of the sound stage. But this is a low budget indie, after all, and all soundtrack elements are clearly reproduced and boast a good dynamic range.
As releases go, you'd be hard-pressed to better this one. With a director-approved digital transfer and a DTS-HD Master Audio soundtrack (Blu-ray only), the film looks fantastic, but it doesn't stop there. The supplemental features are plentiful, with new content created in collaboration with Dunham specifically for the release. Criterion often is the byword for quality, and that's certainly the case here.
Nora Ephron and Lena Dunham (30:26)
In this, the first of two interviews, Dunham talks with multi award-winning writer, director, and producer Nora Ephron, provides much more information and depth rather than your standard Q and A, since it's more a filmed conversation artist to artist than classic back and forth questioning. Unsurprisingly, the pair bounce off each other well, as they discuss Tiny Furniture, the nature and impact of autobiographical film, and Dunham's many influences – Woody Allen and Nora Ephron included – and their experiences working within the industry. Both women are on fine form, and it makes for great viewing.
Paul Schrader on Dunham (7:41)
The second of interview on the disc, this time with writer-director and critic Paul Schrader. Essentially, it's a talking head style commentary. Though comparatively short, it's a great watch, and certainly gives much food for thought. Alongside stills and excerpts from Tiny Furniture, Schrader talks about his admiration for the film, critical reactions to it, and his impressions of Dunham. Most interestingly – especially in light of the Girls hype – are the links Schrader makes between Dunham and multi-talented actor James Franco, both derided in different circles for being too much of a good thing.
Creative Nonfiction [2009] (58:26)
It seems rather ridiculous to call this an extra, since it's actually Dunham's semi-autobiographical debut feature, made during her junior and senior year at Oberlin. Prior to this release, the film has only been available to those in the US, as part of Amazon's video-on-demand service, so it's a real treat to see it amongst the supplements. A separate introduction (08:14) by Dunham is also included, where she discusses how the project came to fruition and the challenges she faced during its making.
The film premiered at SXSW in 2009, and centres on creative writing student Ella (Dunham), as she struggles to complete her screenplay, keep up with her classes, her friends and her confusing relationship with dorm-mate Chris (David Unger). Over time, they all hear excerpts from the unfolding story and each offer their own brand of critique, ranging from genuine interest, in the form of Ella's best friend Edie (Audrey Gelman) to a somewhat scathing attack from her class Professor (David Walker).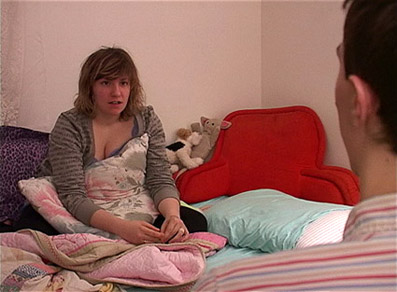 Deploying the classic film-within-a-film structure, Creative Nonfiction moves between Ella's daily life, and the one she's creating in her screenplay. The script itself is suitably dramatic, telling the story of a teenage girl's efforts to escape her kidnapper, and the people who come to her aide. Whenever Ella shares her ideas, we see them onscreen. The result is a bold, rather stylised vision that's part Luc Besson, part John Waters. Shot on 16mm, it contrasts sharply to the Mini-DV used through the rest of the film.
Essentially a film about the process of filmmaking, Creative Nonfiction is exemplary of what you can do outside of the Hollywood system if you own a camera and have friends willing to help. The DV shoot took place on the Oberlin campus, where Dunham undertook most jobs herself. In contrast, the 16mm shoot shifted locations to New Hampshire, and was filmed by a separate crew of friends she made on the Slamadance festival circuit – where her debut short Dealing was shown in 2007.
The idea for the screenplay Ella is working on came from a failed project Dunham was writing, and couldn't get to grips with. Concerned too, with somehow exploring her college experience through her writing, the two stories merged into one meta-reflexive unit. The two different worlds Dunham presents sometimes collide, to great and usually comic effect. However, there are moments where those worlds are a simple echo of each other too, that play with a surprising degree of subtlety given Dunham's relative inexperience.
Despite Creative Nonfiction's Lo-fi appearance – there's something rather quaint about the grainy quality of the image when compared to current HD standards – it's a complex and highly articulate film that manages to be both poignant and humorous at once. A clear progression from Dunham's earlier shorts, Creative Nonfiction shows a great deal of promise, and its easy to see why it's become something of a cult favourite.
Short Films
Unless you happened to come across these shorts online the years Dunham was still active on YouTube (the videos have since been removed), it's unlikely you've seen them before, so their inclusion here is a great bonus. Made when she was still a Creative Writing major at Oberlin, these are interesting to look back on in light of her growing body of work, chiefly because they set up many of its prevalent themes and stylistic tendencies. Burgeoning Dunham completists will still have some gaps in their viewing, however, since the shorts featured aren't inclusive of everything she created before her several web series and feature films.
Pressure [2006] (4:00)
A conversation between three girls as they sit together amidst the library stacks while they do last-minute preparation for an essay (one of whom is played by Dunham, the others by friends Maia Rotman and Sarah Hymanson). Chat bounces around between procrastinating college work, to chemistry with potential boyfriends, and the mysteries of the orgasm. Though obviously rough around the edges, Dunham's trademark confessional style and wit is already very much present. There's always great novelty value in watching someone near the beginning of their creative journey.

Open The Door [2006] (4:54)
Featuring Dunham's actual parents, the meta-referencing at work during this incredibly humorous short is rather mind-boggling. It centres upon a spoiled, rather childish young woman who converses over intercom with her parents, making them jump through hoops in order to be let into her apartment – all in the name of the film she's making. Of the many 'versions' of Lena we get to see on screen through Dunham's writing, this one isn't the most flattering, but there's something strangely endearing about her ability to discard vanity. This is an intriguing look into the idea of control, and how power balance between parent and child shifts over time.

Hooker on Campus [2006] (4:47)
This film experiments with the opposition between female sexuality (and sexualised imagery) versus reality. Dressed in a miniskirt, heels, and ripped tights, another Lena goes around her campus, approaching her bemused fellow students and firing off questions that escalate speedily towards inappropriateness. A bold statement in terms of subject, it also flags up Dunham's frank sensibility, her willingness to be vulnerable and put herself under scrutiny in the name of her work.

The Fountain [2007] (06:01)
Arguably the most famous – or rather infamous – contingent of Dunham's early work, thanks to the explosion of views and comments that followed its arrival on YouTube. It features Dunham washing and brushing her teeth in a college's ornate fountain, stripping down until she's left wearing only a bikini (breaking several college rules in the process). Though Dunham didn't intend the film to be a political statement and doesn't now consider it to be incredibly well thought out, it seems even more powerful now than it was at the time of its making. Like the short that preceded it, this too gives us much to think about regarding body image and perception. In the age of excessive air-brushing, there's something refreshing about Dunham's unintentional celebration of ordinariness thanks to her exhibitionist streak.

In accordance with her love for blurring the life/art line, The Fountain is the short film that features throughout Tiny Furniture, which Aura eventually agrees to show at the group exhibit. Functioning as a clever little nod to her past, it's also works as an example of the kind of instant fame Aura wants for herself, thinking that in being shocking she'll attain success.

For those wanting to know more about the film, Dunham reflects upon it during her conversation with Nora Ephron, found elsewhere in the supplements on the disc.
Trailer (2:28)
A solid sell for the film, complete with festival laurel stamps of approval. Quotes are also something of a given these days, but the selection used gives a nice appropriation of the critical reactions to Tiny Furniture without losing a sense of perspective. Editing wise, it definitely hits all the night notes in terms of expressing the film's tone – key with Dunham's work – something that's often mishandled in the name of attempting to reach a wider audience, and frequently leads to viewers feeling duped or misreading the film entirely. Fortunately, this isn't the case here.
Last but not least, there's a fold-out Booklet. It's nicely put together – as Criterion releases always are – with credits and supplementary notes about the disc transfer. The real gem here is an essay on Tiny Furniture by writer and critic, Philip Lopate, which contextualises Dunham's work within the evolution of the comedy genre. Written by someone with a clear respect and admiration for Dunham's talent, it's an engaging read with some great analysis too.
If you're yet to see the film, it's best read afterward, since it does divulge some plot elements.
Tiny Furniture is surprisingly assured and accomplished. Wryly-observed and beautiful to look at, this is a film of great emotional potency that leaves us with much to think about. Perhaps the most interesting thing to ponder is where Dunham's talents will take her next. Highly recommended.
---
* You can read more about the technical aspects of shooting the film on the Canon EOS 7D in this article from Filmmaker Magazine: http://www.filmmakermagazine.com/news/2011/11/shooting-tiny-furniture/