The films of Miklós Jancsó should be an easy sell to viewers who pay attention to such things. They are, frequently, bursting with cinematic vibrancy and a defiant sense of rebellion. They tend to have short running times buoyed by long, fluid takes, often against seemingly unending landscapes. For what they lack in basic exposition and narrative convenience, Jancsó's pictures compensate with a rousing vitality that so often should exist on this sort of canvas but only rarely does. It can be impolite to judge the artistic tastes of others, but those who might hesitate or struggle with Jancsó's cinema should really make an effort to discover its pleasures. 
Following last year's release of Electra, My Love, Second Run continues to bring the Hungarian director's films to Blu-ray with a sparkling new edition of Silence and Cry (Csend és kiáltás). The seventh of his movies made available by the boutique label in total, Silence and Cry often joins a loose trilogy of consecutive films The Round-Up and The Red and the White, both already on DVD from Second Run. All are politically-minded, as were many of the Eastern European films of the era which have endured, and both this one and The Red and the White take place in 1919. The Hungarian Soviet Republic has been defeated and anti-Communist military men seek out the opposition. A soldier (played by András Kozák, a frequent Jáncso lead) takes refuge at a farm in the plains, or puszta.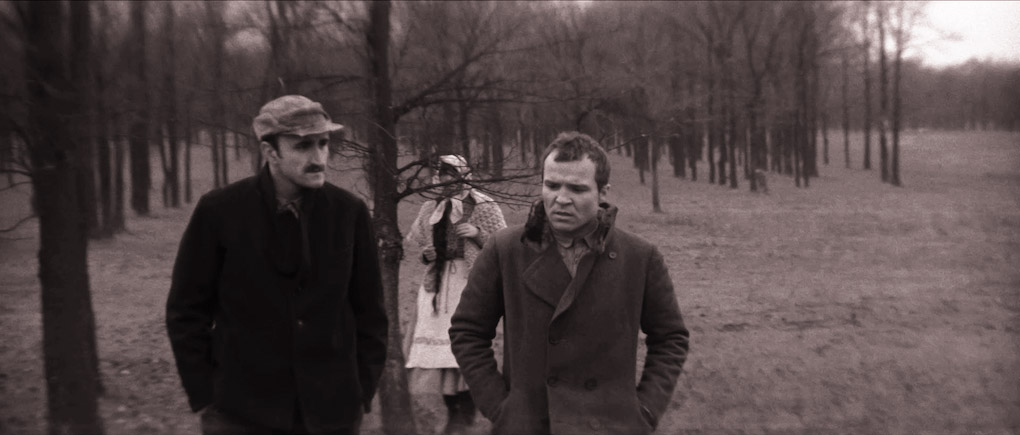 The ostensible head of the household on the farm, Károly (József Madaras) lives with his wife Teréz, his sister, and his mother-in-law. His daily humiliation at the hands of the gendarmes includes standing outside, neatly attired, with his arms outstretched. Forced to either "bunny hop" while holding a log above his head or sing a particular song chosen by the guard, we see Károly opt for the latter (after Jancsó and co-writer Gyula Hernádi already depicted another victim of this indignity jumping around like a literal maniac). Eventually, the wife and sister tire of what they perceive as Károly's weakness in allowing this to continue. They coldly devise a solution, though the film almost downplays the harshness or dramatic element of exactly what's going on here.
It's not Jancsó's way to necessarily personalize his stories. Characters tend to be rather broadly drawn. Maybe the protagonist of My Way Home (played by Kozák) could be a slight exception but even he is beholden to the central time and place aspect that Jancsó absolutely mastered. In Silence and Cry, we instead see a seemingly intentional lack of exposition mixed with narrative hesitation. Form merges into mood. The venality of the "whites" gets slightly undercut by the poisonous and inadequate actions of the "reds" despite the audience knowing exactly which perspective is favored. If the viewer is meant to be repulsed by the casual violence of the "whites" then what are we to make of the ineffectiveness and general acceptance by the opposition?
The case study is easily Kozák's character István, who is basically hiding out from the anti-Communist military at Károly's farmhouse. There's a scene early on where an apparent prisoner (and, again, Jancsó clearly favors an enigmatic approach to the details) follows what seems to be a ritual execution unbeknownst to him. He's simply told to go off in the distance and take a branch from a tree, giving the de facto military executioner the opportunity to shoot him. We're probably not meant to mourn or engage entirely, as the film seems very matter-of-fact about the ordeal. The Eastern European lack of shrill reaction, a frigidity as admirable as it is frustrating, drily makes its mark.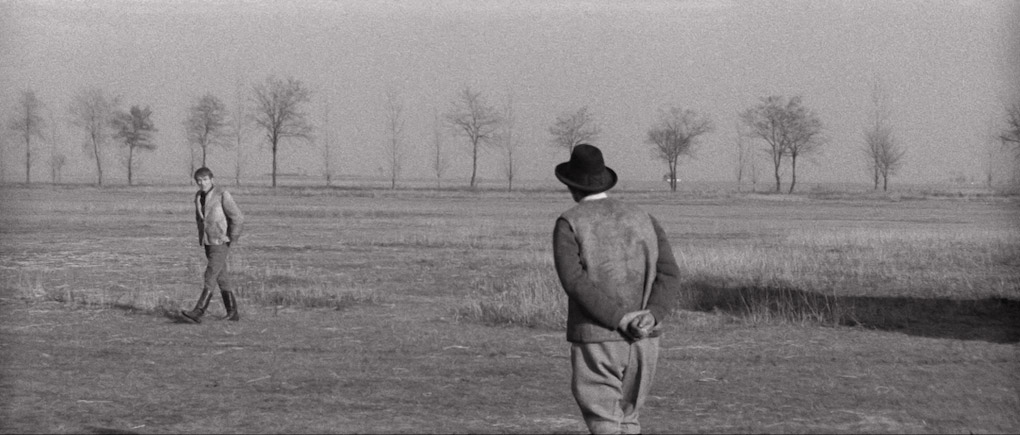 As the movie winds down it more clearly embraces István as the most compelling figure in the story. He sees what Károly is being subjected to and goes to file a report with the police, ostensibly knowing that he's wanted by the military. It's an odd contradiction that Jancsó seems unconcerned with justifying. Instead there's an opportunity provided for a knock-out of an ending, one that's clean, metaphorical and even satisfying to a point. The conclusion is strong enough to frame the entire picture, with wrinkles and layers added via the human element of this conflict. It's a classic finale, made whole by a director at the top of his game.
Jancsó could surely warrant the same fanatical following as is still given some of his European art house contemporaries. The elegant embrace of motion we see in his camera movements - owing strongly to cinematographer János Kende - makes for remarkable viewing experiences. (The ever-increasing size of our home television set-ups no doubt helps.) Once some basic familiarity sets in, a Jancsó picture from this era is unmistakable. Silence and Cry really, truly satisfies on that front. 
A Blu-ray release from Second Run is pretty much always cause for celebration, with simply no one in the English language home entertainment market rivaling the risk and reward prevalent in its catalog. Silence and Cry is a bona fide classic, if one still relatively unknown. It's the tenth BD Second Run has issued and, like all the rest, is region-free.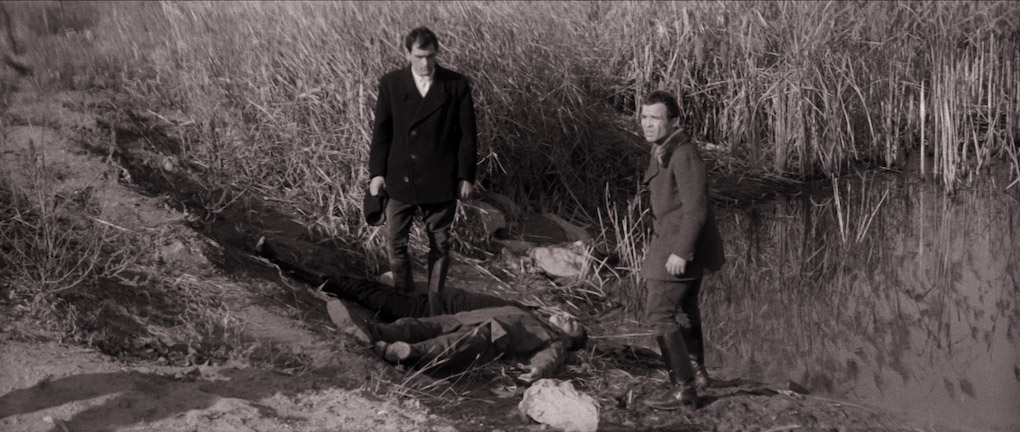 The image comes from a new HD re-master that was transferred from original materials, under the supervision of cinematographer János Kende. The black and white frame is in the 2.35:1 aspect ratio. It keeps a hefty bit of grain, somewhat limiting the overall sharpness and detail. The picture shows little damage aside from rare instances of light scratches and the stray hair in the gate. Contrast manages to impress, particularly during the daytime outdoor scenes. The bump to high definition here versus earlier Second Run issues of Jancsó's films is notable and dramatic. 
Audio is a Hungarian mono track, in two-channel LPCM here. Nothing seems particularly off or concerning. The frequent use of ambient nature and bird sounds meshes nicely into the soundtrack. The dialogue is cleanly subtitled in English. 
Presence I/II/II 
This trilogy of short documentary films (Jelenlét in Hungarian) by Miklos Jancsó were made across three separate decades and offer a somber depiction of Jewish grave stones and a particular place of worship. The first installment (8:04), from 1965, is in black and white and the Academy aspect ratio. The camera roams across a cemetery while a male voice hums or chants on the soundtrack. Two older Jewish men enter the crumbling Olaszliszka synagogue. A second part (10:14), from 1978, is similar, though this time in color and widescreen. A pair of younger Jewish men are seen going into the hollowed out building and performing a ritual prayer. Part three (13:45), dated 1986, returns to the same village, but takes on a slightly less heavy tone. It includes more celebratory images of children singing and eating cake. The trilogy as a whole is an interesting insight, not only into its subject matter, but also to the changing approach favored by the filmmaker over thirty years' time. 
Booklet (12 pages)
As we've come to expect from Second Run, a modestly-sized booklet with an essay on the film can be found inside the case. Critic Tony Rayns provides a six-page writing on Silence and Cry, placing it in some welcome historical context (since the film itself avoids doing so) and discussing the picture alongside some of the director's other work. 
Another superlative release from Second Run of a Miklos Jancsó film, with each one seemingly better than the last, Silence and Cry remains a bold and fresh experience. It breathes life into musty preconceptions. The images alone, even eliminating any dialogue, would be reason enough to seek this one out. Aided by a recent restoration, it's probably the best any of us has ever seen it and possibly ever will.