London. Joe Pascale (David Oyelowo) has a well-paid job as a computer programmer. Realising how much black boys in particular are left behind by the education system, and how much they need role models, he becomes a teacher and aims to look out for the black boys in his charge. He uses detentions as a guise for additional tuition. However, when he is accused of assault by a pupil, things begin to unravel, and in his anger sees black people as their own worst enemy...
Shoot the Messenger premiered on BBC2 on 30 August 2006, its so far only showing on British television. Written by Sharon Foster (who won a BAFTA Award for Break-Through Talent for this script), it was intentionally provocative and duly provoked, with allegations that this film, made by and starring people of colour, was in fact racist. Toyin Agbetu, of the media campaign group Ligali, said of the film, "It's going to be the flagship programme for racism. If you're a racist, and you want something to beat black people over the head with, here comes Shoot the Messenger. It's the BNP's [British National Party] calling card." There were similar reactions, with others accusing the film as portraying black people as "imbeciles without any intellectual ability". There might have been more if the film had been made under its original working title, Fuck Black People. Other commenters came to the film's defence.* Via Joe, who breaks the fourth wall throughout, the film addresses black self-loathing and how black people can be their own worst enemy. "Whenever I think about it, everything bad that has ever happened to me has involved a black person," he says.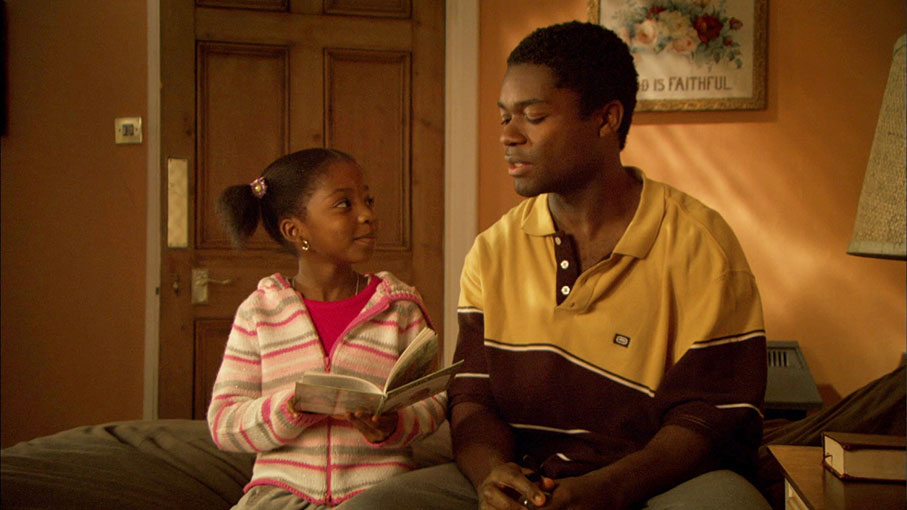 Sharon Foster was born in Hackney, the youngest of eight children of Jamaican parents. Breaking into screenwriting in her twenties, she worked on television, contributing three episodes of the BBC drama series Babyfather, and also working on Eastenders and Holby City. Shoot the Messenger was her first and only feature-length film. Ngozi Onwurah was born in Nigeria, of a Nigerian father and a white English mother (more about that when we get to The Body Beautiful in the extras). She has a brother, Simon, who has regularly worked with her as a producer, and a sister, the MP Chi Onwurah. The children and their mother left Nigeria in the wake of the Biafran War, while their father stayed behind to fight. The children were brought up in England, and suffered discrimination due to their mixed race. Many of Onwurah's films reflect her experiences and those of the black diaspora. To keep the family connections, Simon Onwurah has often worked with his sister as her producer, and her frequent cinematographer, Alwin Küchler, is also her husband.
Ngozi Onwurah began her filmmaking career with short films, documentary or otherwise, and has directed television episodes. In 1995 she made the feature film Welcome II The Terrordome, making her the first black woman to direct a feature film in the UK. (Solo-direct, that is: the 1986 The Passion of Remembrance was co-directed by Maureen Blackwood.) Shoot the Messenger is her second feature, and sadly after sixteen years has not been followed up. It's also Sharon Foster's most recent screen credit and she has since died.
The film would be nothing without David Oyelowu's lead performance, commanding the film from the outset. His frequent asides and sometimes monologues to camera act as an alienation effect in the Brechtian sense, as we are clearly meant to assess what we see and hear rather than simply be caught up in the drama. He's backed by a strong cast including, in his film debut, Daniel Kaluuya.
Shoot the Messenger isn't an easy watch, and it's not intended to be. Although it's explicitly addressed to a black audience, there's plenty of food for thought for audiences who aren't black (which includes myself). With culture wars being fought over "cancel culture" it's hard to imagine it being greenlit today.
The BFI's release of Shoot the Messenger is a Blu-ray encoded for Region B only. The film has a 15 certificate. Among the extras, the shorts The Body Beautiful and Flight of the Swan had cinema releases with a 15 and a U certificate, respectively. At the time of writing, the third short, White Men are Cracking Up, does not appear on the BBFC website.
Shoot the Messenger is a product of the widescreen television era before wider ratios (2:1, for example) became commonplace for broadcast television or streaming services, so the Blu-ray is in the ratio of 1.78:1, or 16:9 if you prefer. David Katznelson's cinematography is heavy on the orange. There's no reason to doubt the accuracy of the look of this transfer, although I hadn't seen the film before. (As for the extras, The Body Beautiful is in 1.66:1 and the other two shorts 1.85:1.)  As a made-for-television film, the transfer of Shoot the Messenger is 1080i at a speed of twenty-five frames per second.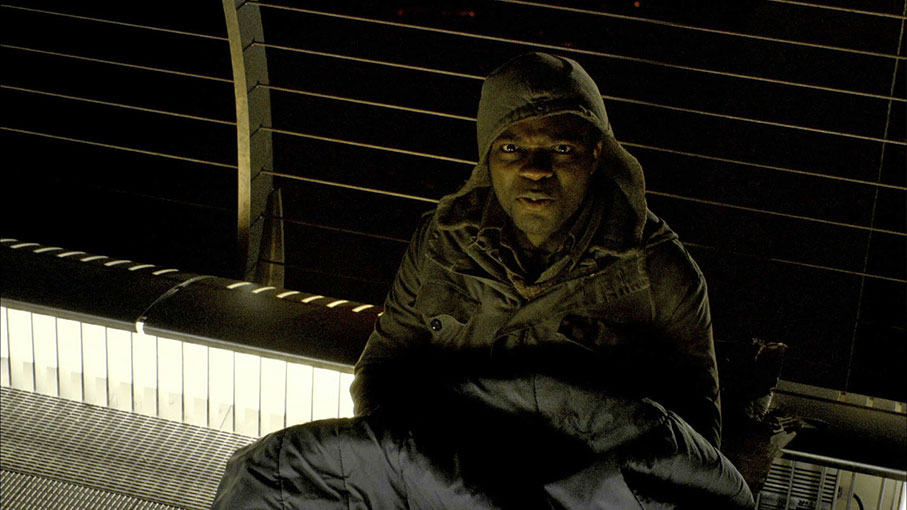 The soundtrack is LPCM 2.0, reflecting the matrixed-stereo of the original broadcast. There's actually a fair amount of surround use. There's no dedicated LFE channel, but still my subwoofer got plenty of redirected bass, very noticeably at the start with the 50 Cent track on the soundtrack. English hard-of-hearing subtitles are available for the hard-of-hearing on the main feature and the three shorts.
The Body Beautiful (24:10)
The first of three short films directed by Ngozi Onwurah, made in 1990 for Channel 4, is personal to a fault. It's a meditation on female beauty and sexuality, particularly that of older women, and centres on Onwurah's mother Madge, who had a diagnosis of breast cancer while pregnant with Ngozi's brother Simon. As soon as the birth had happened, Madge had a mastectomy. And that's Madge playing herself on screen, with the film exploring her experience of being desexualised by having one breast removed. As well as appearing on screen she also narrates. Ngozi Onwurah doesn't play "the daughter" as the character is billed: she's played on screen by Sian Martin and the daughter's narration is by Rosie Rowell. The Body Beautiful shows, if you needed it to be shown, that female directors can have no qualms about showing women nude on screen, but often as here, they are the type of female bodies you don't often see naked, but which are older, less firm, in this case mastectomy-scarred. Bodies that bear the marks of a life. According to IMDB, this film was Saffron Burrows's screen debut, as one of the models in a fashion shoot, billed simply as "Saffron".
Flight of the Swan (11:33)
Also made for Channel 4, this time in 1992, Flight of the Swan follows a young girl, Obe (Hilja Lindsey-Parkinson), who leaves her village in Nigeria to attend a ballet school in England. The film flashes back and forward between the two countries where she is led by a native dance (Wumni Olaiya). However, as her fellow pupils are quick to remind her, how could there be a black swan? The film delves into magic realism, with a finale showing Obe and the native dancer performing a routine together.
White Men are Cracking Up (20:03)
Written by Bonnie Greer and directed by Onwurah, White Men are Cracking Up was broadcast on BBC2 for the first and so far only time on 31 December 1994 as the last of four short plays under the series title Siren Spirits. All broadcast in Christmas week 1994, they were billed as "tales of magic and mystery". That's siren as in "seductive female leading men to their doom", and that's the experience of Margrave (Jon Finch), a detective obsessed by Maisie Blue (Theo Omambala), who may have been involved in the suicides of successful white men. The piece explores the fetishisation of black women and their sexuality. I didn't see this on broadcast, and there's no indication in the booklet where this copy came from, but it looks like it's from a fairly rough video source.
Who We Are (65:33)
This four-way Zoom discussion took place in 2020 as part of the Who We Are takeover of the BFI for a week, intended to celebrate black British film. It is moderated by Akua Gyamfi of the British Blacklist and features producers Stella Nwimo and Fiona Lamptey and screenwriter Delia-René. The discussion inevitably begins with the four discussing how both the Covid lockdowns and the Black Lives Matter protests had affected them, before moving on to their place in the industry, both as black people and specifically black women. They would like to expand the representation of black people on screen from just appearing in street stories – how about black romantic comedies or science fiction films or anything where no one ends up getting stabbed? This is only tangential to the main feature on the disc, but Nwimo does call out Welcome II The Terrordome as an inspirational film, made by the Onwurah siblings with no budget and piecemeal over a few years, but one which people were keen to donate money to or to work on, as there was nothing else like it in Britain at the time. Nwimo was herself a production assistant on the film.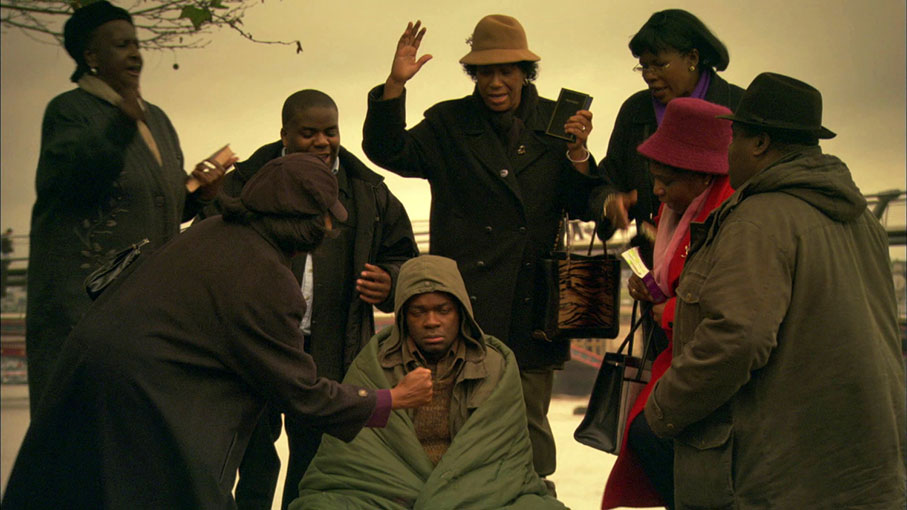 Booklet
The BFI's booklet, available with the first pressing only, runs to thirty-two pages. Again, I'd urge anyone with a particular interest in the film and its subject matter to buy a copy of the disc in that first pressing as the booklet contains plenty of valuable material.
It begins with "Message or Medium?" by Angela Moneke. This is an overview of the film and its place in its director's body of work, and the fact that Shoot the Messenger was one of the few all-black or black-led British productions at the time, particularly ones like this which spoke mainly to a black audience. That said, once the film was broadcast, there was no control over the audience it reached, black or white or any other colour.  Moneka also analyses of its main technique: Joe may be the one talking directly to us, but he's not a reliable narrator. He's clearly affected by his experiences.
Next up is "Be Part of the Change" by Dwain Brandy, who was a teacher described as one of the hundred most influential in the UK. He followed the same path as Joe, moving from a job in IT to the teaching profession, a few years after the film was broadcast. This essay looks at the film from the perspective of teachers, given that that is the profession Joe goes into. He talks about how, typically when he was at school, many teachers failed to address the needs of their non-white pupils despite taking a colour-blind approach.
"Black British Film: Pride, Pressure and Race" by Ann Ogdi looks at the representation of black people in British films, from actualities and travelogues made right at the end of the nineteenth century onwards. Africa was a location for adventure stories from the 1920s onwards. In the 1930s, an actual black star was making films in Britain, namely Paul Robeson. However, despite activity before then, it took until 1977 for a black director to make a feature film in Britain, namely Horace Ové with Pressure. This piece, reprinted from BFI Screenonline, tracks the appearance of black directors and actors up to the present. It's followed up by Jan Asante's "Black British Cinema: Beyond the 2000s", covering developments such as Steve McQueen's Small Axe series, the films of Amma Asante and Michaela Coel's I May Destroy You.

Finally, Grace Barber-Plentie's essay is summed up by its title, "The Bravery of Nogozi Onwurah's Early Short Films", in particular the three on this disc. Her one-word description is "brave", not just for making these at a time when there cannot have been many opportunities, but for her dealing with the films' content and themes. This bravery is not least evident in the taboos that these films break.
The booklet also contains full film credits, notes on and credits for the extras, and stills.
Shoot the Messenger was a troubling film on its broadcast back in 2006 and it remains so today. It has not dated. The film has its place in the history of black British film, of which there is more now than there was at the time. The film is well presented on this BFI Blu-ray.
---