Krishna (Shafiq Syed) is a young boy living near Bombay, working in a circus amongst other odd jobs. He was thrown out of his home for setting fire to his brother's motorcycle and is trying to earn five hundred rupees to repay the debt. He takes a train to the city but soon after he arrives his money and belongings are stolen. Taking a job as a tea boy (hence his nickname "Chaipau") and soon falls in with other young boys and girls living on the streets...
Salaam Bombay! was Mira Nair's first fiction feature, following much documentary work. People certainly sat up and took notice, from its debut at Cannes in 1988 as part of Director's Fortnight, and while some will cite Monsoon Wedding as the standout of her career since, this first film still stands up thirty-three years later. You can see the roots of Salaam Bombay! easily enough: Italian neo-realism for starters, aided by the documentary background of Nair and her DP Sandi Sissel. These after all are real streets – shot with lightweight and sometimes hidden cameras – and many of the cast were real street kids. Yet it is still shaped and structured as a work of fiction. It's certainly a long way from Bollywood. As if to make that point, partway through we go inside a cinema to see a song-and-dance number from a then-recent film, Mr India (1987), a glossy world far from the reality of these children's lives but still a part of them for two hours or more, if only as escapism, with them singing and dancing along in their seats. I'm not qualified to comment on how Bombay – or Mumbai, as we now call it – may be different a third of a century later, but I've no doubt that this film does capture a time and a place.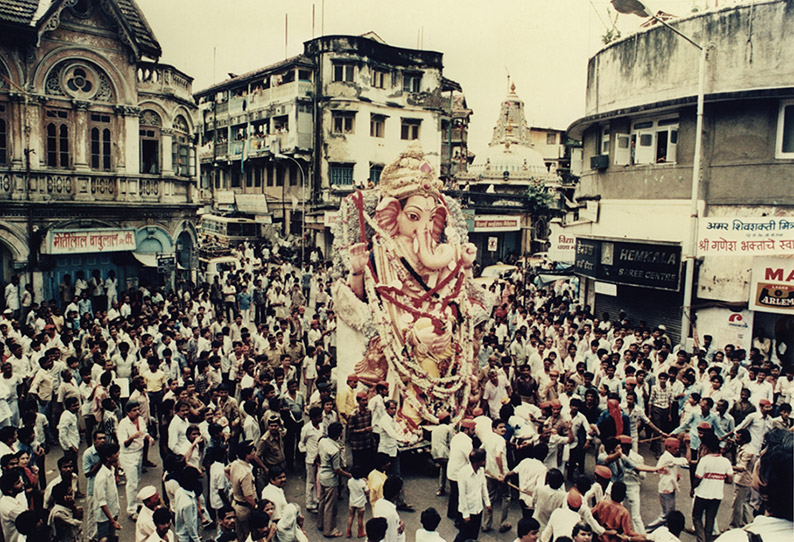 Nair had been inspired to make the film from her work in Bombay in the mid 1980s and with Sooni Taraporevala (a college friend, who came from Bombay) began to put together a story, from which Taraporevala wrote the screenplay. The film was made on a tiny budget, with the money running out more than once during production. Sandi Sissel's cinematography – shot in 35mm – is anything but glossy, but it certainly captures the vibrant colours of the city, and the sense of the heat, the crowds and the busy streets is palpable. There's a vibrancy about these young people's lives, despite their evident troubles, which the film doesn't soft-pedal: drugs and prostitution feature, with young girls trafficked from Nepal to have their virginity sold to the highest bidder. By the end of the film, Krishna has crossed a line, and the final shot is a long-held take on him. What his future will be is far from certain.
Many of the cast were really of the streets, but were participants in an acting workshop set up in Bombay by Barry John. Many of them didn't act again, Shafiq Syed made one more film (Patang, 1993) and according to the IMDB as of 2004 had a business repairing auto-rickshaws in Bangalore. One cast member, a little older, who did go on to a distinguished career was Irfan Khan, here in his cinema debut (he had worked on television before) in a small role as a scribe. Sandi Sissel adopted one of the children, Raju Barnad, who now goes by the name of Bernard Sissel and works as a camera assistant.
On its Cannes premiere, Salaam Bombay! won the Audience Award and the Camera d'Or (Best First Feature). The film played the London Film Festival in 1988, which is where I saw it for the first and only time before this Blu-ray. It went on to pick up nominations for Best Foreign-Language Film from BAFTA, the Golden Globes and the Oscars, the second nominee in the last-named from India, after Mother India (1957). The winner of that category for both the Oscars and Golden Globes was Pelle the Conqueror: I'm not sure if posterity will support that verdict, especially given that Women on the Verge of a Nervous Breakdown was another losing nominee.
The BFI's Blu-ray release of Salaam Bombay! is a single disc encoded for Region B.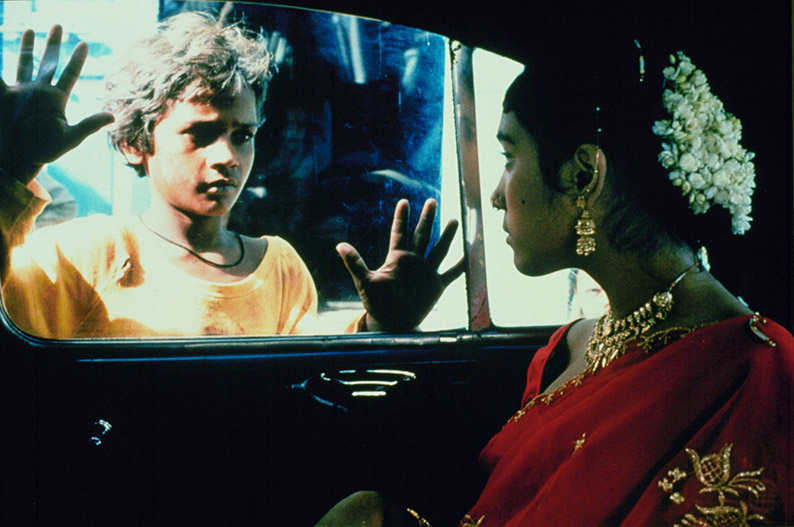 The Blu-ray transfer is in the ratio of 1.78:1, opened up slightly from the intended 1.85:1. Some shots are rather tightly framed at that ratio, with tops of heads likely to be cut off, but no doubt the need to shoot in real streets with non-professional actors precluded too-precise compositions. Salaam Bombay! is a grainy film for sure, and I had to check that it was actually shot in 35mm and not 16mm (which was used by a different cinematographer, Declan Quinn, on Monsoon Wedding). But 35mm it was, with Sissel using a lightweight Arriflex 4S camera. Much of the grain is no doubt due to shooting in available light, but given the subject matter a gritty feel is certainly appropriate.
While even low-budget indies had Dolby Stereo or Ultra Stereo soundtracks in 1988, Salaam Bombay! was released in mono, no doubt an effect of the small budget. That is the basis of the soundtrack on the Blu-ray, rendered as LPCM 2.0. That said, it's a busy soundtrack, with street sounds and dialogue and the music score well-balanced. The dialogue is almost all in Hindi, with occasional English. English subtitles are optional, on the feature only.
Audio commentary
This is by Mira Nair, recorded for the film's twenty-fifth anniversary in 2013. It's a serviceable commentary, but does tend to describe what's on screen and leaves some sizeable gaps. Maybe there could have been a second person involved, but that said there is some useful information to be found. Nair says that almost all the shots were done in one or two, or at most three, takes, the major exception requiring eleven due to a young actor's forgetting who was playing his mother in that scene. The long-held final shot took two, the first one wrecked by someone dropping something while it was on. There was only enough film left for one more take, which Nair achieved by coaching Shafiq Syed from behind the camera. Nair and Sissel rarely saw dailies, although some processing took place in India. Instead, they had feedback from the editor, Barry Alexander Brown, based in the USA, as to the dailies and what they needed to shoot more of.
Interview with Sandi Sissel and Bernard Sissel (51:09)
This was recorded in April 2021 as a video conference, due to Covid restrictions. The Sissels are interviewed by the BFI's John Ramchandani. Much of the first half deals with Sandi Sissel's early life in the industry. Her father was a stills photographer. In the 1970s, the unions were pretty much a closed shop for women and minorities and she found documentary work more welcoming. Bernard points out that there could be four generations of Sissels in photography, as Sandi's father was a stills photographer and his daughter is already showing an interest. The second part discusses Salaam Bombay! Sandi does talk about her approach to making the film and how her documentary background influenced it, but inevitably we get to the subject of her adoption of Bernard, which at one point reduces him to tears. He is still in contact with his birth mother and siblings.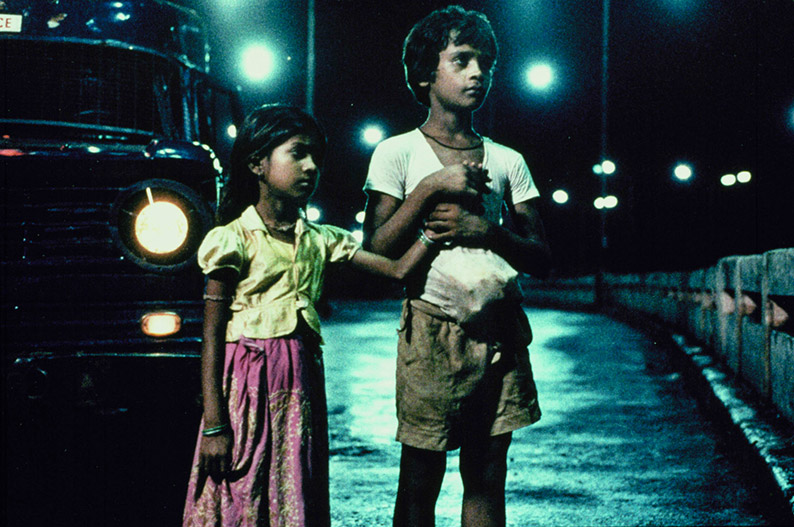 India Cabaret (59:46)
This was a documentary Mira Nair made in 1985. UK's Channel Four was one of the production partners and indeed Film Four International contributed three years later to Salaam Bombay! Some of the same crew are in place: editor Barry Alexander Brown and cinematographer Mitch Epstein (who was production designer on the later film). The documentary centres on Rosy and Rekha, cabaret dancers and strippers in Bombay. Nair interviews them and also some of the men who pay to watch them. There's no narration so no judgement, and the film has the same compassion without sentimentality that Salaam Bombay! has. The documentary, shot in 16mm and presented in 1.33:1, can be viewed a choice of soundtracks: Hindi with English subtitles or an English dub.
Trailer (1:34)
Like a lot of trailers for prestigious arthouse releases, this trailer emphasises the awards the film had won but contains no spoken dialogue. No doubt this was intended to entice people to see the film without potentially deterring them with subtitles.
Archive Shorts
A characteristic of many BFI releases are short films and sometimes second features from the archives, not specific to the main feature but touching on some of its themes. These three shorts have a Play All option.
La vie aux Indes (Indian Scenes) (10:43)
This travelogue was made in 1906 in Bombay and Calcutta (or Kolkata as it is now known). It was a French production but as it's from the silent era, credits and intertitles have been replaced by English ones in this version. We take a phantom ride through the streets of Calcutta and the ports and streets of both cities are clearly very busy. There is also some footage which would not have been out of place in a Mondo movie some five or six decades later, though it's relatively mild: a corpse being burned and the ritual sacrifice of lambs by decapitation on a Bombay street. The disc menu and the booklet advise that some might find this footage distressing.
Oliver Twist (9:39)
Charles Dickens's work had been adapted for cinema almost from the outset, the first on record being another adaptation of his second novel, The Death of Nancy Sykes, in 1897. This American version of the novel was directed by J. Stuart Blackton in 1909 for the Vitagraph Company and was that company's third version of the story. Given its short length, this film is a series of episodes from the novel, each introduced by an intertitle. There's no "dialogue" and each scene is done as a master shot. The credits emphasise Elita Proctor Otis, who plays Nancy. Oliver is played by a seventeen-year-old girl, Edith Storey.
Gardens of the Orient (10:15)
This was made in 1936 for the GPO Film Unit, and our narrator takes us through the process of tea production in Ceylon (now Sri Lanka), beginning with the planting of seeds to the big boxes of tea ready to be transported worldwide. There's a somewhat paternalistic tone to this: no exploited workers in evidence here.
Booklet
Available with the first pressing only, this runs to thirty-two pages. It begins with "Grace Among the Wretched" (spoiler warning) by Manish Mathur, giving an overview of Nair's career and the film's background and making. Next up, filmmaker Alex Dudok de Wit considers the film's final scene in a piece reprinted from Sight & Sound's Endings column from the October 2017 issue. Mira Nair contributes a single page talking about the Salaam Baalak Trust, which was set up from proceeds of the film and which works with street children across India. Ellen Cheshire contributes a detailed look at Mira Nair's long and sometimes controversial career. Also in the booklet are film credits, notes and credits for the extras, and stills.
While it has had its ups and downs, Mira Nair's career has borne out the promise of her first dramatic feature, which still stands up well thirty-three years later and is well presented on Blu-ray by the BFI.
---
Note: due to technical restrictions, the stills used in this review are not our usual screen grabs but press images provided by the BFI.