At the beginning of the film, Don Barnes (Dennis Hopper) is driving his truck, his young daughter Cindy, known as Cebe (Linda Manz), in the passenger seat. The truck ploughs into a school bus resulting in the deaths of several children and Don's jail sentence for drunk driving. Years later, Cebe is a disaffected teenager, devoted to punk and to Elvis (early, rebellious Elvis, not the Fat Elvis of recent memory). Her mother Kathy (Sharon Farrell) is a waitress and is more devoted to a heroin addiction and an affair with Don's friend Charlie (Don Gordon) to pay any attention to her own daughter. Then Don returns from prison...
Dennis Hopper's first film as writer, director and actor, Easy Rider, helped to redefine American cinema on its release in 1969. A considerable hit with younger audiences at a time when big-budget sure things were becoming big-budget flops, it – along with other films like Bonnie and Clyde – helped usher in "the New Hollywood", making the 1970s a rich period for the medium, and many films which for many reasons would never be made now, or certainly not for major studios, were produced. Many younger directors got their careers under way and made much of if not all of their major work. You know the names: Altman, Ashby, Bogdanovich, Coppola, De Palma, Friedkin, Scorsese and others – and yes, the major directors of the time were almost all men. It ended with the decade, with the rise of the blockbuster in the shape of Jaws, Star Wars and others, and with a few too many hugely expensive box-office disasters, of which Heaven's Gate was the most notorious, control was wrested away from the director back to the studios. By that time, Hopper was persona non grata in Hollywood, and the reason for that was The Last Movie. A narratively experimental film shot on location in Peru, The Last Movie spent over a year in editing and won a prize at Venice. However, Universal shelved the film, giving it a very limited release. It has since been reassessed – there's a fine Blu-ray release from Indicator – but its catastrophic critical and commercial reception meant that Hopper did not direct again for nearly a decade, not helped by well-known substance abuse issues. He worked intermittently as an actor, in Europe (Wim Wenders's The American Friend), in Australia (Mad Dog Morgan, directed by Philippe Mora) and at the end of the decade in Francis Coppola's Apocalypse Now.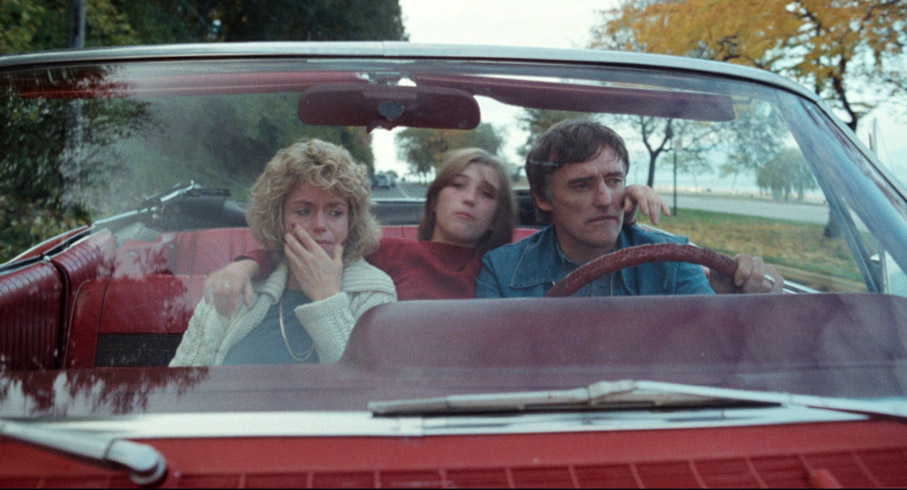 Out of the Blue was originally called Cebe, after its lead character, a low-budget Canadian production written by Leonard Yakir and Brenda Nielson, with Yakir directing. Hopper was signed on as an actor only. Yakir shot for a week before he was fired by the producers, dissatisfied by his work. Hopper was approached to take over as director, and he rewrote the script entirely. Yakir and Nielson are still credited as the writers, but none of Yakir's footage was used. (Yakir has only directed documentaries since.) The original film was by all accounts a pedestrian problem picture, with Raymond Burr's psychiatrist rescuing Cebe from her dysfunctional background. In the final film, Burr's role has been much reduced, with only a couple of scenes remaining. Neil Young's song "My My, Hey Hey (Out of the Blue)", which plays during the opening credits, gave the film its new title, and more of Mr Young, who was a friend of Hopper's, in a while.
Linda Manz had been cast before Hopper took over as director. She had been a discovery of Terrence Malick's, who had cast her three years earlier in Days of Heaven. She was eighteen at the time, but here is easily playing a few years younger, given her diminutive build. (Her adult height was only 4'10".) Out of the Blue doesn't quite qualify as a coming of age story for reasons which are plot spoilers, but Manz gives one of the great teenage performances. Cebe isn't played for easy sympathy: she acts up, is full of attitude and sometimes frankly full of shit (spouting slogans like "kill all hippies", "disco sucks" and "subvert normality"), but is physically courageous, often squaring up to people much bigger than her, at other times retreating into the damaged child she is. What's less usual is that this is a film about a rebellious teenager which centres on a girl rather than boy. There's more than a little androgynous about Cebe's manner and appearance, a look often derived from the punk movement that was current at the time the film was made. A real Canadian punk band, Pointed Sticks, appears in the film. Hopper, on learning that Manz played drums, added that as an aspect to her character and in one key scene she gets to jam with the band on that very instrument. In its air of disillusion and nihilism, Out of the Blue does capture much of the feel of the era, which is quite something given that Hopper was in his forties by now, and had previously succeeded in capturing much of the feel of a previous era in Easy Rider a decade earlier. However, Cebe does hark back to earlier times. Elvis Presley's name appears on the back of her denim jacket, having been coopted as "one of the first punks". There's probably more than a little of James Dean in her character, especially when you consider that Hopper knew Dean well and acted alongside him in Rebel Without a Cause and Giant. Sadly Manz's acting career was short-lived and this was her only lead role. She was hardly the type of young woman likely to fit easily into a changing Hollywood – and you can hardly imagine her ending up in standard-issue girlfriend roles. After leaving acting to marry and raise a family, she returned in two roles in 1997, in Gummo and The Game. She died in 2020, aged fifty-eight.
Nine years younger than Hopper, Neil Young was another figure who had come to prominence in the 1960s, and one more aware than most of his potential irrelevance, hence the title of his 1979 album Rust Never Sleeps. That album was his response to punk, explicitly referencing Johnny Rotten and Elvis and including lines "it's better to burn out than to fade away", which inform Out of the Blue. In his career, Young has had two main influences, acoustic country/folk and electric hard rock, the latter usually with his band Crazy Horse. The film's soundtrack sets up a similar opposition, with the punk listened to by Cebe and her friends and the country music played elsewhere. Often those two sides of Young's music played off each other in the same album: Rust Never Sleeps begins with an acoustic side and Young almost entirely solo, and an electric side with Young as lead vocalist and lead guitarist of Crazy Horse. It also begins and ends with different versions of the same song, "My My, Hey Hey (Out of the Blue)" at the start and the full band workout "Hey Hey, My My (Into the Black)" at the end. It's the former which appears on the film soundtrack and gives the film its title, but the latter is namechecked too. Another song from the album's acoustic side, "Thrasher", also appears.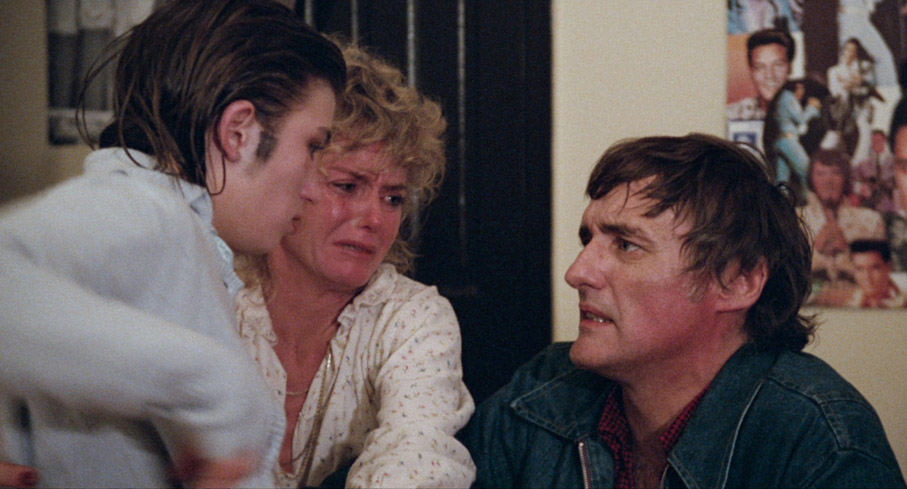 Hopper famously unnerved David Lynch when insisting that only he could play Frank Booth in Blue Velvet because he was Frank. You wonder if he would have said the same about Don Barnes. It's a remarkably fearless performance that is entirely free of vanity. Don is flawed to say the least, and at times despicable – particularly in scenes near the end, which I won't describe so as to avoid spoilers. Completing the trinity of damage is Sharon Farrell, someone whose acting career has been lower-profile than that of her co-stars, but is not overshadowed by them. Raymond Burr is fine in his two scenes but he seems to be in a different film to everyone else, which in a sense he was. Hopper the director gives a lot of space to his actors, often using lengthy takes captured with handheld cameras or the newly-introduced Steadicam.
Out of the Blue premiered at the Cannes Film Festival in 1980, but it was clearly strong meat, having issues with the MPAA (who wanted cuts to the final sequence to avoid a X rating). In the UK, it was released in cinemas in October 1981 with an unsurprising X certificate, restricting it to eighteens and over. On 10 January 1987, it had its UK television premiere as the ninth of ten films shown on Channel 4 with a red triangle in the top-left of the screen throughout. That was a short-lived experiment by the channel to enable programming of films with particularly adult content late at night, the triangle indicating Special Discretion Required. That showing was the first time I saw the film. It's arguable if Out of the Blue deserved that treatment, particularly as it's not that extreme: some onscreen drugtaking and a lot of swearing are most of the issues, and I suspect it was the final sequences which prompted the triangle to be imposed.
Out of the Blue had a small audience at the time, but picked up a cult following, that continues to this day. In 2008, Primal Scream sampled some of Manz's dialogue in their track "Kill All Hippies" on their album XTRMNTR. It had an effect on Hopper's directing career as Sean Penn saw the film and hired Hopper to direct Colors, which was released in 1988. By then his acting career had been revived, with Blue Velvet and his Oscar-nominated role in Hoosiers (UK title: Best Shot) in the same year, 1988. Hopper, by now out of rehab and cleaned up, seemed set for a strong third act in his life and career. As a director, it wasn't so, and more about that when I discuss the extras below. Hopper died in 2010 at the age of seventy-four. There is a sense that the backlash to his early success took something out of him: there's something very personal about Easy Rider, The Last Movie and Out of the Blue which isn't there in Colors, a perfectly decent commercial cop thriller, or the Jim Thompson adaptation The Hot Spot. As an actor, he found a niche playing villains in Super Mario Bros, Speed and Waterworld but there's a sense that less was at stake and his foot was off the pedal.
Most creative artists have a peak period which doesn't last for all sorts of reasons, sometimes internal, sometimes external adversity which will eventually wear people down. But their previous achievements survive. The Last Movie has now been reassessed and this new restoration of Out of the Blue enables it too to find a new audience.
The BFI's release of Out of the Blue comprises two discs, both encoded for Region B only. As mentioned above, Out of the Blue had a X certificate on its British cinema release, but it's been a 15 since 2001. Among the extras, A Girl's Own Story has a 15 as well. No certificate for Girl is apparent as I write this, but it's most likely 12 material.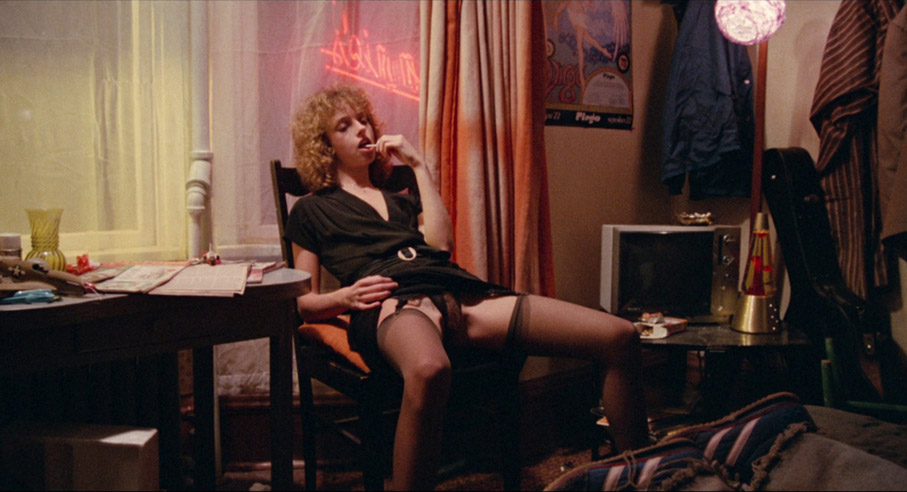 Out of the Blue was shot in 35mm and this Blu-ray transfer is derived from a 4K restoration and scan from the original negative, in the original aspect ratio of 1.85:1. Short of seeing this in a cinema in a new 35mm print (which I haven't), this is the best the film has looked. It's not the best-looking nor most colourful of Hopper's films – due to the low budget and the fact that DoP Marc Chapman is not on the level of Laszlo Kovacs, who had shot both Easy Rider and The Last Movie – but the rather muted colours are fine, blacks strong and grain natural and filmlike.
The soundtrack is the original mono, rendered as LPCM 2.0. There's little to say except that it's clean and well balanced, with some rough edges due to the film's low budget. English hard-of-hearing subtitles are available for the feature only.
Audio commentaries
For many films, three commentaries would be one or two too many, but these do complement each other well. The oldest was recorded in 2000 and features Hopper along with executive producer Paul Lewis and the film's original distributor John Alan Simon. The last-named will feature heavily among the extras on this release. This isn't the greatest of commentaries, as there are some lengthy gaps, but it's valuable as it preserves Hopper's comments and those of Lewis, who doesn't otherwise feature here. Hopper does acknowledge some flaws, including some not-great performances among the supporting cast. The other two commentaries are new, by academic Kate Rennebohm and film writer Kat Ellinger. Inevitably they overlap to some extent, with details of the film's production and release and its place in Hopper's career. Ellinger talks about how the film spoke to her with its punk inspiration and Cebe's dysfunctional family background, and its rarity as a teenage rebellion/coming-of-age film with a girl at its centre rather than a boy. Both commentaries are well worth listening to.
Screen Guardian Talk: Dennis Hopper (90:50)
The late Sheila Whitaker introduces this interview of Hopper (audio only) by Derek Malcolm, which took place at the National Film Theatre in November 1990, as part of the London Film Festival. Hopper had two films shown at that Festival, one of which was The Hot Spot and the other of which he had disowned. That was Backtrack (his title) which had been taken out of his hands by Vestron and re-edited and retitled Catchfire. As a result, Hopper was at the time of this interview suing Vestron (then a bankrupt company) and had taken his name off the film so it was credited to Alan Smithee. Needless to say, Hopper talks most about his two then most recent films but the conversation ranges over his career. Hopper is candid and often very funny. As usual with these things, film extracts shown have been edited out. Also, the recording can't cope with Hopper's impression of Henry Hathaway's chewing him out on the set of From Hell to Texas, a confrontation which resulted in Hopper not working on film for seven years. I was in the audience at this interview and have never forgotten his reaction to David Lynch's suggestion that whatever it is that Frank is huffing throughout Blue Velvet should actually be helium. I'll leave you to imagine the result.
Dennis Hopper Interview (96:52)
This video interview is conducted by Tony Watts. It's billed in the booklet as being from 1984, but near the start it's mentioned that The Last Movie had opened at the ICA the night before, which was 28 October 1982, the film's first commercial release in the UK, hence Hopper being in London. The film's release coincided with the first solo exhibition of Hopper's still photography. Although presented as one item on this disc, it is actually in two parts with a break in the middle. It's a straight-ahead and detailed chronological account of his career, so we don't get to Out of the Blue until well into the second half. Hopper is less funny than he is at the London Film Festival interview from eight years later, but this is a very informative piece that provides a snapshot of where Hopper was in his career, still somewhat in the wilderness.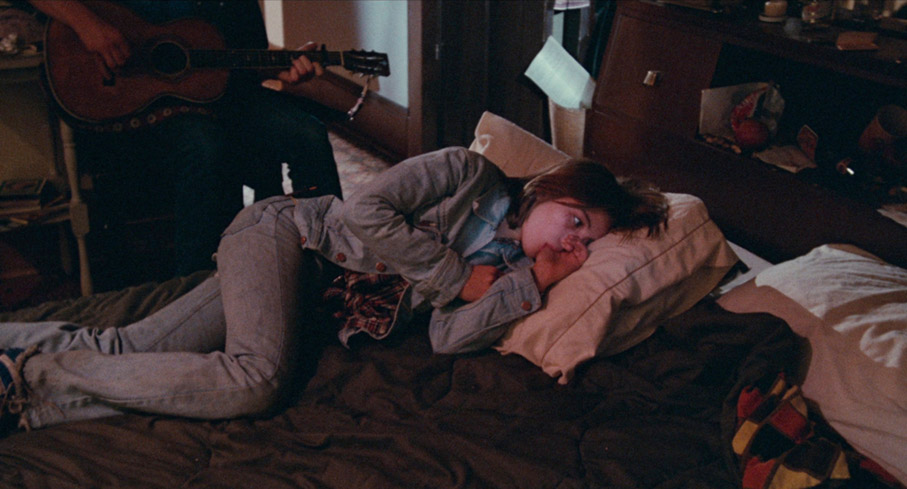 Jack Nicholson Radio Spot (0:59)
A short endorsement that Nicholson gave to Out of the Blue. Audio only, but it gets an animated enhancement which is basically putting the text on screen.
Trailers (2:39 and 2:28)
Two of them, the original trailer recreated using the footage from the 4K reconstruction, and a second, and similar, trailer for the film's fortieth anniversary reissue.
Subverting Normality: Linda Manz Comes from Out of the Blue (17:53)
This video essay begins with a prominent spoiler warning, so watch it after the main feature. Written and narrated by Amanda Reyes and directed and edited by Chris O'Neill, this focuses on Linda Manz, her life and this film in particular. By all accounts, Cebe was the character she felt closest to. Apparently she was a lot more of a fan of disco than Cebe was.
The remaining items on Disc One aren't specific to Out of the Blue, but do illustrate some of its themes. Firstly…
Morecambe and Wise: Be Wise Don't Drink and Drive (0:49)
Drink Drive Office Party (0:43)
...two Central Office of Information (COI) films, shown on television to advise against drinking and driving at a time (1963 and 1964 respectively) when there wasn't a legal alcohol limit – that was introduced in 1967. The first of these was rediscovered in the archives of Ulster Television and dates from from when Morecambe and Wise were working on ITV in the series Two of a Kind. Their comedy timing is already impeccable.
Drink Drive Office Party is the work of Halas and Batchelor and its animation style is different from much of their other work (which includes an anti-smoking cartoon that was shown at my primary school), as it uses photomontage rather than drawn animation, and is in black and white. Its final message, "Don't Ask a Man to Drink and Drive" is, let's say, of its time. Presumably women didn't do either of those things back in 1964?
Finally, there are two short films focussing on girls' coming of age.
A Girl's Own Story (26:34)
Jane Campion wrote and directed A Girl's Own Story in 1983, a year after her Cannes-winning short Peel. Shot in very contrasty and grainy black and white 16mm by Sally Bongers (who shot Campion's debut big-screen feature Sweetie), it concentrates on three teenage girls, Pam (Gabrielle Shornegg), Stella (Geraldine Haywood) and Gloria (Marina Knight) as they negotiate the tricky path of adolescent girlhood in 1960s Australia. The Beatles are at the height of their being many a young girl's dream and sex is very much underground and policed by Catholic nuns. A drawing of an erect penis has a caption warning that it may shock young girls. This is an auspicious early work of Campion's in which she stakes out territory that she would revisit in later work.
Girl (6:52)
Another early work, in fact a debut, from a director who has gone on to other things, namely Carol Morley. Girl was made in 1993, shot in colour 16mm, with Morley writing, directing, photographing and editing. The film is aptly titled, as the girl in question is the only one we see onscreen (Imogen Nooney, with a voiceover provided by Elizabeth Evans). The film explores her relationship with her father, seen only as a pair of hands, with a poignant pay-off. Oddly, there's a connection with one of the other shorts in that Morecambe and Wise appear on the soundtrack, as we hear part of their "Are You Lonesome Tonight?" sketch, originally from 1962.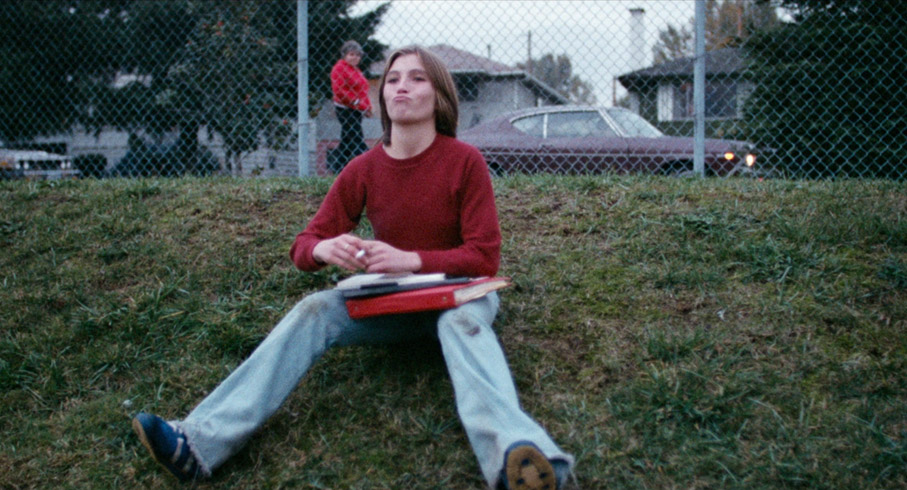 On to Disc Two, in which John Alan Simon features heavily.
Remembering Out of the Blue
Christine Wilson, script supervisor (18:48)
Don Akester, second assistant director (18:13)
Pointed Sticks/John Anderson, band and actor (20:47)
Tom Lavin, composer (22:36)
John Holbrook, camera operator (19:17)
Patti Allen, production coordinator (15:17)
Julia Frittaion, unit publicist and post-production assistant (29:00)
Doris Dyck, editor (16:05)
Sharon Farrell, actress (13:31)
A set of interviews, all playable separately or as one item lasting just short of three hours. All were conducted by John Alan Simon remotely during the summer of 2021 and gathers together many people who worked on the film who are still alive. The most obvious omission is co-scriptwriter and original director Leonard Yakir, but maybe he doesn't want to talk about his part in this film. The oldest is editor Doris Dyck, just about to turn ninety-four but entirely lucid as she recalls working with Hopper, in a career mostly spent in documentary. (We see an extract from another of her films, 1982's Inupiatun: In the Manner of the Eskimo, as an illustration of her other work.) Simon does establish a rapport with all of his interviewees and the interviews mostly let them talk, with Simon asking questions now and again and sometimes adding his own anecdotes. Sometimes the interview is edited to highlight particular contributions, such as appropriate clips with captions to showcase parts of Lavin's score.
Me & Dennis
Ethan Hawke (43:52)
Julian Schnabel (16:40)
Philippe Mora (19:37)
Richard Linklater (14:49)
And there's more. Four further Simon interviews, again with a Play All option, this time with four men who did not work on the film but had various connections with Dennis Hopper. Ethan Hawke's contribution, more than twice as long as all but two other interviews, follows the same pattern as the cast and crew interviews with some back and forth between Simon and Hawke, who is extremely articulate as he talks about what the film means to him, and the role of acting as shown in it and in his own Before films, which he, co-star Julie Delpy and director Richard Linklater originated between them. With the other three interviews, any input from Simon is edited out – to the extent that when Julian Schnabel can't remember something, Simon's reply appears as a caption. So these three effectively become monologues to camera. Schnabel knew Hopper via the latter's artworks (he was a photographer, sculptor and painter, to exhibition standard) and took advice when Schnabel began to direct films himself. He has a portrait of Hopper in his house so sees him every day – eleven years after his friend's death, he still misses him. Philippe Mora's experience with Hopper is due to Mora's directing Mad Dog Morgan, and there are plenty of anecdotes and clips. Richard Linklater first saw Out of the Blue at its Houston premiere and talks about how it influenced his own character-led and acting-focussed work, including the Before trilogy which starred Hawke.
Alex Cox Recalls Out of the Blue (13:36)
This could have been included in the previous batch, as Simon interviews Cox remotely. However, it's presented separately as it isn't a recollection of Hopper himself, though Cox did work with him, but Cox's reactions to the film itself. He first saw it in Los Angeles at a Filmex screening, and at first found the film incomprehensible. It turned out that it was being shown with the reels in the wrong order. The audience demanded that it be shown again from the start, even though by doing so the film would overrun its time slot and delay the start of the next film scheduled.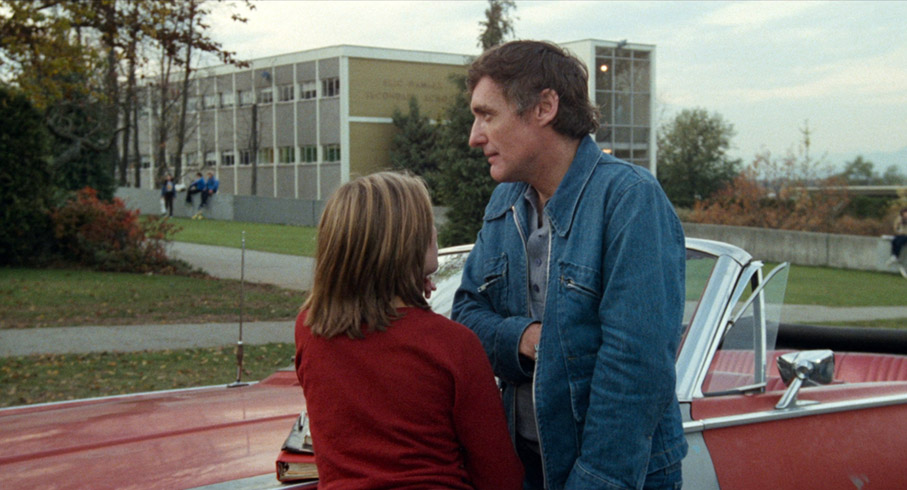 Montclair Film Festival Q & A (29:51)
Another online interview, this time from October 2020 with Simon as subject rather than interviewer. He and Elizabeth Karr talk to the festival's Tom Hall about their history with the film and how they went about restoring it, following on from a previous photochemical restoration in 2000 with the present 4K digital one.
Booklet
The BFI's booklet, available in the first pressing only, runs to thirty-two pages. At least in the PDF version I was sent to review, it doesn't include film credits. What it does do is begin with an essay by Sheila O'Malley, which comes with a spoiler warning. O'Malley rightly says that the film isn't about punk rock as such as it doesn't have enough distance to be "about" it. "Out of the Blue howls from the centre of the whirlwind". The essay concentrates on Linda Manz and also considers the film's place in the revival of Hopper's career.
Next up is a transcript from an interview with Hopper conducted at Birmingham Arts Lab in March 1982, an interview with Julian Petley and Peter Walsh. Hopper describes how he took over the production when Leonard Yakir was fired, and talks about the use of music in the film, naming songs he wanted to use but wasn't able to. He also mentions the film's premiere in Boston and some adverse reactions it received, with claims that the film was anti-women, which he denies. More on the music, "Punk Gestures" by Vic Pratt talks about the film's reflection of the punk era, with emphasis on Neil Young's wayward career, Rust Never Sleeps especially. Young, too, found it hard to find a place in the following decade, changing style and genre from one album to the next, with his record label eventually suing him for making "unrepresentative" music. Also in the booklet are two contemporary British reviews, Richard Combs's for Monthly Film Bulletin and Julian Petley's for Films and Filming. The booklet also includes notes and credits for the extras, including extended pieces on the two COI shorts by Tony Dykes, Cristina Álvarez López on A Girl's Own Story and So Mayer on Girl.
After a decade in the wilderness, Dennis Hopper's return began with Out of the Blue. A low-budget Canadian production, it attracted controversy and a cult following from the outset and now is a showcase for Linda Manz's astonishing presence in her only top-billed role in her short career. Now benefiting from a 4K restoration, it gets a definitive, and packed, Blu-ray release from the BFI.