More so than perhaps any studio-financed film from its era, Arthur Penn's Mickey One embraced the French New Wave and used that movement as an inspiration in its look, sound and feel. In particular, the emblematic early works of Truffaut and Godard showed Penn an exciting and different way to approach filmmaking. For a director who came from television and theatre, and who'd just been fired from a large budget action picture, the opportunity to embrace shooting on location in often unglamorous spots while stretching traditional bounds of narrative - but doing so with a movie star - must have been exhilarating. Even today, some fifty-plus years after its release, Mickey One resembles hardly anything else.
It teamed Penn with Warren Beatty a couple of years prior to Bonnie and Clyde, the film that, maybe more than any other, kicked off the Hollywood New Wave. You'd be forgiven for thinking this little black and white curio came on the heels of the massive B&C success but it was actually the first pairing of actor and director. Penn had already made The Left-Handed Gun and The Miracle Worker (and been fired from The Train after approximately three days' worth of shooting in Europe). It was Beatty's fifth film but probably his first time fully carrying a picture, after previously being paired with the likes of Natalie Wood, Vivien Leigh, Eva Marie Saint and Jean Seberg. In hindsight, given the respective points in their careers, maybe Mickey One wasn't any sort of make or break risk, but it was clearly unorthodox and the product of two artists working loosely and with something to prove.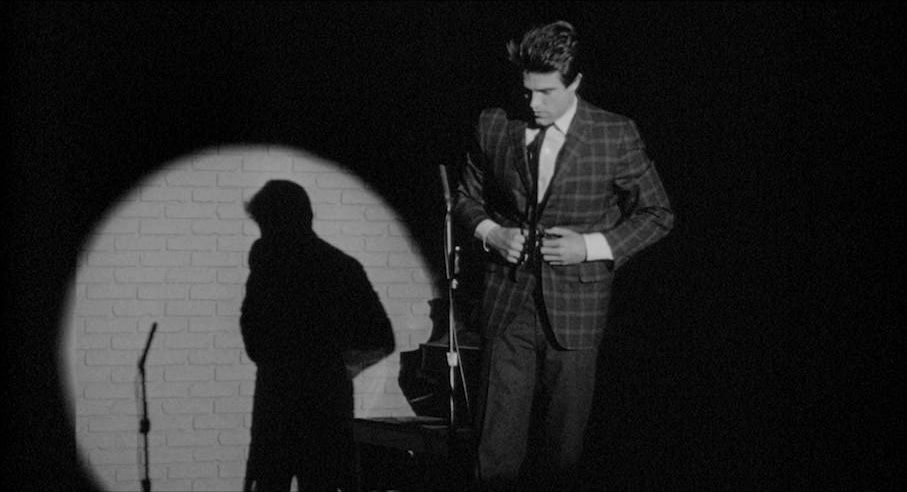 Plotwise, a viewing or two reveals that the film finds Beatty as a Detroit nightclub comic who's suddenly run afoul of the mob. Exactly what he's done or what he would have to do to pay it back is never revealed. As he says later on, he's guilty of not being innocent. Whether it's related to money or sex, the viewer is not quite sure and that is likely both part of the confusion and much of the point. It doesn't matter what he's done, the existential consequences are the same. He's forced to escape Detroit looking like a hobo on a train en route to Chicago. There he picks up the name Mickey One - a shortened surname from the Social Security card he fingered - and lands himself several odd jobs before returning to the world of nightclub performing. Hurd Hatfield and Jeff Corey play the men behind the Xanadu, a downtown club that wants Mickey far more than he wants them. Alexandra Stewart is his love interest in a somewhat shoehorned subplot.
Penn, working from Alan Surgal's lone credited screenplay, directs the hell out of this picture, to the point where a contemporary viewer could easily be inspired to revisit his rather undervalued career. (Don't neglect Night Moves.) It's interesting enough to consider the French New Wave filter but you can also throw in how Penn makes Beatty's plight a slightly leaden metaphor for McCarthyism. More intriguing, and timeless, is the strange, existential element to what Beatty experiences. He's on the run but doesn't know exactly what he did or how to make it right. It's an impossible fight against an enemy never even identified to the audience. An ill-advised audition of sorts even places Mickey against little more than a bright, blinding light that might as well be coming from God Himself. If monochromatic shadows are your thing this scene, particularly, is a can't-miss.  Throughout the movie, the way Ghislain Cloquet films Beatty is pure movie star reverence. Cloquet shot Night and Fog for Alain Resnais, Au hasard Balthazar for Bresson and Le trou for Jacques Becker. He also worked with Louis Malle, Jacques Demy, Woody Allen and Roman Polanski. His photography here is a major selling point.
Equally praiseworthy is the fantastic jazz score composed by Eddie Sauter with improvisations by Stan Getz. It's actually used somewhat sparingly but the impact is remarkable. The entire first four minutes of the movie consists of a wordless montage of sorts where Beatty's back story is conveyed through images and the score. It makes for an unusual framing device that only further confuses the first-time viewer. Repeat watchers are more likely to appreciate what's going on and simply enjoy the magical combination of sounds and images washing over you. Adding to the overall specialness of the whole production is the fact that this was Sauter's only feature film composing credit.
Not to bury the lead down here, but Mickey One is a pretty fantastic viewing experience wrapped in a superbly uneven movie. It's an oddity in the best sense, and the overlap of interest should be significant. Beatty fans, obviously, need to take a peek. Those who appreciate the cinema of the French New Wave, too, must find time to give it a chance. What really sets the movie apart is just how different it is from its ostensible peers. Penn made nothing else like it and neither did Beatty. One could even say Columbia Pictures made nothing else like it. Strictly on feel it gives off a similar effect as something like John Frankenheimer's Seconds - a movie that you can hardly believe exists even as you watch it. The sheer exhilaration might not be exactly comparable but they're both precious unicorns in the studio system landscape.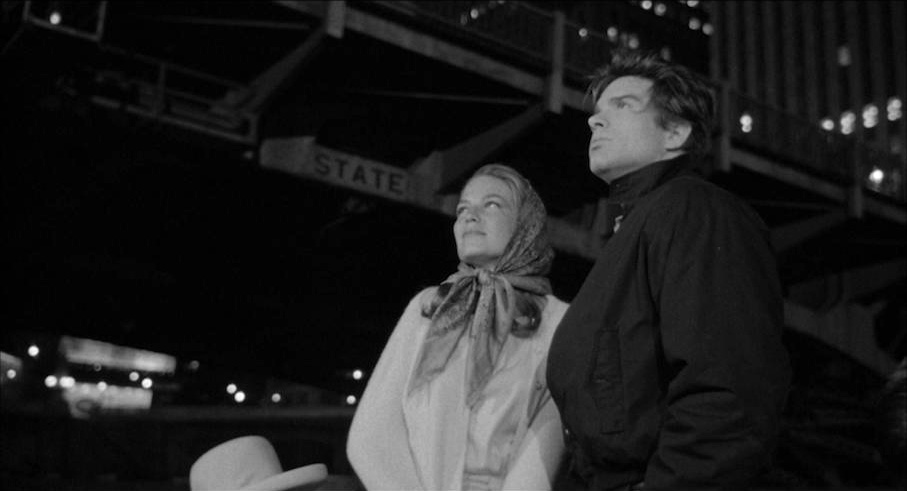 Of course it's worth noting that Mickey One was actually a flop commercially and it didn't do that great critically either. But it's aged surprisingly well! Once removed from the shadow of the French New Wave and all of the so-called "experimental" narrative techniques, it's easier to see Penn's movie as uniquely daring rather than simply derivative of a movement. The curiosity that attached as Beatty's star power rose only further helps the picture, making it seem more like an offbeat star vehicle than it would have upon release. In his late twenties, Beatty is defiantly beautiful and as enigmatic as ever here. Some have called Mickey One a puzzle film but it isn't. It's a Rorschach test where monochromatic images look like one thing to some and something else entirely to others.
By film's end the viewer is left sensing the importance of independence, both to Beatty's cipher-like character and in relation to the values of its director and star. The junkyard destruction shown on multiple occasions feels metaphoric to the protagonist's possible fate and what the studio system could do to those with artistic, unconventional intentions. So while Mickey One may not have afforded either Penn or Beatty any creative capital it did at least hint at their mindsets and, through circumstance, pave the way for the film that would be so successful as to ensure years of artistic freedom. After Bonnie and Clyde, Penn's career became somewhat spotty - buoyed by flashes of brilliance and skilled ambles through genre pictures - but Beatty has enjoyed a run of creative control that has been relatively unparalleled in the history of Hollywood.
I revisited The Parallax View, Alan J. Pakula's conspiracy thriller from 1974 starring Beatty, after viewing this disc and thinking about the potential similarities between the situations facing the two main characters. Any comparisons, I realized, are probably superficial at best, but the reminder that Beatty was powerful enough to frontline (and he's the only actor whose name is even in the opening credits) a studio-released movie that is so disturbingly pessimistic and aimed directly at the various institutions (law enforcement, media, business, government, etc.) that form the heart and soul of the nation is astounding. Even without any real success to point to, Mickey One may have been the start of that audacity to do what he wanted on his terms. Beatty is a fascinating figure in Hollywood history and, for numerous reasons, Mickey One is an essential entry in his career.
The Indicator series, from Powerhouse Films, has issued Mickey One in a region-free Dual Format Edition that is limited to 3,000 copies. Inside the case is a Blu-ray, a DVD, and a 40-page booklet. The film had never previously been released even on DVD in the UK and existed stateside only through a made-on-demand DVD-R that Sony first began issuing in 2011. It's advertised as a world premiere on Blu-ray.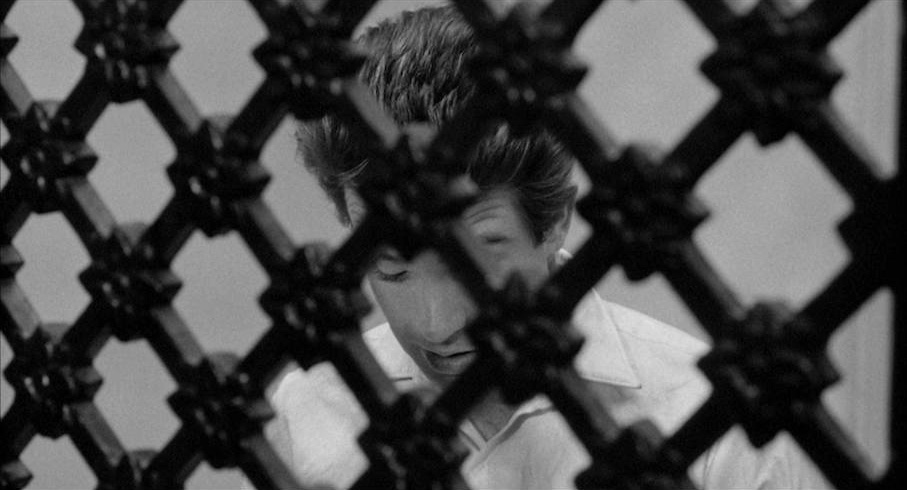 The film is presented in the 1.85:1 aspect ratio. A Sony HD remaster is listed as the source of this transfer. The wonderful black and white cinematography by Ghislain Cloquet looks good here. There are no instances of damage to speak of, and the monochrome contrast is especially strong. Opening scenes show more grain than exists elsewhere but a nice consistency soon settles in. If we've seen superior examples of sharpness and detail elsewhere that's possibly owing to the manner in which this movie was shot. Overall, the impression is a positive one and the high definition certainly improves on what had been previously available in the marketplace.
Audio is an English restored LPCM mono track. Dialogue emerges without issue and the jazz score is captivating. Some scenes may have been dubbed in postproduction but this never becomes a distraction. The modest mix is effective and clean. Subtitles are offered in English for the hearing impaired.
Indicator really goes above and beyond with the extras for this release. No one could have possibly anticipated such a rich edition being produced for this largely neglected film.
Alexandra Stewart Interview (18:35)
The Canadian actress had recently come off of Louis Malle's Le feu follet when she and that film's cinematographer Ghislain Cloquet went to Chicago to make Arthur Penn's film. This new interview, produced for this edition, finds Stewart frequently digressing here and there but in an always charming manner that lets us get a feel for the time and place during the production.
Matthew Penn Interview (19:31)
The son of director Arthur Penn, and an industry veteran himself, talks a lot about his father's intentions and ambitions in making the picture. Also done just for this Indicator release, the interview sheds some light on where the director would have been coming from while doing the movie.
The Guardian Lecture with Arthur Penn (59:00)
From August of 1981, this hourlong audio piece plays over the film and finds the director speaking with Richard Combs at the National Film Theatre in London. Penn is an engaging listen, mentioning Mickey One as having an "excessive degree of obscurity about it" and commenting that a recent viewing left him "astonished at how derivative of European film" the movie is. He also talks a good deal about working with Marlon Brando on The Missouri Breaks, what made Night Moves unusual for a detective movieand his frustrations and experiences on The Left-Handed Gun and The Chase.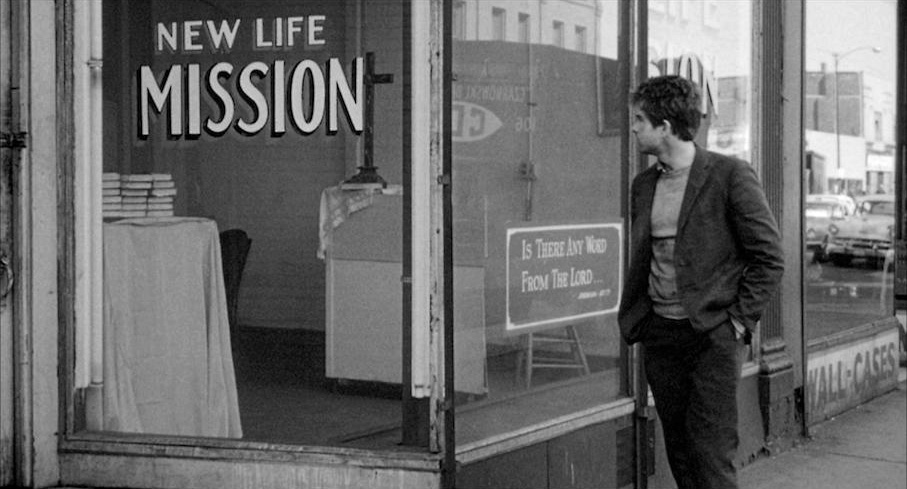 Theatrical Trailer (3:03)
Joe Dante Trailer Commentary (3:21)
Taking from a 2013 segment of Dante's "Trailers from Hell," the director of Gremlins and Matinee shows some appreciation for the film as he talks over the trailer. This is the kind of neat extra that many people, myself included, likely would have never seen had it not been included here, and I'm glad to have watched it.
Image gallery
A selection of more than a dozen on-set publicity and promotional stills along with posters and even a look at the film's soundtrack album complete with Arthur Penn's introductory writing printed on the record.
Booklet
Forty pages of bliss. More than anything else, this is the reason to purchase this title rather than simply renting or streaming it. Nick Pinkerton's note-perfect essay on the film is followed by an informative piece from Richard Williams on its music (the only soundtrack-specific supplement included). The original 1965 soundtrack notes by Arthur Penn are reprinted, as are excerpts from various interviews Penn gave on the picture. A few critical responses, from the likes of Robin Wood and Elizabeth Sussex and concluding with a great paragraph by Jonathan Demme lifted from a 2011 book on Penn, tie up the written material.
I can't get over how good of a release Indicator has produced for a generally neglected movie more than fifty years old which previously only existed on a DVD-R in the US/UK market. Love it or hate it, the film has never looked better and it's a fascinating effort - both as a precursor to the massive success of Bonnie and Clyde and as an odd filtering of the French New Wave through the Hollywood studio system. Mickey One is a film that can be confounding on a first viewing, unconcerned with viewer expectations, and messy without apology. It can also be deeply enjoyable, from Ghislain Cloquet's lovely black and white cinematography to the Kafkaesque main artery. Nothing else exists quite like Arthur Penn's Mickey One and that, in itself, should make you want to check it out.