Sometimes they did make them the way they used to. Mary, Queen of Scots came out in 1971, at a time of great ferment in mainstream American cinema. Times were changing, and so were the films. In the wake of previous sure things flopping expensively and a younger audience making hits of films which older studio executives didn't fully understand and didn't know how to make – Bonnie and Clyde and Easy Rider, to name but two. The 1970s in Hollywood looks now like a second golden age, but it certainly didn't seem that way. Many of the films which stand out from that decade now weren't commercial successes and at the time 1970s cinema seemed dominated by disaster epics and buddy movies. And of course there were plenty of films which didn't move by the times. Mary, Queen of Scots was an intentionally old-fashioned, a film which in most respects could have been made twenty years earlier. (An indication that one of the leading characters is bisexual might not have flown in the days of the Production Code, though.) That said, the lead roles are taken by two younger (that is, thirtysomething) actresses, not so much up-and-coming but by that point up-and-come, with one of them by then an Oscar-winner.
The story of Mary Queen of Scots and her rivalry with Queen Elizabeth I for the throne of England was taken up by the cinema from its very beginning – actually before it, as The Execution of Mary Queen of Scots (1895), directed by Alfred Clark, eighteen seconds long, played in Kinetoscopes before the Lumière Brothers began their public showings of films projected on to a screen. Katharine Hepburn played her in 1936 in Mary of Scotland, directed by John Ford. More recently, Saoirse Ronan took the role in the 2016 film with the same title as the one reviewed here. The role of Queen Elizabeth is one which has attracted many actresses over the decades. With this film Glenda Jackson joined Bette Davis and Flora Robson earlier, and Cate Blanchett later, in playing the role twice. She had starred as the Queen in the six-part BBC serial Elizabeth R, in the same year, 1971. Vanessa Redgrave plays Mary.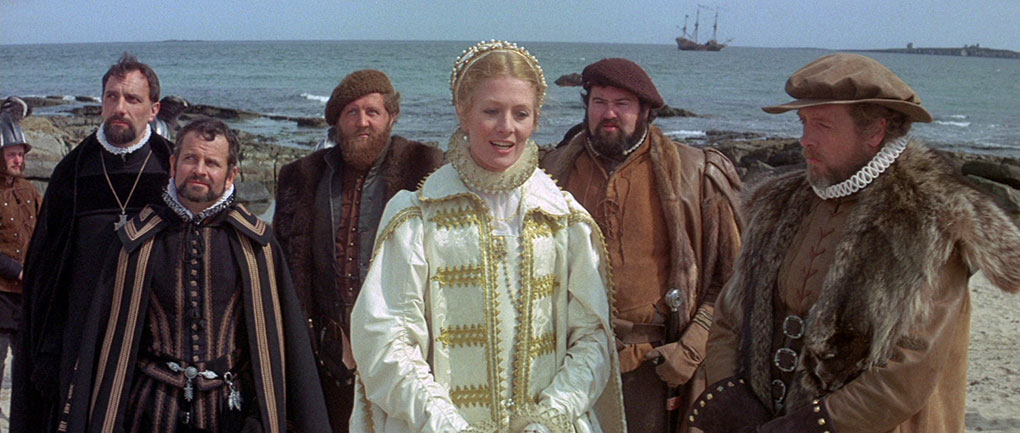 Mary, Queen of Scots was a follow-up to 1969's Anne of the Thousand Days, in which Genevieve Bujold had played Anne Boleyn, Elizabeth's mother. This new film was made by the same team, producer Hal B. Wallis (who had begun his career right at the start of the sound era in 1929 and continued until 1975, including a certain Best Picture Oscar winner called Casablanca), director Charles Jarrott and screenwriter John Hale (who had cowritten Anne with Bridget Boland from a play by Maxwell Anderson, but who writes a solo original script here). While it's not an undying classic (especially when you consider what else came out that year), Mary, Queen of Scots is solid, well-made, its budget clearly on screen, with top-notch documentary and costume design and cinematography, the work of respectively Terence Marsh, Margaret Furse and Christopher Challis.
Given that both lead actresses are known for their left-wing views, they fit their royal roles very well indeed. Mary was a tall woman by the standards of her time, let alone now – 5'11" – and Redgrave has the stature and the regal bearing to match. Jackson matches her, in a red-headed wig with some shaving to give her a higher forehead. You can see why the film uses dramatic licence and departs from history by having them meet in two scenes, when historically they never did, corresponding only via letter. You'd imagine that would be uncinematic, and the 2016 film and Mary of Scotland have the same departure from history. (Elizabeth: The Golden Age (2007), directed by Shekhar Kapur, with Cate Blanchett's second performance as Elizabeth, doesn't.) Redgrave also sings the French-language song over both opening and closing credits sequences. The two leads are back up by a solid cast of British character actors, including Timothy Dalton as Darnley. Dalton was Redgrave's partner at the time.
Mary, Queen of Scots was nominated for five Oscars: Redgrave for Best Actress, Best Art Direction and Set Decoration, Costume Design, Sound and for John Barry's score. Redgrave was up against Jackson for Sunday Bloody Sunday, but neither won – the Oscar went to Jane Fonda for Klute.
The BFI's release of Mary, Queen of Scots is a Blu-ray encoded for Region B only. Given an A certificate on its original cinema release, it is now a 12.
The film was shot on 35mm colour film, with anamorphic lenses, and the transfer from NBC Universal's HD master is in the correct ratio of 2.35:1. It's an excellent transfer, with strong colours and solid blacks, with some very minor print damage such as speckles. Grain is natural and filmlike.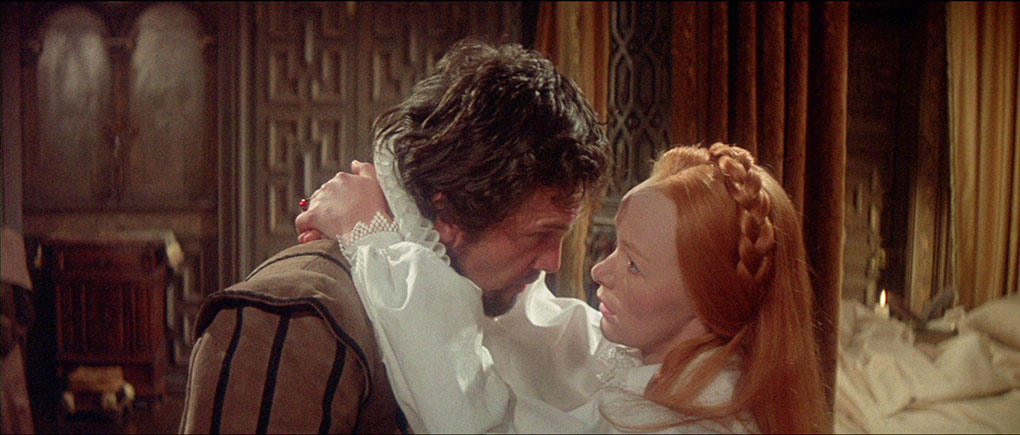 The soundtrack is mono, rendered as LCPM 2.0. While the majority of cinemas showing Mary, Queen of Scots in 1972 would have shown it in a 35mm print with mono sound, the film was blown up to 70mm for its world premiere on 22 December 1971 and subsequent release in Los Angeles, and in London for its UK showcase run at the Odeon Leicester Square (from 27 March 1972, after being that year's Royal Performance) and possibly in other countries. At the time, 70mm prints usually featured six-track magnetic stereo soundtracks, a configuration which then was five front channels and a mono surround. Not all films given 70mm releases used all six speakers and some played in mono. It's not known what was the case with this film, and if a multi-channel soundtrack still survives it's not been preserved on this disc. The 70mm print also apparently featured an overture and intermission, but that isn't on this disc either (at least not on the checkdisc I was sent to review).  However, the mono track that we do have is fine, with dialogue, sound effects and Barry's score well balanced. English subtitles for the hard-of-hearing are provided for the feature but not the extras. There is also an audio-descriptive soundtrack, in Dolby Digital 2.0.
Audio commentary by Sergio Mims
This was recorded in 2020 for Kino Lorber's US Blu-ray release. It's heavy on career summaries, particularly the political activities of the two leading ladies – and the controversies concerning Redgrave's Oscar win and her later Emmy award-winning performance in Playing for Time. Also summarised are the careers of the principal crew, though not much about John Barry – for that, we're referred to the other commentary. However, there are rather too many slips of the tongue (Redgrave is "her daughter's father", for example) and simple factual errors for comfort. There is such a thing as "BBC Channel 4", for one (he means BBC Radio 4) and Redgrave's brother is more than once referred to as Colin rather than Corin. Mims does apologise for some errors and "brainfarts" (his word). There is some useful information but not a lot you wouldn't already know (admittedly from a British perspective) and you can't help thinking this needed a re-edit.
Isolated score with commentary by Nick Redman and Jon Burlingame
As it says, this lets Barry's score play with Redman and Burlingame talking when it falls silent, though some of those gaps are too short to be filled in. At one point, Burlingame does end up talking over the score. Redman is clearly a fan of the film, which he saw at the Odeon Leicester Square back in 1972, and he and Burlingame talk widely if non-technically about Barry's score and his career.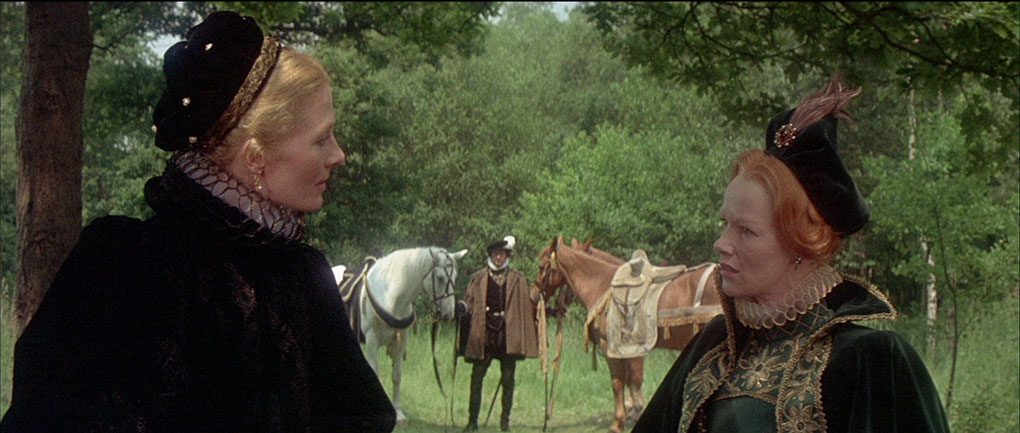 Guardian Lecture: Glenda Jackson (77:00)
This was recorded on 9 May1982, Glenda Jackson's birthday, at the National Film Theatre, after a showing of  her Oscar-winning role in A Touch of Class. (The interviewer – male, unidentified – apologises that they had only been able to show a 16mm Scope print.) Jackson is interviewed in a busy period, being in the middle of the run of a stage play and films like the Film on Four Giro City and The Return of the Soldier in the can. Jackson begins with her earliest job after school, at Boots the Chemist's, and applied to RADA. She says that she struggled to find roles, given that most of the female roles were  intended for pretty Home Counties types, and she wasn't any of those. Indeed, she was advised to reckon that as a character actress she should not reckon on much work after the age of forty. She also talks about the films her own company made: an adaptation of Jean Genet's The Maids, and , in which she played Stevie Smith, whom she describes meeting once. She also talks about working with Ken Russell, which included turning down The Devils to his displeasure, but in return she got to have a small role in The Boy Friend. Rather presciently, she sees the future of cinema as being in people's homes, at a time when the current tech was videotape, though she does find that prospect rather sad. She does blame the situation on filmmakers being out of touch with what people might want to see, and poor UK distribution for anything not a blockbuster. Forty years later, not much has changed.
As usual with recordings like this, film extracts played during the interview (Stevie, Return of the Soldier) are edited out. Questions from the audience are not always easy to make out. The interview plays as an alternative audio track and reverts to the film soundtrack once finished.
Riding High(5:53)
Frances White, who played Mary Fleming, talks about her memories of the production, also recorded in 2020. White had ridden horses before, but found the filming difficult, given that firstly she had to ride sidesaddle (which she hadn't before) and in the voluminous skirts of the period. She had a particularly highly-strung horse called TB (for thoroughbred, not anything else). In one scene, she and Redgrave had to ride to a far tree but as neither could see that well without glasses, they pointed the horses in that direction and hoped for the best. White's horse overtook Redgrave's, and although it wasn't in keeping that her horse was ahead of the queen's, it was left in the film.
Now and Then: Vanessa Redgrave(30:30)
Now and Then was an intended series of interviews by broadcaster Bernard Braden. The series was never completed, but the unedited interviews are held by the BFI National Film Archive and have turned up when appropriate as extras on BFI releases. The interviews are unedited to the extent of including clapperboards and microphone adjustments. Here, Braden interviews Vanessa Redgrave. This took place in February 1968, after Redgrave had completed filming Isadora, a film she seems to be ambivalent about – and that was pretty much the reception when the film was released. The interview is more about Redgrave the activist than acting Redgrave and she talks about her involvement with Cuba and Vietnam War, and her role as a celebrity and potential influencer.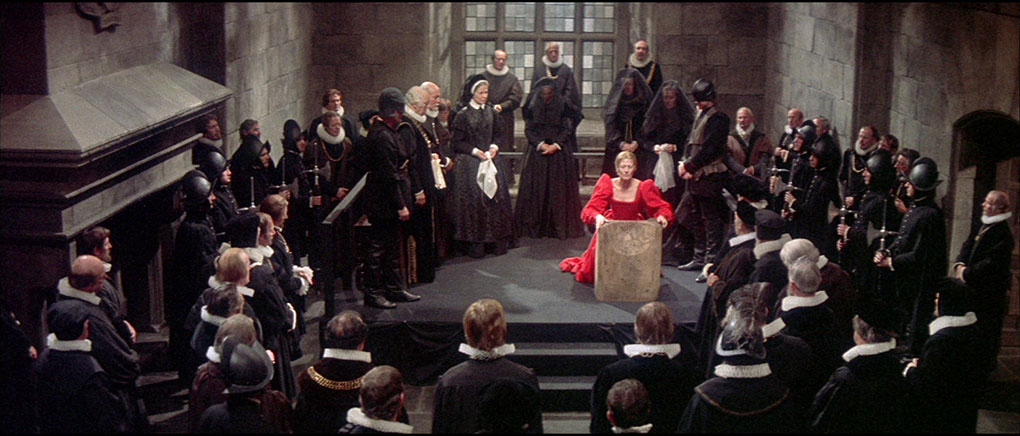 UK trailer (3:39)
A prestigious release gets a lengthy trailer, with plenty of what would be spoilers if the film wasn't based on historical events. You have to wonder if somewhere at the back of the marketing department's mind this film might possibly have been a hard sell so they include as much of the film as they feasibly could.
Image gallery (5:18)
A self-navigating gallery of colour production stills, plus one poster design.
Booklet
The BFI's booklet, available in the first pressing only, runs to twenty pages. It begins with Ellen Cheshire's essay "There's Something About Mary" which traces the history of Mary and Elizabeth's depictions on screen. She details the film's production and its release and reception. Many reviews were unfavourable, with some taking issue to the departures from history. One which almost all versions of the story have done is not to depict the details of Mary's execution, which took three axe-blows to finish off due to the axe being blunt. This is followed by profiles of Redgrave and Jackson by John Oliver, film credits and notes on and credits for the extras.
Mary, Queen and Scots was an old-fashioned film when it was made, let alone now, but it's a solid and well-made one, and a showcase for two of the leading younger actresses of the time. It is well presented on this BFI Blu-ray, though one of the commentaries is not of the best.