– Part 3: Tech Specs, Special Features and Summary –
Okay, we have ten films to cover here, so I'll try to be concise and after a general overview, focus primarily the weaker or stronger aspects of the transfers. First some technical data, which I've lifted here directly from the accompanying booklet:
Night After Night was remastered in HD by Universal Pictures in 2014
She Done Him Wrong was scanned in 4K and restored by Universal Pictures in 2017.
I'm No Angel was scanned and restored in 4K by Universal Pictures in 2019
Belle of the Nineties was scanned in 4K by Universal Pictures and restored by Powerhouse Films at Final Frame Post, London in 2021
Goin' to Town was scanned in 4K and restored by Universal Pictures in 2018
Klondike Annie was remastered to HD by Universal Pictures in 2014
Go West Young Man was scanned in 4K by Universal Pictures and restored by Powerhouse Films at Final Frame Post, London in 2021
Every Day's a Holiday was scanned in 4K by Universal Pictures and restored by Powerhouse Films at Final Frame Post, London in 2021
My Little Chickadee was scanned and restored in 4K by Universal Pictures in collaboration with the Film Foundation in 2018
The Heat's On was remastered in HD by Sony Pictures
Given the age of the films, these are very nice transfers, although each is dependent to some degree on the condition of the materials used for various restorations and remasters. Framed at 1.37:1, most are scrupulously clean and free of damage, with the exception of She Done Him Wrong and Goin' to Town, which retain a few small instances of visible wear, and Go West Young Man, which has some very faint flickering and the occasional remaining dust spot, and there is some occasional but minor instability of the image in the frame here. Sharpness and detail definition do vary, with the high standard set by Night After Night and My Little Chickadee dropping just a little on some of the other titles, and at its softest on Every Day's a Holiday, though how noticeable this is will depend on the size of your viewing screen, and even at its weakest it is never distracting. Contrast is generally well balanced, particularly on the aforementioned standard-setters, though is a little punchier on I'm No Angel and more especially The Heat is On, though is never aggressively so. Black levels are solid throughout, and a fine film grain is visible on all titles.
All ten films have Linear PCM 1.0 mono soundtracks and all show their age, largely in the inevitably limited dynamic range and in many cases some detectable background fluff or hiss, though I only really noticed this when I was checking the soundtracks specifically for this review. Unsurprisingly, the two most recent films in this collection fare the best in this regard. The dialogue is always distinct, however, and the music and songs always sound rather good, and even with the range at its narrowest, there's no distortion of loud sounds.
Optional English subtitles for the deaf and hearing impaired are provided for all of the features and short films in this set.
DISC 1
'She Done Him Wrong' Audio Commentary by Pamela Hutchinson
Film critic and historian Pamela Hutchinson delves into the first fully-fledged Mae West feature with infectious enthusiasm and a sound knowledge of the background details to its production and West's career in general. She supplies information on the source play, Diamond Lil, as well as details on the alterations that were forced on its screen adaptation by the Production Code office, which while not yet the censorial monster it would soon become, still had the power to enforce changes to anything that irritated its suspect morals. There's info on the lead actors and supporting players, useful background on the songs and the subversive nature of their lyrics, and observations on the film's humour, its costumes, its characters, specific scenes, and more. While Hutchinson does pass comment on the black and Jewish stereotypes, she also makes a case for West having a more progressive attitude to racial equality than many of her contemporaries. There's plenty more of real value here.
May West at UCLA (25:23)
Conducted at The University of California, Los Angeles (UCLA) on 12 May 1971, following a screening of I'm No Angel and chaired by Bob Elias, this audience Q&A with Mae West precedes the presentation to her of the aforementioned Student Body Award for Woman of the Century. West is in good humour but is supremely concise in her answers (asked for her views on the women's liberation movement, she responds simply, "Oh, I'm for it"), but is more expansive when questioned about W.C. Fields' contribution to My Little Chickadee and her oft-told story of how she 'discovered' Cary Grant (in truth, he'd already had a significant role in Josef von Sternberg's Blonde Venus alongside Marlene Dietrich by then). She cites Grant as her favourite leading man, reveals that she's not a fan of frank portrayals of nudity and sex on film, and has to field a few hopeful enquiries from considerably younger men about her dating habits. The high regard in which she is held by the students is evident in the thunderous and lengthy applause and cheers that greet her when she first takes the stage.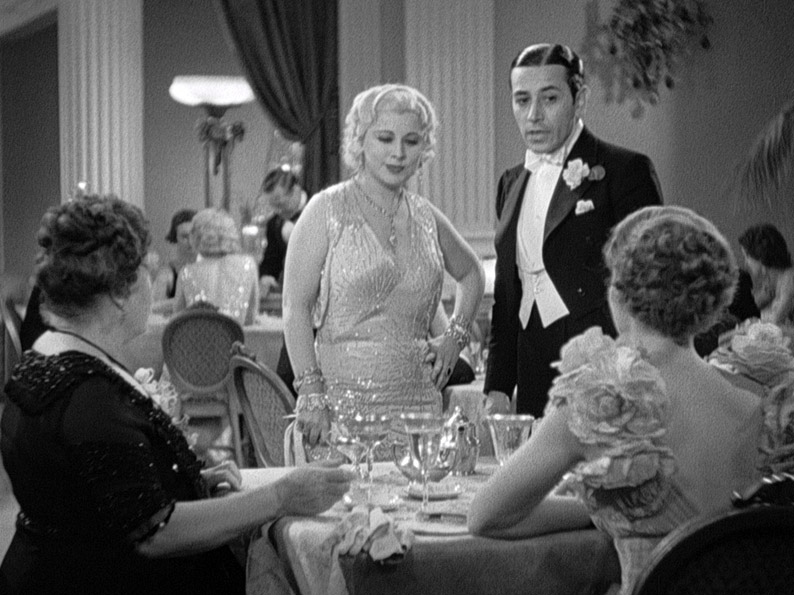 'Night After Night' Theatrical Trailer (2:36)
Little realising what they had on their hands, this trailer for Night After Night sells the film on "the star that YOU made," George Raft. West does make an appearance to deliver the film's most famous line, but this is absolutely Raft's show. "A man and his women… but WHAT A MAN."
'Night After Night' Image Gallery
19 screens of lovely monochrome promotional stills and various posters.
'She Done Him Wrong' Image Gallery
24 screens of quality monochrome publicity stills, coloured-in lobby cards, press book pages, and posters, some which have the film under the title of 'Lady Lou'.
She Done Him Right (1933) (7:54)
A character with the uninspiring name, Pooch the Pup, sticks up posters advertising a performance by a glamorous singer named Poodles and falls head over heels in love with her in this animated short from Walter Lantz. Any doubts that Poodles is meant to be seen as a cartoon Mae West are dispelled when she tells Pooch, "You ought to come up…some time," and when she wiggles her way into the venue for her performance of Minnie the Moocher's Wedding Day. Includes plenty of the rubbery looping animation that modern cartoonists sometimes take the piss out of, but also a couple of amusing gags and the nicely animated image of a train squeezing into an undersized tunnel.
The Merry Old Soul (1933) (8:01)
Walter Lantz is back, this time with a creature called Oswald the Lucky Rabbit, who doesn't seem so lucky as the animation starts, as he's having a stubborn tooth pulled by a canine-faced looking dentist. An announcement comes over the surgery radio that Old King Cole has the blues, and so Oswald flees the surgery and runs around town collecting all of the entertainers he can find to cheer the miserable old sod up. We thus get likenesses of a slew of celebrities of the day, including Charlie Chaplin, Greta Garbo (I think), Laurel and Hardy, Buster Keaton, Al Jolson (in blackface), Jimmy Durante, Harold Lloyd, the four Marx Brothers, and a fair few others I didn't recognise, plus, of course, a brief appearance from Mae West. An ambitious project, somewhat dated but still skilfully realised.

DISC 2
'I'm No Angel' Commentary with Farran Smith Nehme
I'm guessing that critic and writer Farran Smith Nehme won the commentary lottery to land what she and many others regard as West's finest movie, and as you'd expect, she has plenty to say about both West and the film. There's information on many of the supporting players, West's superstitions and belief in astrology, the notion that she appealed more to women than men, some concessions that were made to the censor and the games played to retain material that might otherwise have been cut, the film's costumes and its costume designer Travis Banton, and a good deal more. Nehme provides details of West's notorious stage play, Sex (for those interested in knowing more, its Wikipedia entry is surprisingly detailed), reveals West's taste in men and the steps she took to conceal her diminutive stature, and reads out the star's Ten Commandments for getting your man. She also reminds us that this was West's final pre-Code feature and that much of its more risqué dialogue would not have been allowed a year later. This just a sampling from a very fine companion to the film.
'I'm No Angel' Super 8 (Short Version) (8:02)
How do you compress an 87 minute movie with sound into an 8-minute silent one? Well, you throw out most of what makes it so special and just staple a couple of early scenes together and add some big subtitles to replace the dialogue (I will salute the design of the lyrics that accompany an otherwise silent song). The first half consists of Tira performing her dance for the carnival audience, and when she finishes and Big Bill asks her to work the lions, she says she'll do it tomorrow night. And then she does it. That's it. Hell of a movie.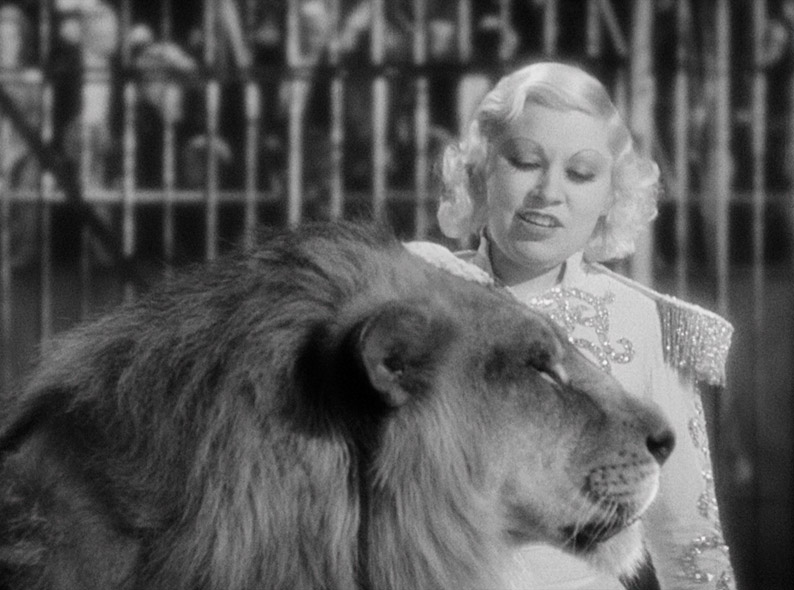 'I'm No Angel' Super 8 (Long Version) (17:46)
If your only experience of I'm No Angel was that short 8mm version above, you'd think the one featured in this longer but still heavily truncated sound version was from a different movie. There's no carnival footage of the lion tamer scene here, as this version kicks off after Tira and Jack have become an item, which dispenses with the entire first hour of the film. They sing a song together to show that they're in love, then Big Bill and Slick pull their relationship-sabotaging movie and a shortened version of the court case plays out.
'I'm No Angel' Theatrical Trailer (1:55)
Another trailer from the days when those who assembled them tended to just staple a few representative extracts together with little concern over whether the selected shots or segments flowed smoothly from one to the next. Here we get snippets from songs, a couple of smart lines, and shots of Mae looking good. For a trailer of this vintage, it's not in bad shape, but there's plenty of crackle on the soundtrack.
'Belle of the Nineties' Theatrical Trailer (1:53)
A similarly rough-and-ready trailer featuring songs and catchy dialogue, though it's nice to see Duke Ellington and his Orchestra getting a special mention.
'I'm No Angel' Image Gallery
44 screens featuring some gorgeous monochrome promotional photos, some violently tinted lobby cards, press book pages, and international posters.
'Belle of the Nineties' Image Gallery
37 screens of promotional material, including monochrome production stills, a single coloured-in lobby card, press book page scans, and posters.

DISC 3
'Klondike Annie' Audio Commentary with Eloise Ross
Here, academic and curator Eloise Ross delves into Klondike Annie, pointing out how the lyrics of one song heightens racial stereotypes and discussing the set design and costumes, the confusion over the killing of Chan Lo and the removal of scenes that would have clarified this, Raoul Walsh's direction, the inevitable accusations of blasphemy, the work of the sound department (nice to see this highlighted in such an early sound film), and a good deal more. Again, a fine companion to the film.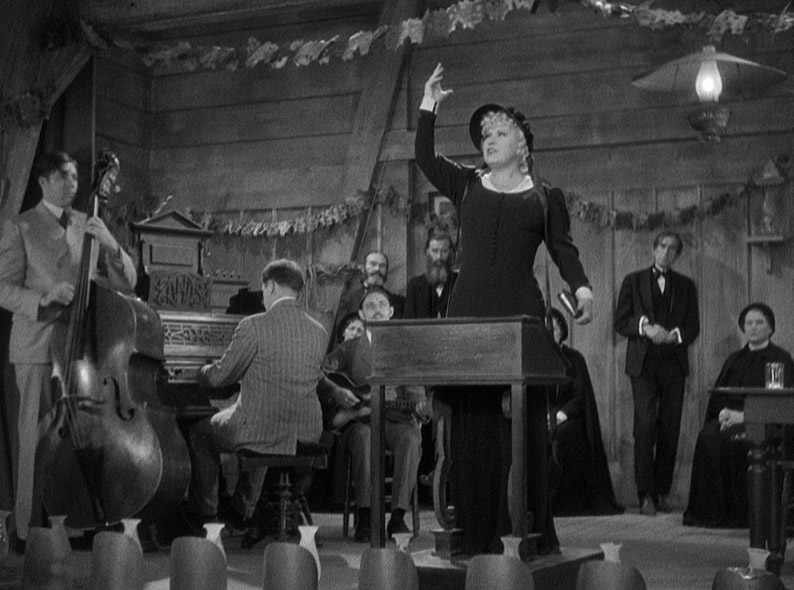 Downtown Girl: Lucy Bolton on Mae West (33:24)
Academic and film historian Lucy Bolton provides a detailed and fascinating assessment of Mae West's appeal and success as a performer, looking at her life, her career in entertainment, and what defined the Mae West screen persona. She examines each of West's films in turn and how the more rigorous imposition of the Production Code impacted on their style and content and looks at the direction her career took after The Heat's On saw her abandon the movies for nearly three decades. She also provides more details than I'd previously heard about the brief jail time that West served following her arrest for obscenity charges over her stage play, Sex.
'Goin' to Town' Theatrical Trailer (1:40)
A by-the-numbers promo for the film with lots of crackle on the soundtrack and the frankly plausible claim that West is "bringing high life to high society."
'Goin' to Town' Image Gallery
48 screens of high contrast monochrome promotional stills, garish lobby cards, posters, and press book pages, which include an amusing warning poster about the film's opening that advises 'Prepare for Riots – Mae Day'.
'Klondike Annie' Image Gallery
42 screens of crisp production photos, colourful lobby cards, press book pages (including one with illustrations of Mae West), and posters.

DISC 4
'Go West Young Man' Commentary with Nina Fiore
Another fine commentary begins with writer and film historian Nora Fiore revealing that she specifically chose Go West Young Man when offered the chance to talk about one of West's post-Code movies. She provides detail on the actors, cinematographer Karl Struss, West's gowns and costume designer Irene Jones (appreciation of West's costumes has proved a common thread in the commentaries here), the differences between the film and the stage play from which it was adapted, and plenty more. She reveals that the top-end Rolls Royce car in which Mavis is travelling belonged to actor Constance Bennett and that she paid for it by renting it out to movie productions, comments on the mean and selfish character West elects to play here, and looks at the career of actor Nick Stewart, whose comments on the limited roles available to black actors at that time and how the black movie stereotypes came to be are of very real interest.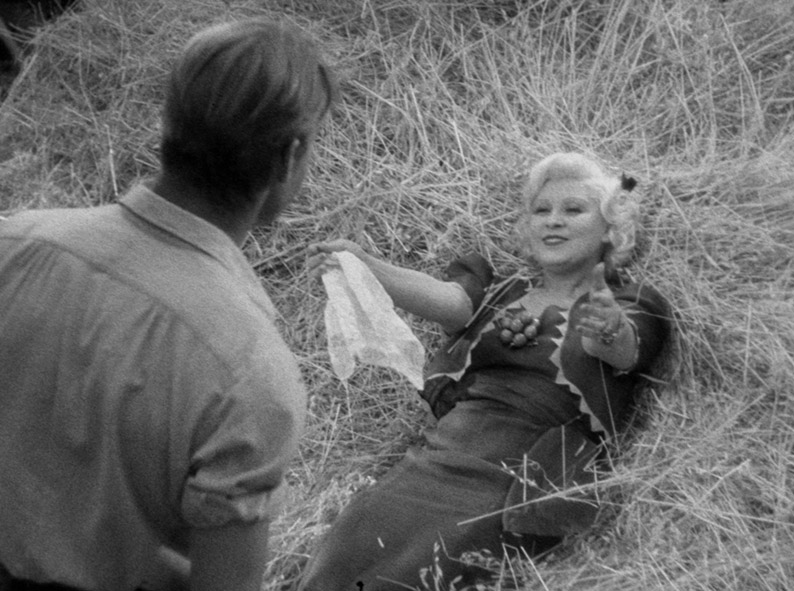 The Only Way is West: Christina Newland on Mae West (18:46)
This assessment of Mae West's life, career, screen persona and cultural impact by critic and author Christina Newland may have some crossover with the one by Lucy Bolton above, but Newland's take differs enough to largely avoid any sense of repetition – I watched this only about an hour after Bolton's piece and it still felt fresh to me. Newland explores why West had such an appeal to male and female audiences alike, how her dislike of the hypocrisies surrounding sex informed her work, the ways in which the Production Code and the influence of the Catholic Legion of Decency ultimately suffocated her work, and more. Another excellent extra.
'Every Day's a Holiday' Theatrical Trailer (2:26)
Music and songs feature heavily in this trailer for "a gay music comedy of those nifty Nineties." Nifty, huh? Louis Armstrong gets a special mention, as do the male characters the trailer describes as West's Five Musketeers.
'Go West Young Man' Image Gallery
27 screens of promo imagery, including crisp production stills, a couple of lobby cards and some interesting posters
'Every Day's a Holiday' Image Gallery
43 screens containing production stills (why is it that these monochrome photos taken to promote films from the 30s and 40s look so much better than ones on more recent movies?), lobby cards, press book pages and posters,

DISC 5
A Love-Hate Relationship: Dr. Harriet Fields (12:35)
Dr. Harriet Fields shares some memories of her paternal grandfather, W.C. Fields, drawing parallels with his career and that of Mae West, and suggesting (though not confirming) that they may have met before they were teamed up for My Little Chickadee. She notes that this is essentially two disconnected films rather than one due to West and Fields writing their own dialogue and maintains that the oft-discussed hostility between them only occurred after the film was complete and Fields received far better notices than West. Understandably, there's no mention of reports that Fields was drinking heavily during the production.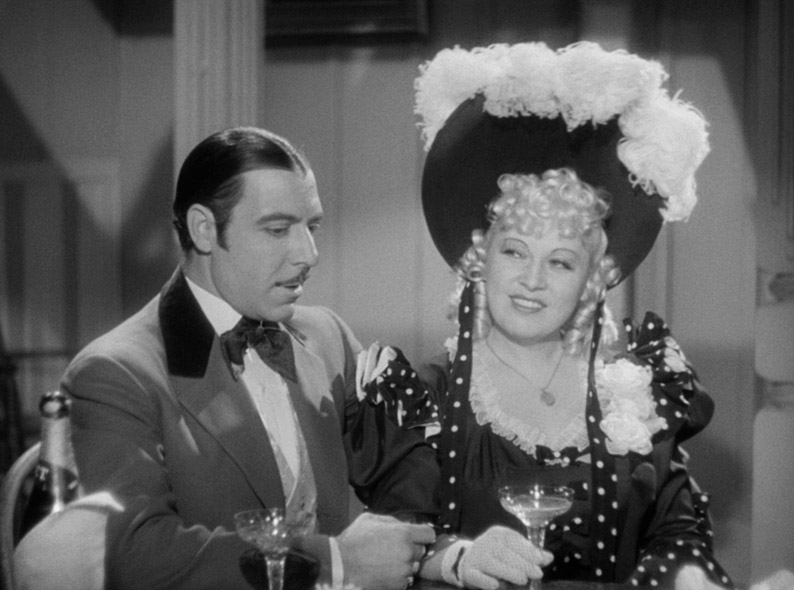 'My Little Chickadee' Theatrical Trailer (1:40)
Snippets of both stars doing their thing are included in this functional promo, as are the film's catchphrase-swapping final lines. Of interest for the inclusion of a couple of shots of W.C. Fields – including a blatantly faked one of him riding a horse – that did not make the final cut of the film.
'My Little Chickadee' Image Gallery
65 screens of promotional material, with publicity stills (the best of which are, once again, immaculate), lobby cards, a couple of impressive cartoons of the two stars, press book pages, and posters.
Hollywood Bowl (1939) (6:45)
Another Walter Lantz cartoon featuring likenesses of a string of media celebrities of the day, a good many of whom I could not identify. I did spot Greta Garbo, Groucho Marx, Bing Crosby, Benny Goodman, Fred Astaire, Charles Laughton and Clark Gable in Mutiny on the Bounty mode, and the key reason for this film's inclusion, W.C. Fields. The story, such as it is, has a conductor I'm sure I'm meant to recognise conducting Schubert's Unfinished Symphony, with the instruments played by pairs of disembodied gloves in a sequence that briefly dips into Fantasia territory.
Mae West (1982) (95:32)
A made-for-TV biopic of West that opens with her arrest during a performance of her play, Sex, then hops back in time to trace her journey from child performer to this point, after which it follows her move into the movies and rapid rise to Hollywood stardom, her issues with censorship, and the impact this ultimately had on her career. Ann Jillian does a fair job as West, capturing the flavour of her delivery but upping its pace a little and lacking West's slightly fuller figure, which probably says something about the body shape expected of actresses in Tinsel Town in the 1980s. James Brolin does a solid enough job as her lover, personal manager and legal advisor, Jim Timony, but quietly stealing every scene he appears in is the ever-lovely Roddy McDowall as Mae's drag queen friend, Rene Valentine, who I gather was based on the real-life 1920s drag queen Bert Savoy. The support cast has its share of minor pleasures, including Piper Laurie as Mae's mother, Matilda, and Chuck McCann as an inebriated W.C Fields.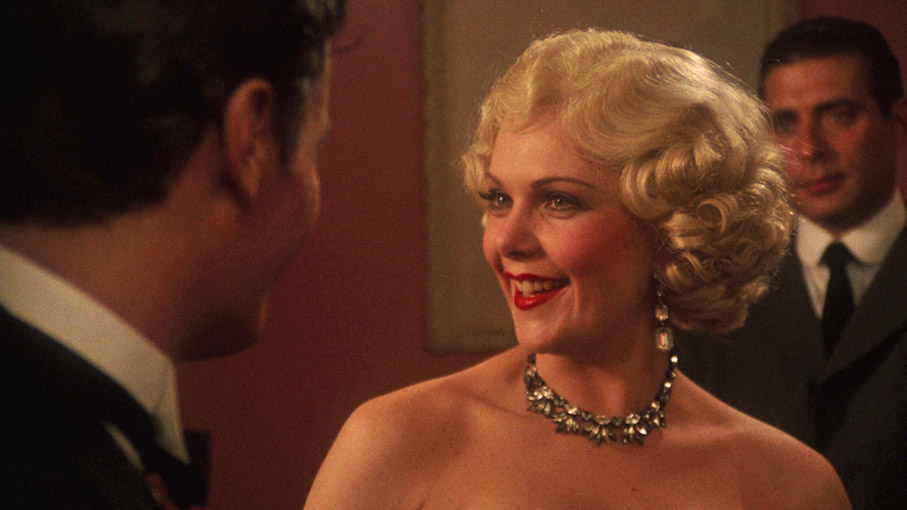 Structurally, it's resolutely by the biopic book, providing a whistle-stop tour of West's career and ending on the sort of triumphant note that was common in such movies at the time. The interfering presence of the Hays Office censors and the Catholic Legion of Decency also gets some coverage, and while the accuracy of some aspects is admirable, screenwriter E. Arthur Kean and director Lee Philips repeatedly play loose with recorded fact. A prime example is the suggestion, presumably made for dramatic effect, that West was an only child, whereas in truth she was one of three children (a fourth died in childbirth). Just occasionally, West's dialogue includes lines from her later films, though I'm willing to concede that they could well have originated as real-world quips. George Raft's claim, when asked for his opinion about Night After Night, that West "stole everything but the cameras" is on the nose, but here he says it immediately following the premiere of the film, whereas the comment was apparently made in an interview some years later. You get the picture.
It you watch this after the West films in this set, there is a pleasure that comes from the recognition of scenes being shot and the realisation of the importance of key deals, plus that old favourite eureka moment when the central character nails the very thing that will define them and rocket them to future fame. It's not as thorough or as factually accurate as a documentary and falls a long way short of the biopic standard set by the likes of The Buddy Holly Story, to which it does have a couple of structural similarities. I'd hate to damn the film with faint praise, but as it finished the words that popped into my head were, "It's okay." For a special feature, however, it's a hell of a grab. It certainly looks good, and was restored in 4K, we are informed, by Multicom Entertainment Group, Inc.

DISC 6
'The Heat's On' Super 8 Version (19:43)
A compressed version of the film that oddly feels far more like a Mae West movie than the feature it advertises by including just about all of her scenes, save for the one in which she gets the truth from Hubert by getting him drunk.
'The Heat's On' Image Gallery
24 screens of stills, only two of which feature West (an accurate reflection of the film, as it happens), plus another eight screens featuring the press book cover, lobby cards and posters
PLUS
Booklet
This handsome 118-page opens with credits for all ten films, each with its own uniquely styled title font, then launches into a substantial essay by curator and writer, Iris Veysey, titled Sex, Hollywood and the Making of Mae West. I thought this a terrific read, and while there is some crossover with the on-disc extras when discussing West's life and career, there is more detail here on just about every aspect – despite coming to this booklet last, I learned a lot from this. Next is a reproduction of a 1927 interview with West conducted by Elenore Kellogg for the New York Daily News, shortly following her brief spell in jail after her stage play Sex was raided. This makes for fascinating reading, and includes an amusing poem that West composed to prison Warden Harry O. Schleth. Following this is a 1935 article by Madeleine Matzen for Hollywood magazine, in which West lists her 10 Rules for Love, which are also outlined by Farran Smith Nehme in her commentary track. There's a second article from Hollywood magazine, this one from 1936 by Lew Garvey, who wonders if West's role as Sister Annie in Klondike Annie has inspired her to tone down the more outrageous aspects of her behaviour. I'll bet that gave West a few good laughs. Up next are extracts from news stories of the day discussing the revelation that the believed-to-be-single West had actually been married to Frank Wallace since 1911. It includes a report on the divorce proceedings, plus scans of a newspaper article and West and Wallace's marriage certificate. Mae West on Hollywood features a welcome collection of extracts from West's autobiography, Goodness Had Nothing to Do with It, in which she shares memories of nine of the ten films in this set (no surprise that The Heat's On gets no mention). This runs for a most substantial 18 pages, including imagery and a sizeable bibliography, and whether you consider West a reliable narrator or not, this is still a most entertaining and sometimes educational read. I particularly like the subtle dig at her My Little Chickadee co-star, W.C. Fields: "I always enjoy his brand of comedy. There is no-one else quite like Bill. And it would be snide of me to add, 'Thank God'." This is followed by a series of extracts from various sources in which directors Lowell Sherman, Leo McCarey, Henry Hathaway and Raoul Walsh recall their working relationships with West (it would seem McCarey was more excited about having Duke Ellington on set), while West herself discusses working with directors Archie Mayo and Lowell Sherman. Credits for the TV movie Mae West are followed by information on the film and its transmission and a couple of contemporary reviews. Finally, we have credits and summaries of all three of the Walter Lantz animated shorts, and the details of the restorations and transfers that I've reproduced above.
This has to be a strong contender for the title of Indicator's most ambitious release yet, bringing together ten films – eleven if you count the Mae West TV movie in the special features – with a slew of special features, every one of which is relevant and none of which substantially duplicates the others. It would be easy to suggest that this makes for an excellent introduction to the cinema of Mae West, but apart from her two postscript movies in the 1970s, this IS the cinema of Mae West, containing every one of the films from her eleven-year reign as the Queen of Hollywood, plus all the information you could need about the movies and their chief creator and star. It's a brilliant set, and another knockout release from Indicator. Unreservedly and enthusiastically recommended.
---