A true story. New South Wales, the gold rush of 1854. Daniel Morgan (Dennis Hopper) falls foul of the police and is jailed. After six years in a brutal prison, Morgan becomes a notorious outlaw. However, the police, led by Superintendent Cobham (Frank Thring), are on his tail.
Amongst Australian bushrangers, Daniel Morgan (1830-1865) is second only to Ned Kelly in folk-heroic status. In fact, Kelly acknowledged Morgan, who had been active before him, and was given to ride into battle calling out "Long live Dan Morgan!" While it certainly makes many uneasy that someone who was an acknowledged killer, and probably at least sociopathic if not psychopathic, could become such a folk-hero, but that he was, and certainly at the time. Philippe Mora's film doesn't deny Morgan his charisma: people in deprived towns were keen to help him out and at one point we see a young woman offer herself to him. There was a sense that Morgan was "one of us" in the more socially deprived parts of Australian society: born illegitimate from a costermonger father (or possibly a convict) and a mother known locally as "The Gypsy". However, true crime, whether period or historical, is a perennial genre and not only in Australia, and with the new medium of the cinema arriving in the last decade of the nineteenth century, these were stories soon to be told. Kelly was the subject of the first feature-length film (defined as over an hour long) in the world, with 1906's The Story of the Kelly Gang. It wasn't long until Morgan got his turn in the light of a projector lamp: Dan Morgan (1911), directed by Charles Cozens Spencer. This was one of several bushranger films of the time, a trend which came to a halt when the states of South Australia, New South Wales and Victoria banned the genre, in 1911 and 1912. Dan Morgan, which appears to have run about fifty minutes or so, is now a lost film. While Kelly has been represented on film many times since, Morgan had to wait another sixty-four years, and the present film.
Mora's source for the film was Margaret Carnegie's 1974 book Morgan, The Bold Bushranger. While the production went out of its way to be as authentic as possible in its events and locations, there are some inventions. For one, there's no evidence that Morgan was ever given the nickname Mad Dog – Mad Dan, maybe, but not Mad Dog. However, Mad Dog was the title the film went into production under (it can be seen on the clapperboards in the making-of footage included in this disc's extras), with the Morgan added by the Australian distributor. (See below for more about variant titles and versions.) Other changes are for dramatic reasons: the character of Billy (David Gulpilil), Morgan's Aboriginal sidekick, is a composite of the three sidekicks Morgan actually had. Also, Dennis Hopper plays Morgan with a creditable Irish accent, though Morgan was actually born in New South Wales and wasn't an immigrant. Then again, as Mora points out, what was an Australian accent? What indeed was an Australian, other than the Aboriginal peoples, given that Australia was a set of British colonies and didn't exist as a country in its own right until it was federated in 1901.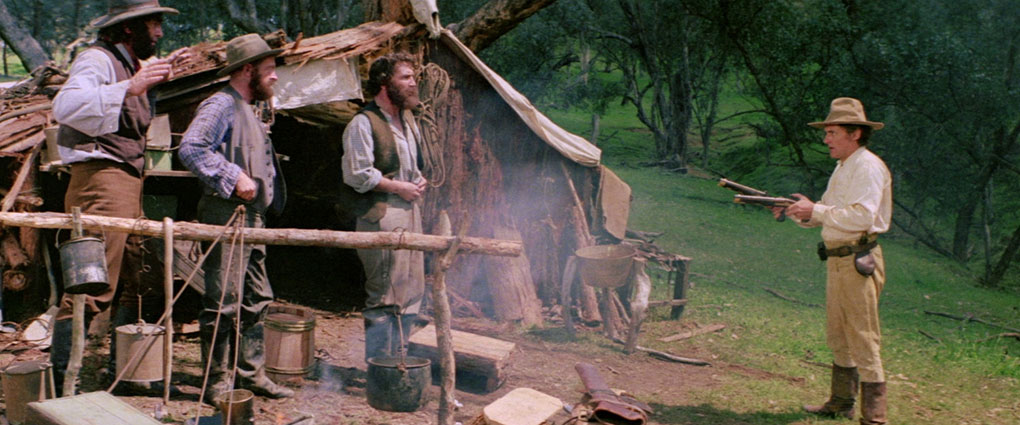 The film is somewhat uneven, with a stop-start rhythm, though individual scenes and performances work very well. Not all the humour works, and I'm not sure that a surreal dream sequence does either, even if it does showcase an astonishing fall-while-on-fire by stuntman Grant Page. At other times, Mora is unsparing to the squeamish, with blood spurts and a man's head blown away by a shotgun. He also includes a scene where Morgan is raped in prison, possibly a first in Australian cinema and not something you would see very often in commercial cinema from any source, Deliverance notwithstanding. The film is held together if by nothing else by Hopper's performance. At the time he was blacklisted in Hollywood after the critical and commercial debacle of The Last Movie in 1971. Clearly sensing a chance to rehabilitate himself, Hopper seizes his role, giving it considerable physical presence. It was the fact that Hopper had been entirely professional on set, in a film which had come in on time and on budget, that led to Francis Coppola casting him in Apocalypse Now. Hopper's role as the photojournalist in that film is more than a little reminiscent of Morgan. It's hard to imagine Stacy Keach or Alan Bates or Martin Sheen as Morgan, but they were considered before Hopper was cast. The supporting cast are all very strong, with Mora employing, he says, almost every male actor in Australia at the time, apart from Bryan Brown (who, he says, has never forgiven him). This was also a turning point in David Gulpilil's career. He had worked on television after Walkabout, but this was only his second feature film, and his next was Storm Boy. Gulpilil also contributed didgeridoo to the soundtrack.
The film's view of its leading character is ambivalent. At times he's more sinned against than sinning, witnessing the massacre of Chinese gold prospectors and the killing of his friend Martin (Gerry Duggan) in the film's single most graphically violent moment. He's also thrown into prison and raped. Generally, he sides with other outsiders, who are often made other because of their race: those Chinese, for example, or the Aboriginal Billy. Yet elsewhere, Morgan comes over as a violent psychopathic thug, and the fact that many of those on the right side of the law are no better doesn't mitigate this.
Philippe Mora was born in Paris in 1949 but by 1951 his family was in Australia. As his mother was an artist and his father a restauranteur and art gallery owner, Mora was exposed to the Melbourne cultural scene from an early age. He began making films as a child. In 1967 he moved to London and became part of the arts scene there, having an exhibition of his paintings put on by fellow Australian Clytie Jessop, who apart from owning a gallery, had occasionally acted for her friend Freddie Francis (most notably as Miss Jessell in The Innocents in 1961) and went on to direct back in Australia Emma's War (1986). Mora's first feature film, Trouble in Molopolis (1970) was shot in London with money from Arthur Boyd and Eric Clapton, and featured several Australian expats in the cast, including Germaine Greer as a nightclub singer. The film was made on short ends from the Performance shoot, whose camera operator was Mike Molloy, of whom more later. While Molopolis certainly survives in the Australian archive, it's not clear how much of a release it ever had, though it's on record as having been shown at the National Film Theatre, as was, in May 1971. Mora's next work were two documentaries made up largely of archive footage, Swastika (1973) and Brother Can You Spare a Dime (1975). The latter, unusually, had its world premiere on television (BBC2 on 23 March 1975) before its cinema release. It went on to be nominated for a Golden Globe as Best Documentary. The film's editor was Jeremy Thomas, who joined forces with Mora to make their next film together, which was Mad Dog Morgan.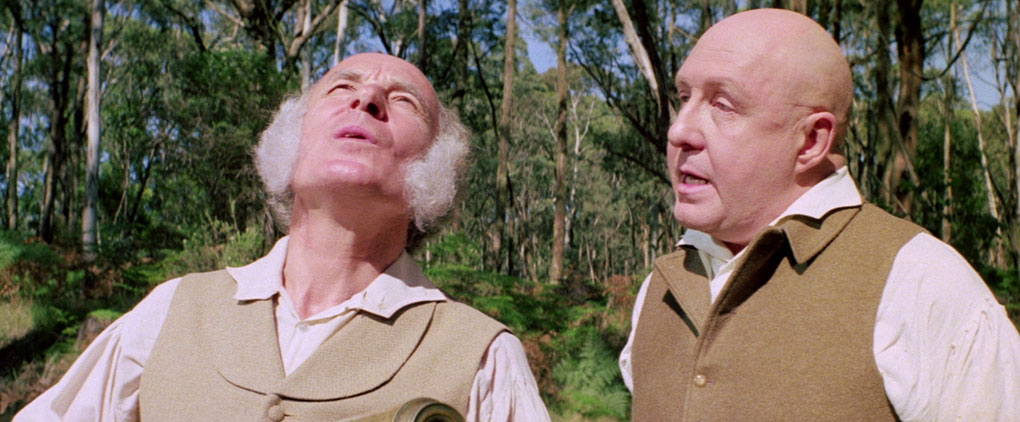 The film was shot on a smallish budget, between three and four million Australian dollars, which had to stretch quite some way considering this was a historical subject with a large number of speaking roles, possibly as many as one hundred and twenty. It was also shot in Scope with anamorphic lenses, not unprecedented for an Australian film but not yet widespread either. Mike Molloy was the cinematographer, in his first dramatic feature in that capacity. A Sydneysider, he had begun in the 1960s with student films (including one directed by Richard Brennan, the associate producer of Mad Dog Morgan) and documentary shorts and had worked as camera operator for  Nicolas Roeg (Performance, Walkabout taking him back to his home country and the documentary Glastonbury Fayre) and Stanley Kubrick and John Alcott (A Clockwork Orange and Barry Lyndon). His work here is exemplary. Mora and Molloy aimed for a deep-focus look, not always easy to achieve with anamorphic lenses, and the result has a sometimes hyper-real look, almost 3D-in-2D in places.
Mad Dog Morgan was shot on the original locations around the New South Wales/Victoria border, on a thirty-six-day (six days a week) schedule from 23 October to 6 December 1975, with a day of pick-ups on the 8th. The film premiered at Cannes out of competition in 1976. Mora points out that this was the moment when international audiences took notice at what was coming out of Australia, as in the same Cannes marketplace were Caddie, The Devil's Playground and Picnic at Hanging Rock. (This rather misrepresents the history of 1970s Australian cinema – not least the fact that Sunday Too Far Away had played in Director's Fortnight the year before, and of course the commercial if not critical success of The Adventures of Barry McKenzie, Stork, Alvin Purple and others earlier in the decade.) Mad Dog Morgan was bought for distribution in the US and played some forty screens in New York and Los Angeles, the widest release of an Australian film in the US since the 1930s. While the film was not a commercial success, it did lead to Mora receiving offers to work overseas: his next film was The Beast Within (1982), shot in the USA. Since then he has worked internationally but has occasionally returned to his home country: The Return of Captain Invincible (1983), Death of a Soldier (1986) and Howling III: The Marsupials (1987). Due to an error in copyrighting (the end titles give the year as MCMDXXVI instead of MCMLXXVII, i.e. 1976) Mad Dog Morgan fell into public domain in the USA with some terrible VHS and DVD editions resulting.*
Back in Australia, Mad Dog Morgan premiered in June 1976 at the Sydney and Melbourne Film Festivals, before going into release on 9 July. The film wasn't a success, with audiences finding parts of the film, particularly the graphic violence, too confrontational – a fate which the later The Chant of Jimmie Blacksmith shared. At the Australian Film Institute Awards (now the AACTA Awards) it was nominated for Best Director and Best Supporting Actor (Bill Hunter), and possibly (accounts vary) Best Original Score (Patrick Flynn), but none of them won.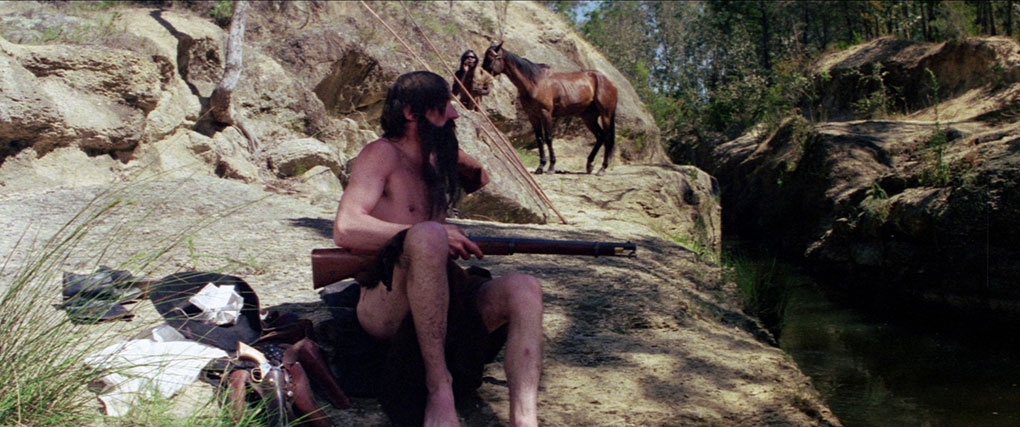 Mad Dog Morgan's UK distribution history is complex. It was passed by the BBFC on 29 December 1976 under the title Mad Dog but at what appears to be full length (102:50 – the present Blu-ray transfer runs 102:59). It was reviewed in the Monthly Film Bulletin in November 1978. However, it took nearly three years for the film actually to be released in the UK, which was on 5 October 1979 in a run at the Institute of Contemporary Arts in the Mall, London, a clear sign that the film's UK distributors had little idea what to do with it. By then the film had been shortened and re-edited (see below for more details) to 95 minutes (94:24 on this disc). It had had a screening at the National Film Theatre in between, on 26 May 1978 as part of a season of Seventies Australian cinema, under the Mad Dog title but in which version is unknown. In 2000 Mad Dog Morgan was one of the "Atlab Fifty", or more formally the Kodak/Atlab Collection: fifty Australian films selected for (photochemical) restoration with new 35mm prints struck.
Indicator's Blu-ray of Mad Dog Morgan, spine number 226, is an all-regions Blu-ray, packaged in this limited edition of 4000 in a slipcase with a perfect-bound book and a double-sided poster. The film, unsurprisingly, carried an X certificate in British cinemas and was given an 18 certificate for home viewing in 1990 and 2003 but with another submission in 2011 now has a 15. It's certainly at the stronger end of that rating. (In Australia, it was given a very lenient M rating, which is advisory only. It was rerated for Umbrella's DVD release in 2008 to a more understandable MA, which requires adult accompaniment for those under fifteen.)
As mentioned above, there have been several previous releases of this film on disc. Some of them have been terrible: a DVD from Avenue One had possibly the most appalling transfer I've ever personally seen. In Australia, Umbrella released a Blu-ray in 2019. The extras from that release, including several previously included on DVD releases, have been carried forward to this Indicator edition. Completists should note that Umbrella's disc has a different image gallery, which includes a reproduction of the complete script. Unique to Indicator's release is the US/UK theatrical version and the book, and for that reason I'd say that Indicator's release is so far definitive.
The film was shot in 35mm with anamorphic lenses and the Blu-ray transfer is in the correct ratio of 2.39:1. The Blu-ray transfer comes from a 4K scan and 2K restoration of the 35mm interpositive. The source of the unique material in the UK/US theatrical cut is not specified. The results are excellent: sharp and colourful with natural filmlike grain. It's a little sharper and slightly less bright than Umbrella's transfer, which came from its own 4K remaster from the interpositive.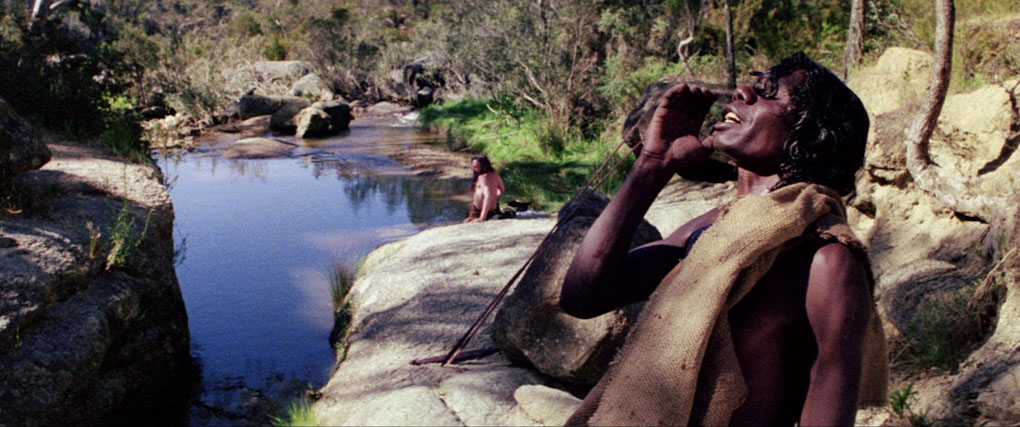 The US/UK cut is noticeably different. It was prepared by the distributor with Mora's approval. It shortens scenes and changes music cues and adds opening and closing captions. That closing caption, oddly, is at the very end, when many people will have left the cinema. Also, the end credits are shortened, dissolving partway through the cast list to the last notices and the copyright date. The major structural change is that the director's cut begins with Sergeant Manwaring (Jack Thompson) giving his report to camera after Morgan's death, so making the film play out as a long flashback.
The soundtrack is available in DTS-MA 1.0, reflecting the original mono mix. It's clear and well-balanced. Some of the dialogue is a little unclear, but that's been the case with every version of the film I've seen, and I should add that Indicator's subtitles make a better fist of this than Umbrella's do.
Commentary with Philippe Mora and Jake Wilson
This was recorded in 2019 for Umbrella's Blu-ray and comes with an advisory caption on sound quality: two quite loud examples of tape hiss and some background noise.
One issue with a release like this, featuring items recorded or shot with the same key personnel several years apart, is that you hear the same stories multiple times. That's certainly the case here, so while this is a fine commentary, with plenty of useful information, you do get that overlap. So, for example, we hear about actor Kurt Beimel, who plays the doctor who declares Morgan dead at the end of the film. Beimel was legally blind and deaf and kept missing his cue for his one line, "He's dead", uttering it while Morgan was still alive. So the solution was for Mora to poke him with a long stick as a cue – something Hopper strenuously objected to until it was explained to him. Another fascinating story is that the baby of the Macpherson household, which Morgan held up and forced the elder daughter of the house to play piano for him, was Christina Macpherson, who later composed on a zither the music of "Waltzing Matilda" to Banjo Patterson's lyrics.
Commentary with Philippe Mora
A solo commentary from 2009, in which Mora gives a detailed talk, praising everyone's contributions but on the right side of backslapping. He talks about working with Hopper, who was professional on set if often drunk or high off it.
To Kill a Mad Dog (24:36)
Some of that is visible in this making-of featurette directed by David Elfick, who was and still is active in the film industry as a producer (Newsfront, Rabbit-Proof Fence) and occasional director. Shot in 16mm, the documentary is presented in a ratio of 1.33:1. Mora narrates the documentary and interviews Hopper. Grant Page's stunt, involving him being set on fire and leaping backwards off a cliff into a river, which in the film is shown in reverse as part of Morgan's dream sequence.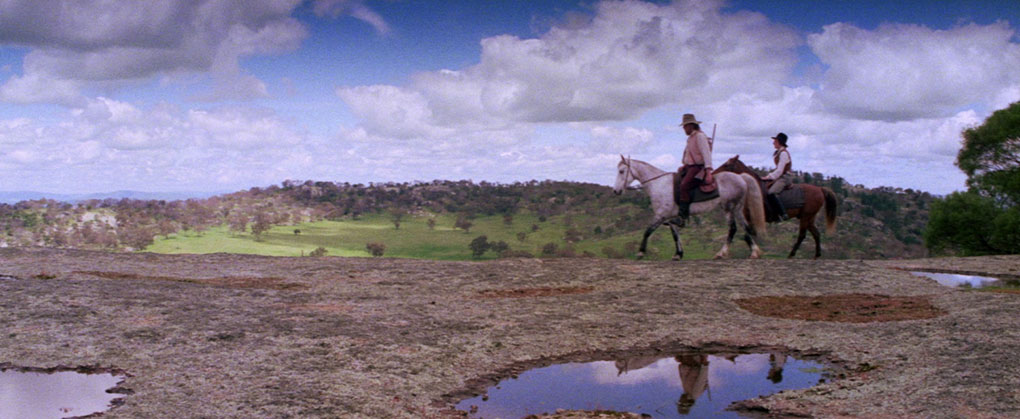 Hopping Mad (33:48)
A new interview, from 2019, with Mora talking to camera. Once again, he is an engaging talker but as elsewhere he's telling us stories we have heard before, which in this item are dominated by Dennis Hopper rather than other aspects of the film.
That's Our Mad Dog: Interview with Dennis Hopper and Philippe Mora (28:37)
Reunited in 2008 for Umbrella's DVD release, Hopper and Morachat and discuss Hopper's memories of making the film over thirty years earlier, shot on very soft-looking video. Their rapport is obvious.
Not Quite Hollywood interview excerpts (66:29)
Mark Hartley's 2008 documentary, which popularised the term "Ozploitation", has proved a rich source of interview material, much of which was not in the final cut of the film in question but perfect to be used for later disc extras. And that's the case here. It is presented as a single item, but the interviews can be broken down as: Philippe Mora (31:52), Jeremy Thomas (22:03), camera operator John Seale (4:29) and actors Jack Thompson (4:41), Roger Ward (1:30) and Graeme Blundell (1:54). Much of what Mora says is repeated elsewhere, but this is the only opportunity we have to hear from Thomas, at some length, and more briefly Seale, who has gone on to become an Oscar-winning cinematographer, and members of the cast. Ward found Hopper arrogant, particularly his habit of throwing a party and bedding the girlfriends of the male partygoers. Blundell, who at the time was as much a star in Australia as anyone else, due to his title role in Alvin Purple, only had the one scene in the film, with Hopper, and talks about the shooting of that scene.
Interview with Mike Molloy (7:34)
From 2009, Molloy is interviewed by an offscreen Mora. He talks about his career, particularly his work with Kubrick and his approach to shooting Mad Dog Morgan, in particular its deep-focus look with anamorphic lenses. He and Mora wanted a parched, almost desert, for the film, but nature had other ideas. Due to heavy rains, they had to make do with the film being greener than intended.
Interview with Richard Brennan (5:30)
Also from 2009, Mora (again offscreen) interviews the film's associate producer. As the keeper of the records – schedules, call sheets, Brennan is the one person who knows definitively what was shot when, and on what days it rained. However, like everyone else, he has his share of Dennis Hopper stories and proceeds to tell them.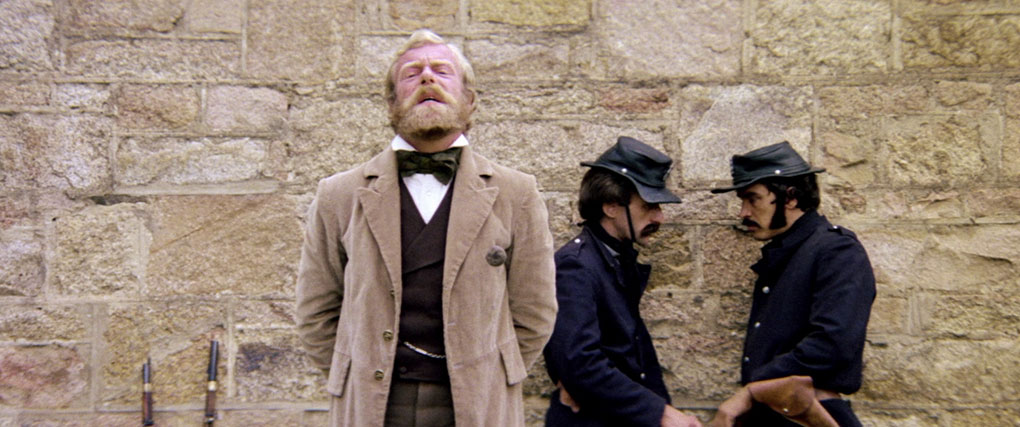 Philippe Mora Radio interview (14:21)
This dates from 1976, when the film had its US release. It was made as part of a series called Australia, inviting you "to meet people of interest", made by the Australian Information Service in New York. It's not the most in-depth of interviews, with the unnamed interviewer rather obviously feeding Mora with questions and assuming no knowledge of the subject matter (not unreasonably) on the listener's part. Interestingly, Mora mentions a forthcoming project as The Black Hole – which was made in 1979 at Disney by another director.
Mad Country: Shooting Locations Revisited (13:54)
A 2019 featurette exploring the locations, many of them authentic, counterpointed with extracts from the film. Many of them are much the same as they were back when the film was shot nearly forty-five years earlier. Mora points out that the mouth of Morgan's cave is roughly in the shape of a map of Australia. This can be watched either with a music score or with an optional commentary by Mora.
Archival Intro/Outro with Philippe Mora (7:52)
From 2009, and produced for an American DVD release, edited together as one item. It's rather jokey, with Mora beginning by doing a Hitchcock impression.
Trailer (4:06)
A lengthy trailer, which usually indicates that the makers don't know how to sell the film, and that certainly seems to be the case here.
Image galleries
There are two, both advanced via the NEXT button on your remote. The first gallery is of fifty-five promotional items, including stills (black and white and colour both), including some stills of Mora and some of the cast and crew at Cannes. Also included are poster designs, both American (two of them, which are also reproduced on the double-sided poster included in this limited edition) and Australian. The second gallery, with seventy-six images, reproduces a photo-essay on the film's production from the June/July issue of Cinema Papers.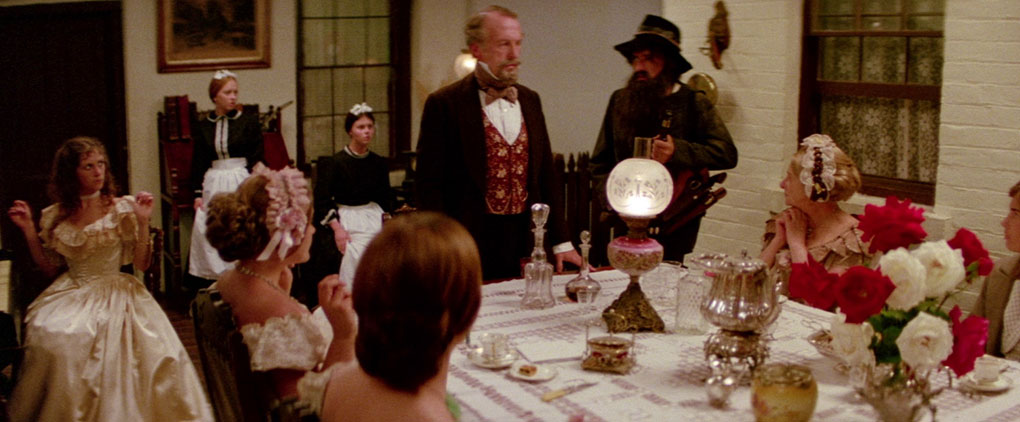 Book
Indicator's perfect-bound book runs to seventy-two pages plus covers. It begins with a new essay by Tara Judah, which locates Morgan's story amongst other Australian bushranger stories, in particular Ned Kelly's. But while Kelly has been portrayed numerous times, Morgan waited sixty-five years between his two screen depictions, one of which is now lost. Judah does discuss the colonial violence of the times, in particular towards the non-white inhabitants. This leads her to David Gulpilil whose experience of the film was, with hindsight, a mixed blessing. While it led to Gulpilil's career, which lasted until he retired a few years before his death, this film and Walkabout brought Gulpilil into contact with notable substance-abuser Hopper and notable alcoholic John Meillon, with a result that he was introduced to alcohol and had his own later problems with it. Also in the book is Mora's notes on the film, in the form of a letter he wrote to Hopper in 1975, an extensive interview of Mora by Mike Phillips from Cinema Papers (September/October 1976) and a making-of article by Mora from the Sydney Morning Herald in 2010. Next up is an interview with Jeremy Thomas by Sandy Lieberson at the Berlin Film Festival in 2006. Also in the book are contemporary critical responses and stills.
Mad Dog Morgan wasn't always a critical success and it wasn't a commercial one either. While it's not flawless, its stature has grown over the years, especially in the light of Philippe Mora's wayward later career. It gets a fine Blu-ray release from Indicator.
---