Fragment of Fear, the 1970 David Hemmings-led paranoia thriller, is a real find. It's not just the mood and tone, which almost immediately envelop the viewer, but also the sheer unsettledness of the piece. An initial watch brings controlled confusion. Just what is happening and, better still, why it's happening consume to the point of maddened anxiety. If there's a sub-genre of giving out little crumbs along the way to keep both the protagonist and the viewer halfway in the dark yet unable to resist, this film certainly belongs and it's easy enough to find yourself more than game.
Hemmings certainly had good luck surrounding himself with Italians, as probably his two best-known starring roles were in Antonioni's Blow-Up and Deep Red, directed by Dario Argento. Here he plays writer Timothy Brett, who's just published a book inspired by his own struggles with drug addiction and is first seen enjoying Italy's Amalfi Coast with his aunt Lucy Dawson (played by Flora Robson). Things turn dark quickly when the aunt is found murdered – strangled – in broad daylight. Brett seeks answers but gets told to let the Italian police handle it. A strange incident involving flowers sent to her funeral deepens the mystery and the sense that something odd and well-coordinated was at play.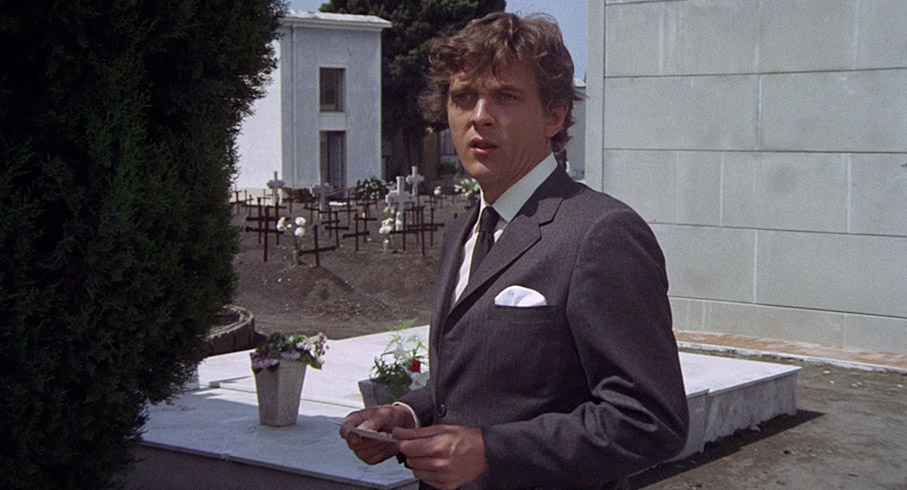 When Hemmings' character returns to England there's still little indication as to exactly what we've gotten ourselves into here. A strange encounter on a train opens one rabbit hole after the next. At times it seems like maybe the picture is working in shades of a giallo or reminiscent of Hitchcock but neither ends up quite fitting. Instead, this is more a hint of those things but particularly a cousin of the American cinema of paranoia from John Frankenheimer and Alan J. Pakula, maybe minus the political implications sometimes given off from those filmmakers. It makes for deeply engrossing suspense. Hemmings has a self-destructive, Mitchum-like quality to him that keeps it all afloat. Peter O'Toole could do no wrong in my book but his initially announced casting would have surely made for a far different experience.
It's interesting that the fallout from Hemmings' Brett being a recovered addict and the attached possibility that everything happening to him is imagined doesn't really materialize for some time. That can make the idea feel unpolished and tacked on, at least initially. We've seen everything Brett has seen but maybe it's not clear whether we're taking it in via his perspective. The protagonist's reliability suddenly comes into play, deepening some of the fascination and even the character's vulnerability. Surely Brett is our victim here. There's a remarkably tense set piece of goons cornering him and providing a syringe for easy access that predicts an even more harrowing incident for Gene Hackman in Frankenheimer's The French Connection II. Still, the audience remains alongside Hemmings, if nothing else for the seeming absurdity of it all. Indeed, circumstances allow Hemmings to come across as much more sympathetic here than in, say, Blow-Up, where's he's younger, blonder and not terribly likable for most of the picture.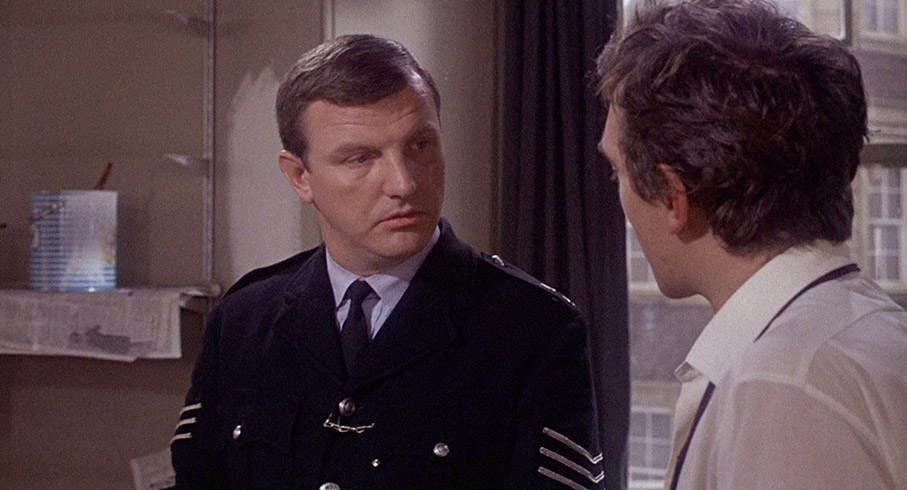 There's an amazing scene maybe midway through the movie where Hemmings has returned to his apartment and is visited by a uniformed police officer, a Sgt. Matthews. He's happy to see the policeman because of an apparent break-in that took place while Brett was away from his apartment but Matthews initially comes off as uninterested before registering mild confusion. What's actually going on – which we only realize a bit after the exchange is over – builds layers upon layers into the bigger picture. It's a key moment that supports every interpretation of what's to come. This, along with the sequence where Brett meets Major Ricketts (in the form of able support by Daniel Massey), seems essential. In short, these are the particular points where everything hinges on determining where reality lies and finding that separation from what we may see on the surface. (The apex of the ensuing freak-out is a wedding scene that plays like a nightmare.) 
Much of the fascination with the film, directed by Richard C. Sarafian a year before his cult calling card Vanishing Point, rests with the entertainment value in never really being sure what exactly is happening. The poster tag line even encouraged viewers to only give away the ending if they could "fit all the pieces together." A score consisting mainly of two separate musical pieces, by Johnny Harris, and ace cinematography by the great Oswald Morris give immeasurable weight to the proceedings. It's not as though the movie is particularly confusing, only that the viewer cannot be sure what to expect or who can be trusted. Despite the fact that this is clearly not a tale of espionage or spy-related, the story's structure makes a little more sense upon realizing both the source novel and the adaptation were written by authors fully at home in that realm.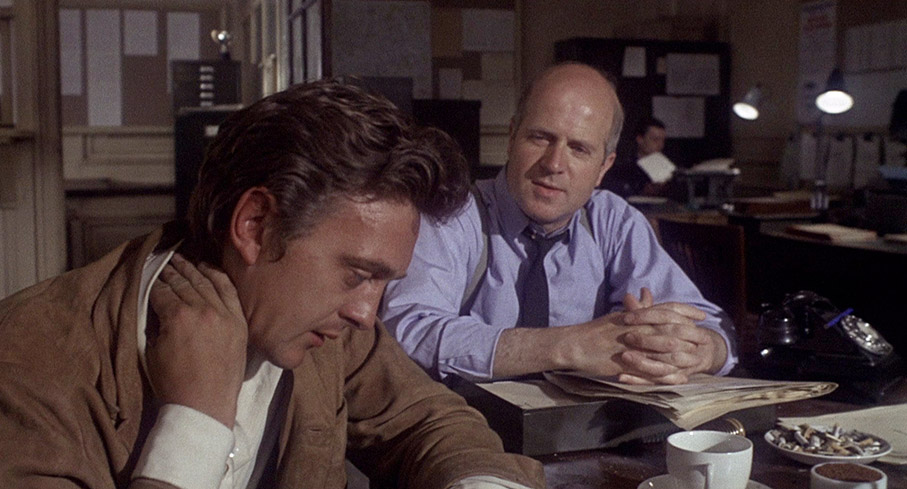 Author John Bingham was once with MI5 and the rumored inspiration for John le Carre's George Smiley character. Producer and screenwriter Paul Dehn previously adapted le Carre's The Deadly Affair and The Spy Who Came in from the Cold for the big screen. The commonalities make for a somewhat odd coincidence, particularly since Fragment of Fear isn't in that vein, but the mood still fits. Maybe what makes this picture consistent with the espionage-oriented ones is a similar sense of distrust and suspense – going back to that feeling emitted by the best of Frankenheimer and Pakula. There's a downbeat, pessimistic theme at work here – an apt entry point to its time. 
Fragment of Fear is issued on Blu-ray by Powerhouse's Indicator label. It is region-free. The limited edition consists of 3,000 units. Indicator has recently altered course by opting for Blu-ray editions instead of Dual Format ones. 
Without any kind of major restoration from Sony, the film looks merely on the plus side of okay, if still perhaps as good as many of us will ever see in our lifetimes. Damage is minimal and limited mainly to a few instances of stray speckles on the screen. Flesh tones and colors on the whole seem drab. Sharpness and detail fall somewhere between modest and good. Again, though, the resulting experience is a positive one without reasonable expectation of improvement for the time being. It's presented in the 1.85:1 aspect ratio.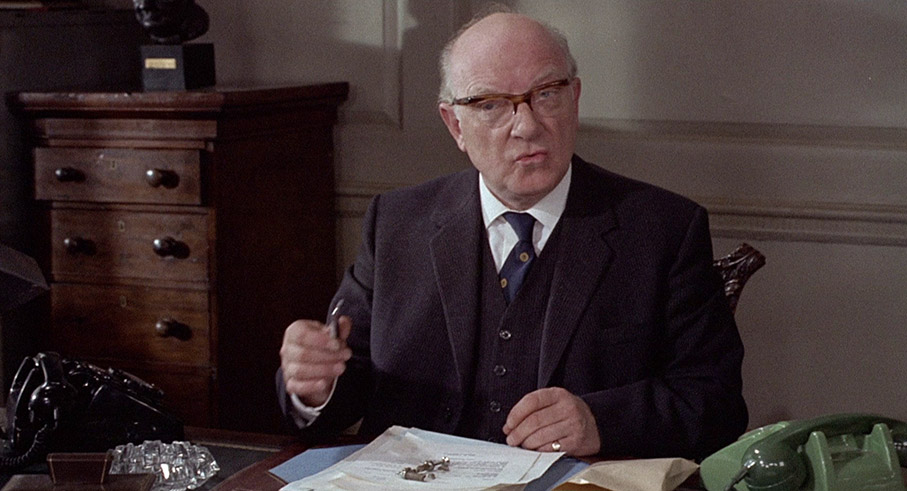 Audio makes its mark without issue. The English language mono track is clear and absent any clear damage. The musical cues from the score emerge strongly. There's nothing that would indicate room for improvement given the source material. Subtitles are optional in English for the hearing impaired.
Paul Dehn: The Writer as Auteur (14:05)
In a video piece on the screenwriter Paul Dehn, author David Kipen defends the role of the screenwriter in general – mentioning that he's actually written a book arguing the auteur theory disproportionately assigns credit to the director above the screenwriter – and takes note of some of Dehn's other high-profile scripts. If you're not sold on the Schreiber theory that Kipen espouses then you might not quite be on board with his comments but it's interesting to learn a little about Paul Dehn along the way. 
First Assistant Director William P. Cartlidge on "Fragment of Fear" (9:57)
So after hearing screenwriter Paul Dehn celebrated in the previous featurette, this interview with assistant director William P. Cartlidge makes for a funny contrast because he summarily dismisses the screenplay, even claiming star David Hemmings told him a week or so into shooting that he'd not bothered to read i§t before signing on to the production. He also admits to not really having a high opinion, or in fact much memory at all, of the film itself, alleging quite a bit of alcohol-fueled inspiration during the making of the picture. Slightly juicy storytelling, maybe with a grain or two of salt.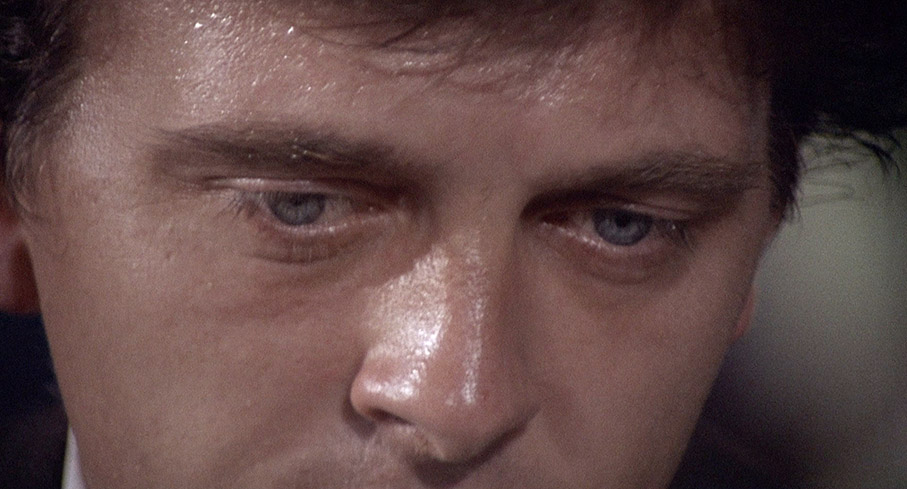 Theatrical Trailer (3:20)
Sells it as a horror movie, though not as much as we'll hear in the...
Radio Spots (2:55)
These five audio snippets last anywhere from a minute to just ten seconds and were sent to radio stations on a 7" vinyl record (which can be seen in a still photo as the spots play).
Image Gallery
Consisting of twelve screens' worth of publicity and behind the scenes stills, posters, and even the typed script for those radio spots.
Booklet (36 pages) 
The booklet leads off with an eleven-page essay by Johnny Mains on some peripheral things like the novelist Bingham's background and such before briefly getting into he film (which is probably not quite celebrated strongly enough among the otherwise fine collection of supplements with this release). "Hemmings and Hunnicutt on Location" shares three extracts from summer 1969 press coverage of the recently-married actors. A 1999 interview with composer Johnny Harris is excerpted across a pair of pages. Lastly, a Critical Response section gathers parts of reviews from the Guardian and Monthly Film Bulletin, showing reserved praise for the film. The usual fine collection of stills and credits round things out in the insert. 
Total Film apparently put Fragment of Fear on a list of "50 Amazing Films You've Probably Never Seen" a few years ago, and sure enough that's pretty on target. That particular list is actually made up of several diverse and oft-unheralded gems (The Cremator, Cutter's Way, The Friends of Eddie Coyle, A Quiet Place in the Country, Return from the Ashes, among others), so it's neat to encounter another worthy entry. Fragment of Fear sneaks up on you, building a tense atmosphere laced with paranoia. This was a most happy discovery, given its due by Indicator in an edition that will surely widen its audience.