The period from the later 1950s to the 1970s was a rich period for world cinema. If in absolute terms the audiences were smaller than those going to see the more commercial products of their nations' cinema, always the case then as now, they were often more influential. There was a sense that if you had any interest in cinema as more than a medium of mass entertainment, as an art form at best, you had to see the newest by Godard, Truffaut and others of the French New Wave, the latest Kurosawa or Antonioni...and specifically to this film, the latest by Ingmar Bergman. And it's also notable for that many of these (heterosexual) men, for a peak period in their careers, their films were influenced by their relationships with their lead actresses, relationships which were often personal as well as professional. Godard had Anna Karina, for example, and Antonioni Monica Vitti. Bergman was married five times and had relationships with several other women. Liv Ullmann was not one of his five wives, but she and Bergman did live together and had a child, in a relationship which lasted five years. However, and with due respect to other Bergman partners, most of the ten films Bergman wrote and directed and Ullmann acted in (eleven if you count The Magic Flute, where she makes an uncredited cameo as a member of the theatre audience) number among the greatest works of both of them, which makes them major films of the period. By all accounts, they remained close even though their relationship was long since over. They continued to work together, and Faithless is directed by Ullmann from a Bergman script. The film is about the effects of adultery and divorce, something which Bergman was certainly familiar with. He wasn't a faithful husband by his own admission, and four of those five marriages did end in divorce.
Bergman announced his retirement from film directing with Fanny and Alexander, in which Ullmann does not appear, although Bergman had written a role for her (see more about this below). That film was released in 1982, the year Bergman turned sixty-four. However, he continued to work. He made the short documentary about his mother, Karin's Face (Karins ansikte, 1986) and did in fact direct five more films, though for television rather than cinema. Two of those, After the Rehearsal (Efter repetitionen,1984) and his final work, Saraband (2003), received theatrical releases outside Sweden. He wrote scripts which other directors made into films, both for small screen and large. In 1996, Liv Ullmann directed Private Confessions (Enskilda samtal) as a two-part  television miniseries also released in cinemas in a shorter version. And then, in 2000, she directed Faithless (Trölosa).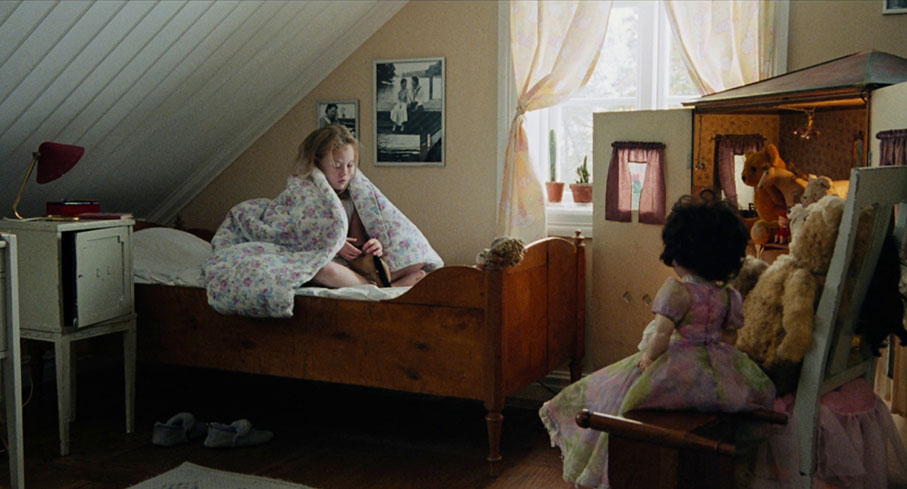 Faithless was Ullmann's fourth feature as director: she had begun with Sofie in 1992 and followed it with Kristin Lavransdatter in 1995, both adaptations of major Scandinavian novels. The film takes a metafictional aspect right from the start. We begin with an elderly director (Erland Josephson) who is even called "Bergman" in the end credits and who lives on the island of Fårö, where Bergman also lived and where these scenes were actually shot. He conjures up a character from his imagination – Marianne (Lena Endre) and she tells him her story, of an extramarital affair and its consequences. She is married to Markus (Thomas Hanzon), an orchestral conductor, and they have a daughter, Isabelle (Michelle Gylemo). The couple are friends with filmmaker David (Krister Henriksson). While Markus is away, David confesses his attraction to Marianne and asks if they could sleep together. She agrees to do this, though platonically, but when they are both away in Paris, their relationship becomes a sexual one. They continue the affair after returning home, but soon rumours spread and Markus finds out. The film hovers on the line between Marianne telling her story and it being fully dramatised, at first the former but giving way to the latter some way in.
While Ullmann says she didn't change any of Bergman's script, she did have a role in shaping the storyline, particularly the role of Isabelle, who becomes more prominent as the film goes on, and at times becomes a pawn in the conflict between Markus and Marianne. The amount of autobiographical material in the film is obvious, some of it in all the main characters. In a way, Faithless is another example of Bergman writing about his own experiences but casting a woman in the role, some of them played by Ullmann in her time. He did have an affair with a woman in Paris (Gunvor Hagberg, see the extras discussion below), but for this film is gender-flipped. Bergman had considered writing this story near the start of his career, in the late 1940s but this never happened. This is complicated by the fact that another woman is directing the film from his script.
Ullmann doesn't explicitly copy Bergman's style, but there are some resemblances, in particular the use of close-ups and the sharp clarity of the cinematography, which is by Jörgen Persson. Persson didn't work on films Bergman directed, but as well as this he shot the Bergman-scripted The Best Intentions (Den goda viljan), directed by Bille August in 1992. His exemplary work on Elvira Madigan (1967, directed by Bo Widerberg) helped a rather trite film gain a wider audience outside Sweden than it might otherwise have done. In Faithless, he seems to be doing without any filters, giving the film a hard, sharp clarity. Bergman was as much a theatre director as he was a filmmaker, and there is something theatrical about Faithless, in particular the framing sequences, mostly two people in one room. Direction and cinematography are mainly naturalistic (other than the conceit of the character appearing to the director and their conversations) but there are exceptions, for example a scene where a joyous speech from Marianne causes the frame to be suffused with orange.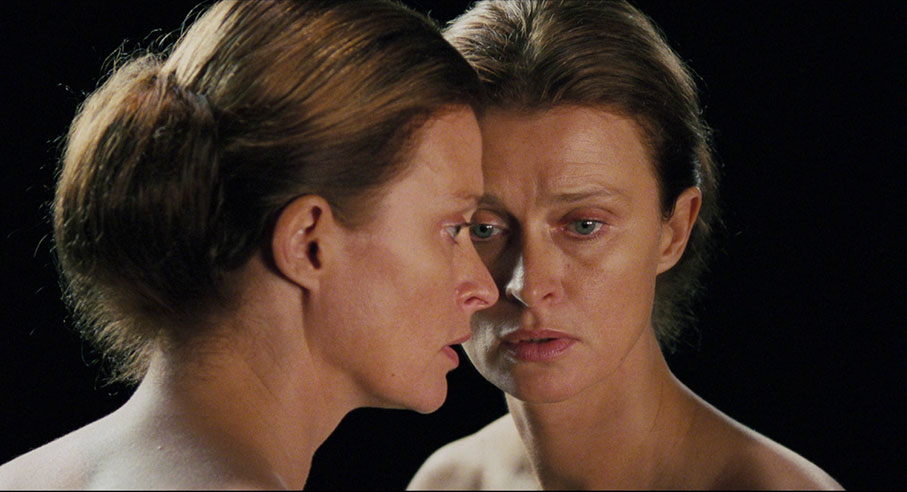 The adultery, divorce and emotional fallout takes up much of the film's two and a half hours, and as you may expect it's stringent, unsparing, at times harrowing but also cathartic, beautifully acted by all concerned. (Marie Richardson, who at around the same time played a key role for Stanley Kubrick in Eyes Wide Shut, has a smaller but still significant role as Markus's page turner.)
How Faithless sits with Bergman's own masterpieces as director is an open question. There's no doubt that Ullmann's place in cinema history is as an actress, but she has proven herself as a director, though there has been only one film since this one, an adaptation of Strindberg's Miss Julie in 2014. However, Faithless is a fine film, best seen as a melding of sensibilities between her and Bergman, in part a tribute to him.
The BFI's Blu-ray of Faithless is encoded for Region B only. The film has a 15 certificate.
The film was shot in colour 35mm and is presented on Blu-ray in the correct ratio of 1.85:1. The transfer comes from a 2K restoration by the Swedish Film Institute from the original negative and a duplicating positive. As I say above, Persson's cinematography has a hard, sharp look and that's well served by this transfer. Grain is natural and filmlike.
The soundtrack is available in two mixes, DTS HD-MA 5.1 and LPCM 2.0, the latter playing in surround. There's little difference between them, so the choice is yours and that of your equipment. This is a very dialogue-driven film, and the surrounds aren't often used – mainly for the music score but also some directional effects such as audience applause during a concert scene. There are English subtitles available for this Swedish-language film.
Commentary by Adrian Martin
In a track newly recorded for this release, Martin provides a fairly scholarly commentary. After all, as he says, he has been watching and studying Bergman's films since his teens, so some forty years or more. He spends a lot of time placing Faithless in its context of Bergman's career and indeed life, with "faithlessness" (literally, infidelity) being a key theme of his work, maybe even the principal theme. He discusses the differences in directing style between Bergman and Ullmann, and the film's theatricality. It's a quite dense commentary which may benefit from being listened to in a couple of parts rather than all two and a half hours at once.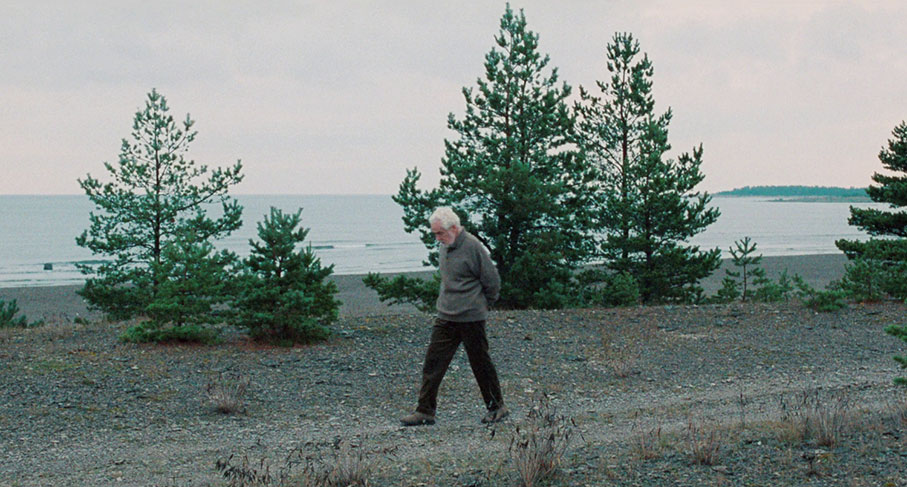 Interview with Liv Ullmann (31:29)
The first of three interviews with Ullmann on this disc dates from 2000 and was an extra the following year on Tartan's original DVD of Faithless. It takes the usual form of text captions dividing the  followed by the interviewee answering them to camera. She talks about acting for Bergman, his writing and in particular his female roles, often based on aspects of himself rewritten so that he could cast a woman, not just Ullmann. She also talks about her work with actors, with rehearsals followed by a few takes, often long ones, to play to theatre-trained actors' strengths.
The Guardian Interview: Liv Ullmann (69:00)
This was recorded shortly afterwards, at the National Film Theatre in January 2001, around the UK cinema release of Faithless. The interviewer is Shane Danielson, who has an initially jokey approach, giving her a gentle ribbing about her role in Lost Horizon, often ranked one of the worst films to come out from Hollywood, in which she was cast, in a musical, despite not being able to sing. Ullmann's Oscar nomination for The Emigrants had attracted Hollywood's interest, but it's fair to say that the films she made there are not among her most distinguished. (She had a second Best Actress nomination a few years later, for Bergman's Face to Face.) However, interviewer and interviewee soon settle in. At the time, with digital projection in its infancy, Ullmann bemoans that a proper Bergman retrospective in the UK was not feasible, due to the shortage of available 35mm prints. Again she talks about acting and names her choice of the best actress working at the time, which may surprise some, if not in hindsight: Cate Blanchett. As usual at such events, film extracts are shown (edited out of this version) and Ullmann answers questions from the audience, questions which are often inaudible.
In Conversation with Liv Ullmann (71:57)
On to 2018, and what was originally the NFT is now the BFI Southbank. Geoff Andrew is the interviewer, this conversation as part of a Bergman retrospective for what would have been his centenary. As Ullmann is now in her eighties and likely retired (it had been a few years since she had either acted on screen or directed) and Bergman having passed away, there's a more elegiac and retrospective tone to this interview. She talks about how Bergman had written a role for her in Fanny and Alexander, which she turned down due to other commitments, a source now of great regret and one which she apologised to him for later. Again, film extracts are edited out and the questions from the audience are conveyed via on-screen captions.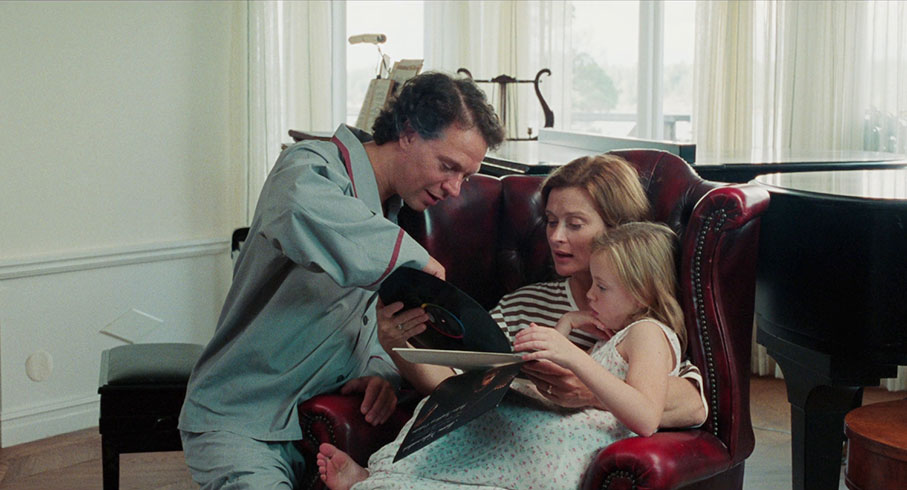 Original trailer (1:44)
Actually, a relatively short trailer for a prestigious arthouse release like this, though it does highlight the film's festival prizes. As would have been the case with cinema prints, the subtitles are burned-in rather than electronically generated.
Behind the scenes gallery (1:31)
Stills gallery (8:31)
Two self-navigating galleries, the first showing images of the production itself, the latter promotional stills, all in colour.
Booklet
The BFI's booklet, thirty-two pages long, is available in the first pressing only. It begins with Ullmann's director's statement, from 2000, which bears out the fact that she spends much of the film concentrating on the effect of the story on the child, Isabelle – the true victim of the piece, as she sees it.
The rest of the booklet is prefixed not just by a spoiler warning bit a content warning advising that it contains discussion of sexual violence (in the Geoffrey Macnab interview of Ullmann). The main essay is written by Sarah Lutton and acknowledges Ullmann's distinction not just in cinema and theatre but for the humanitarian causes she supports. Lutton then goes on to talk about Ullmann's collaborations with Bergman, first as an actress and in this film as a director, picking out references to Bergman's life and other films, and also pointing out that the real Marianne, with whom Bergman had an affair in Paris in 1949, appears in the film in a still photograph. (Gunvor Hagberg in fact had Marianne as her middle name.)
Next up is an interview with Ullmann by Geoffrey Macnab, reprinted from the December 2000 issue of Sight & Sound, coinciding with the UK cinema release of Faithless. This begins with a description of Bergman's affair with Hagberg, drawn from Bergman's autobiography The Magic Lantern. Macnab rightly locates Faithless in a tradition of European art cinema "langurously paced, heavy on talk but with an excoriating emotional intensity", unfashionable to the point of almost dying out then, let alone now. It's a wideranging and informative interview. Next up are the film credits and a reprint of Sight & Sound's review from the February 2001 issue by Philip Strick. There are also notes on the extras and plenty of stills.
Faithless is arthouse cinema of the old school but amply rewarding the time it takes. Standing almost at the end of Ingmar Bergman's career, it's a melding of his sensibilities and those of his frequent collaborator (and former partner in life as well) Liv Ullmann. It's well-served by this BFI Blu-ray.