Élisabeth (Nicole Stéphane) cares for her bedridden mother. She is very close to her brother Paul (Édouard Dermithe): they sleep in the same room, play their own games, rarely go out. One day, Paul is injured in a school snowball fight, the snowball thrown by Dargelos, a boy whom Paul has a crush on, causing him to have to stay in bed for a while. When their mother dies, Élisabeth takes a job as a model, where she meets Agathe (Renée Cosima), whose close resemblance to Dargelos is disconcerting to Paul. But they fall in love, threatening his close, even claustrophobic relationship to his sister...
If a film can have an author, Les enfants terribles, first released in 1950, has two. It's a collaboration between two great filmmakers, one older and well established, one younger and on his second feature. Jean-Pierre Melville is the director and Jean Cocteau the writer, the originator of the source material and provider of the voiceover narration which runs throughout the film, but the boundaries between those roles are not so firm as they might have been.
Cocteau (1889-1963) was, by the time this film was made, a major figure in French culture. He regarded himself as a poet regardless of which medium he worked in, and he worked in, and generally excelled at, several, from visual art to the writing of poems, plays and novels and the making of films. In the latter capacity, by 1950 he had directed four feature films, beginning with the surrealist The Blood of the Poet (Le sang d'un poète, 1930) and including one contender for his finest film, Beauty and the Beast (La belle et la bête, 1946), which is available on Blu-ray from the BFI. Later in 1950 came another contender for the finest film he directed, Orphée. His novel Les enfants terribles was published in 1929. Cocteau sought out Jean-Pierre Melville to make the film version.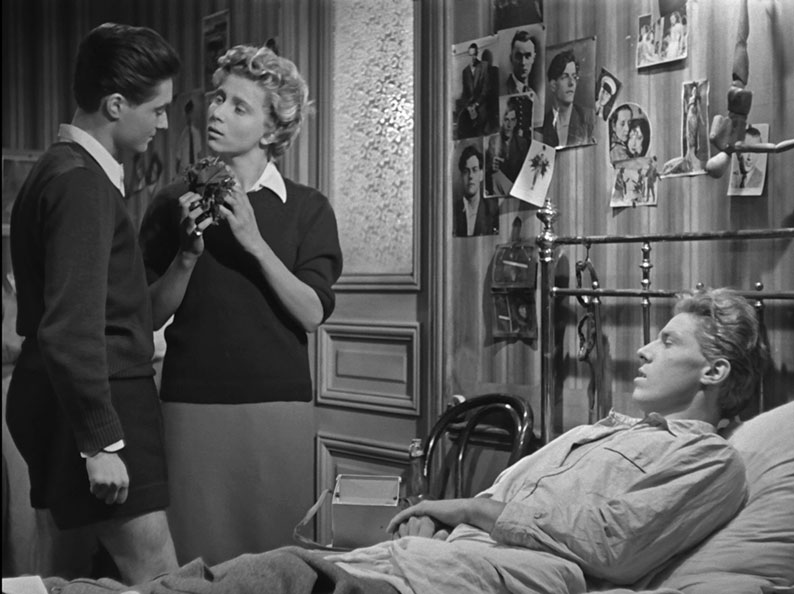 Melville (1917-1973) had been interested in the cinema and in filmmaking from a young age. He had been given a 9.5mm camera as a child by his parents. He was enamoured of American culture and its cinema in particular, which was reflected in the film noirs he is best known for. He is also known for films involving World War II and the French Resistance, of which he had been part. One of these was his first feature, Le silence de la mer (1949), based on a novel by Vercors. The film was a chamber piece, largely set inside one house, and the claustrophobic atmosphere it conjures up is what suggested to Cocteau that he was the right man to film Les enfants terribles. Le silence de la mer was shot with a very small crew, mostly Melville and his cinematographer Henri Decaë, whose services he retained for his second feature. The two films also have in common Nicole Stéphane.
As a collaboration, between an older master and a younger emerging one, it's hard if not impossible to disentangle Cocteau and Melville's contributions to this film. Melville may be the sole credited director, but Cocteau did do a day's shooting on the film, directing one scene. With Cocteau on board as writer and narrator, the film is inevitably filled with plenty of Cocteau's themes and motifs.  We should also mention the contribution of Henri Decaë: in the first half, this black and white film is dominated by whites and lighter greys, with the lighting becoming darker as the film progresses. Melville was influential on the younger directors who formed the New Wave at the end of the 1960s, and Decaë worked with some of them.
Les enfants terribles is a claustrophobic piece, largely taking place in a series of rooms, rarely outside. The first of these rooms is the cluttered room the two siblings share. (They are meant to be in their teens, though Stéphane and Dermithe were actually in their twenties and, to be honest, look it.) Élisabeth and Paul are unusually close. She thinks nothing of undressing in front of him and they also share a bath. It's not spelled out if actual incest takes place between them (Cocteau denied that it did, though others have suggested differently) but the overtones are certainly there, and it's a subtext that is barely sub. In the bath scene, the overflowing water which runs under the closed door is not hard to read as symbolism.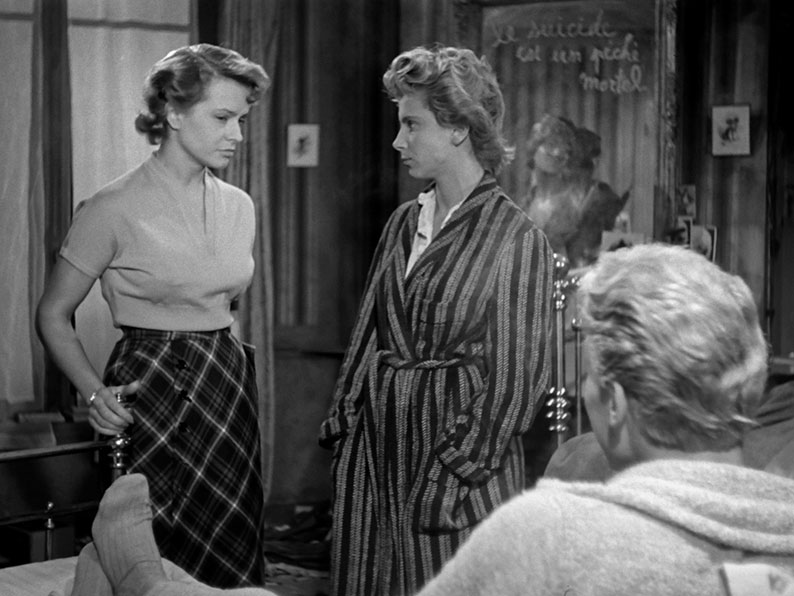 It doesn't necessarily follow that, as Cocteau was homosexual, he might be more interested in the men than the women in his works. Many gay writers and filmmakers have often put women at the centre of their works, possibly as heterosexual stand-ins when a more direct depiction of male homosexual experience might have been unacceptable and likely to be censored. But with Cocteau that generally proves to be the case. Élisabeth is an exception to this, but there are complicating factors.  Élisabeth is not androgynous in clothing – she's always in dresses or skirts, and the one woman in trousers in the film is a minor character – but she is in manner and in look. Stéphane in this film looks quite a lot like the illustrations that Cocteau produced for his own novel, from the short hairstyle onwards. The gender fluidity is present elsewhere. Paul's adolescent infatuation Dargelos is played by a woman, Renée Cosima, who also plays Agathe, the two characters intentionally resembling each other. This is a literary conceit which might have been more difficult to achieve on film. To avoid having to find separate actors who resembled each other sufficiently, or to find a male actor to play both roles (which might be difficult in playing Agathe), Melville decided to cast a woman as both. Cocteau objected to this, but Melville prevailed. On the other hand, Cocteau succeeded in casting his own lover as Paul and in having the film set in the present day rather than in the 1920s when the novel had been written and set. Melville however chose to have Bach and Vivaldi on the soundtrack rather than the jazz that Cocteau suggested, but in this case Cocteau praised the result. (Oddly, there was a real Dargelos whom Cocteau did go to school with. Apparently this Dargelos was disconcerted to find himself portrayed as the object of same-sex adolescent infatuation in the works of his former schoolmate. A further coincidence is that Melville went to the same school, rather later.)
To add a further extra-textual wrinkle, in this story of heterosexual incestuous infatuation (whether consummated or not), both lead actors were gay. Dermithe had worked as Cocteau's gardener before becoming his lover. Cocteau followed his own tradition of casting his own lovers as his male leads, as he had done with Jean Marais in La belle et la bête and Orphée. Dermithe, who also appeared in Orphée, made a few more films as an actor until the mid 1960s. He died in 1995. Nicole Stéphane acted until the later 1950s, when a car accident truncated her career. She moved into film production and died in 2007.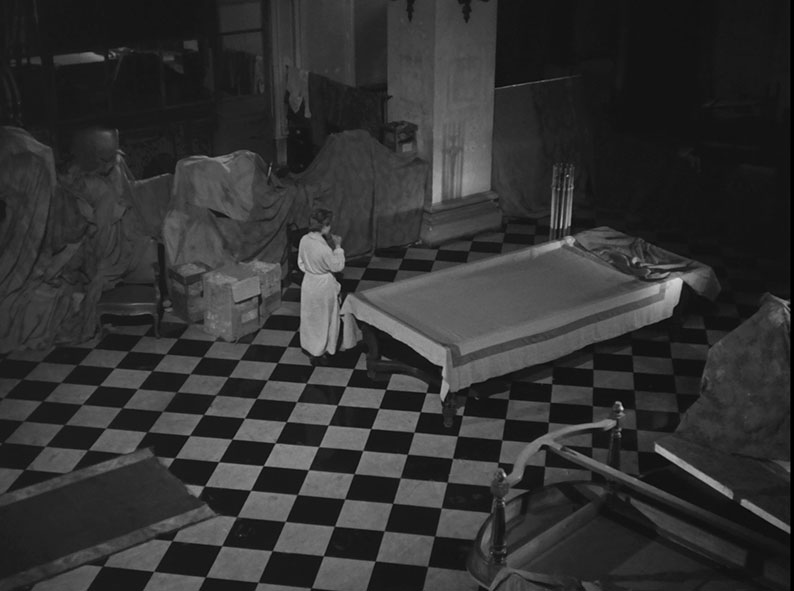 Les enfants terribles was released in France on 29 March 1950 and did respectably if not outstandingly at the box office. Orphée had premiered at Cannes the same month, and was the first of the two films to be seen by UK audiences, opening in May that year. Les enfants terribles took two years to see the light of British projector lamps. The possibility of censorship might have been a factor: Orphée went out with an A certificate, but Les enfants terribles would not have have been passed at that category. The X certificate, then restricting audiences to sixteens and over, was not introduced by the British Board of Film Censors (as was) until 1951 and Les enfants terribles was given that certificate in 1952. The film might have had some of its thunder stolen by Orphée having been seen first and being fresh in the minds of British cinephiles, but we'll never know. Nicole Stéphane was BAFTA-nominated as Best Foreign Actress, losing to another Frenchwoman, Simone Signoret in Casque d'Or.
Les enfants terribles is a BFI release from the BFI, encoded for Region B only. As mentioned above, the film was given an X certificate from the BBFC on its original release. More surprisingly, the BBFC gave the film an X when they saw it again in 1976 for a cinema reissue. (It was released the same weekend as not just Taxi Driver but also Martin Scorsese's debut feature Who's That Knocking at My Door?, Alfred Hitchcock's final film Family Plot and, from Poland, Krzysztof Zanussi's Family Life. David Robinson in The Times of 20 August said that it was an exceptional week and he wasn't kidding.) The X then restricted audiences to those aged eighteen and over, which seems quite harsh, especially when the AA certificate (fourteen and over) was available. The film is now a 12, a home-viewing certificate given in 2000. That's fair enough, though certain subject matter during the ending of the film puts it on the borderline of a 15 by the BBFC's current standards.
Another question is the running time: according to the BBFC, 117:14 in both 1952 and 1976. The Monthly Film Bulletin review (December 1952) says 100 minutes, and the BBFC's video certification 100:36. Given PAL speed-up that's about the same as the present restored version which is 106:37, including 20 seconds of restoration captions at the start.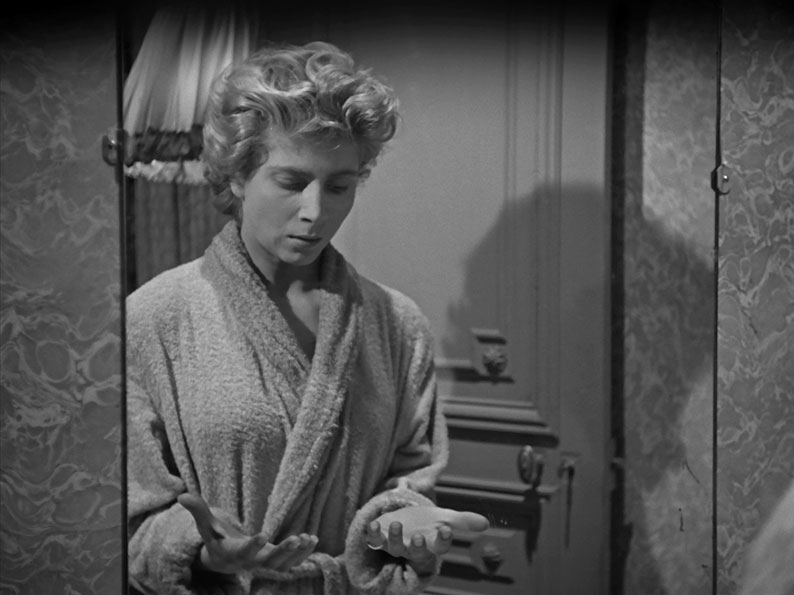 The film was shot in black and white 35mm in Academy Ratio, and 1.37:1 is the ratio of this Blu-ray transfer, derived from a 4K scan and restoration of the original nitrate negative. I hadn't seen this film before, but blacks, whites, contrast and greyscale are in line with other 35mm films from the period that I had seen, in cinemas in 35mm prints. However, there's less grain than you would expect from film, which you suspect has been removed during the restoration. While it's far from the worst example of de-graining I've seen, it's disappointing that this approach has been taken to what is not a bug but a feature. The results are still quite watchable though.
The soundtrack is available with two options, both mono rendered as LPCM 2.0, one unrestored and the other restored from the original 35mm nitrate optical track negative. I listened to both. There isn't a great deal of difference to these ears: more hiss on the unrestored version, but the restored version is still a little harsh at the top end, and that's more to do with the limitations of 1950 sound recording. That's also the case with the music: Vivaldi's Concerto in A Minor and Bach's Concerto for Four Pianos in A Minor. There is also an English-language song, "Were You Smiling at Me", sung in the film by Melvyn Martin, which was cut from the original US release. English subtitles are optionally available for the feature and the trailer; the other extras have no spoken dialogue or are English-language.
Commentary by Gilbert Adair
Most of the extras on this disc date from 2004, when they were created for earlier releases of Les enfants terribles. They begin with this commentary from Gilbert Adair (who died in 2011) who speaks as a Cocteau devotee (and Francophile in general), and someone whose novel The Holy Innocents (1988) was inspired by Les enfants terribles, both novel and film, though updated to the Paris "événements" of 1968. (To take this recursion one level further, Bernardo Bertolucci directed a film of Adair's novel in 2003, The Dreamers.) Adair does leave some gaps but this is otherwise a thorough look at the film, particularly Cocteau's contribution.
Commentary by Adrian Martin
The one new extra on this disc is this 2021 commentary track. There's a sense that this commentary is building on work that has gone before, as in several places Martin refers to Adair's commentary. Inevitably there is some repetition of material between the two commentaries. However this is also a thorough look at the film, with the balance shifted more towards Melville, while not neglecting Cocteau, than Adair's commentary is.
Ginette Vincendeau on Jean-Pierre Melville (18:44)
This interview from 2004 features writer and academic Vincendeau just after she had written a book on Melville called An American in Paris. This is an overview of Melville's career rather than specific to Les enfants terribles, and Vincendeau identifies two principal genres Melville worked in: gangster films, influenced by his love of American cinema and culture, and films dealing the French Resistance. Melville didn't enter the industry by the usual route of starting by making the tea and working his way up, but by making his own short films outside the system and even built his own studio. This independence of spirit was one of the reasons why the French New Wave, many of them working as critics, responded to his work as a reaction to the conventional films of the French industry of the time, which they often dismissed as rather stuffy "cinéma du papa".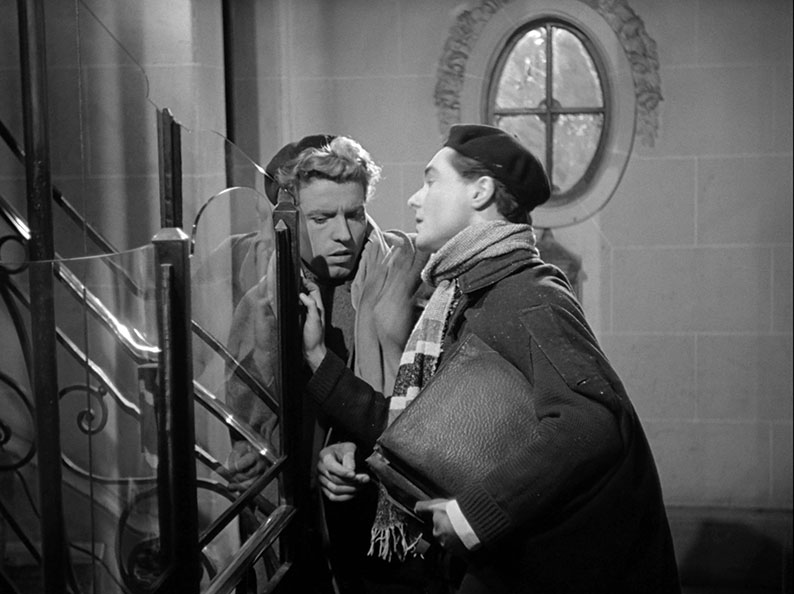 Volker Schlöndorff Interview (10:21)
Recorded in 2004 with the interviewee speaking English, Volker Schlöndorff talks about his work with Jean-Pierre Melville. Schlöndorff began his career as an assistant director, including with Melville – their first collaboration was in 1961 with Léon Morin, Priest. He had been introduced to Melville by Bertrand Tavernier, then a journalist, and he became Melville's assistant, or as  Schlöndorff puts it, apprentice. This sometimes involved buying several copies of a book that Melville was adapting as they would be destroyed as Melville took the relevant pages out and stuck them together to make his screenplay. He also talks about Melville's approach to working with particular actors, changing with each one, aiming to be intimidating or ingratiating as he saw fit.  Schlöndorff worked with Melville on two films, the second being Le doulos (1962) before becoming a director himself, but he regards Melville as "mon premier maître", his first master.
Melville Company logo (0:26)
Melville's rather grandiose ident, which appeared at the start of many prints of the film, though not this version.
Trailer (3:02)
A trailer for which Cocteau is very much the selling point, and in fact includes some of his illustrations of the novel.
Image Gallery (2:59)
A self-navigating gallery, beginning with a poster for the 1976 reissue at the Academy Cinema in London's Oxford Street, red text on white with no illustration, and continuing with black and white production stills.
Booklet
The BFI's booklet, available in the first pressing only, begins with an essay, "Les enfants terribles: A Tale of Two Auteurs" by Dr Deborah Allison, with a spoiler warning. Allison talks about the collaboration between Cocteau and Melville, which at times was almost a struggle for dominance. Allison relates an anecdote when Melville, years later, mentioned the film to Marcello Mastroianni who countered that he (Melville) didn't make that film, but Cocteau did… Allison gives a thorough account of the making of the film and the nature of the two auteurs' contributions. After a full credits listing for the film is a reprint of Gavin Lambert's review in Sight & Sound, where he found Melville's direction "stiff and chilly, fatally lacking passion". A reader, one William Dorrell, took issue with this review in the letters page of the next issue and this is also reprinted. Next are single-page biographies of Melville and Cocteau and notes on the extras.
Les enfants terribles is a film which challenges the auteur theory as it has not one of those things but two, and their contributions are not easy to separate. However, it is a major film of its time, part of the full flourish of Cocteau's career and near to the start of Melville's, and this Blu-ray release has some fine extras to put it in context.