Deep Cover is, in my opinion, a flawed film that has great style and a powerful central performance from Laurence Fishburne. The film touches on so many complex themes that opened up to me on a second viewing.
The film was directed by African-American actor/director Bill Duke and we get a hip-hop soundtrack and an undercover Black cop who brings us into the Black community and exposes the poverty, racism, gang violence and drug abuse that exists there. Law enforcement (represented here by the Drug Enforcement Agency) is corrupt and racist. Rodney King was viciously beaten on the streets of L.A for 15 minutes by four police officers in March 1991 and it resulted in permanent brain damage and physical injury. On 29th April 1992 (just two weeks after the release of Deep Cover) the police officers were acquitted of the charges in a court of law. This is the background to the making of this film, which was part of a wave of African-American films of the late 1980s and early 1990s.    
Laurence Fishburne is thoroughly convincing as both police officer Russell Stevens, who has been shaped by his tragic drug addict father, and later in the film as an ambitious drug dealer. Stevens seems secure in his identity when we first see him as a young police officer. He goes undercover, changes his name to John Hull and slowly and dangerously morphs into an effective drug dealer, betraying so much of what his former self stood for. Fishburne shows that he is truly a great actor – he has tremendous screen presence and he conveys integrity and wisdom through every gesture and word. He also has a truly beautiful speaking voice (rich baritone) and his eloquent diction makes poetry of the jive elements in the script.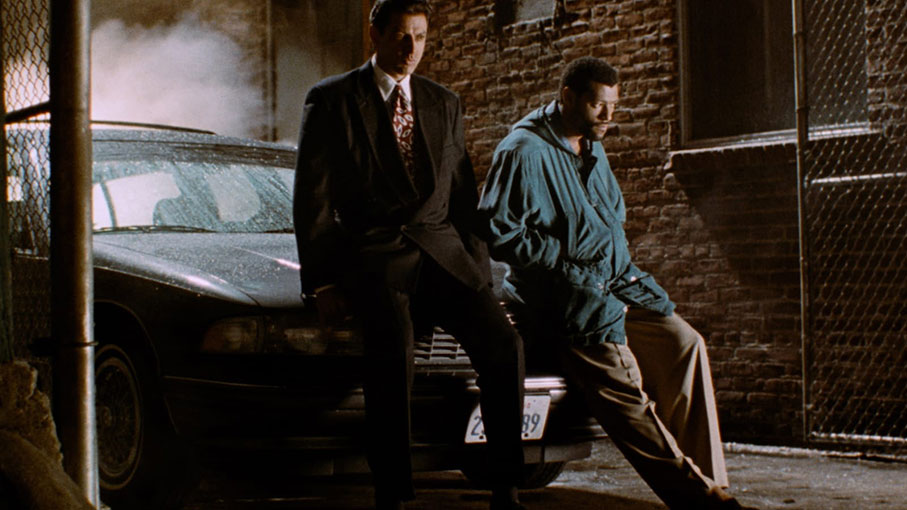 Unfortunately, for me, his performance is let down by the work of some of the other actors. Admittedly it would be unrealistic to expect them to achieve the heights that Fishburne reaches, but they appear weak by comparison and dilute the film. Jeff Goldblum seems to divide opinion here. I'll give him credit for his effort, but he often swings for the fences to such a degree that he becomes a parody – I get that he is a cocaine addict, but all we get is the overconfident and ambitious lawyer/drug dealer, and nothing that would round out his character. The drug kingpins seem a bit cartoonish (Barbosa looks like Groucho Marx even down to the cigar in his mouth!) and lack threat. It is a shame, as this could have been a greater film.
Deep Cover doesn't seem to know what it wants to represent. Is it a statement on racism and racial profiling or corruption? Or is it simply an entertainment thriller built around a tremendous central performance and several interesting side themes? Or is it a film in which the director was not able to impose his vision and align the two central performances by Fishburne and Goldblum and set a consistent tone for the film? I just don't know the answer, but the result is fascinating in so many ways.
The film is often called a neo-noir and grouped together with several films from the 1990s. The voiceover narration works really well. Fishburne eloquently and poetically recounts the great event of his life adding to the theatricality of the film and the 1990s pulp dialogue mirrors the hip-hop culture of the time.
Who might this film appeal to? Fans of Laurence Fishburne should not hesitate for a moment. Fans of African-American 1990s cinema should check this out, but it is a far cry from social dramas like Boyz n the Hood or Menace to Society. Noir fans will appreciate an intricate plot that is riddled with corruption and Bojan Bazelli's striking neon cinematography. In addition, the final scene of the film contains my nomination for Laurence Fishburne as the best dressed and most stylish man in any film I have seen this year.
Deep Cover was sourced from a new 4k restoration approved by Bill Duke. The film has a very natural look to it – colours and skin tones seem realistic. The cinematography includes neon lights and shadows which are lushly represented on this Blu-ray. The print appears free from scratches and is consistent throughout. It looks really good.
The film has a DTS-HD Master 2.0 Stereo Track and is very clear and consistent, and effectively showcases the excellent music soundtrack which gives so much energy to the film – the credit song Deep Cover by Dr. Dre and Snoop Dogg is a classic of the genre.
Optional English SDH subtitles are included.
Bill Duke interview from 2021 (19 mins)
This is a nice piece where Bill takes us on a personal journey through African American cinema and theatre from the 1970s telling the story of his own career. He then covers various aspects of the making of Deep Cover.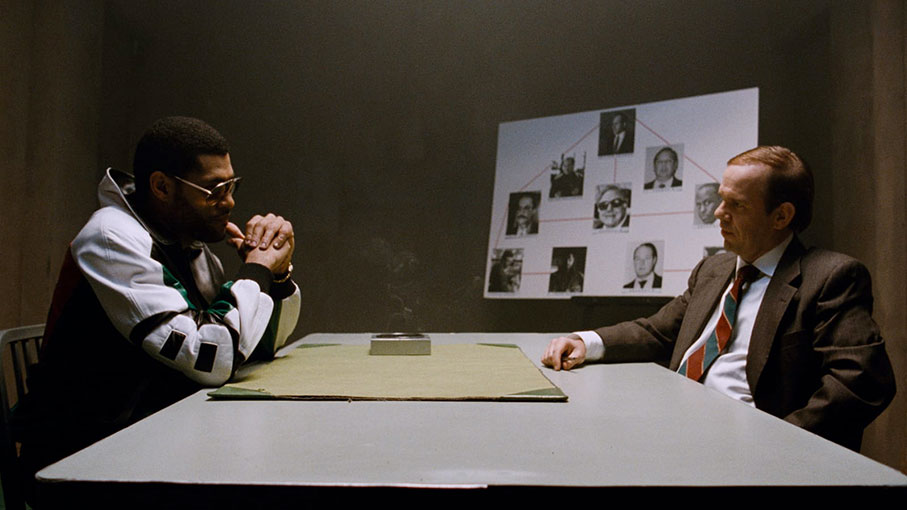 Laurence Fishburne and Bill Buke AFI interview from 2018 (56 mins)
This conversation is lengthy and goes through so much of the film-making. Fishburne is such an eloquent and intelligent speaker – I could listen to him all day!
Raquel J. Gates and Michael B. Gillespie (36 mins)
They provide information on the background to the 1970s Black Exploitation cycle as well as the wave of 90s Black Cinema. I loved their discussion on the film – they get into a very complex and deep analysis of the multiple themes that are textured throughout the film. I really learned a lot from these two commentators.
Claudrena Harold and Oliver Wang (17 mins)
This is a discussion on the importance and influence of the song Deep Cover by Dr. Dre and Snoop Dogg. This was Snoop's first song and there is no doubt that his soft and smooth rapping is one of the most stylish voices in hip-hop. Dr. Dre gave us his signature horror style beats and motifs from this part of his career. I was an East coast hip-hop fan so this West Coast style had less of an impact on me, but there is no doubt that this is a classic of the genre. The credit song has an unsettling effect and leaves the viewer with a tense aftertaste.
Booklet
This contains an excellent essay by Michael B. Gillespie.
This film contains a lot of social commentary packed into a noirish 1990s thriller. I look forward to revisiting the film and feel that I will continue to get more out of it. This film is part of Criterion's support for African-American cinema and I really appreciated the opportunity to see this on such a pristine Blu-ray accompanied by such educating supplements. I am very much looking forward to their December release of Menace II Society.
I had only seen Fishburne in The Matrix and Apocalypse Now before watching this film, and he had such a profound effect on me here that I am particularly keen to now see What's Love Got To Do With It and his take on Othello. I also watched archival interviews of him on YouTube and his talent is matched by his dignity and his intelligence.
Despite my uncertainty about some of the support performances, the film is a true original, and for those who are curious, I highly recommend it.
---
Due to technical limitations, promotional still have been used to illustrate this review.