Menelik Shabazz first thought of Burning an Illusion as a short film, of a woman's looking back at her life as she gazes in the mirror. However, it expanded in the conception and the writing, to the point where it became a feature, made for the British Film Institute Production Board. Burning an Illusion, released in 1981, is an important part of the wave of black films made in the later end of the 1970s and into the 1980s, films based around Afro-Caribbean communities and to some extent made by them too. Black Joy (1977) and Babylon (1980), had been directed by white men, Anthony Simmons and Franco Rosso respectively, Pressure (1976) went into in the record books as the first British film made by a black director, Trinidadian-born Horace Ové who, in 2002, became Sir Horace Ové. Menelik Shabazz, born in Barbados, visited the set and Burning an Illusion became  the second. It's unusual in being centred on a woman rather than a man, and an overtly "ordinary" woman in the black community at least. This is Pat, twenty-two years old, played by Cassie McFarlane.
We first meet her at a party. At the end of the night, she, best friend Sonia (Beverley Martin), Sonia's boyfriend Chamberlain (Malcolm Fredericks) share a taxi home. Also in the cab is Del (Victor Romero Evans, billed here as Victor Romero). Soon afterwards, Del turns up at Pat's and asks her out on a date. She agrees, but soon red flags start appearing for her, not least when he makes it clear that if he has taken her out to a good restaurant, he should get something in return...and guess what that would be? However, soon he moves in to her flat.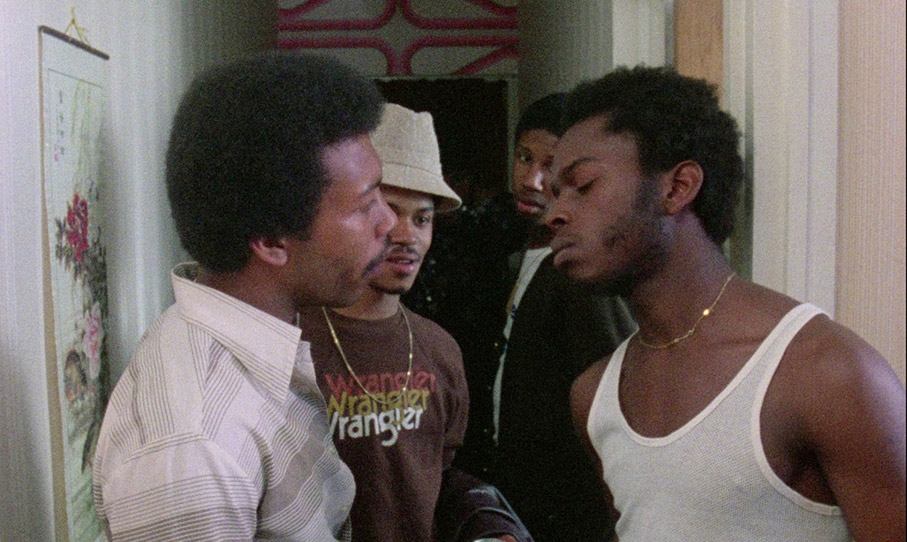 While Shabazz's film attracted attention as a film about London's black community – at a time when few such films were made, even fewer by black filmmakers -  it's become timely in a different way, forty years after its first release, as a story of a toxic relationship. A very plausible one too, but the fact that a relationship like this could just as easily take place in a white community doesn't mean that it shouldn't be shown to take place in a black one. What would now, but not then, be called toxic masculinity, takes place in both minority as well as majority communities. However this means that Pat's journey, one towards emotional maturity and a political awakening, takes place on two fronts. The title of the film refers to that process. She has a similar influence on Del. When he is in prison for assaulting a policeman, she brings him books on black politics to read, and she reads the same books herself. She also changes her clothing style, from Western jewellery and makeup, to African fashions. On the soundtrack, we hear plenty of the reggae and lovers rock which would have soundtracked these people's lives. Janet Kay, an actress and singer, who had had a big hit in the latter mode with "Silly Games" in 1979, makes a brief appearance.
Shot on a very low budget in 16mm, Burning an Illusion premiered at festivals at 111 minutes, before being trimmed to its final length (105:48 on this Blu-ray). The film remains a significant part of that small wave of black dramatic features in the UK. It wasn't sustained, though. Burning an Illusion was Shabazz's only dramatic feature, though he had begun preparation on a second one, The Spirits Return, when he died. However, he continued to be busy, making documentaries and short films and setting up Ceddo Film and Video Workshop to produce films for television, Channel 4 mainly, starting up Black Filmmaker Magazine and the bfm International Film Festival. He died in 2021, aged sixty-seven.
Burning an Illusion is a Blu-ray release from the BFI. The disc is encoded for Region B only. The film had a AA certificate (fourteen and over) on its cinema release and is a 15 now.
The film was shot in 16mm and blown up to 35mm for cinema release. The Blu-ray transfer is in aspect ratio of 1.66:1. The results are certainly grainy, particularly in darker scenes, and a little soft in places, though this all comes with the territory with a 16mm-originated film. The colours are suitably vibrant and the grain does look natural and filmlike.
The soundtrack is the original mono, rendered as LPCM 2.0. A more recent mix would have emphasised the amount of music on the soundtrack, particularly the low end which is so important to most Jamaican music. But mono was the way it was, and that's how it should be.
English subtitles for the hard of hearing are available, not just for the main feature but all the extras except the commentary and the short Step Forward Youth. A couple of exchanges in patois in Burning the Illusion have fixed subtitles.
Introduction by Menelik Shabazz (10:04)
Recorded in 2005 for the BFI's DVD release of Burning an Illusion, this serves as both the specified introduction to the feature and to the short Blood Ah Goh Run (see below), but also as an interview with the man as he is no longer with us. He covers the personal as well as political background to the making of both films.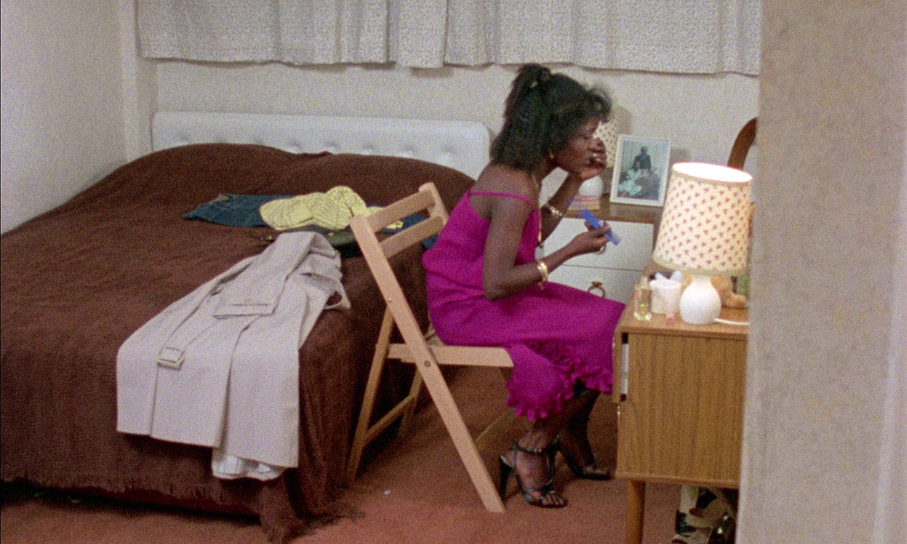 Commentary with Menelik Shabazz, Victor Romero Evans and Cassie McFarlane
Also carried forward from the 2005 DVD release, though recorded in 2001, this features the director and his two leads. At first it sounds like this commentary is edited together from three separate audio feeds, but the slight awkwardness soon fades. The three cover a wide range of material, from the sheer difficulty of making any low-budget film, let alone this one. McFarlane is particularly vocal on what the film says about how women could and possibly should leave their lives, as Pat undergoes a clothing/cosmetics transformation as mentioned above.
Cassie McFarlane interview (7:19)
This is up to date, recorded at the BFI in July 2022. McFarlane looks back at this role at the start of her career compared to now, over forty years later. She remembers the production fondly, and is grateful for Shabazz firstly for casting her, an unknown with no film experience, but to allow her a lot of creative freedom, not least in some improvisation for character development. At the time, according to McFarlane's agent, the only opportunities for black actresses were bit parts as nurses, maids and prostitutes. The agent told McFarlane not to take the role, but fortunately for her she did.
Blood Ah Goh Run (13:12)              
Shabazz shot Blood Ah Goh Run quickly, in response to the New Cross fire of 18 January 1981 in which thirteen young black people died, including the young girl, Yvonne Ruddock, whose birthday party it was. It may have been a racial attack. The police investigation, what there was of it, enraged the black community. Eventually their protests led to a day of action and demonstration on 2 March, and this is what Shabazz and his crew filmed.
Burning an Illusion was still in production at the time, and the contrast between the two films, forever yoked together by circumstances and theme, is striking: from fly-on-the-wall documentary to scripted drama. This was 1981. Black Lives Matter was 2020, and it seems nothing much has changed on either side of the Atlantic: the same protests about the same issues, the same techniques used by the police to play down the protests, rinse and repeat.
Step Forward Youth (29:08) 
Made in 1977, this was Menelik Shabazz's first documentary, cowritten, coproduced, shot and edited by David Kinoshi, Kinoshi also appeared as an actor in Pressure, and via a rich uncle raised much of the money for Step Forward Youth, shot in 16mm. The object of the film was to counter the view of the British media that every young black man was a mugger (at other times, involved in drugs or gun crime) and he does so by interviewing several of them. Sadly, this was Kinoshi's only work for the cinema, as he died of sickle-cell anaemia the same year.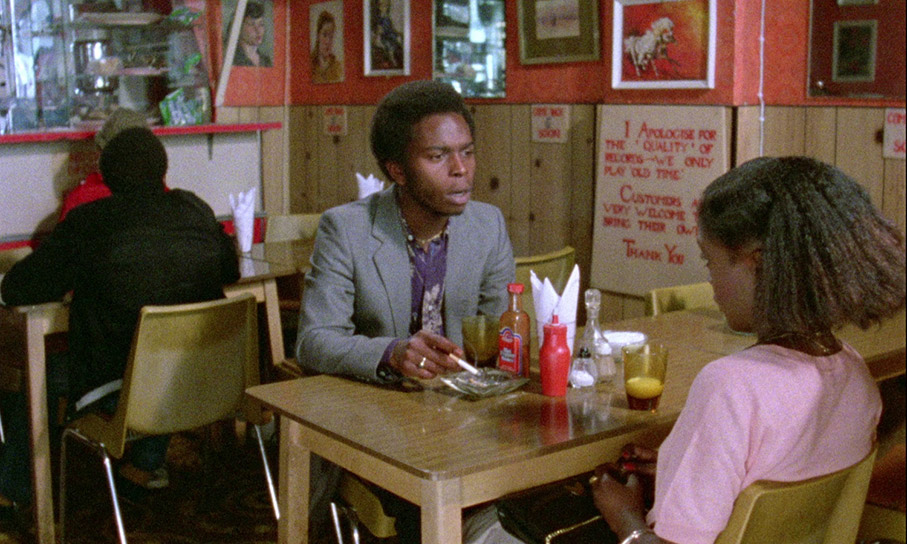 Theatrical trailer (2:25)
Image gallery (1:48)
Booklet
The BFI's booklet, available with the first pressing only, runs to twenty-eight pages. Alex Ramon's lead essay "Reigniting the Flame: Menelik Shabazz's Burning an Illusion 40 years on". This covers Shabazz's career and life as a whole, not just the short period in which he made the two films in this set. Ramon locates Burning an Illusion amid the low-budget, often experimental work that the BFI was financing at the time, such as Sally Potter's films. However, the film found a more popular audience among the black community, with black women in particularly strongly relating to Cassie. Next up is Dr Clive Nwonka's "Burning an Illusion: landmark and legacy", reprinted from the March 2022 Sight & Sound, which talks about the marginalisation black film, and black filmmakers, had and still have in the British film industry, something that was remarked upon in Shabazz's obituaries – he'd gone on to make further documentary work but not another dramatic feature.
One of those documentaries was Time and Judgment (1988), which occasioned a text interview in Sight & Sound in April 1989. Shabazz is interviewed by James Leahy. Shabazz points out that it wasn't just him finding it difficult to sustain black filmmaking. Since Burning an Illusion, there had been just one morefiction feature, a comedy, Playing Away, directed by Horace Ové in 1986. There had been more films made about black people by white people than by black people. Next is a three page biography of Shabazz, edited from an obituary run by Sight & Sound in September 2021. Also in the booklet are notes on and credits for the extras. Step Forward Youth is accompanied by Shabazz's notes from his own website and a reprint of a review of the film by David Badder from the February 1978 Monthly Film Bulletin.
What might have been called, but mostly wasn't, a new wave of black British films was a small one in the later 1970s and the start of the 1980s, and with first Pressure and then Burning an Illusion, black filmmakers came to make their own films. Burning an Illusion is unusual still in being centred on a woman, and Cassie McFarlane's performance is up to the task. Previously released by the BFI on DVD, it's recommended in this new Blu-ray release.