The title is somehow both on the nose and a little misleading. Otto Preminger's Bunny Lake Is Missing gives away the crux of its plot on the poster just as it tricks us into thinking we're in for something like a detective story rather than the psychological drama that eventually unfolds against the shadows of Denys Coop's black and white Scope photography. Figuring out what this movie is becomes akin to determining what happened to the title character. Bunny Lake Is Missing, like Laura and Whirlpool before it, is Preminger engaging in sleight of hand and deception. It was one of his keenest gifts as a filmmaker.
The plot is essentially about American Ann Lake (Carol Lynley) and her inability to locate her four-year-old daughter Bunny, whom she claims to have dropped off at a London school just a few days after arriving in the country where she has joined her brother Steven (Keir Dullea), a journalist. Had Preminger simply shown the young girl at the film's beginning then the audience could have accepted it all as a mystery. But it's not entirely clear whether Bunny really exists, and the presence of police inspector Newhouse (played with great restraint and balance by Laurence Olivier) is the guiding force behind that uncertainty. As the picture forces us to question not just who might have taken the title character, but also if anyone has and even whether she ever existed, genre lines blur to the point of contained chaos. Preminger's direction remains strikingly confident and never less than fully committed to the material.

I'd seen this film before, late at night on commercial-free cable television some years ago. I remember reading a blurb in a printed television guide that intrigued me. My mind went to expectations of something on par with Hitchcock's The Lady Vanishes, but Preminger was not a filmmaker terribly interested in suspense. He was one of the finest directors of film noir yet each one he did was atypical of the general boilerplate usually promised when sitting down with the dark cinema. Preminger wallowed in elegance. Every camera movement, set-up, and edit had a seamless flow that shared little with the grit and callouses others utilized for noir. Bunny Lake Is Missing – which often resembles something like a postnoir – carries with it the director's careful beauty amid human tragedy. The tone struck is psychological turmoil, with Ann heartbroken at the fact that she cannot find her daughter and frustrated by the Inspector's insinuations that the little girl is a figment of her imagination.
At no point in the film's first half does a strong sense of dread come into play. The score early on has an upbeat lightness to it. Nothing foreboding. The building sense of unrest as to the missing child gets blunted a bit by Newhouse's skepticism and the uneasiness we sense concerning Ann and Steven's relationship. Hints of oddness, with the modern viewer's awareness of how fine a line implied incestuous relationships could have tread in 1965, leave an uneasy aftertaste to several interactions between sister and brother. Indeed, the initial phone conversation between the two resembles that of a wife speaking with her husband and they are even mistaken by the police for a married couple before informing Newhouse and company (as well as the audience) that they are, in fact, brother and sister. The believable resemblance between Dullea and Lynley furthers the ick factor.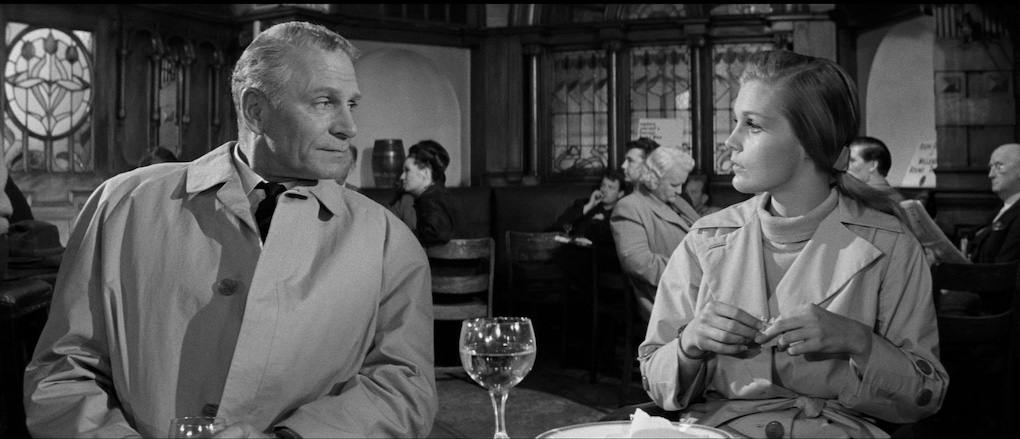 Bunny Lake Is Missing was based on a novel by Merriam Modell, writing as Evelyn Piper, that varies quite a bit from the screenplay credited to John and Penelope Mortimer. Preminger had purchased the screen rights some six years prior to production but was unhappy with the denouement. Both Ira Levin and Dalton Trumbo attempted to please the director with adaptations – to no avail – but progress stalled until he was shooting In Harm's Way in Hawaii and the Mortimers found a workable solution to the story's central problem. Veering away from the book, which didn't include the character of Steven at all and was also set in New York City, the screenplay required significant changes to its source material. Preminger ultimately shot the picture in London in just under two months in 1965. It was, arguably, his last completely realized and artistically successful work. It was also his final time working in black and white.
Among the other notable aspects of the film are the typically brilliant Saul Bass opening titles, which show human hands ripping away sections of the frame to reveal the cast and crew, and a three-song, pretty much unbelievably shoehorned soundtrack by the Zombies. It's not so much that the songs used are thematically off but the contrast to the score by Paul Glass and the placement of the Zombies' music are highly unusual. The most jarring occurrence is when Olivier and Lynley are in a pub discussing the case and a news report on the television begins telling the story of the disappearance only to be abruptly changed to a performance of the band. It has no clearly thematic relevance. If, as Chris Fujiwara writes in the booklet essay, this shows that Bunny's disappearance fails to "find any signification within a social context that itself is characterized by absence, emptiness, and a general discontinuity" then Preminger's cinematic worldview attains yet another notch of neat despair.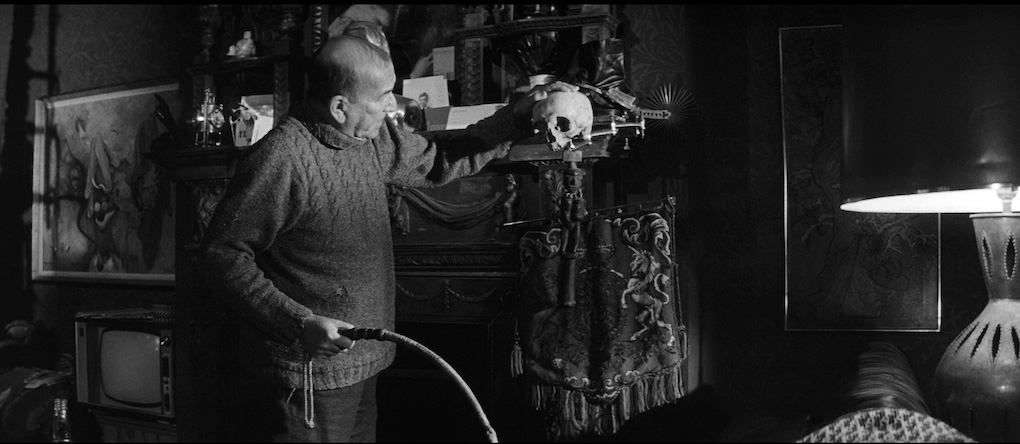 One scene in a doll hospital and a few others featuring Noël Coward alternately cradling a chihuahua and a whip are disorienting enough to make the viewer question worlds real and fictional. If anything makes us trust Preminger it's his defiance to ever acknowledge the strange – whether it's here with Coward or the entirety of Skidoo or the lip synching in Carmen Jones. The confines of cinema seemed to allow for most anything in Preminger's eyes. This is where Bunny Lake Is Missing exists, and the madness that thrives during the final thirty minutes or so completely works in the context of its director's career. In aggregate it's tough to find anything comparable. Preminger took what probably should have been a mystery about a missing child, turned it into a psychological drama filled with unspoken voids and dark family dysfunction, and somehow climaxed it all into a tension-filled gothic horror. And he did so impeccably.
Bunny Lake Is Missing joins Powerhouse's Indicator label with a Dual Format release. It's region-free and contains Blu-ray and DVD discs alongside a nifty booklet inside the case. The initial, limited edition run is for 3,000.
The transfer is sourced from a 4K restoration by Sony which utilized the original negative. It looks outstanding. The black and white images are full of life, sharpness and nearly perfect contrast. Witnessing something like the texture on Noël Coward's sweater really makes one appreciate the luxury of high definition. The 2.35:1 aspect ratio picture shows no signs of damage. Grain structure appears consistently intact and most pleasing to the eye.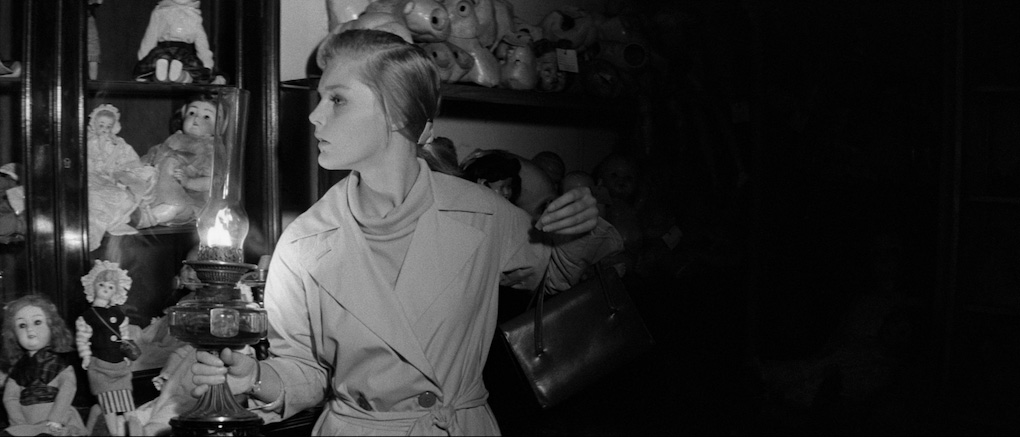 Audio registers nicely via a new remaster. The LPCM English language mono track captures the Paul Glass score alongside crisp, clean dialogue without issue. Subtitles are provided in English for the hearing impaired. They are white in colour. There's also a separate isolated music option.
A healthy collection of supplements includes an audio commentary by "film historians" Nick Redman, Julie Kirgo, and screenwriter Lem Dobbs. This was sourced from the U.S. Twilight Time edition of the movie and recorded in 2014. It's a quality listen, with Kirgo and Dobbs doing most of the talking. They rarely discuss exactly what's occurring onscreen but the track is wide-ranging and full of details, theories and light analysis. What's particularly encouraging is that both Kirgo and Dobbs seem knowledgeable about and have a genuine affection for this film. It's also strangely soothing to watch Preminger's images unfold absent the attached audio.
A 2006 Interview with star Carol Lynley (26:59), newly edited by Robert Fischer for his Fiction Factory production company, features good anecdotes mixed in with a few personal remembrances on the production. She doesn't seem to have any animosity for Preminger, though she does note that Keir Dullea took the brunt of the director's verbal punishment on the set. (For the record, he's been quoted elsewhere as saying that "the experience was the most unpleasant" he ever had.)
Another sit down occurs with Clive Revill (13:31). This was recently filmed, also by Fiction Factory, and ranges from Revill's early days as a British stage actor to Broadway and then his role on Bunny Lake Is Missing.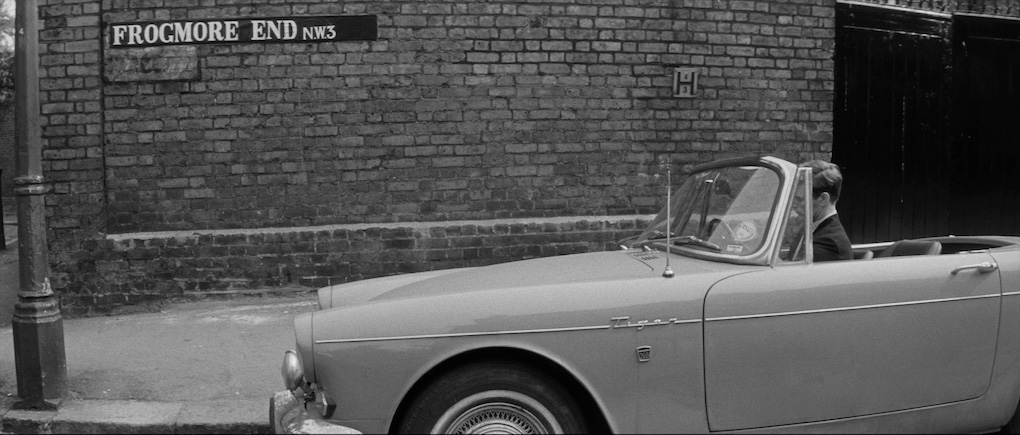 Three separate Trailers are here. The first (3:25) is narrated by Preminger and also shows him on-camera to remind audiences not to arrive after the picture's started. The second (2:22) features British rock band The Zombies performing the tune from their song "Just Out of Reach" but substituting lyrics to make it "Come on Time" in a further effort to get audiences settled in to the cinema before the picture begins. The third (2:54) has a much more traditional approach.
An Image Gallery shows a large handful of stills, many of which are in color. There's a gorgeous, casual shot of Carol Lynley among these that can also be seen in the release's booklet.
Also on the disc is the Isolated Music Track, with the score by Paul Glass getting spotlighted.
Finally, a handsome 24-page Booklet begins with a new essay by Chris Fujiwara, who wrote a fine biography of Otto Preminger entitled The World and Its Double. A couple of archival reviews, by J.H. Fenwick for Sight & Sound and Andrew Sarris for Village Voice, follow. Interview excerpts from Otto Preminger near the time of the film's production round out the insert's writing. Stills are sprinkled throughout the booklet and credits for the film and disc also find their way into the stapled extra.
Somewhere among Otto Preminger's seemingly eclectic filmography most anyone could find a movie to love given his willingness to so frequently shift and pivot as needed. To me, he was a noir director who filmed his pictures like they were operatic struggles to maintain one's sanity amid invasive forces ready to stop at nothing to poison the well. When I see a Preminger film I see something that is, more often than not, beautiful yet tainted. Bunny Lake Is Missing, while generally atypical of Preminger during the time it was made, fits his larger interests like a glove. This new Dual Format edition by Indicator is probably more than most fans could have ever imagined.