The Boer War (strictly speaking the Second of that name) took place between 1899 and 1902 between the then British Empire and the Boer Republics of The South African Republic and the Orange Free State, over their wish for independence. By 1901, the British occupied most of the Boers' territory but Boer guerilla forces were fighting back. In 1902, three Australian lieutenants of the Bushveldt Carbineers – Harry "Breaker" Morant (Edward Woodward), Peter Handcock (Bryan Brown) and George Witton (Lewis Fitz-Gerald) – are arrested and charged with the murder of captured Boers and a German missionary, Hesse (Bruno Knez), seemingly in revenge for the killing and mutilation of Captain Simon Hunt (Terence Donovan). Following diplomatic protests from the Kaiser over the killing of a German subject, Major Bolton (Rod Mullinar) is asked to act for the prosecution. For the defence is Major James Thomas (Jack Thompson).
A quick note: on the principle that a film is called by what appears on its title card and not what appears on posters, disc boxes and other publicity materials, it is 'Breaker' Morant, with single quote marks and this site's house style of boldface for titles, and that is how I will render the title throughout. I will refer to the central character as Breaker Morant, without the quote marks and this boldface. Also be advised that, while this film is based on historic events, for those unaware of them what follows will contain significant plot spoilers both in the review and in the discussion of the extras.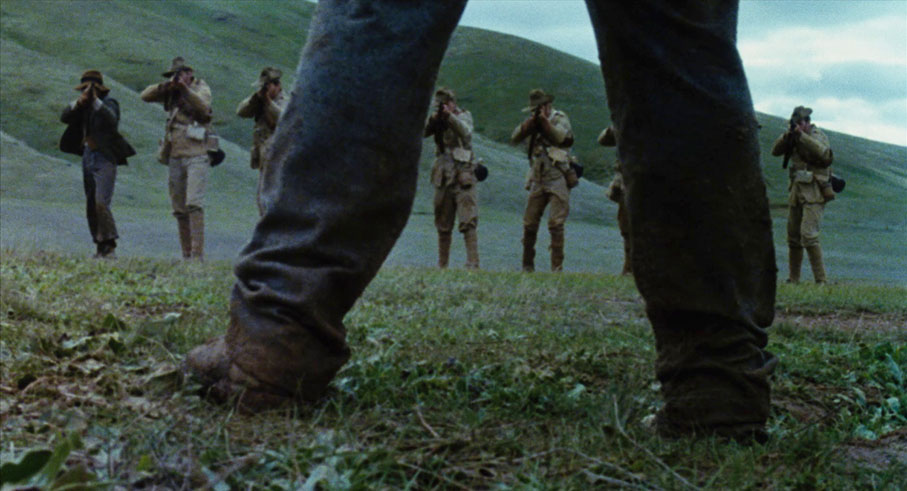 'Breaker' Morant, made in and copyrighted 1979 but released in 1980, remains one of the best films of Bruce Beresford's long and various career, a compelling courtroom drama about a well-known case of military injustice. Or maybe not, as a hundred and twenty years after the events it was based on, details of the case are still fraught. The film was written by Jonathan Hardy, David Stevens and Beresford, based on the play of the same name by Kenneth Ross, with material taken from Kit Denton's novel, as per the end credits.
Harry Harbord Morant, born in 1864 in England (emigrating to Australia in 1883) was a colourful character, known as the best horsebreaker in Australia, hence his nickname. He was also a poet and was friendly with other writers of "bush ballads" of the time, including Henry Lawson and Banjo Patterson. Some details of his life were not known at the time the film was made (more about that in the extras) but it's also clear that Morant was not above self-reinvention. That includes his name, as he was born Edwin Henry Murrant. His life story might be worth a miniseries in itself, but Beresford's film concentrates on the trial with the significant events leading up to it appearing in flashback.
While the events have certainly been simplified – for one thing, there were six defendants in the trial, not three – the film is far from simplistic as a less well written and made film might have been. There's no doubt that the three men did carry out the executions they were tried for, as the question is more, were they acting under orders or not, and if so whose orders? There are also political motives behind the trial and the potential execution, in part not wishing to antagonise Germany, given that one of the dead came from there, and also tensions between Britain (carrying out the trial and the executions) and a newly federated Australia. It's also clear that many South Africans to this day regard Morant and Handcock as murderers who received their just sentence. Beresford has said that the film is not meant to make the two men martyrs but to explore how wartime atrocities can be "committed by people who appear to be quite normal".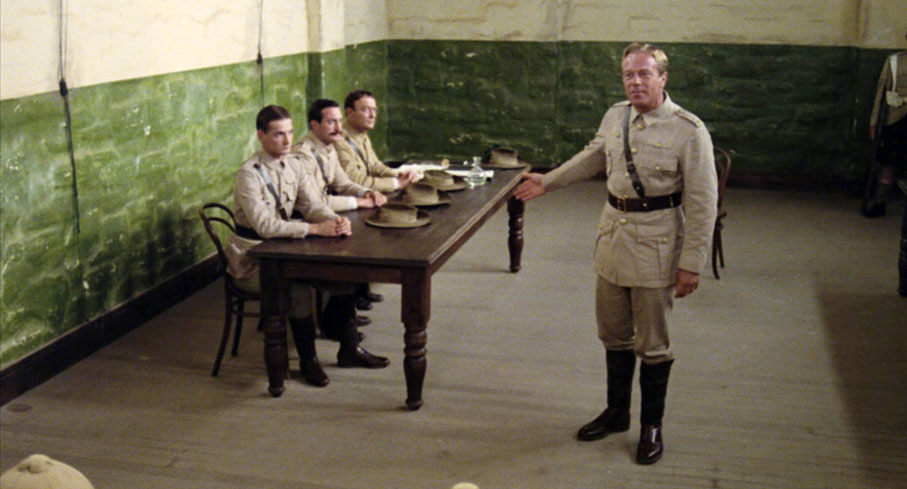 Beresford began his career in the 1960s, making short films and documentaries and working for the British Film Institute Production Board. His first feature film was The Adventures of Barry McKenzie in 1972, a broad "ocker comedy" co-written by and co-starring Barry Humphries, which was one of the earliest commercial successes of the Australian Film Revival of the 1970s. Over the next nine years, before relocating to Hollywood, he directed nine feature films (plus uncredited reshoots on another, 1978's Blue Fin), in various genres. While the level of craftsmanship in his best films is undoubted, it's hard to claim Beresford as an auteur, in the sense of a consistent style and themes throughout his work. (In the case of Don's Party (1976) and The Club (1980) I'd suggest they are at least as much David Williamson films as they are Bruce Beresford films, if not more, given that Williamson wrote the scripts from his own plays.) All of these nine early films are adaptations except the Barry McKenzies (and Barry was a character in a Private Eye comic strip) and Side by Side (1975), by most people's yardstick, including Beresford's, his worst film by far. Stylistically they are often different to each other, as Beresford is in service to his material and it seems aware that he was in a commercial industry as his films are in recognisable genres with known actors. The one film of these nine which was his passion project may surprise you: it was The Getting of Wisdom. Beresford had loved Henry Handel Richardson's novel since reading it as a child and had only agreed to direct Barry McKenzie Holds His Own (1974) so that he could make The Getting of Wisdom – which then went into turnaround though he finally made the film in 1978. 'Breaker' Morant was shot in thirty-five days during the winter, with ten of those days devoted to the courtroom scenes.
Following Don's Party, Beresford had form in turning a stage play into a film. While much of the running time takes place in one courtroom, the key events play in flashback, sometimes brief and jagged, sometimes later playing out in fuller detail. Filming in South Africa was out of the question, for budgetary reasons if nothing else (and this was the apartheid era) so the locations were all shot in South Australia. While Don McAlpine's cinematography is first-rate, particularly in the outdoor scenes, the film is driven by the dialogue and a very strong cast.
Beresford cast Edward Woodward as Morant having seen much of his television work and his lead role in The Wicker Man. Woodward wasn't the first example of an overseas (usually British or American) actor brought in to play the lead role in an Australian film, but it was happening enough for Australian Equity to raise objections, particularly when Woodward was playing a real person seen – in some quarters at least – as an Australian martyr. On the other hand, Morant was English-born and, even more to the point, Woodward physically resembled him. Following the female-dominated The Getting of Wisdom, 'Breaker' Morant is an almost entirely male affair, and Beresford had his pick of many of the best actors in the country at the time. Jack Thompson had actually had army experience, and he gives a forceful performance as the defendants' lawyer who had little experience of this type of law. Bryan Brown (with a moustache he found uncomfortable) as Handcock is the closest to a standard Australian larrikin, and his character's eye for the ladies actually helps the men's defence. Lewis Fitz-Gerald was twenty when he played Witton: it was his big-screen debut though he had worked on television before. In smaller roles, Beresford cast fine actors such as Rod Mullinar, Chris Haywood, John Waters and Charles Tingwell.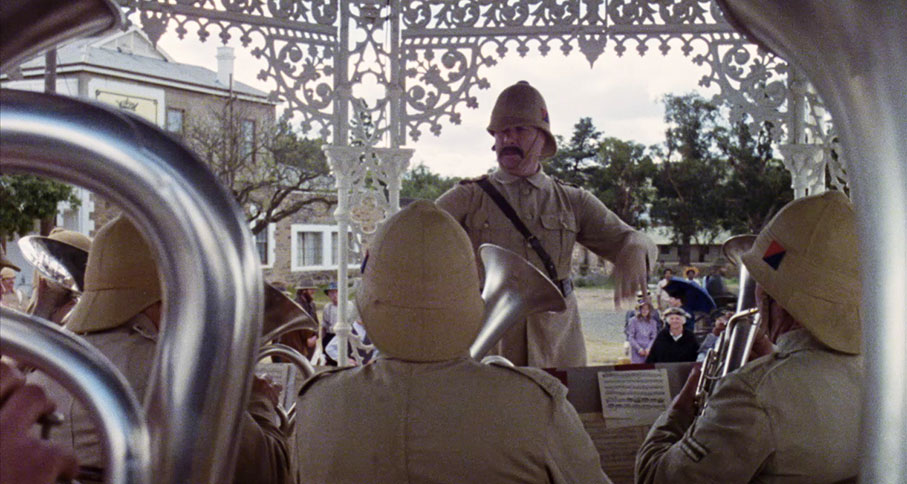 'Breaker' Morant premiered at Cannes on 13 May 1980, the screening followed by a beach barbecue with Fosters and steak. Its Australian premiere was two days later in Adelaide. While it was always indifferent commercially, the film was a critical success from the outset. Jack Thompson won Best Supporting Actor at Cannes and the film was Oscar-nominated for Best Adapted Screenplay. The film made no impression with BAFTA voters, oddly enough, but at home it cleaned up at the Australian Film Institute Awards (now the AACTA Awards) with ten wins out of thirteen nominations: for Best Film, Director, Screenplay (Original or Adapted), Lead Actor (Thompson), Supporting Actor (Brown), Sound, Production Design, Costume Design, Editing and Cinematography. Ten was the maximum it could have won, given that the three nominations which didn't become wins were because the film had two or more nominations in the same category, so losing out were Woodward as Best Lead Actor and Fitz-Gerald and Tingwell as Best Supporting Actor.
Umbrella's Blu-ray, number 5 in their Sunburnt Screens line, is encoded for all regions. The film has an Australian PG rating. In the UK, it was given an A certificate on its submission to the BBFC for cinema release in 1980, which became the equivalent PG for home viewing in 1992 and 2000. Those were the days when a film clearly aimed at adults and with I suspect no appeal to pre-teenagers could go out with a family-friendly certificate, and without adding a single F-word to raise the rating. That said, some bloodspurts in shootings and a couple of not-strong sexual references might give the film a 12 now if it was ever resubmitted.
There have been other releases of 'Breaker' Morant on disc, both DVD and Blu-ray, including one of the latter from Criterion, which if you are a completist you should be aware has different extras and a different transfer.
Umbrella's transfer is in the intended ratio of 1.85:1 and is derived from a 4K scan of a 35mm interpositive. However, the transfer doesn't look too much like one derived from a 35mm shoot of the time should do: many scenes are soft and the grain which should be there is not. This is more noticeable with the interiors and the less-brightly-lit exteriors. It's watchable but disappointing. Some past editions have been a little too dark or lo-res for Morant's line that he carried out the executions under "Rule 303" to make sense. The big close up of a rifle which immediately follows has "303" engraved on the site, and at least you can see it in this transfer. (The make of rifle was the Lee Enfield .303, standard military issue at the time.)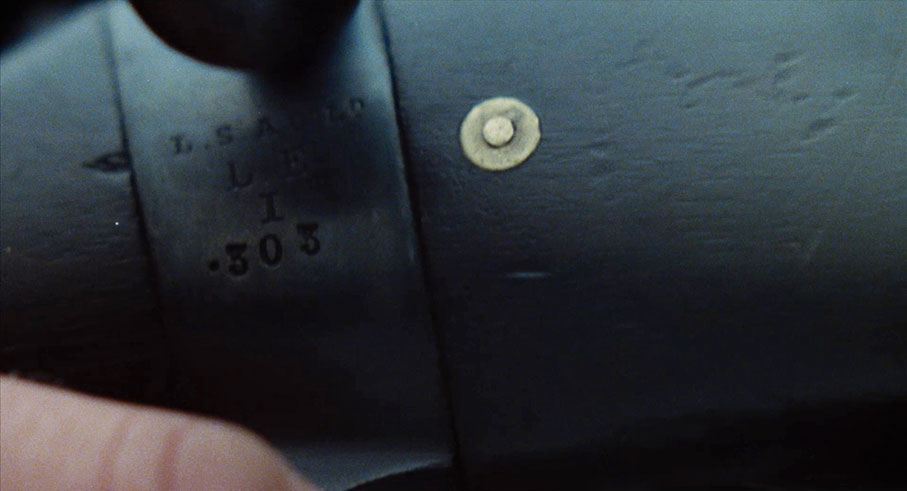 The soundtrack is available in DTS-HD MA 5.1 and DTS-HD MA 2.0, playing in surround. You can't select either from the menu: the film plays in 5.1 by default and you can select the alternative via your remote. Both of these are remixes (with no indication as to whether they were authorised by the filmmakers) as the film was mono originally and it's a demerit that the original mono has not been included. 'Breaker' Morant is hardly a candidate for a remix anyway, as it's a very dialogue-driven film with no music score. The only non-diegetic music is Woodward/Morant's singing "Soldiers of the Queen" towards the end. There's next to no difference between the two tracks, which both create surround by playing the same soundtrack through both surround speakers, dialogue and sound effects and all.
English subtitles are available for the hard-of-hearing for the main feature only. I didn't spot any undue errors though there was a tendency to refer to short sections of dialogue and one song as being "in a foreign language" when "in Afrikaans" would have been more precise. (The Afrikaans dialogue is intentionally left untranslated.)
Commentary by Bruce Beresford, Matt Carroll, Jack Thompson and Bryan Brown
Beresford has recorded a commentary track for 'Breaker' Morant before, but this is new, recorded with producer Matt Carroll and actors Jack Thompson and Bryan Brown. This could have done with a moderator as none of the men introduce themselves and it may take a little while to sort out who is who, and occasionally they drop into silence. That said, this is an entertaining commentary and there is useful information to be had.
Breaker Morant: The Retrial (102:41)
This is a 2013 documentary made for television, directed by Gregory Miller and Nick Blesynski, in which presenter Neil Pigot makes a detailed investigation into Morant and his life and times. As such, this is a valuable supplement to the main feature as it covers the whole of Morant's life rather than its last few months. As it was made thirty-four years later, it includes information that has come to light since, including, for example, proof of Morant's birth name. The documentary is made up of interviews with descendants of the people concerned, including those of the Boers killed by Morant and Handcock who still regard Morant as a murderer. We also hear from experts such as Geoffrey Robertson QC on the legal aspects of the case, and there are also dramatised scenes from Morant's life (with Benedict Wall playing the role) and excerpts from Beresford's film.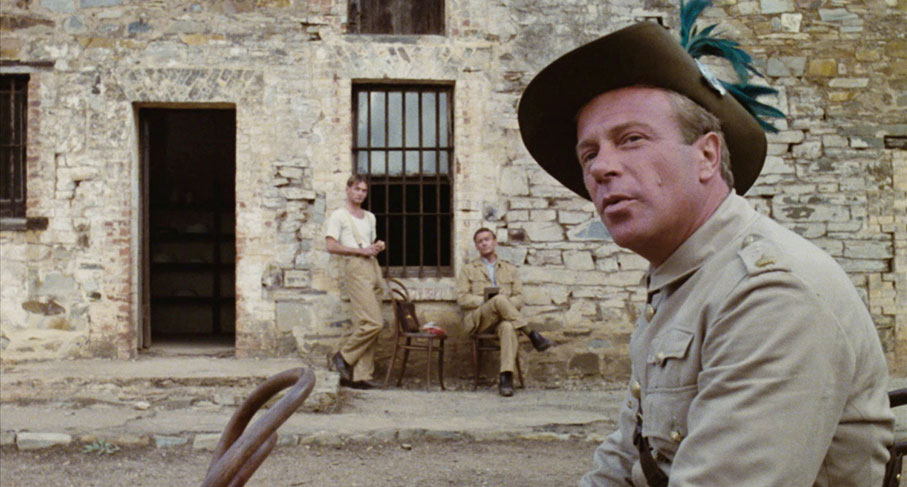 The Breaker (54:49)
The Myth Exposed: Director's postscript (5:56)
This is an earlier documentary, directed in 1974 by Frank Shields and financed with $7000 of his own money. Shields carried out his research in Australia but shot much of the film in Zimbabwe (then called Rhodesia) and post-production was carried out in London. This was very much a debut film – Shields didn't know how to operate a camera when he started work on it – but it's a solid piece that sums up what was known about Morant at the time. The film won the Best Documentary Award at the 1975 Sydney Film Festival. Shields went on to direct dramatic features, including Hostage (1983) and The Surfer (1987).
In 2011, Shields added a brief postscript to his film revealing a piece of evidence that hadn't been included in the film: a 1929 letter from Witton to Thomas clearly implicating Morant and Handcock in the murder of Hesse.
Edward Woodward audio interview (20:06)
An interview with the actor at the time of the film's release, audio-only over a captioned still. This seems at first to be more exercised with Woodward's television roles, particularly the still-remembered and then-recent alternate history series 1990 and the even better remembered Callan. However, the interviewer wins points from Woodward for bringing up his leading role in the 1967 BBC serial Sword of Honour. Woodward also talks about his singing in the film and Jack Thompson's award at Cannes. The interview ends with a competition to win passes to see the film.
Photo Slideshow (5:30)
Photo Gallery (5:51)
I don't know quite why two items are necessary when many of the stills are included in both and they do much the same thing. You can fast-forward or advance via chapter stops. The choice is yours.
HD Trailer (3:06)
US Trailer (2:31)
The original US trailer is sourced from a scratched-up print. Needless to say the HD version is much cleaner.
'Breaker' Morant is a key film in the Australian film revival of the 1970s, coming in at the end of the decade and doing its part in making Bruce Beresford's name overseas. Within three years he would be working in the USA. Umbrella's Blu-ray could have been better audiovisually, but the film survives and the extras are valuable in themselves.
---
The disc can be ordered directly from Umbrella here: https://shop.umbrellaent.com.au/products/breaker-morant-sunburnt-screens-5-blu-ray.