Riddle me this. When is a giallo not a giallo? When it's The Bloodstained Butterfly. Actually, that's not strictly true. The Bloodstained Butterfly definitely meets many of the key criteria for a giallo movie and is properly classified as one by those in the know. But it plays with the formula in fascinating ways and even denies fans one of the more nefarious pleasures of this particular sub-genre. You want bloody murders peppered with gory close-ups? Tough luck, buster. The first and second killings take place off-screen, and the third is covered in a brilliantly executed trio of quick cut shots of a hand covering the victim's mouth, the opening of a switchblade and a newspaper headline announcing that the park murderer has struck again. If you came for the courtroom drama or forensic police work, however, you'll be in pig heaven. Later, we do get a flashback that shows a tad more of the first attack, and the body itself is certainly bloodstained when we first get to see it, but there's barely a hint of the usual giallo sensationalism anywhere here.  If you're now thinking of giving this one a miss, then please reconsider, as The Bloodstained Butterfly is a seriously well made and engrossing thriller, and if you can live with the lack of spectacular bloodletting then you're in for a bit of a treat.
The film kicks off like few fictional features of any genre that I can readily recall by introducing each of the characters by their captioned name, even a few who play no significant part in the drama that follows, and when the story proper gets under way, the first murder has only just taken place. Two kids are playing in the park in the sort of yellow anoraks that in later years would cast them as potential monsters, when the body of a murdered girl rolls down the hill beside them, her clothing torn and her body cut and bloodied. The police, led by the unsmiling Inspector Berardi, are soon on the scene, and in an extended sequence that pre-dates one of my very favourite scenes in Manhunter by 15 years, we then spend some time with the forensics team as they examine the evidence and run tests that an end-of-film credit suggests are completely authentic. And like that belter of a sequence in Michael Mann's film, it proves to be oddly fascinating stuff. CSI Lombardia, anyone? Let's hope not.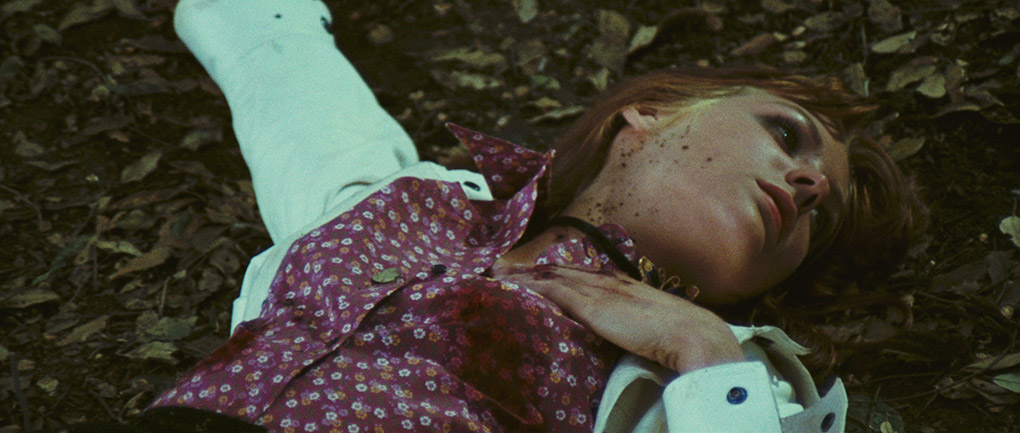 Eventually the police narrow their suspects down to a single individual in the shape of well-known TV presenter Alessandro Marchi. Well I never. Who would have ever thought a TV personality could be guilty of a heinous crime? In most giallo movies, Marchi's trial and conviction would be over in a heartbeat, but here it plays almost as the centrepiece of the film. For something like 25 minutes of screen time, this giallo thriller is transformed into a courtroom drama, complete with illustrative and speculative flashbacks and even a Crimewatch style crime reconstruction. But once again, it's enthralling stuff, piling up a seemingly irrefutable mountain of evidence against Marchi, only to have his defence attorney Giulio Cordaro blow spectacular holes in some of the witness statements (including a neat observation borrowed from 12 Angry Men). Eventually, the mountain becomes impossible even for the spirited Cordaro to climb, and Marchi is banged up for the killing. But when a couple of days later a woman is murdered in the very same park as the previous victim, and with the same sort of knife, reporters start asking awkward questions about Marchi's supposed guilt and possibly misplaced conviction.
It's worth noting here that Inspector Berardi and his team are not your typical giallo cops, most of whom are idiots with prejudicial baggage and more likely to arrest someone because they think they're a pervert than because they have any real evidence against them. Here they track Marchi down using legitimate investigative techniques and witness testimony, and given the weight of verbal and physical evidence, they can hardly be blamed for nicking the wrong guy. Or did they? Marchi's response to evidence thrown against him in court tends to wander from worried concern to sullen disinterest. Do they have the wrong guy or is a copycat killer following sprightly in his footsteps? And if so, why?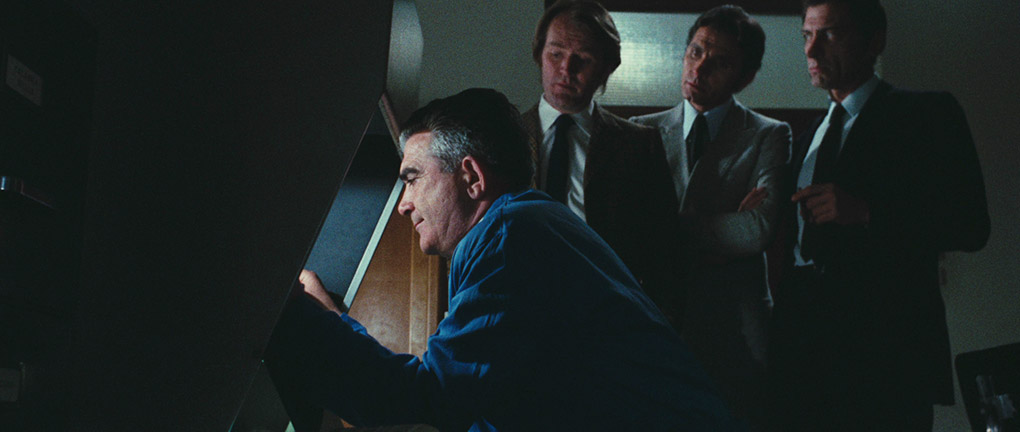 Relationships play an important part in what follows, a statement I can't really expand on without spoiling a couple of the plot's more effective and well thought-out surprises. What I can reveal is that by this point Marchi's daughter Sarah has hooked up with good-looking young pianist Giorgio, and given that he's played by headliner Helmut Berger, I can't have been the only one wondering just how he was going to figure in all this. We're almost two-thirds of the way through before director Duccio Tessari is ready to show his hand, and even then you suspect he's holding a few things back for the finale. It's also around here that the film delivers its most troubling scene, as a couple make love and the man's face repeatedly contorts into an expression of anguished torment, prompting expectations that he will suddenly snap and rip his partner in half and do who knows what with her body. But it turns out that's not what this sequence is about, and one of the really cool things about this particular giallo is that everything that seems to have no obvious explanation is gifted one by the manner in which the story concludes. And it's a satisfying and unusually complete finale, one with more than a whiff of the westerns that Tessari cut his teeth on and that doesn't just end abruptly with the killer's demise or leave a mop head of story threads blowing in the wind.
Tessari directs with real style and a commendable lack of look-at-me flamboyance, despite some gorgeously mobile scope camerawork from cinematographer Carlo Carlini that occasionally had me itching to applaud. There are also some solid performances from the typically international cast, particularly from the German contingent of Helmut Berger, Günther Stoll and Wolfgang Preiss, though there really are no naff turns at all here. Gianni Ferrio's music may have the immediate impact of some of the genre's more iconic scores, but it still makes evocative use of the opening bars of Tchaikovsky's Piano Concerto No. 1 on more than one occasion.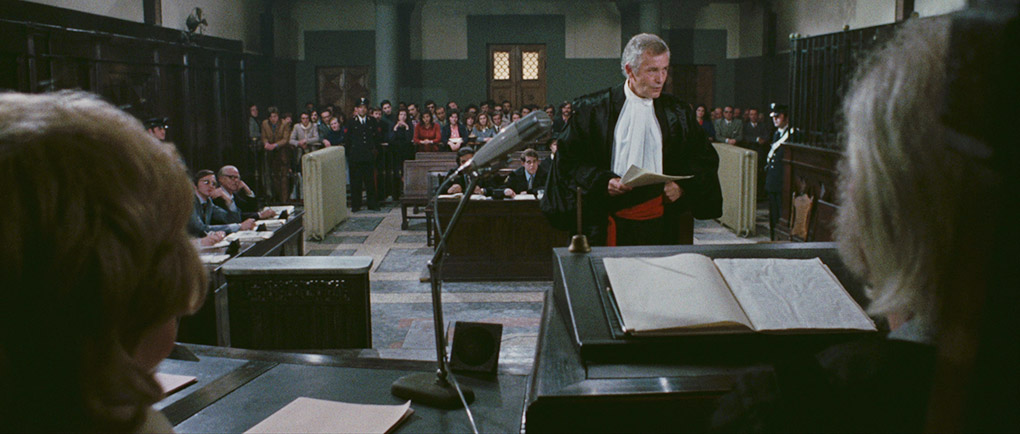 The lack of lurid and fetishized killings may disappoint some of the genre's more hardcore devotees, but frankly I found it refreshing to watch a giallo where the murders are there solely to drive the plot and not staged primarily for sadistic thrills. And it's rare to find one whose storyline is this well developed and whose twists and conclusion are so genuinely satisfying. So put aside those expectations that exposure to some of the genre's more visually stylish and sensational works may have created and enjoy the film for what it is, a smart and involving blend of murder mystery, police procedural and courtroom drama, and one of the most impressive giallo thrillers I've watched in years.
The result of a new 4K restoration from the original camera negative, the 1080p transfer on the Blu-ray in the dual format release is in damned fine shape, albeit with a couple of small caveats that are not really down to the transfer at all. The detail is crisp and the image is spotless, and while the colours do feel just a tad muted in places, this feels like an artistic choice rather than a lack of vibrancy in the transfer itself, and the brighter colours are faithfully rendered. Argento this is not, nor was it ever intended to be. Some scenes are also pretty darned dark, but again this is clearly how they were lit and shot, and while the black levels tend to soften to dark grey here, this enables the transfer to retain image detail that would be completely swallowed up if the contrast were upped to solidify those blacks. All in all, a very decent job, particularly as this version is apparently the most complete you're likely to see and may well have been created from multiple sources.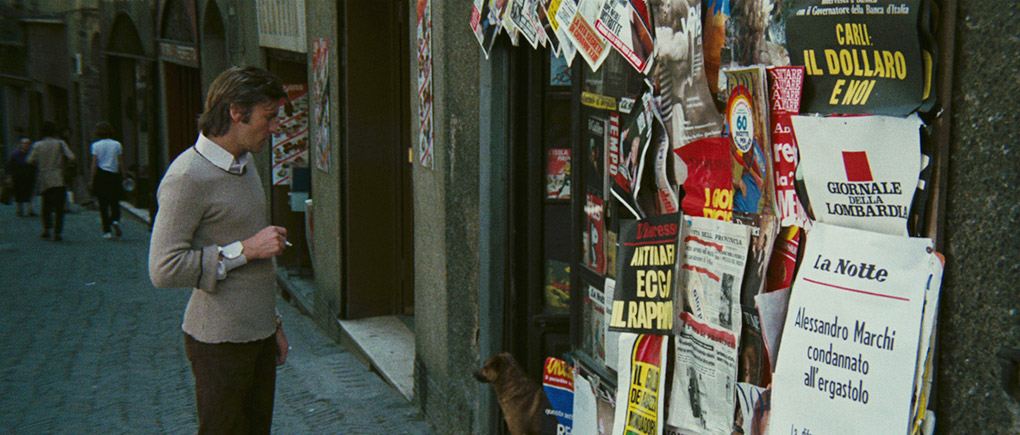 On the main menu, you can choose between the English and Italian language versions, each with language-appropriate titles and credits and English subtitles on the Italian track. Given that we have an international cast and that all of the dialogue is post-dubbed anyway, this really is down to personal choice. Both have their mismatches of words and mouth movements, but the English track is one of the best I've heard in an Italian giallo, so much so that I found it easy to forget that I was actually watching an Italian thriller. Inevitable range restrictions aside, the dialogue is clear and the track is free of damage or wayward noise.
Murder in B-Flat Minor (26:56)
A visual essay by author Troy Howarth, whose books on Italian genre cinema include the giallo-orientated So Deadly, So Perverse. I've not actually read this, but the sheer volume of interesting information Howarth manages to cram into his 27 minutes here makes it clear that he really knows and loves his subject. Barely pausing for breath (seriously), he kicks off with a look at the rise in popularity of the giallo genre and even goes as far as listing every Italian giallo film released in 1971, then explores the film career of director Duccio Tessari in some detail, as well as providing key info on key members of the cast and crew. There's plenty more here, all of it worth hearing, illustrated with film clips and posters. There's even an up-front spoiler warning and the strongly made suggestion that if you're watching this first then you should immediately stop and go watch the film instead. Absolutely.
A Butterfly named Evelyn (54:45)
Actress Ida Galliu, aka Evelyn Stewart, looks back at her film career with the sort of detail you don't usually find in Blu-ray or DVD extras (check out the running time). She clearly enjoys reminiscing and could probably do so for Italy at the Olympics, but given the films that she has worked on and the stories she has to tell, it frequently proves enthralling. Over the course of getting on for an hour of screen time, she recalls meeting and working with Federico Fellini (for La Dolce Vita) and Luchino Visconti (for The Leopard) and does explain behind her choice of the screen name Evelyn Stewart. As you would hope, she also talks about working on The Bloodstained Butterfly and even has an anecdote about how she was persuaded to do her love scene. The camera operator here clearly regretted putting the clip mic so close to Galliu's ornamental necklace (you'll get to hear why), which is why it's been tactfully repositioned for the final two thirds of the interview.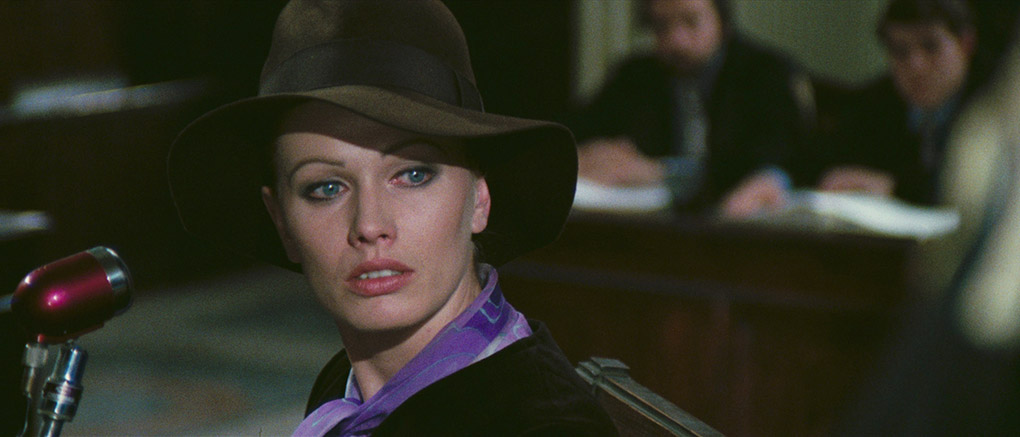 Me and Duccio (8:23)
Lorella De Luca, actress and wife of director Duccio Tessari, recalls how she and Duccio first met and hooked up, his ritual for writing screenplays, his relationship with director Sergio Leone, their shared fondness for producer Angelo Rizzoli, and plenty more.
Mad Dog Helmut (17:33)
The oddly beguiling Helmut Berger recalls a number of his key screen roles, including The Bloodstained Butterfly, which he does not appear to hold in as high regard as, well, the rest of us here. "I saw it yesterday," he says at the start of the interview, "and I had to laugh all the time because I had no dialogue until the end. I only walked and walked and walked. I thought, 'My God, it's a marathon picture'." He talks about getting angry when people are unprofessional, dismisses the idea that director Tessari could be regarded as an artist, and remembers how and why their friendship ended when they worked together again on The 5th Commandment. He remains happy with Salon Kitty, however and continues to have a soft spot for director Tinto Brass. Perhaps my favourite moment comes when he is asked whether, as an up-and-coming young actor, he learned anything from old pros like Herbert Lom and Richard Todd when working on Dorian Gray, to which he responds with a sneer and a growled-out, "No."
Promotional Gallery 
10 slides of posters and promotional stills for the film, which you can flick through manually with the remote control.
Italian Theatrical Trailer (3:16)
An intriguing and rather well assembled trailer that contains at least one piece of interesting misdirection (echoing a similar one in the film itself) and a closing caption informing us that "Titanus kindly invites you to watch this movie from the beginning."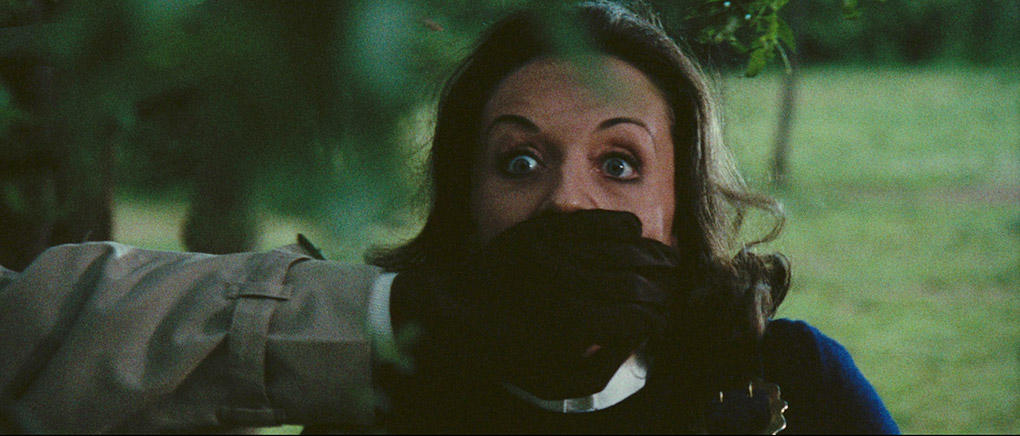 English Theatrical Trailer (3:16)
The same trailer but with the English dub, including the midway announcement that you are being shown scenes from The Bloodstained Butterfly and a slightly modified version of that final caption.
Audio commentary
The choice horror double act of Alan Jones and Kim Newman deliver another hugely enjoyable and information-busy commentary on the film, its making, and what sets it apart from other giallo works. There's quite a bit on Helmut Berger, but there's also coverage of other actors in the film and some solid analysis and appreciation of a film that genre devotee Alan Jones regards as one of the top ten best giallo movies. There is a sense that they're watching an earlier version of this complete cut when a scene they remark is still in Italian with English subtitles actually has an English soundtrack here. Tantalisingly, at one point Jones assures us that he's going to produce and giallo guide of Italy, so fans can visit locations from their favourite genre films. Their repeated claim that the title is essentially meaningless had me screaming at the screen and mentally preparing an appropriate rebuttal, only to have them realise what I had already sussed as the final scene played, something I'd admittedly seen more recently than them. Great stuff.
Also included is a 36-page Booklet illustrated by Tonci Zonjic, containing writing by James Blackford, Howard Hughes and Leonard Jacobs, but this was not included with the review copy.
A really first-class giallo with a welcome emphasis on plot and character, one whose murders are there to advance the story rather than provide twisted entertainment. A solid presentation of the film is backed by a fine selection of extras, making this another must-have from Arrow. Highly recommended.