Black Girl (1966) is Ousmane Sembene's first feature film and it is the work of a very talented film-maker. In addition it is the first ever Sub-Saharan feature film and so it has significant historical importance. Borom Sarret (1963) is Sembene's first short film and the first ever Sub-Saharan short film.
I first watched Black Girl a few years ago and the film had an almost violent impact on me – I could feel Sembene's anger arising from this true story. For some reason I did not explore the BFI disc any further – that is until now when I revisited the release for this review.
Sembene was born in 1923 to a poor family – his father was a fisherman – and he left formal education at the age of 13. He stowed away on a ship to France in 1947 and worked at the Citroen factory in Paris and then as a dock worker in Marseille. In Marseille he taught himself to read and became a member of the French Communist Party. Sembene was a revolutionary and he channeled his anger into activism – he educated himself, became a writer and in 1960 he went to study film in the Soviet Union.
He returned to Senegal in 1962 with an urgent desire to bring about change in his home country. He realised that most of the population was illiterate and so he began to focus on film-making and in 1963 he produced Borom Sarret – the first Sub-Saharan short film.
This 20 minute film follows a pious Horse Cart driver in post-colonial Dakar who leaves his wife and children in the morning to look for work in the city. We see him giving various people lifts in his cart throughout the day - Sembene uses these passengers to give us a cross section of the Dakar population. The cart driver shows compassion for the elderly woman who owes him money but will most likely never be able to pay him for these journeys; we see young men travelling to work or looking for work; we see a poor foreigner bringing his dead child to the cemetery; we see a local man who is moving his life to the rich suburbs. In this film (and very obviously in Mandabi from 1968) Sembene associates the Western style dress suit with the Senegalese who represent capitalist self-interest and who have turned their backs on traditional community values. Sembene's anger is palpable throughout. The film is dubbed with a French narrative – this was essential for the project to receive funding from the Film Bureau. It is a remarkable film – concise, simple and very impactful.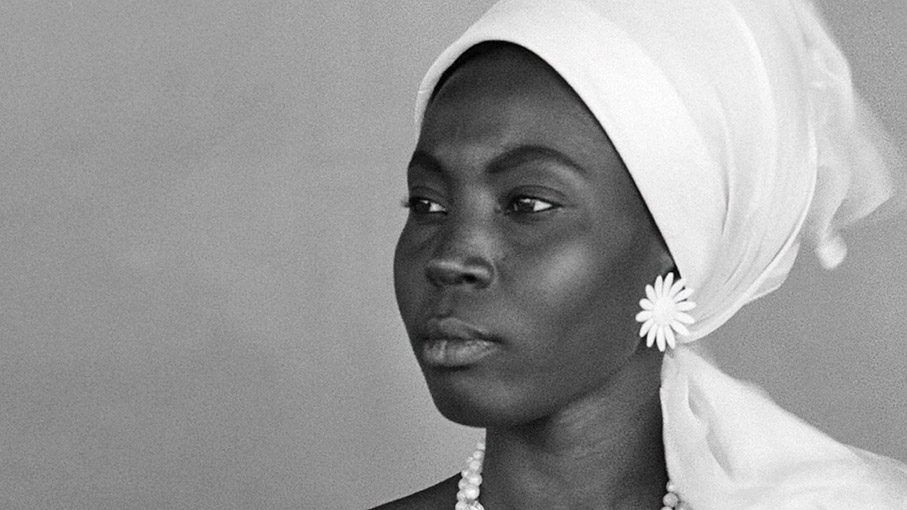 Black Girl is a much more ambitious project – it is a 60 minute feature film shot between Dakar and the French Riviera. The Film Bureau rejected the film due to it's negative portrait of colonialism and Andre Zwobada produced the film and this gave Sembene access to post-production facilities in Paris. The film is based on a newspaper story that appeared in France in 1958. Black Girl is adapted from Sembene's novella La Noire de published in 1962. Like the title character of the film Sembene himself arrived in France by boat when he was young albeit under different circumstances. Sembene highlights the racism that underpins the French-Senegal connection and worker exploitation. Sembene tears down the myth that so many Africans have about life in Europe.
Diounna is a young Senegalese woman from a poor family. She goes out looking for work as a maid for the French immigrant colonial population. She finds work with a family and when they return to France she is invited to join them on the French Riviera to continue her work. In France she is treated like a domestic slave and the film follows her isolation and disillusionment.
The acting is wonderful and there is a combination of non-professionals and professional actors. I felt an enormous amount of compassion for Diounna and yet I never felt manipulated by the director. Sembene uses a combination of documentary style film-making which grounds the film in reality and contrasts this by using intimate close-up footage of Diounna which is made all the more personal through the voice over narration. Sembene uses an innovative storytelling structure which starts the story in media res and then incorporates several flashbacks which which gradually provides background on the protagonists and their story.
Martin Scorsese called the film "so ferocious, so haunting and so unlike anything we'd ever seen" - anyone who has seen the film will agree. Sembene wants to provoke and shock people out of their complacency. The film makes us reflect on immigration, racism and the deep unhappiness people have that manifests as a lack of compassion towards others.
alternative colour sequence version
---
The BFI includes this version. It has exactly the same footage and running time (59 mins 17 seconds) as the main version. In the first few minutes of the film there is a 50 second sequence of driving point-of-view colour shots as Diounna looks for the first time on the streets of the Cote D'Azur and arrives at Antibes. I frankly find the version distracting – I do not like the abrupt and fleeting change from B&W to colour and back to B&W again.
The films underwent a long restoration period and several institutions were involved. The films belong to the Film Foundation World Cinema Project catalogue and the prints are excellent. The black and white image is clean, sharp and stable throughout. It really is such a treat to have these important works looking so well and it is a testament to those involved in the project.
The film is presented with a linear PCM soundtrack. The sound is clear throughout. There is a musical motif played by the kora (I think!) that appears at several moments in the film - to me it sounds identical to the same excerpts played in his other film Mandabi (1968). There is a contrasting French piano roll motif that is very typical of this era.
Conversation with M'Bissine Therese Diop (14 mins)
The main actress of Black Girl is interviewed in Paris in 2005. I learned that the reason that her voice was not used as the voice over was because Sembene may not have had the funds to bring her to Paris for the post-production voice recording. She portrays Sembene as demanding, stubborn and quite hard to work with. She recounts that when she went to actors agencies in France she was reminded that there were no black film stars.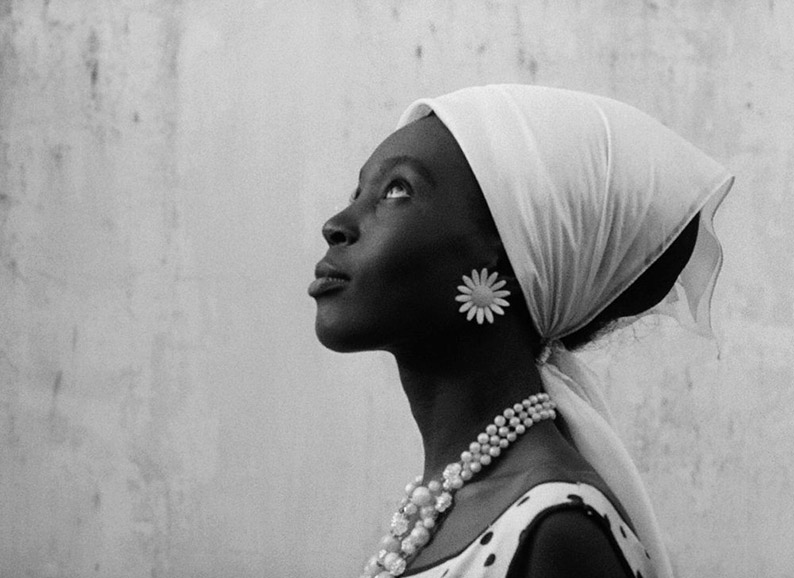 Sembene: The Making of African Cinema (60 mins)
This 60 minute feature is based on an encounter between Sembene and the documentary makers at a film festival in Burkino Faso which then led to interviews with Sembene at his home in Dakar. It has lots of interesting anecdotes regarding his films. Sembene is 70 years old at this time - he is very opinionated, slightly preachy, he admires the new generation and we see him speaking at local schools. He is truly a revolutionary with strong ideas on culture, politics, history etc. His view of white people and their influence on Africa is highly critical.
Sembene: A Portrait (12 mins)
This short 12 minute feature goes through his filmography chronologically. It is a useful reference guide.
Booklet
There is a very informative essay by Samba Gadjigo and a very personal tribute to his father by Alain Sembene emphasising his revolutionary and artistic nature.
We now have two excellent editions of Sembene's first two feature films from the BFI and Studio Canal. An appreciation of World Cinema that leaves out African cinema is incomplete - historical neglect of African cinema is a fact and Martin Scorsese's World Cinema Project is working on restoring 50 African features which is good news.
Alain Sembene (the film-maker's son) is involved in these restorations of Sembene's films and managing his father's legacy. I am hopeful that we will get more of his films. This is a great release that will appeal to all fans of World Cinema. This film has distinct New Wave characteristics and will appeal also to fans of 1960s French cinema.
From Borom Sarret to Black Girl to Mandabi we clearly see Sembene's pre-occupations - injustice, capitalist self-interest and colonial indoctrination. I hope to be able to continue this journey and experience more from this great film-maker. Highest Recommendation.
---
Because screen grabs could not be obtained at this time, this review has been illustrated with promotional imagery.