I've never liked circuses. The whole concept of performing animals tends to get my back up, the antics of clowns make me want to punch them in their annoying painted faces, and while I appreciate the bravery, strength and coordination skills of acrobats and trapeze artists, actually watching them in action holds no interest for me. If that's also your view then you might have a few problems with the 1967 horror-thriller Berserk. The filmmakers clearly struck a deal with the owners of Billy Smart's Circus to use its Big Top and its performers in their movie, but in exchange it would appear that they agreed to also showcase several of these acts at often disruptive length. I can presume this is why, when we're waiting to see where the plot will go next, we have to sit through several minutes of elephants or poodles performing, or watch a lion tamer repeatedly cracking his whip at animals who would be perfectly in their right to bite his bullying head off. Which is all well and fine if you like circuses, but... well, this is where I came in.
The story kicks off in dramatic but slightly preposterous fashion, when high-wire act Gaspar the Great, a popular draw for the Great Rivers Circus who performs without the benefit of a safety net (always a bad sign in circus-based movies), plummets to his death when the wire on which he is walking suddenly snaps. It's actually a little more complex than that. Yes, the wire snaps and yes, the great Gaspar perishes in the fall, but in a peculiar bit of momentum physics that I've been unable to get my head around, one half of the broken wire whips around his neck as he descends and ties itself into a knot, hanging him in what looks like the centre of the arena. How is this even remotely possible? You've got me. Still, his swinging body does provide director Jim O'Connolly (he of The Valley of Gwangi and Tower of Evil) with an inventive way to reveal the movie's multi-coloured title.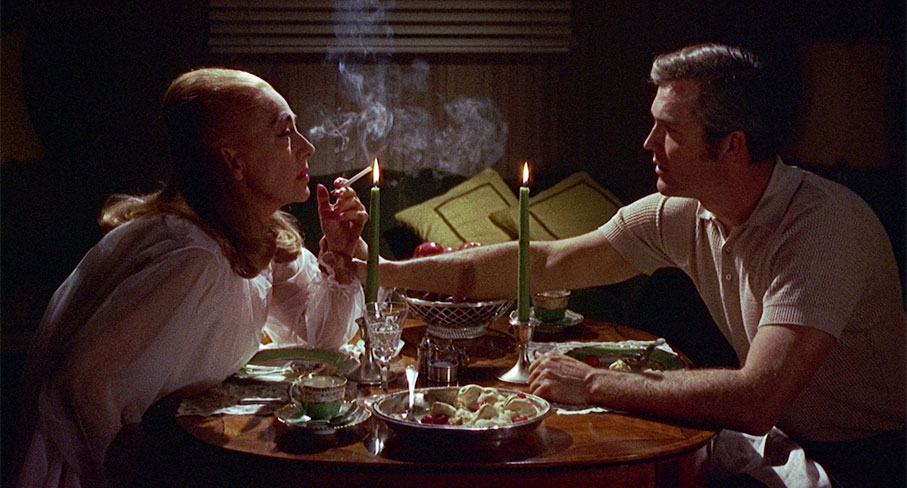 The circus is owned by Monica Rivers and Albert Dorando, middle-aged business partners whose relationship was apparently much closer once but now seems to have fallen on troubled times. Albert is desperate for Monica to buy him out, but this is something she cannot afford to do at the moment, particularly now that they don't have a high-wire act to pull in the crowds. Luckily for them, the very next day a strapping young hunk named Frank Hawkins presents himself to Monica and assures her that he has high-wire act that people will flock to the circus to see. Frank's gimmick is that he walks across the tightrope blindfolded (handy for stunt doubling), without the aid of a pole to steady him and with the safety net replaced by a long board covered with large and upward-pointed knives. Surprisingly (to me at least), his act is a hit, but when Albert has a large metal tent pole hammered through the back of his head by an unseen assailant, the police begin to suspect that Gaspar's death might not have been accidental, and Scotland Yard Detective Superintendent Brooks is assigned to travel with the circus and investigate the killings.
There's some engagingly quirkly stuff at play here. For a start, Frank's not been with the circus long before he successfully worms his way into the considerably older Monica's knickers, and while I personally have no problem at all with their age mismatch, in movies it's almost always an immediate red flag, a sign of trouble to come for either party or a reason to point a finger of suspicion at the male half of the duo. The same rules rarely apply if a young woman falls for an older man, of course. Ah, the wonderful world of gender inequality. In the spirit of this, we're quietly encouraged to wonder whether Frank is simply gold-digging for a share of the circus profits or whether he is the mysterious killer. After all, he did arrive at the circus with the requisite skills to replace Gaspar the very day after his spectacular demise, and the suspicious (or perhaps that should be jealous) Arthur was secretly following him just before he was killed. And where exactly was Frankie-boy when that happened?
The show itself boasts a colourful collection of performers of the sort that we've come to expect from circus-based films, but are all given dialogue and screen time here, including dwarf clown Bruno (who's never seen in costume), a bearded lady, a strong man who looks like a London builder, and a human skeleton who's not really that skinny. Added to this is a cast that, on paper at least, has the potential to make this one of the classiest circus-based thrillers of its day. You've got Joan Crawford as Monica, Ty Hardin as Frank, Michael Gough as Albert, Philip Madoc as magician Lazlo, Diana Dors as his seductive assistant Matilda, Robert Hardy as Detective Superintendent Brooks, Geoffrey Keen as his boss, Reginald Marsh as Sergeant Hutchins, Judy Geeson as Monica's bubbly daughter Angela, Bryan Pringle as Constable Bradford… Shall I go on?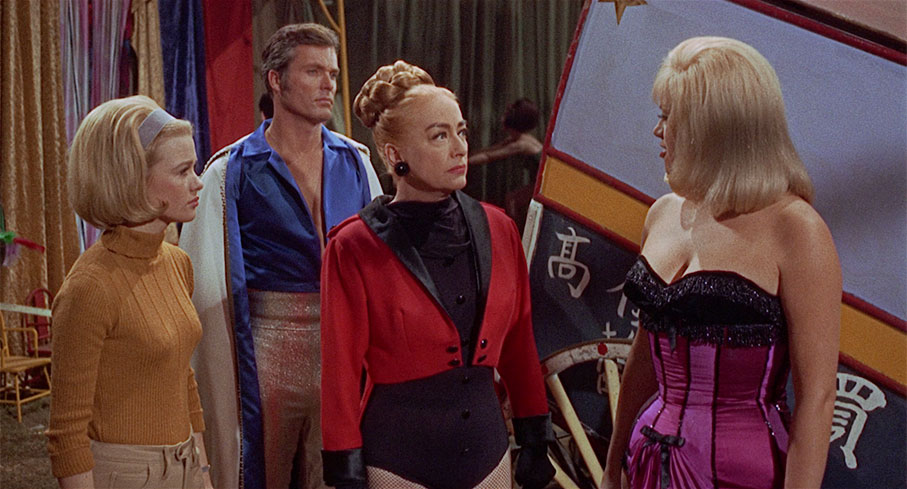 Yet for all its obvious virtues, for me the film as a whole lacks that certain something that makes it deserving of the cult classic label that some have seen fit to apply and which is fast becoming one of modern film appreciation's most liberally coined terms. Then again, ever since Mommie Dearest cemented her status as a gay icon, almost every late-career Joan Crawford movie has developed a cult following of sorts. That said, Crawford is well cast here, rather fetching in her ringmaster's jacket and tights and stern enough when provoked to also cast suspicion on her for the murders, particularly when she starts lying to the police about being the sole owner of the circus. The supporting players aren't always as confident in their roles, with some of the line delivery having that read-it-out feel that suggests the actors in question were not yet comfortable with dialogue they'd been handed only minutes before. The largely functional script by Aben Kandel and producer Herman Cohen (whose previous work – under pseudonyms – includes I Was a Teenage Werewolf and Teenage Frankenstein) lacks spark despite a handful of enjoyably offbeat lines, and I never engaged with the characters enough to give much thought to who the killer was until the film chose to tell me, an interesting reveal that doesn't stand up to any sort of scrutiny and is followed by a punishment that plays suspiciously like divine retribution. It doesn't help, of course, that the narrative is repeatedly put on hold to allow those circus acts to perform at sometimes wearying length, but we're back in personal gripe territory there.
There is still plenty of interest here. The no-nonsense Crawford is consistently enjoyable to watch, Robert Hardy brings a touch of real class to the role of Saville Row suit-wearing Detective Superintendent Brooks (although Jonathan Rigby's observation in the extra features that the role should have been played by Leslie Phillips is absolutely spot-on) and there are some nicely judged turns at the lower end of the supporting cast by a small roster of familiar British faces. Desmond Dickinson's Technicolor cinematography is most attractive when freed from the glare of the Big Top lighting (a shot that pans with a character as he walks and the stops to allow carnival performers to enter the frame in close-up from various directions is an immaculately designed and executed example). That said, a rumour persists that the creative lighting on many of Joan Crawford's close-ups was designed primarily to plunge the star's neck into shadow and hide her wrinkles. Late in the story there's an out-of-nowhere musical performance to camera that is so oddly out-of-place that I was able to shake off my initial disbelief and rather enjoy it, and the scene in which Lazlo performs the age-old trick of sawing a woman in half proves to be a nail-chewing highlight, thanks to Lazlo's decision to break with tradition and use a terrifying-looking industrial circular saw and the very real tension over whether this will result in the horrible death of his assistant. I also can't be the only one who laughed out loud when the diminutive but cheerily self-confident Bruno turns up for his interview with investigating officer Brooks waving a big cigar and cheekily sporting a police constable's helmet.
Another strong 1.85:1 1080p transfer from Indicator sourced from an HD restoration by Sony, with generally sharp detail (a couple of very slightly softer shots pass by almost unnoticed) and a contrast range that nails the black levels but preserves the all of the shadow detail that we were intended to see. While the colour rarely pops, it's still very attractively rendered, though tends to look best in the daylight or the more creatively lit night-time interiors. The usual clean-up has taken place, and while a few dust spots remain they are so small and few in number that you'll hardly be aware of them. A fine film grain is visible throughout.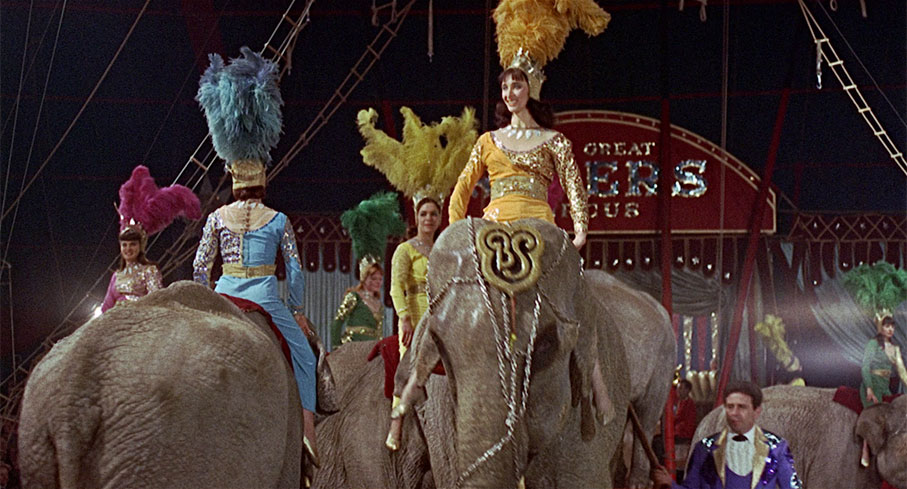 The Linear PCM 1.0 mono soundtrack is also in good shape, with clear rendering of dialogue, music and effects and no fluff or background hiss to contend with.
Optional English subtitles for the deaf and hearing impaired are available.
The NFT Interview with Joan Crawford(13:42)
Another of those archive audio recordings of actors and filmmakers being interviewed at London's National Film Theatre that have been rescued from filed-away obscurity and made available for public consumption by the likes of Indicator, Arrow and the BFI. This audience Q&A with Joan Crawford was recorded way back in August of 1956, and while it does have some inevitable technical issues (the sound quality is far from ideal and the audience questions are sometimes hard to make out), Crawford's responses are always clear, as she cheerfully answers questions about her favourite film roles and leading man, the casting process in her films, her terror of appearing on stage, and more. Being considerably shorter than most extras of this type, it doesn't run under the film as a commentary track in the usual manner, but against a black screen to avoid plasma burn-in.
Audio Commentary with Lee Gambin and Eloise Ross
I had to steel myself in advance of this one, having found Lee Gambin's passionate overuse of the "I love this..." prefix hard work on his commentary for Homicidal in Indicator's first William Castle box set, and here he is joined in this particular verbal tick by his equally enthusiastic fellow writer and film historian Eloise Ross. But in common with that earlier commentary, this one is also packed to the brim with interesting information and opinion, including thoughts and facts on the film, its making, its similarities to other movies, its actors, its plausible feminist subtext and even a real-world bearded lady of note. Unlike me, Gambin and Ross revel in the extended circus act scenes and equate these interruptions to the narrative as akin to the structure a musical, which makes a lot of sense. Well worth a listen.
The Shopgirl's Delight (14:40)
Film critic Pamela Hutchinson provides a succinct and informative overview of Joan Crawford's film career, highlighting key movies in her filmography and the changes of direction it took after her darker, noir-tinged roles of the 1950s. A really useful extra.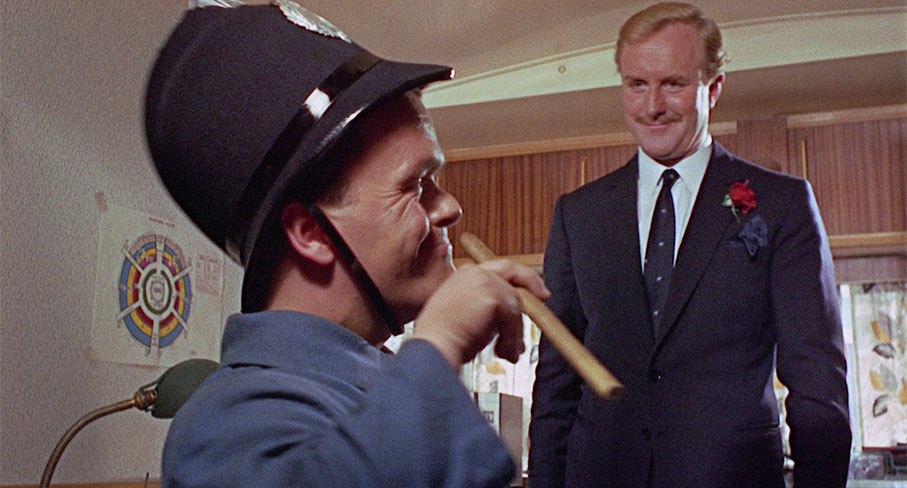 Circus of Blood (31:49)
I always look forward to English Gothic author Jonathan Rigby's entertaining and enlightening assessments, and this one is up to his usual high standards. There's a lot of ground covered here, including lead actor Joan Crawford, producer Herman Cohen and his regular writing partner Aben Kandel, earlier movies based around circus performers, this film's supporting roster of British actors, the role of police investigations in horror movies, and much more. He describes the film as an interesting addition to Crawford's latter-day filmography, but like me is not a fan of its "sheer tonnage" of circus material.
Didier Chatelain on Herman Cohen (13:30)
Didier Chatelain, who was Head of Advertising for producer Herman Cohen, talks about his former employer's early work and his lifelong love of movies, key films in his career, his move to Britain and from black-and-white to colour, and more. He also reveals that Joan Crawford's notorious swan song Trog was "not the major success Warner was hoping for." You surprise me.
In the Ring(14:12)
The film's focus puller (an essential member of any movie's camera crew) Jim Alloway recalls shooting night scenes at Billy Smart's Circus, getting told off by people who should have known better when the fast-moving action on one scene was not pin-sharp because of a little something called motion blur, and the practicalities of filming when you only have a particular actor for just one day. He remembers Joan Crawford being very nice and admits that could see her running a circus – the lions would certainly do what they were told, we are assured.
Tom Baker's Beyond Belief! Introduction (4:57)
The lovely Tom Baker entertainingly hams it up in what I have to presume is an intro for a cult movie season on some TV station or other (I haven't watched live TV for several years), and in the process delivers some interesting info about the making of the film.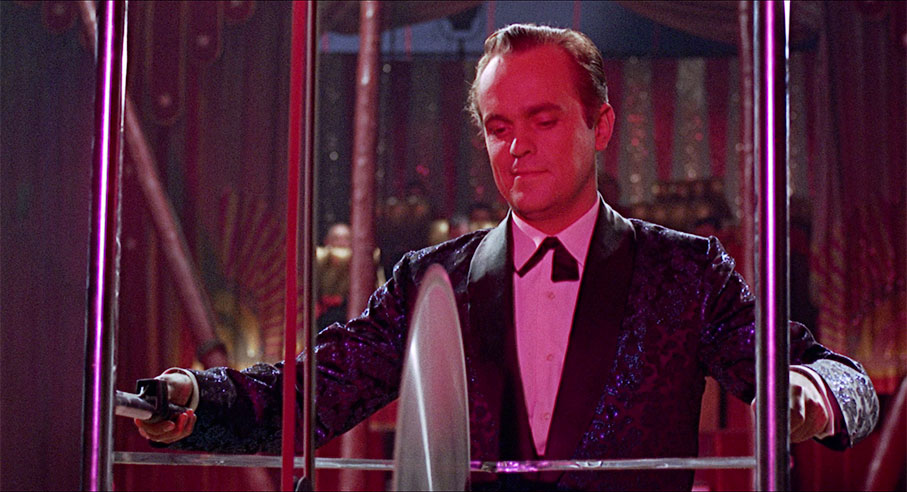 Tom Baker's Beyond Belief! Outtakes (23:43)
What looks like all of the unused raw footage for the above. Should be of interest to anyone who's never had to shoot a sequence with an actor as they intermittently fluff their lines.
Theatrical Trailer (2:24)
An intriguing, 4:3-framed trailer that includes a Yes/No tick-box quiz (good luck filling it in on a cinema screen) designed to "test your shock limit before you enter the theatre!" but from which I daren't quote because it delivers an elephantine collection of spoilers, including one from the climactic scene. I'm guessing this has undergone some repair work by the people at Indicator using material from the restored print of the film – when the narrator speaks, the sound quality is ropey, but it undergoes a considerable improvement when there's only dialogue and music on the soundtrack.
Image Gallery
36 pin-sharp HD screens of promotional material, including stills, plenty of posters and press book pages. It's surprising (well, perhaps not) how many of the photos producer Herman Cohen appears in, and there are several variations of one particular poster where all that changes is the publicity still contained within.
Booklet
Following the full credits for the film, there is a detailed, well-researched and well-argued essay on the film by BFI National Archive curator Josephine Botting, which is followed by a 1994 interview with producer Herman Cohen by Tom Weaver that includes specific focus on Berserk and his work with Joan Crawford. There's an interesting article titled Joan Crawford's Media Circus looking at the news stories that surrounded Crawford during her later movie work, and a welcome piece on Diana Dors, whose role in Berserk came at a pivotal point in her career. Lastly we have extracts from four contemporary reviews, some of which are kinder than others. As ever, the booklet is handsomely illustrated with publicity material for the film.
Berserk (or Berserk!  If you go by the publicity material – the exclamation mark is missing from the in-film title) is one of those luridly-titled genre movies from the 1960s that I tend to enjoy for the all wrong reasons but still find elements to enthusiastically champion. I'm still not sure about this one, however, a film whose qualities I freely acknowledge but didn't always respond to, and its extended circus performance scenes I could happily live without. Crawford is definitely the main draw here, but also there's something to be said for a film that features giallo-esque killings but which pre-dates the heyday of giallo cinema by several years, and there are a sprinkling of pleasures in the supporting cast. Indicator have once again given the film royal treatment, with a typically strong transfer and a fine set of extras, and thus this still comes warmly recommended.