"A bunch a' cousin' counting rednecks with more tattoos
than teeth. There ain't a brain in the whole dozen of 'em
and they're supposed to decide a big thing like this? I
mean shoot! I wouldn't let 'em work on my car."
Sonny Davis (Lonny)
Ten years ago when the suspect pairing of gobby clown Jack Black and indie stalwart Richard Linklater first collaborated, the result was a critical and commercial success, the director's biggest on both counts. Depressingly for diehard fans of the Sundance kid, whose debut Slacker put Austin, Texas on the cinema map and inspired the likes of Kevin Smith to get off his ass and start making movies, this mainstream multiplexer was a million miles away from the caffeinated verbosity, philosophical stumblings and howdy-doody conspiratorial crazies that had thus far defined his devil-may-care brand.
Lacking the valve amps 'n' vinyl autobiographical authenticity of Dazed and Confused (Linklater's first dalliance with crossover success), School of Rock was about as authentically rock 'n' roll as a faux-hawked X-Factor contestant, unmindfully sporting a 'distressed' AC/DC shirt from Topshop and throwing devil horns. At the time, Black was a performer already irritatingly oversaturated and in this instance, ill-advisedly let off the leash. Linklater indulged his star's mugging to the point of excess, Black playing the whole film as if he were the only actor in any of the scenes, and the director's message of sticking it to the man came off as hypocritically muddled, having just sold out to Hollywood for a mortgage payment.
His Bad News Bears remake aside, Linklater has subsequently atoned for this atypical blip, serving up one of only a handful of worthy sequels (Before Sunset); an all-star ensemble, non-fiction adaptation (Fast Food Nation); an animated companion piece (A Scanner Darkly is the spiritual sequel of Waking Life in both form and content) and a lovingly re-created period piece that really did deserve mainstream success (Me & Orson Welles). Faith was well and truly restored, but even ten years later, it wasn't quite enough to make Black seem like anything other than a shaky bet when Linklater announced he was reuniting with his former leading man for his new film.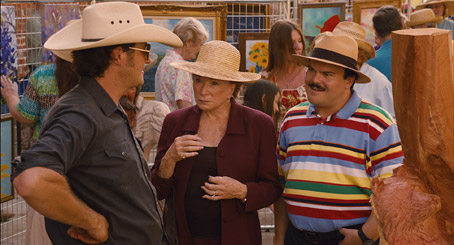 The difference a decade makes. The gap in quality between the two pictures is more of a chasm. This time around, we're gifted with Black's most admirable performance to date, the comic proving he has some serious dramatic chops. Linklater makes Black play every note of his hitherto unknown acting range, as versatile as his singing voice which is showcased throughout. The film feels particularly satisfying following Noah Baumbach's botched efforts to show a more dramatic side of Black a few years ago with Margot at the Wedding, in a part that veered unevenly between the dramatic and the comic, before falling back on a low key variation of his typically buffoonish shtick. For Linklater, the film is encouragingly vital, his best since the daringly experimental phase of his "welcome to the noughties" one-two punch of Tape and Waking Life. It's great to see him once again writing his own material (co-scripted with Texan newspaperman Skip Hollandsworth), branching out with true crime subject matter and putting his patented sociological Texan stamp on film noir, a genre he's never tackled before. Bold and exciting, Bernie harkens back to Linklater's nineties heyday in a way that the likes of Before Sunset and A Scanner Darkly never could, as cynical continuations of themes and modes of presentation previously explored in earlier films.
If any points of comparison can be drawn between Linklater's latest and the rest of his work, Bernie is most reminiscent of Slacker's defining grace notes. Outside of headliners Black, Matthew McConaughey and Shirley MacLaine, Bernie, like Slacker, is mostly comprised of non-professional actors local to the town in which the real-life story takes place. Interviewed on camera, the lure of a big screen close-up has many of Linklater's quotidian participants reveal themselves unconsciously, each more eager than the last to air their views and personal prejudices on the murder that rocked the small town of Carthage, East Texas.
Assistant funeral director Bernie Tiede, is a cherubic, gregarious people pleaser excelling in his profession. Not content with embalming bodies, his work at the funeral home sees him eulogising, providing musical accompaniment, reading scripture at services and ensuring his clients never skimp on selecting a coffin most befitting their dearly departed. In this capacity, his commitment to the people of Carthage extends to regularly checking in on newly bereaved widows soon after the funeral; randomly turning up on doorsteps with bath salts, late night snacks and an ear-to ear sweet-faced smile. Despite grumblings from the more burly locales of his being "light in his loafers," homosexual whisperings are mostly shrugged off as something that just can't be, given Bernie's upstanding reputation as a churchgoing Christian who leads the Gospel choir and also teaches Sunday school.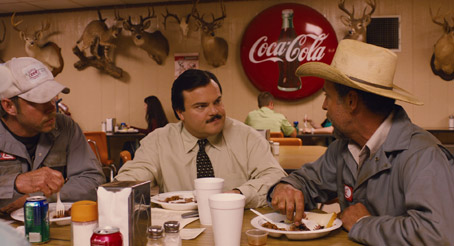 Whatever it is about Bernie's lifestyle people might disapprove of is selectively ignored as something they aren't willing to discuss or accept. All turn a blind eye except self-important DA Danny Buck (McConaughey putting '70s style hair and shades before his abs), never missing an opportunity to publicly condemn Bernie's 'deviance'. Linklater notes in the extras how East Texas as a land that time left behind is "still kind of like that, that was kind of my mother and grandmother's view toward Liberace."
In this way, Bernie is much more a sociological comedy about people believing what they want to believe, than it is a study of what pushed a saintly, overly accommodating man to homicide and the trial that follows. In Carthage, the judgement of small town gossip is more definitive than a court of law and relative to how well liked one is in the community. Bernie captivates the township by giving the resident blue hairs a respect unfamiliar to them even in their prime, and is absolved of criticism altogether. In this staunch Republican, anti-gay environment, it's intriguing to see someone like Bernie thrive as small town celebrity, all the while flaunting his sexuality as the director, choreographer, and lead actor of 'out of the closet' town hall musicals, all of which are met with enthusiasm and applause.
In the eyes of her neighbours, affluent heiress Marjorie Nugent (Shirley MacLaine) is the antithesis of Bernie. She is to Carthage what Mr Burns is to Springfield. Even so, it comes as no surprise when Bernie befriends her, such is his custom given her husband's recent passing. What does surprise – Bernie most of all – is how, somewhere along the line, he becomes her personal assistant and servant in a relationship that sours into poisonous co-dependency. Managing her banking affairs and frequently travelling with Marjorie, communal chatter assumes she's paid him to do so, but Bernie's wealth arrives by proxy; his relationship with Marjorie enables him to shower the townspeople with expensive gifts, continuing to garner their love and acceptance, becoming a gold digger (and then a murderer) almost by accident. Marjorie craves the same love, hoarding Bernie's generosity and making continual demands upon him, taking everything that Bernie gives, knowing full well his eternally forgiving nature will always tolerate her manipulations. As his oppressor, Marjorie is the ruin of a good man. Doing wrong by Bernie does wrong by the town. No doubt Bernie is used and abused by Marjorie, but the way he exploits her money in his pathological pursuit of a whole town's love is equally damning.
If MacLaine's suffocating grouchiness is unaccountably one note, it only serves to emphasise the point of the story Linklater is trying to tell. The way he sees it, it's about what other people were whispering about Bernie and Marjorie rather than exploring whatever the reality was between them. Grapevine conversation from those the case hit closest to home serves as a constant companion to the re-enacted account of what did or didn't happen, insinuators and tattlers alike, scandalously outlandish. Unpredictably eccentric interviewees, every last one of 'em, you'd be forgiven for thinking these hilarious real-life hicks had ambled off the set of a Christopher Guest film. Like the Gen X slackers of Linklater's debut, the small town of Carthage's East Texas is a culture "distinguished by its lack of culture."*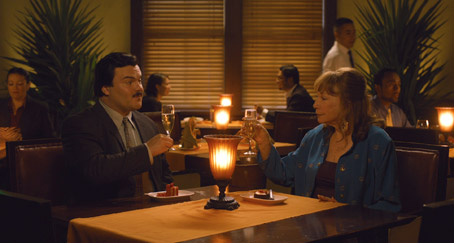 During the trial, McConaughey's DA establishes motive through Bernie's having become accustomed to the finer things in life. Telling the jury of Bernie and Marjorie's vacations and luxury lifestyle, Buck refers to a trip to see Les Misérables in New York, phonetically mispronouncing the title. When Bernie corrects his hick-up, Buck opportunistically leaps on Bernie's knowledge of 'fancy words' to corroborate his theory.
In this moment, we see that Linklater clearly loves these people and where they come from, yet he's also a world traveller whose life experience differs greatly from those here born 'n' raised, and as such he's keenly aware of how ridiculous they must seem to anyone outside the city limits. Having his cake and eating it too, Linklater is a mercurial chronicler of prejudice, his judicious selection of local contributions tending towards the most colloquially colourful outtakes, so as to paradoxically laugh with them and at them simultaneously. More malevolent than the murder at the story's centre, is the glee with which Linklater evokes confessional candour out of gossipy speculators with little or no encouragement. Their responses are a glorious glossary of riotous redneck speak that will leave you amazed. My personal favourite trailer trash put down of Marjorie comes early in the film:
"She'd rip you a brand new, three-bedroom, two-bathroom, double wide asshole no problem".
His film has more idioms than ticks on a coon dog, but to Linklater's credit there's no editorial emphasis from his side of the camera. Nothing in the frame italicises their outrageousness, they simply open their mouths. It's all so droll and deadpan you can barely call it caricature. Sandwiched among the non-actor ensemble, the best is sometime walk-on/background extra, Sonny Davis, who initially auditioned for McConaughey's role as the district attorney. While that audition is sadly not included in the bonus material with devotes a whole segment to the locals' audition tapes, Linklater obviously saw something in Davis and knew enough to simply roll camera and let him go off on in whatever direction he chose. The quote atop this review is a prime example of Davis' way with words, evidenced in his equally hilarious breakdown of the anthropological divides within the lone star state, accompanied by graphic illustration. During his monologue, he goes so far as to describe Linklater's home city as the "People's Republic of Austin, with your hairy-legged women and your liberal fruitcakes." Davis' earnest comedic prattle is deemed funny enough by the director to promote him beyond featured interviewee, even sharing a scene at a diner with McConaughey, and the actor's mother Kay, playing the second most gossipy busybody in Carthage.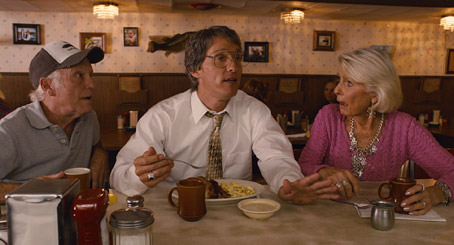 We first meet Bernie lecturing a group of student morticians on the painstaking process of cosmetising a cadaver. "You can not have grief tragically becoming comedy" he solemnly imparts, stressing that the rictused features of the deceased must maintain a look of utter serenity at all times. Flagrantly disobeying this instruction, Linklater doesn't concern himself for one second with respecting the grief of Bernie's actions. In both fact and fiction, he's fashioned a macabre comedy in which a gruesome act of violence provokes an abundance of black humour. Like Carol Morley's sombre Dreams of a Life played for laughs, an old lady is murdered in cold blood, cut up into pieces and stuffed in a freezer for nine months and the only thing more tragic than the nature of her death are the ludicrous details of the crime: the absurd admission that the kill shots were made with the same rifle used for warding off pesky armadillos in the backyard, or the diner waitress' defence of Bernie because he "only shot her four times, not five."
It's to Black's eternal credit that he goes against playing Bernie quite as mannered as the rest of the film, resisting what's expected of him as a performer. With his Village People moustache and trousers hitched up as high as they'll possibly go, Bernie's conspicuous appearance is not only indicative of his 'life of the funeral' exhibitionism, but his what-you-see-is-what-you-get vulnerability. When it's required of him, Black's totally unafraid of playing this neighbourliest neighbour to the nines, but also handles the sinister side of Bernie's obsessive need to please others and be loved in return with creepy unguardedness and physical inference. A chillingly intense moment of despair following Marjorie's murder is a hubristic blend of tragi-comic drama, displaying the full gamut of Black's abilities. Naturally switching from hysterical humour to deep emotional tragedy with effortless confidence, he shows both sides of the coin as honest reflections of the same character, rather than simply attempting to show off his range. One can only hope casting agents will duly take note, and put this one-time ubiquitous irritant in similarly substantial work from now on.
A crisp, richly textured 1.85:1 transfer with a lovely contrast range and an attractively warm colour palette that boasts vivid though never over-saturated primes when required. Research suggests the film was shot on an Arri Alexa, a digital camera designed to deliver a film-like image, and while I'd still suggest the picture here betrays its digital origins, it transfers wonderfully to Blu-ray. As you'd expect, there's not a dust spot or mark to be seen thoughout.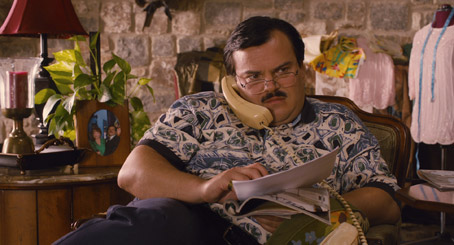 There's a choice between Dolby 2.0 stereo and Doby True-HD 5.1 surround. Although not a soundtrack that makes expansive use of the full sound stage, the 5.1 is still richer and more pleasingly toned than the stereo. This is especially true of the dialogue, but sounds a little tinny on the stereo track when compared to the 5.1. The musical numbers are far superior on the surround track.
True Story to Film (9:27)
Or as it should have been titled, "When Dick Met Skip". Linklater talks about the Texas Monthly Magazine article that sparked his imagination, having read Skip Hollandsworth's report before Bernie had even gone to trial. Linklater later met Hollandsworth at the trial and actually saw Bernie testify. This was the seed of the documentary approach as a lot of the script was informed by dialogue lifted verbatim from the courtroom. The director also talks about casting age problems, with both Black and MacLaine too young for their parts when the film was first conceived, fourteen years prior to the shoot. Even as the film finally rolled into production, MacLaine, was still half a decade too young. Apparently, the film's long gestation period was due to the script being worked on intermittently over the years, "whenever Skip came to town with his paper business." We also get clips of Black, talking about showing a different side of himself to both fans and critics and the actor meeting the real-life Bernie Tiede in jail.
The Gossips (12:59)
I'll guaran-god-damn-tee you'll get some laughs out of this mini doc, focusing on the casting auditions for the non-actor locals, who are quick to point out the folly of hosting a casting session on a Sunday morning in the bible belt, a decision that puts many in "moral dilemma land." Confronted with the guilt of missing church and their selfish desire to be first in line, many take to getting drunk as hell that same night to alleviate the guilt!
Most of the auditions themselves are just locals talking about their lives growing up in a small town, their accents often as bizarre as the things they're saying. Personal highlights include one guy recounting how he met his wife at his grandmother's funeral only to later discover she was his third cousin. Luckily for him the state of Texas says "it doesn't really matter if you're third cousins." There's also the director of the town's funeral home, talking about how he's buried people with their favourite beer, a can of coke or the TV remote without even batting an eyelid. I guess you can't keep a good redneck down, even in death.
Amazing Grace (7:16)
Black talks about the character and how no two days on the set were ever the same thanks to the ever changing demands of the role. Others chime in on his performance with warranted back-slapping, well-chosen clips from the film really supporting their comments, making you understand the star's versatility in the role with greater appreciation. His director summarises what he's achieved in this film and Black in general as "an actor first, who happens to be really funny." As dedicated to his role as Bernie is to Carthage, we see footage from musical rehearsals Black insisted be four hours long in order to get the song and dance sequences just right. His choreographers offer high praise, saying in another era he would have been a great star of musical theatre.
Deleted Scenes (10:44)
All the scenes included here are well worth your time, most of them serving to heighten the mystique and suspicion around Bernie. As well as an extended opening scene and various funeral sermons, we also get more of Buck purporting his theory of Bernie as a serial gold digger. Most curious among them is a scene of Marjorie appearing as a jailhouse ghost, silently accusing her killer from inside his cell, adding gothic dread to the film's mood board. Of course there were also a lot of laughs left on the cutting room floor, and it's not just Black. A local defends the rumours of Bernie's homosexuality by pointing out that Jesus never married and wore sandals. As, for the twelve disciples, "they were life long bachelors, not exactly a bunch of queers." The biggest guffaw is a scene that really should have stayed in. Bernie does his regular obituary spot on the local radio show, giving a high flatulent but heartfelt meditation on the "bony fingered beckoning of death" and the certainly of oblivion, only to have the DJ follow his off the cuff lyricism with a dry reading of the Carthage elementary school menu: "chicken-fried chicken, baked beans 'slaw with Mayo, 2% milk and peach cobbler."
Trailers for upcoming Millennium releases are also included on the disc's front end, including Rodrigo Cortés unappreciated paranormal thriller, Red Lights.
Like its central character, Bernie is larger than life. Linklater's best film in years is a wholly successful blend of sociological docu-comedy, banality of evil mood piece, courtroom procedural, and twisted Texan noir that's directed with supreme confidence and observational insight. Bernie himself is a mysteriously overzealous comic creation for the ages, and Jack Black's tonal tightrope act, which never once falters, is a revelation. Black needs to aspire to more of the same from now on.
---
* Rumsey Taylor, Not Coming to a Theater Near You