The Appointment begins with a voiceover narration and an opening sequence where a young schoolgirl (Auriol Goldingham, her film debut – she continues acting to this day), principal violinist in the orchestra of her well-heeled Oxfordshire girls' school, takes a shortcut through some woods and is never seen again – snatched (as we know but no one else does) by some mysterious dark force. Three years later, fourteen-year-old Joanne (Samantha Weysom) is the current first violinist and is about to get her heart broken because her father Ian (Edward Woodward) can't make her big  concert due to having to be away for work at short notice. Meanwhile, her mother Dianna (Jane Merrow) thinks that Joanne's relationship to Ian is not healthy and that Joanne lives in a "dangerous world of make-believe". However, Ian's work trip goes ahead, but not without some troubling dreams the night before. Or are they only dreams?
Maybe just because I'm getting old, but it's within many people's lifetimes, mine included, the only way the great majority of people could watch a film at home was on television, on one of just three channels in the UK between BBC2's launch in 1964 and Channel 4's in 1982. Unless you were one of the few people who collected film prints (35mm, 16mm or the 8mm cut-down versions which occasionally turn up as disc extras nowadays), you watched a film in a cinema or on television or not at all. And if for whatever reason cinema distributors didn't pick up a film, you had no way to see it unless a television company bought the rights. Video tape recording had been around since the 1960s, and home recordings have been a source of television programmes now lost. However, such machines were expensive and were usually rich men's toys. Then things changed in the late 1970s with the introduction of the video cassette recorder and the VHS tape, along with its short-lived competitor format Betamax. Not only was the means of recording a programme and watching it at another more convenient time within many people's grasp, distributors saw the new format as a means to release a wider range of films which weren't deemed commercially viable in a cinema (not likely to earn back the costs of striking prints and marketing) but could make a quick few quid if you rented it and watched it on a rainy day or an evening after work. Over time, films began to be made with the expectation that they would go straight to video, and others were made directly for the tape market. (The first of those was Tangiers, from 1982, directed by Michael E. Briant, the only exception to his prolific career working in television.)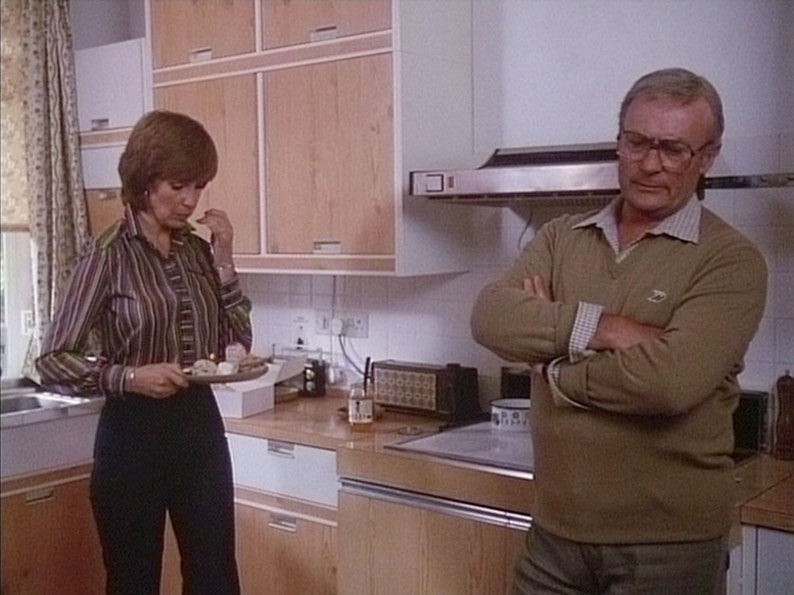 No doubt there are many films which should have had cinema releases but didn't, for all sorts of reasons: often bad luck, or being the right film at the wrong time. Even appearing on several best-of-year lists didn't prevent Cameron Crowe's directing debut Say Anything… (1989) going straight to VHS in the UK. Eric Red's Cohen and Tate (also 1989) made such an impression on its tape release that a short cinema run followed. No doubt there are other examples, and The Appointment was one of them. A horror film with a small cast – Edward Woodward, in the lead role, being the biggest name – it was a first feature for its writer/director, Lindsey C. Vickers. He had worked as an assistant director from the late 1960s and through the 1970s. Viewers might have seen his first film as a director, the half-hour short The Lake (of which more below) which had supported The Silent Partner (1979) on its UK cinema release. But, other than a few festival showings, The Appointment failed to achieve cinema distribution, a fate shared by pretty much every other British horror film of the time, as between Xtro in 1982 and Hellraiser in 1987, none of them saw the light of a projector lamp with a paying audience in their own country. Vickers did not direct another dramatic film, feature or short.
However, those who did rent out The Appointment did take note, and word spread and people sought the film out while it was available on VHS (and pre-Video Recordings Act VHS at that). Some more caught the film on its UK television broadcast, on ITV in the London area on 29 April 1994*, a Friday night. Original film materials have became lost and despite extensive searches have not been located. But now The Appointment is on disc.
Despite the star name in the cast, and a second lead (Jane Merrow) with a long career behind her (one still ongoing as I write), it's easy to see why The Appointment may have been overlooked when being considered for UK distribution in the early 1980s. It's a horror film, but other than its three-years-earlier prologue (added by Vickers on advice that television networks needed a "hook" opening to avoid people changing channels) it's a slow-burner, with unease building up to a tense finale. There's almost no on-screen gore, and that unease is achieved through editing and the use of sound. While the commentary track makes comparisons with The Exorcist and Carrie – both films which centre their psychic disturbance on a pubescent or pre-pubescent girl and deal heavily with parent/daughter relationships – I was also reminded of Don't Look Now, particularly as the lead role is a man unable to come to terms with that psychic disturbance and clueless as to where it comes from and how to deal with it. He's clearly out of his depth, and it's the worse for him that he is. There are also hints that he is troubled by an inappropriate attraction to his own daughter. Also Roeg-like is the editing, sometimes cross-cutting across time as well as space, and dreams which appear to be premonitions or maybe flashforwards.
There's a fine line between slow-burning and over-extended, and I'm not sure that The Appointment is on the right side of it, particularly in its middle section with Ian and Dianna sharing the same dream. The film captures well its Home Counties (Thame, Oxfordshire, as specified early on) milieu, with Ian, Dianna and Joanne a model middle-class nuclear family (of the parents, he works, she doesn't outside the house) of the time the film was made. Period technology too: the plot partly relies on there being such things as public coin-operated call boxes which occasionally don't work properly. The film was not made in the studio: the family house was a real one, and there is location work in North Wales as well. In a small cast (seven credited), Woodward and Merrow give fine performances. Samantha Weysom's performance is a little awkward in her line-readings, but she does manage to be suitably unnerving in her time on screen. (Contrary to what is claimed, this wasn't her debut, as she can be seen as a much younger child in A Touch of Class (1973) and The Ritz (1976) amongst others. Her last credit on the IMDB dates from 1991.)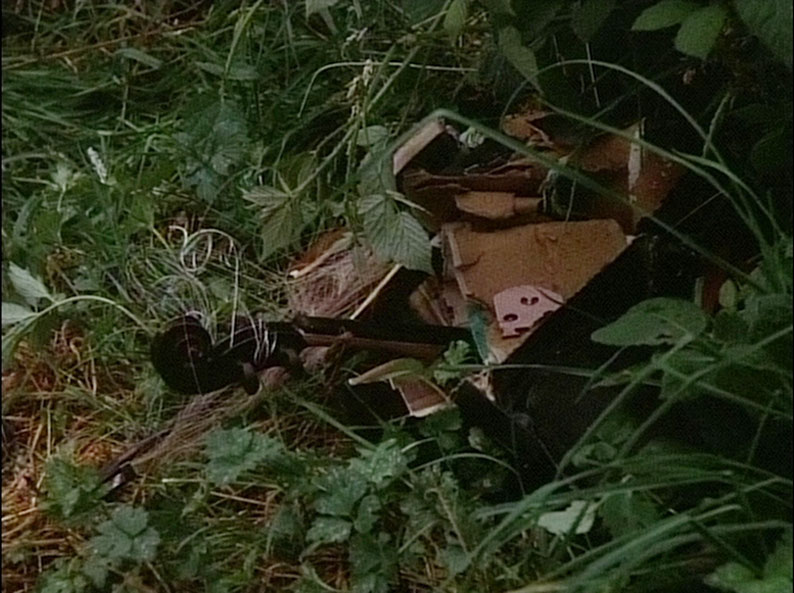 One danger with a film that has been unavailable for a long time is that it doesn't live up to your anticipation, or your memories if you had been able to see the film previously. Although The Appointment is overlong – and you feel it might have made a better mid-length film than a feature – the ending is worth staying for. Once again BFI Flipside have rescued a worthy if neglected film and made it available again.
The Appointment is number 44 in the BFI's Flipside line and comprises a Blu-ray encoded for Region B only. The film doesn't appear to have been submitted to the BBFC before now (its video release was before the Video Recordings Act) and it has a 15 certificate. The Lake was a AA certificate (fourteen and over) in the cinema and is now a 15 as well. The Lake, its stills gallery and the Julie Peasgood interview all previously featured on the 2020 BFI release Short Sharp Shocks, though the commentary on the short film is new.
The Blu-ray transfer is in the ratio of 1.33:1 which the booklet notes describe as the original aspect ratio. Original as in the sense that the film was clearly shot open-matte and that's the ratio you would have seen it in on video and television. However, if it had had a cinema release it would have been shown in a wider ratio and shots are clearly framed with enough headroom to allow that. (For what it's worth, and the site is not to be taken as authoritative on aspect ratios, but the Internet Movie Database gives the ratio, at the time of writing, as 1.85:1.) That said, given Vickers's involvement with this release, no doubt the full-frame presentation is authorised.
The Appointment was shot on 35mm film, but sadly the original materials have been lost. If they still exist, they have not been found and the best which could be found is a one-inch broadcast master tape. This is presented on this disc upscaled to 1080p at twenty-four frames per second. (The tape release and TV broadcast would have been subject to PAL speed-up.) No one could say that this looks anywhere near as good as a transfer from a 35mm original, even a cinema print, let alone an internegative, positive or camera negative, but it looks as good as it no doubt could, which is fine enough – better than it would have done on tape.
The soundtrack is the original mono, presented as LPCM 2.0, which is certainly better than it would have sounded via television speakers forty years ago. The music score seems quite full-bodied, and dialogue and sound effects are well-balanced. English subtitles are available for the hard-of-hearing, and I didn't spot any errors.
Audio commentary
Recorded in 2022, this track is a conversation between Lindsey C. Vickers and the BFI's Vic Pratt. It's a warm and friendly conversation about a film Pratt clearly admires and of which its writer/director is obviously proud, with few pauses. Vickers has a few understandable memory lapses – after more than forty years, after all – but imparts quite a lot of detail on the film and its making and its influences (more Stephen King than classic supernatural fiction, he says), and his aims while making it, even pointing out one shot that he wishes he could redo.  Inevitably this overlaps with some of the other extras – including the other commentary track (see below) – but it's a commentary certainly worth your time.
Vickers on Vickers (41:27)
In which Lindsey Vickers gives us his life story, told to an offscreen Vic Pratt (who helps out with a few memory lapses). Vickers was born in 1940 and soon found two ways of escaping grey and miserable 1950s Britain: comics (particularly The Eagle), which had an influence on his later filmmaking, and the cinema, which gave him an urge to work in the industry. This began with a job at the BBC and a BFI Training Course. An unfinished short documentary on the nearby town of  Richmond led to work on documentaries and on feature films as a third or second assistant director (always uncredited), gaining some grounding in horror by working on Hammer films. He began as a director on commercials before making The Lake. He also talks about his relationship with Ken Julian, the executive producer of The Appointment, who had a falling out with the producer, Tom Sachs, resulting in the latter's firing and the loss of his friendship with Vickers, who had worked with him for many years as a fellow assistant director. Vickers is a fluent speaker and this is an engaging listen.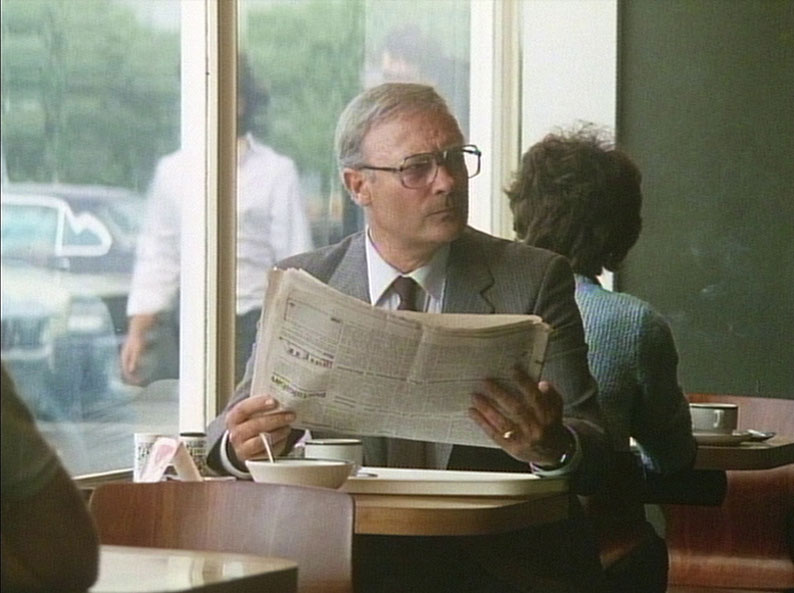 Another Outing (16:27)
Jane Merrow is interviewed about her life and career. She gained television roles soon after graduating from RADA, her first role being broadcast live. She continued to work steadily throughout the Sixties, and had a high-profile role opposite Katharine Hepburn in The Lion in Winter. It was while on location in Australia (she doesn't name the film, but it was the 1971 US/Australian coproduction Adam's Woman, starring Beau Bridges) that she met her husband. She spent time in the USA, though being English and largely associated with period pieces didn't help her career, and she worked extensively on television, including playing Julia in the 1965 adaptation of Nineteen Eighty-Four. She was attracted to The Appointment because of the script and the opportunity to work with Edward Woodward. She happened to be in the UK and available, so took the job.
Appointments Shared (6:31)
Vickers is joined by his wife Jan. They met when he was working on Taste the Blood of Dracula and she worked for a company supplying wigs to the film industry. One day, she had to go to set to sort out a problem with Christopher Lee's Dracula wig, and if someone else from the company had gone in her place, they'd never have met. She also tells about how they sat down in 1994 to watch the television broadcast of The Appointment, only for a power cut to intervene.
Framing The Appointment (18:37)
Lindsey Vickers goes through his box file of on-location photographs and other memorabilia of The Appointment, and talks about the making of the opening and closing sequences (spoilers, inevitably). The prologue was improvised quickly after Vickers was told of the need of a "hook" opening sequence. The finale was technically complex, involving more than one camera, and with Edward Woodward actually inside the car for much of it. And there is also a tribute to Condor the dog.
Remembering The Appointment (10:07)
Assistant director Gregory Dark shares his memories of The Appointment. He particularly talks about the shooting of the final sequence, on a busy road in North Wales which had to be closed for the filming, with heavy rain putting the schedule out. Woodward's wife, Michele Dotrice, visited the production during this time.
The Lake with optional commentary (33:07)
Barbara (Julie Peasgood) and Tony (Gene Foad), a young couple, and their Rottweiler Condor (played by his movie-veteran self, having appeared in The Omen two years earlier), go for a picnic in the countryside. Given that they are in the grounds of a large house where a tragedy occurred years earlier, this might not be a good idea.
The Lake is reprised from the BFI's release Short Sharp Shocks, appropriately as Vickers made it – for much of it, using 35mm short ends – as a calling card. He did indeed go on to make a feature, but unlike The Appointment, The Lake did have a cinema release. With hindsight, you can see some tropes common to both: cars as instruments of malevolent forces, for one. Condor the dog also features in The Appointment and was something of a film industry veteran, having previously appeared in The Omen. The Lake is a classic-style ghost story with two contemporary young leads, with hints of strangeness building slowly to a chilling finale. You might have needed the ninety or so minutes of the main feature to shake it off.
The commentary track is new to this release. It is along similar lines to the Appointment track, a discussion between Lindsey Vickers and Vic Pratt, which does inevitably overlap with the other commentary, even down to some of the same questions being asked.
Splashing Around (17:52)
This featurette is also reprised from Short Sharp Shocks. Julie Peasgood begins by saying she originally wanted to be like her mother, who really did run away to join the circus, becoming a tightrope walker and juggler, before Julie and her three siblings came along. Julie trained as a dancer and broke into acting with her first role being the lead in one episode of the anthology series Seven Faces of Woman (1974, best known for its title song, Charles Aznavour's "She", which became a UK number one hit single). She talks about her acting career, much of it on British television. She also discusses The Lake on which she had a good experience, with a small crew and a cast of one other human and a dog. As a slow-burn (and non-bloody) horror film, she says it works very well, which it does. She also talks about how Vincent Price (with whom she worked on House of the Long Shadows (1983), who passed on his recipe for chicken and fifty cloves of garlic. She continues to act as of the shooting of this interview, but combines it with travel writing.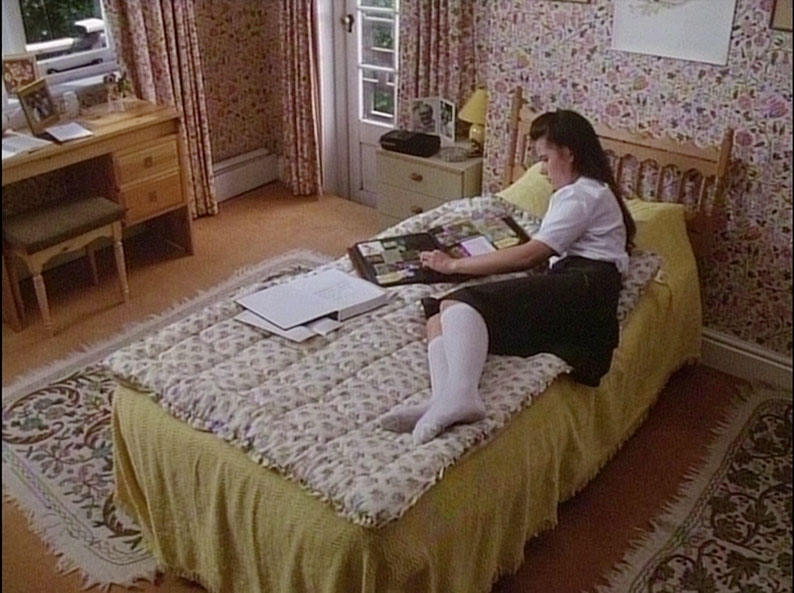 Galleries and shooting scripts
Separate self-navigating galleries for The Appointment (16:18) and The Lake (1:06), the latter also reprised from Short Sharp Shocks. The gallery for The Lake is a set of production stills with text captions, but the one for The Appointment has an enormous amount of memorabilia, not just production stills but also newspaper cuttings on the production (some of them from the Daily Mail and the Daily Express on fourteen-year-old Samantha Weysom – I'll leave you to imagine the tone of those), production reports and reviews in Screen International and others, plus advertising and finally the cover of the video release. The scripts are available both in pristine versions and with Vickers's annotations. Incidentally, Jane Merrow's character's name is spelled Diana in the script but is Dianna onscreen.
Booklet
The BFI's booklet, available in the first pressing only, runs to thirty-two pages. It begins with a short message from Lindsey Vickers and continues with an essay by Vic Pratt. Inevitably this is largely nostalgic, with Pratt remembering watching The Appointment on a rented videotape in the summer of 1983. He also saw the television broadcast (though without a power cut). He details how he had been after the film for the Flipside line for some years, and an extensive hunt for materials (other than elderly VHS and Betamax tapes) finally led to the one-inch tape master used for this release. He also talks about Vickers's use of sound and the deliberately slow rhythm of the film.
"Not Fade Away" by Pratt's Flipside colleague William Fowler, talks about the early years of home rental video, a boom period where many companies' back catalogues found new commercial life and rental shops were found on every high street. The Appointment was released at the end of 1982, before the video nasty moral panic began, about a year later, which resulted in the Video Recordings Act in 1984, and the industry changed as a result.
Lindsey Vickers next provides a small autobiographical piece, detailing his career from its beginnings to the point where in the late 1980s he left the industry and entered a design and print franchise, before retiring in 1996. This is followed by biographies by Jon Dear of Jane Merrow and Edward Woodward, full film credits, notes on the extras and on the transfer (given this film's circumstances, unsurprisingly more detailed than usual), plus stills.
The Appointment is a film which flew under a lot of people's radars at the time, bypassing cinemas for the new medium of home video, but which made an impression on the people who saw it either on tape or on its one television broadcast. The BFI's edition presents the film as well as it possibly can, given the loss of any original materials to master it from.
---