Back in the late 1980s, there was a small cycle of films summed up as "yuppie punishment". You may need to be of a certain age to remember the term "yuppie", but just in case, it stood for "young upwardly-mobile professional". Sometimes said yuppie had a distinct dark side, such as Christian Bale's Patrick Bateman in American Psycho. Otherwise, you'd set up a character to have the stuffing knocked out of him (almost always a him), hopefully so that he can find a better self. See for example Jeff Daniels's character in Something Wild, whose self-realisation comes about via his encounters with characters played by Melanie Griffith and (in a career-making turn) Ray Liotta. Now, three decades on, it's as if those yuppies have had children who need to be punished in their turn. Case in point, All My Friends Hate Me. The yuppie as such no longer exists, but the sense of entitlement, the sense of (possibly) unearned privilege, the, in a word, poshness, is still with us.
All My Friends Hate Me, written by Tom Palmer and Tom Stourton, directed by Andrew Gaynord, is a black comedy, sharply written and strongly acted, if at times so black that it's not always as funny as it might have been, sometimes a horror film with the horror being the disintegration of someone's self. It's Pete's (Stourton) thirty-first birthday and some of his old University friends have invited him to a party at Archie's (Graham Dickson) family country estate. Pete is living with Sonia (Charly Cave) and is thinking of proposing to her. However, also present is Claire (Antonia Clarke), Pete's ex, who still has feelings from him and with at least one breakdown in the past. And also there is Harry (Dustin Demri-Burns) , a local not connected to the group, whom Pete, and we, soon find disconcerting.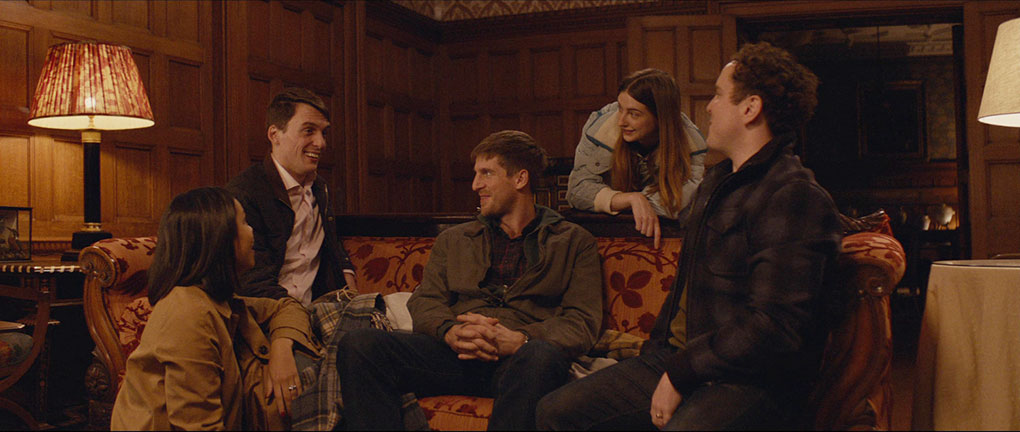 The film trades heavily on awkwardness and embarrassment, some of which based in the class distinctions between the character, with northerner Sonia observing the group from outside. It culminates in a strange play put on by the others, including a fake version of Pete, possibly as a kind of roast...or is it?
All My Friends Hate Me is a singular film, even if none, or almost none, of the characters are especially likeable. How well it will stand up to repeat viewings is another question (it stood up to two for me, for the purposes of this review). If anything, it falls a little flat at the very end: you're expecting a zinger to finish the film and you don't get one. This is a feature film debut for director Gaynord, though he's worked extensively in short films and television, including in the latter capacity the TV series Stath Gets Flats, which featured Tom Stourton and Dustin Demri-Burns. It's also a debut feature for writers Palmer and Stourton. The former is also an actor but he remains behind the camera here. There's certainly plenty here to make you look forward to what they might do next.
All My Friends Hate Me is a dual-format release from the BFI. A checkdisc of the Blu-ray version was received for review, so my comments refer to that. The Blu-ray is all-regions. The DVD is PAL so will have speed-up, running about 90 minutes instead of 94. All My Friends Hate Me has a 15 certificate.
The film was digitally captured on the Arri Alexa Mini, and is transferred to Blu-ray in an unusually precise aspect ratio of 2.37:1. There's not a great deal to say about this, as a production which was fully digital from production to projection, as you'd expect it looks pristine, and other than the difference in screen size what you'd expect to see in a 2K DCP cinema showing. Many of the deep-focused interiors have a brownish cast, but that's not unheard-of for digital, and no doubt intentional.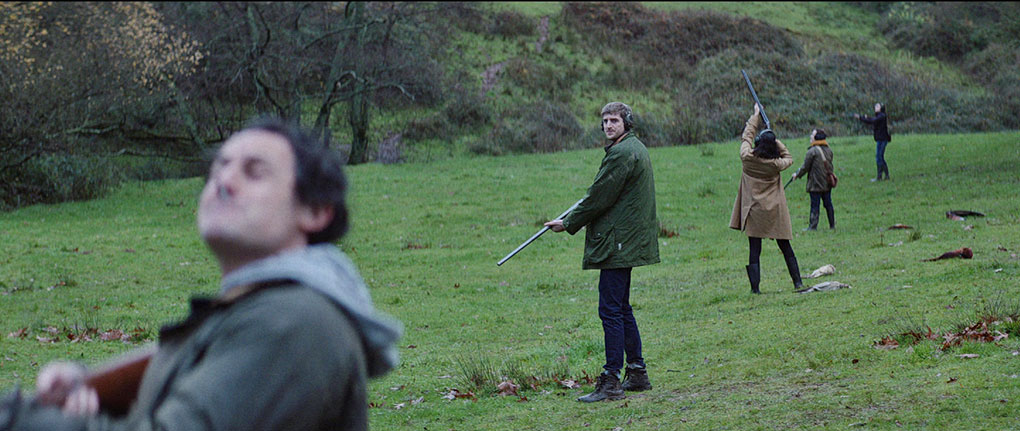 The soundtrack is available in both DTS-HD MA 5.1 and DTS-HD MA 2.0, the latter like the former playing in surround. There's next to no difference between them as this is a fairly dialogue-driven film with the surround mainly being used for music and ambience. There is also a 2.0 audio-descriptive track. English subtitles are available for the hard-of-hearing and I didn't spot any errors. Unusually, there are subtitles on not just the main feature but on all the extras other than the commentary.
Commentary with Tom Palmer, Tom Stourton and Andrew Gaynord
Specially recorded for this release, the co-writer, co-writer/star and director of the film talk about the results. There's a lot of shared laughter, but there is information worth having. They mention the amount of improvisation Dustin Demri-Burns went in for, not that he'll watch any film he appears in. His duck was originally a lamb, but lambs were out of season. Gaynord also talks about some editing choices: for example, the opening which intercuts between Pete in his car and an earlier conversation with Sonia, was originally two separate scenes.
All My Friends Hate Me Q&A (25:33)
Following its showing at the London Film Festival, writers Tom Palmer and Tom Stourton did a Q&A with critic Leigh Singer. They describe some of the film's influences, including a couple of Scandinavian ones: Ruben Östlund's Force Majeure and Thomas Vinterberg's Festen, with a subversion of upper-crust comedies like Four Weddings and a Funeral...if the characters in that did coke and went around shooting peasants.
Deleted scenes
Two deleted scenes, with a Play All option. Well, two amended scenes rather than actually deleted ones, a bedtime conversation between Pete and Sonia (3:09) and part of the film's climactic scene (3:25) which among other things has less strong language than the final version.
The Soho Diaries (3:39)
From the same team as the main feature, a short film from 2013, a valentine to the once-bohemian, now increasingly gentrified part of central London, The film is shot in rather bleached-out black and white in a ratio of 2.35:1, and in an idiosyncratic touch begins and ends with the leader flashing past.
All My Friends Hate Me press junket goes wrong (2:52)
American comedian Chris Bliss interviews Tom Stourton and Antonia Clarke and doesn't seem too clued-up, which I presume is deliberate. The result is amusing but one-watch only.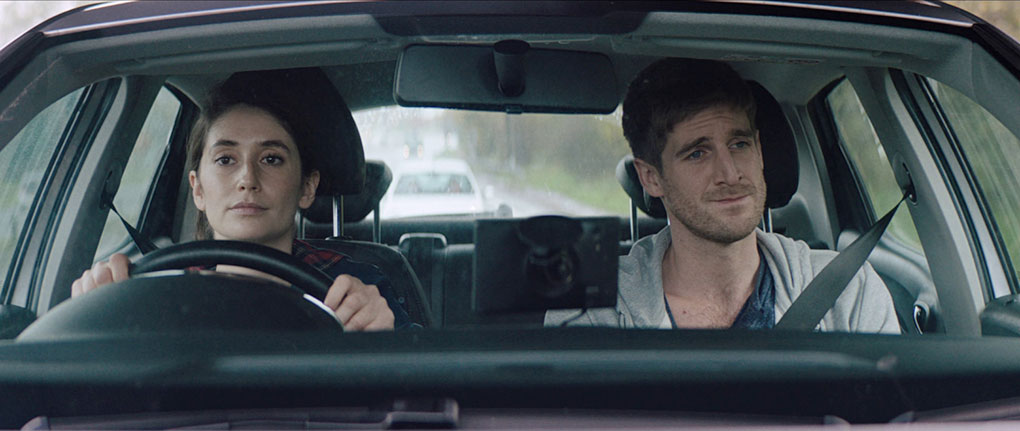 Trailer (2:10)
A short trailer which aims to sell the film as a comedy rather than something darker.
Galleries
There are three, which appear as galleries on the Blu-ray and PDF downloads on the DVD. The first is an early version (2018) of the script, a single storyboard and the production notes.
Booklet
The booklet, available with the first pressing only, runs to thirty-two pages and has a spoiler warning. It begins with a statement by the two writers, which describes the film's inspiration and its making, including the experience of doing Q&As in twenty-one different British cinemas. It's clear that different people read the film differently. This is followed by a very short (three-paragraph) statement by Andrew Haynord.
Next up is "A Short History of Comedy-Horror" by Johnny Mains, which does begin with a brief discussion of the film in hand before delving into history. Comedy-horror has been around since the start of cinema, with Mains citing films by Georges Méliès before moving on to James Whale and Bob Hope, Abbott and Costello and Roger Corman and from there to the present day.
"'Life is Too Short to Care About Anything'" by Paul Ridd is an overview of the film, detailing how its set-up (old friends reuniting) may resemble the likes of Peter's Friends and The Big Chill, but soon deviates from it and brings in elements of class, wealth and privilege that generally remain implicit in most of the oeuvre of Richard Curtis. The booklet concludes with a page of Archie's posh glossary, film credits and notes and credits on the extras.
While the two writers and the director have had experience in film and television before, this is a debut cinema feature for all of them. It's a sharp black comedy, which leans more towards the black than the comedy. While not always likeable, it does show enough talent for us to look forward to what the team will do next. It's well-served on this dual-format BFI release.