As Jeremy Renner joined principle cast and crew members on stage to celebrate The Hurt Locker's deserved win for best picture at this year's Academy Awards, it was clear to me and the rest of the world watching, that 2010 would be his year. Already a recognizable face in many high profile independent productions, the crossover success of The Hurt Locker on March 7th catapulted him overnight into the next phase of his career. As the gold was hoisted, mainstream acceptance beckoned and a star was born.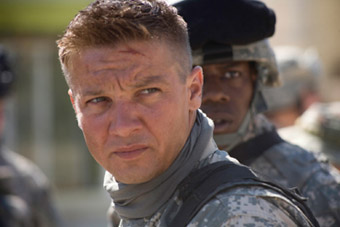 Such is the meteoric rate of Renner's ascent, that days after this interview was conducted, he'd flown from Italy to San Diego to make a surprise appearance at Comic Con's Marvel Studios presentation, where both he and Mark Ruffalo were announced as the latest additions to the cast of Joss Whedon's, fanboy-wet dream-blockbuster, The Avengers, playing Hawkeye and The Hulk respectively. I did quiz Renner about this in our interview, as the rumour had long been doing the rounds before he was officially announced, and unsurprisingly, he was suitably diplomatic. Yet, it's what he didn't say along with a barely contained smile that let me know ahead of time that Marvel had indeed found their Hawkeye.
I've long been a fan of Renner and Ruffalo since the likes of North Country and You Can Count on Me, so their involvement alone ensures I'll be getting in line with the comic book loving hoards opening weekend, but I'm unsure what to make of it all and how I feel about it. Between this and the talk of Renner signing up for Peter Berg's Battleship (yes, now that they're starting to run dry on remakes, reboots, sequels and old cartoons, they're bringing beloved board games to the big screen!), my immediate concern was that he'd now left the independent world, and the days of him taking on risqué material like Dahmer, The Heart is Deceitful Above All Things and 12 and Holding were behind him for good. Too many times to count have great actors been tainted with an excess of awards and critical recognition, after which the quality of their work and the interest curve of their careers takes a sharp nose dive -- Peter Sarsgaard, I'm looking at you, tread carefully! Very rare is it for actors at that level to have their cake and eat it too, without selling out for the big bucks. I have to believe that Renner won't be the latest thrust-into-the-spotlight casualty.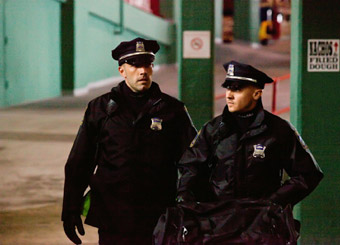 I was relieved, when meeting him in person, just how squarely he had his head on his shoulders. His excitement for what the future may bring tempered by a humility that indicates he's not about to forget where he came from. On the immediate horizon is Ben Affleck's second film in the director's chair, The Town, (no UK release date set as yet) which seems much more in keeping with Renner's work of a few years ago. Following Gone Baby Gone, the trailer for Affleck's latest indicates much in the same vein; an authentically urban, crime thriller with a moral quandary at its centre. I for one can't wait, not least because Renner's appearances in the trailer point to some of the film's more explosive moments. He may be on the rise, but the quality of his work as an actor looks to be as hard-hitting as ever. Can he straddle that line between brainless popcorn fare and the accolades of the art house? My feeling is, he'll prove me right and continue to mix it up between the two worlds. Also nominated for best actor at the Academy Awards but denied the win, you can be rest assured Renner's got a score to settle with Oscar, which guarantees he's not done challenging himself just yet.
---
Exclusive interview with Jeremy Renner, conducted at the
2010 Ischia Global Film & Music Festival by Timothy E. RAW.
If you are unable to play the video click here.
My thanks to Jeremy's publicist, Susan Patricola for setting up the interview.