Many will know the title Something Wild from the Jonathan Demme comedy-drama from 1986. It starred Jeff Daniels and Melanie Griffith, but is primarily remembered for showcasing the talents of a young Ray Liotta, whose film career the film really got off the ground.
Less widely seen is the film of the same title made in 1961 by director Jack Garfein. If the name's not familiar then that's hardly surprising – in the course of his career, he directed only two feature films and a couple of TV titles between 1954 and 1961.
A survivor of Auschwitz who moved to America at the end of the Second World War, he began his career as a theatre director on Broadway with End as a Man starring the splendid Ben Gazzara, who also starred in Garfein's 1957 debut feature The Strange One, an esemble pice set in a military academy that ran foul of the censor for the daring of its themes and specific scenes.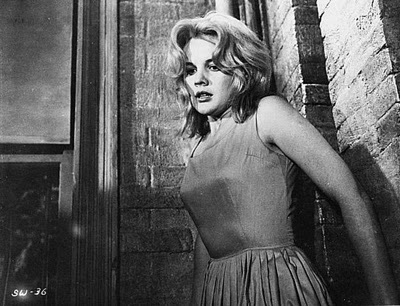 In 1961 he directed his second and final dramatic feature in the shape of Something Wild, which has recently been rediscovered and is screening tomorrow night at 6.20pm at the BFI Southbank. In the programme for the screening, Clyde Jeavons has this to say about the film:
'Something Wild was the second of only two controversial films directed by Actors Studio alumnus Jack Garfein, who married its Method-trained star Carroll Baker. Far ahead of its time thematically, the movie has Baker as a rape victim who is saved from suicide, but then held captive by a creepy young mechanic (Ralph Meeker, another Studio member). Brilliantly shot in New York locations, and with a score by Aaron Copland, the film fully justifies its newborn status as a cult rediscovery.'
The film was previously screened at the BFI two years ago at the 2012 London Film Festival, which was attended by its director, Jack Garfein. Our eagle-eyed reviewer and interviewer Timothy E. RAW was covering the festival for us that year, and managed to secure an interview with the charismatic Garfein and talk to him about his career and the recently revived Something Wild. It's an interview we've been sitting of for two years now, but with the film being screened tomorrow night it seemed the perfect time to share it, and hopefully generate some renewed interest in this too often forgotten film.
As ever, the interview has been shot and uploaded at 1080p and can be viewed full screen once the video is playing.