At final count, two-hundred and thirty-six titles were eligible for my complete roster of film viewing in 2011, a combination of UK/US release dates as well as premieres at this year's Raindance & London Film Festival, many of which will be taking a nationwide bow in the coming months.
An ardent effort was made, but as always there were plenty of misses (at least fifty!) that I'll now be doing my best to catch up with on Blu-ray and DVD as we go into 2012. On that shameful list of oversights, it is the absence of one film in particular which really rankles me, a vacancy so keenly felt that any one of the films currently making up my top ten might as well be bumped down a spot in place of the gnawing, empty void where Kenneth Lonergan's Margaret ought to be sitting.
Music lovers often talk about the agonizing lengthy wait between albums from their favorite artists. The longest I've ever counted down the days was the six-year gap between Fiona Apple's breakthrough sophomore album and its follow-up, but ordinarily such extended waiting periods are rare. Even the most painstaking songwriters usually require no more than three or four years to put out that next record. Film it seems can be so much crueler in this regard, and taking eleven years to follow through on your debut must surely be something of a Guinness world record. Writer/director Lonergan's Oscar nominated debut You Can Count on Me from 2000 is arguably my favorite film of all time (which also launched one of my favorites actors Mark Ruffalo), yet as the years mounted, repeat viewings proved bittersweet as it began to feel more and more as though this timeless classic about a brother and sisters' differing expectations of one another might serve as noted playwright and script doctor Lonergan's sole directorial contribution.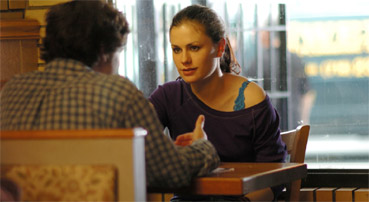 So anxious was I about the never-ending shuffle of release dates over the last decade, probably having checked the film's IMDB message boards more times than Mark Zuckerburg was left clicking refresh at the end of The Social Network, that I've even had dreams in which Margaret languished on the proverbial shelf forever and Lonergan, so appalled by his experience making the film was dissuaded from ever stepping behind the camera again...
...Which is not so far removed from the nightmarish reality. Using his Oscar nomination to secure final cut, Lonergan wrapped shooting in 2005, but his story of a Manhattanite too privileged for ethics and who extradites herself from dealing with the consequences of the tragic bus accident she caused, has spent the last six years trapped in the editing room, mired by lawsuits from the film's producers when the director failed to meet sixteen deadline extensions and deliver a finished film. With time and money running out, the moneymen then began suing each other in a farcical game of blame-shifting. Lonergan went through no less than six editors as if he were megalomaniacal producer Scott Rudin, chewing up and spitting out personal assistants, in one instance banning editors Anne McCabe and Michael Fay from coming anywhere near the film when they secretly dared assemble a finished version behind his back while he was on holiday. Such endless tweaking drove producer Gary Gilbert and distributor Fox Searchlight (the indie division of 20th Century Fox) to extremes, bringing in longtime Martin Scorsese editor Thelma Schoonmaker to complete a 150-minute cut of the film. Lonergan refusing to approve anything under three hours was enough to bring Scorsese himself into the editing room (he was an executive producer on You Can Count on Me and Lonergan was one of the writers of Gangs of New York) to convince the enraged filmmaker of the appropriate course of action. Finally, the approved, albeit it "compromised cut" rolled out in the US last September with no fanfare or publicity and what's more, no screenings for critics. Despite the presence of Matt Damon and a pre-Tru Blood Anna Paquin in the lead roles, it was obvious Fox Searchlight were out to purposely bury Lonergan and his film as an act of recompense for all the trouble caused and money spent. Maybe that dream I had was actually a premonition. Whether he wants to ever make another film again or not, Longeran's future career may very well depend upon the outcome of his lawsuit for breach of contract, which will be hashed out in court next year. Maybe it won't be as much a matter of Lonergan turning his back on Hollywood as his name being black-listed in the community.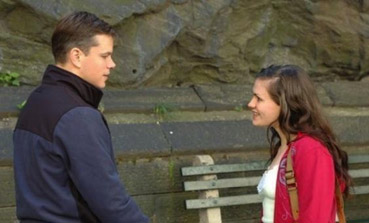 An even worse fate befell the film upon its pathetic-excuse-for-a-theatrical-release in the UK, when out of nowhere a date of December 2nd surfaced on its IMDB page only two weeks prior. A quick call to Fox revealed that just as in the US, there would be no screenings for critics. Not that it mattered, come hell or high-water, I'd be down there opening night at the one cinema across all of London screening the film and could hardly contain my excitement. The wait was finally over! Only when I got there, I discovered it was being shown in the cinema's worst screen with terrible sound and to add insult to injury they wanted me to pay twelve pounds for the privilege. These are, of course, financially troubled times – never mind principles, I simply couldn't afford it. So close and yet so far, I figured that if I was going to willingly rip myself off and see something I'd been waiting over a decade for under substandard conditions, I'd get more satisfaction from inviting an unknowing but appreciative friend, who in years to come could boast of having seen this film on its original release and with whom I could speak about the day with the same reverence festival goers talk of you-had-to-be-there performances in packed tents by bands destined for the main stage. And so I resolved to come back the next day and properly mark the occasion by blowing an unassuming friend's mind—and perhaps more pointedly, given my giddy sense that Christmas had in fact come early, provide a witness who could prove I hadn't dreamt the whole thing up.
And whadda y'know? The next day I get sick. Not just dose up and wear another couple of layers sick, but full-blown flu – temperature skyrocketing up and down, steaming hot baths feeling like ice-water – I couldn't even roll out of bed. In a panic, I spent more than double the amount of that pricey ticket on heavy-duty medication, but I couldn't shake it. After ten days bed bound, Margaret's theatrical life had already ended days before.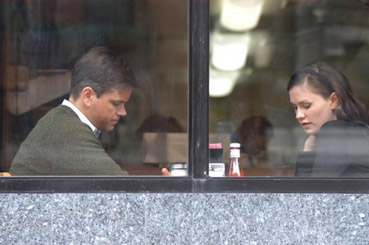 How does this happen? Especially when one considers the talent involved. Weeks of Alvin and the Chipmunks at cinemas across the country and Matt Damon gets relegated to a dingy basement on Patton St? I can only feel better about this by refusing to include it amongst this year's releases, given that so few people saw it. Yet some were lucky enough, and whilst collectively acknowledging its many structural flaws, tonal lurches and under-developed, left-hanging story threads in a final edit sorely lacking in finesse, the film has still managed to crack a fair few top ten lists this year. LA Weekly's Karina Longworth best summarized the consensus, calling it "a remarkable mess." The finished article might be as maddening as the lead character's narrow-mindedness, but despite these defects, by all accounts it's a scathing ode to the city in which it's set, an incredibly acted, powerful piece that stays with you. Those most vocal of critics went so far as instigating the best use of twitter ever and in unison, under the hashtag #teammargaret, railled enough support to convince Fox Searchlight to send out screeners to members of the Academy. While the film's chances of Oscar recognition are too little too late, the movement has helped build the profile of a film that surely deserved more. For those reading who've never heard of Margaret until now, you can rest easy with the knowledge that it'll probably find its way to video just as unceremoniously in a matter of months – as a final twist of the knife it wouldn't surprise me if it was even deemed unworthy of a Blu-ray release.
As for me? It's now 2012 and still no Margaret. After eleven years, what's a few more months? There's always next year's top ten, right?
---