On my third day of the festival (actually the fourth day, but I was tied up with work and home cinema system wiring on the third), I once again was only able to catch two films, the second of which was not the one I had initially planned to see but which makes an interesting companion to the first, Both are essentially stories about the immigrant experience, but while the first is a documentary portrait of an individual driven from his homeland and his difficult journey to a safer and better life, the second is a dramedy focussed on the successful daughter of immigrant parents who is offered the chance to rediscover her cultural roots.
Amin is an adult Afghan refugee who now lives in Denmark, having been forced to escape his home country as a child following the rise of the Taliban, whose soldiers quickly began taking violent action against those they regarded as non-believers. Complicating matters further is that Amin is gay, and in the Afghanistan of his youth the official position was that homosexuality simply did not exist, and no word for homosexual existed in the language of the day. With his father arrested and one of his brothers already forcibly conscripted into the army to fight the Mujahidin (his eldest brother fled to Sweden years earlier to avoid being similarly drafted), Amin, his mother, and his two sisters flee their homeland. When Russia is the only country that will grant them a visa, they end up in post-communist Moscow at the height of food shortages and police corruption, but even more difficult times lay ahead.
Flee tells the sometimes traumatic story of Amin's long and arduous journey to Denmark and his present relationship with his Danish boyfriend, Kasper. It's built around interviews with Amin conducted by director Jonas Poher Rasmussen, whose approach is established at the start by a medium close-up of Amin being positioned in frame for the interview. Here we're not shown the real Amin but an animated interpretation of him, which has been synced to the soundtrack of what was doubtless originally shot as live action footage. The logic of this decision soon become clear, as not only does it allow Rasmussen to put a face to the voice whilst disguising Amin's true identity – the reasons for which become increasingly apparent at the film progresses – but also to recreate his memories in pictorial form, which would be impractical (and frankly less effective) to stage as live action. It's an approach that recalls the 2008 Waltz with Bashir, in which director Ari Folman used this same technique to dig into his damaged memories of participating in the 1982 invasion of Lebanon. That Rasmussen has effectively borrowed from Forman's film should not take anything away from his own remarkable work, as this proves to be the perfect medium with which to tell Amin's story, only occasionally giving way to live-action news footage inserts to ground Amin's recollections in cold reality and at one point soberly illustrate the horrible conditions in which Amin and other refugees were forced to live.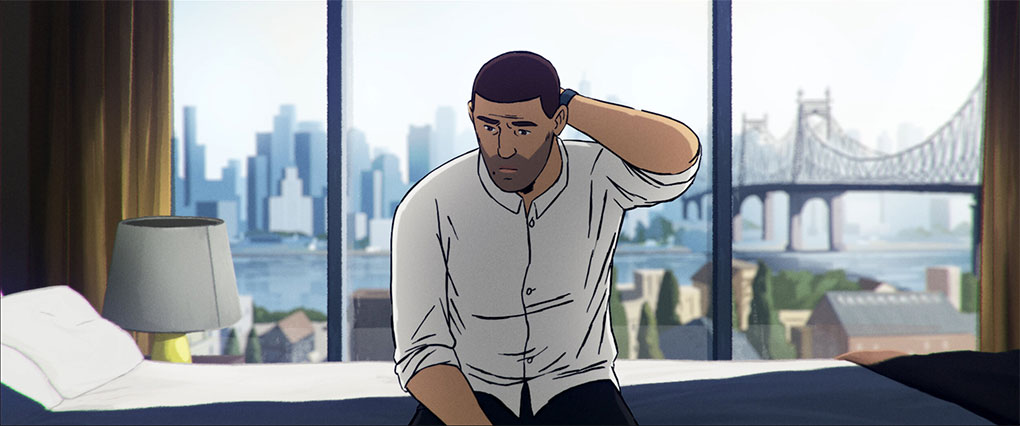 As Amin's increasingly troubling back story unfolds, we're subtly clued in to the fact that he has flourished since he reached Denmark,. As he prepares to go house hunting with Kasper, for example, he worries about how he is going to tell his partner that he will soon be returning to Princetown University in America for four months, where his former professor wants him to do a doctorate. Such casually dropped information about Amin's more recent past is never really expanded upon, the nearest being a late-film admission from him that he has always put education and career before relationships. How he ended up at a prestige university on the far side of the Atlantic and even what he studied is something I'd have been happy to see Rasmussen expand on a little. That said, you can also argue that all the film requires in order to tell this particular story is the fact that Amin's impending departure has the potential to threaten the stability and happiness that he fought so long and hard to find.
The animation has that slightly stepped flow that is common in Japanese anime, the result of animating at a time-saving lower frame rate, but the artwork is so attractively and expressively drawn and so evocative of the location and story, that this always feels like a deliberate artistic decision. Particularly impressive are the flashbacks within flashbacks, where the colour drains and the crispness of the artwork takes on a more hand-drawn feel, while the transition between the two styles is sometimes inspired. It's a compellingly told and deeply moving story, and while it does include a twist that will doubtless provoke the ire of the anti-immigrant crowd, a willingness to understand and appreciate its full implications are, I would suggest, the very things that separate empathetic humanitarians from intolerant bigots. At a time when our monstrous excuse for a home secretary – herself the daughter of parents who emigrated from Uganda just a few years before they would have been expelled from the country by dictator Idi Amin – is proposing to imprison anyone seen even assisting a refugee, this film's reminder of the desperate and life-threatening circumstances that drive people to abandon their homes and their country of birth, and what they have to go through in order to find safe haven, couldn't be more timely.

Flee will be screening at the following times, dates and venues:
20:40 on Friday 15 October at BFI Southbank in NFT1
21:00 Friday 15 October on BFI Player, available for 24 hours only
11:15 on Saturday 16 October at Curzon Soho Cinema, Screen 3 (all tickets sold at time of writing)
15:00 on Sunday 17 October at Curzon Mayfair, Screen 1
Sarah Obeng (Nana Mensah), the daughter of Ghanaian immigrants, has done rather well for herself in America. A PhD research science student at Columbia University, she has been having an long-standing affair with married colleague Lyle (Adam Leon), and is planning to follow him to Ohio in six weeks when he moves there to start a prestigious new job. Then one evening she gets a call informing her that her mother, whom she spoke to only that morning, has unexpectedly died, and that she has inherited both her Bronx house and the Christian bookshop that she founded and ran.
Even before she gets the bad news, the likelihood that Sarah and this bookshop would be ill-matched is economically sketched by her quiet impatience at the comically lengthy prayer of thanks to the Lord that her overly religious Auntie Christie (Christie Mensah) says over a simple bowl of soup. A further surprise awaits her in the shape of the store's only employee, Pitt (Meeko Gattuso), a former convict whose multiple face tattoos alarm all who encounter him for the first time but who appears to be beloved by the store's non-judgemental regulars. Sarah's estranged father (Oberon K.A. Adjepong) also shows up to attend the funeral, and over the course of his stay reminds her why the two haven't seen each other for years by repeatedly bellowing for help with the TV remote control, waking her in the night with his excited shouts at televised football matches, and bringing a female friend back to the house for you-know-what while Sarah is out.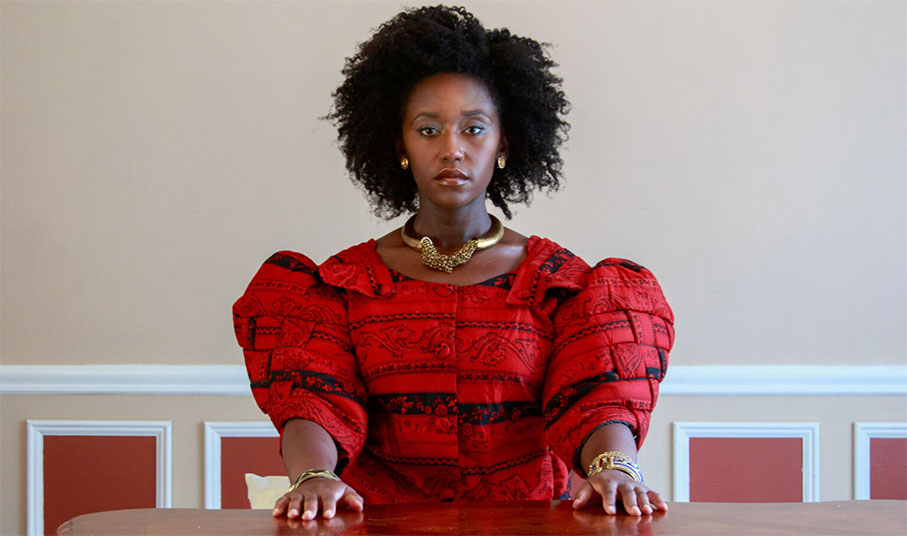 In terms of how the story plays out, there aren't too many surprises here, and you'd have to be new to film drama not to predict at an early stage how things will ultimately work out for Sarah and the shop she initially plans to sell, none of which seriously impacts on what is still an engaging journey. Having become fully acclimated into the society in which she was raised, Sarah no longer feels a strong connection to the cultural roots that still define the older generation of her family, and the likelihood that she will rediscover them is there from the moment she first learns that she has inherited the bookshop. I'll freely admit that as someone with little time for religion, this is an aspect of the film I was apprehensive about, to the point where I had initially excluded Queen of Glory from my LFF watchlist. I ended up seeing it because circumstances prevented me from seeing the film that was screening immediately before it and I'm happy that I did, as what Sarah discovers about herself through the bookshop, its sole employee, and her energetic Russian-American neighbour Tanya (Anya Migdal) has less to do with religion than community and culture. Pitt in particular seems designed to confront and confound expectations and prejudices, having the look of a jailhouse gang leader but revealed to be a genuinely good-hearted man who would do anything for Sarah's mother, a woman who gave him the second chance that his appearance would elsewhere have denied him. That he is also a talented baker of cookies and treats is a nice touch that further humanises him and is later followed through on – only in the cannabis-laced biscuits that he makes and that Sarah initially steers clear of does he come close to conforming to (film) type. That said, this does lead to a before/after edit gag so perfect in its shot choice, its timing and its use of music (props to first-time feature editor Cooper Troxell here) that I almost choked on my coffee through laughing.
I'm not in a position to comment on the authenticity of the film's presentation of the immigrant experience, but it certainly feels more grounded than the American cinematic norm, and on this score I defer to Ghanaian-American writer, Lovia Gyarke, who in her review in the Hollywood Reporter draws on her own experience to confirm the spot-on accuracy of this aspect of the film. As well as doing such a fine job in the lead role, Nana Mensah also makes her debut here as a feature writer and director and does a solid job of both, shining brightest in her attention to detail and the casting and handling of the supporting roles. Meeko Gattuso (credited here only as Meeko) is a definite highlight as Pitt, his imposing appearance and raspy voice nicely countered by his genuine kindness and decency, while Anya Migdal sidesteps the standard Russian-American clichés (including the Bond villain accent) as Tanya to act as a commanding ringmaster to a family that rarely pauses for breath. But perhaps my favourite supporting character is a street vendor (I wish I could tell you the actor's name but I've been unable to identify him) who sells what are likely bootleg DVDs to anyone within earshot, a man whose consistently upbeat and inventive sales patter never failed to put a smile on my face.

Queen of Glory will be screening at the following times, dates and venues:
21:00 on Saturday 09 October at Curzon Soho Cinema, Screen 1
14:00 on Sunday 10 October 2021 on BFI Player, available for 24 hours only
15:00 on Sunday 10 October 2021 at ODEON Luxe West End, Screen 1