It all began, as so much seems to these days, with a comment on Twitter. David Lynch, who seems to tweet less and less these days (you've got to love the man), posted his first message in a month:

Three days later, clarification came with a second tweet that included a YouTube link to a simple but still oddly seductive teaser and the following announcement:
The groundbreaking television phenomenon, Golden Globe® and Peabody Award-winner TWIN PEAKS will return as a new limited series on SHOWTIME in 2016. Series creators and executive producers David Lynch and Mark Frost will write and produce all nine episodes of the limited series, and Lynch will direct every episode. Set in the present day, TWIN PEAKS will continue the lore of the original series, providing long-awaited answers and a satisfying conclusion for the series' passionate fan base.
The response was immediate, an almighty HOLY CRAP! from Twin Peaks fans across the globe. I'll freely admit that I was one of those who leapt from his seat so sharply that I almost triggered an attack of vertigo. This was big news, and for me at least was impeccably timed. Having just made my way through every episode and extra feature on the Twin Peaks – The Entire Mystery Blu-ray box set, I had seriously recharged my enthusiasm for the series.
But here's the thing. It's been 23 years since the series was cancelled, and history has shown us that reviving once-loved TV shows at a later date is not always a good thing (I'm not going to start a flame war by naming names). The cast have all moved on and it seems unlikely all would be willing or even able to return, which will mean either dropping characters or recasting them. This would doubtless provoke the ire of series fans. I, for one, was never that happy with the recasting of the role of Donna Heywood in Twin Peaks: Fire Walk With Me. There's absolutely nothing wrong with Moira Kelly's performance, it's just that Lara Flynn Boyle had made the role her own and having another actress in the role proved strangely distracting.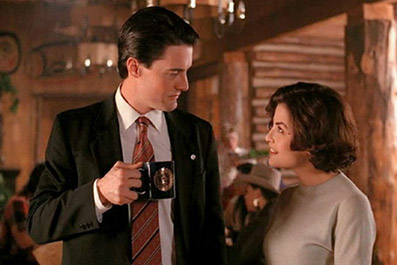 Then again, who knows? It has been confirmed, after all, that the entire nine-part series will be written by Twin Peaks creators Mark Frost and David Lynch and that Lynch will be directing every episode. For me this is probably the most exciting part of the announcement. Lynch has effectively retired from narrative filmmaking to concentrate on sculpture, painting, music and promoting the benefits of transcendental meditation, and I had genuinely resigned myself to the idea that he would never make another dramatic feature. It saddened me greatly, not just because I rate him so highly as a filmmaker, but also because there really is no-one else around who is making films like David Lynch.
Mark Frost has more than once complained that Twin Peaks is widely regarded as a David Lynch creation when in fact it was very much a collaborative effort between the two, and in the later days of the series Lynch was busy elsewhere and it was largely Frost who was guiding it forward. Lynch himself in the extra features on the Blu-ray set makes a point of stating that the series was at least fifty per cent Frost's work. But watching the whole two series again on Blu-ray, one thing that really struck me is that, with only a couple of exceptions, the episodes directed by Lynch definitely stand out as the strongest. Where the other directors would move swiftly from scene to scene, Lynch would pause to dwell on what might otherwise seem inconsequential details, often to memorably comic or disquieting effect (watch the very first episode of season two and the elongated exchange between the doddery room service attendant and the seriously injured Dale Cooper – it seems to last for ages and goes absolutely nowhere, but is one of the second series' most memorable scenes). The Lynch directed episodes have a more palpable sense of menace and dread, and his knack for camera placement and his seemingly intuitive feel for sound and music resulted in entire scenes that really did feel as if they had been pulled from our darkest dreams.
Which brings me back to the cast. Whilst there is no guarantee that even the majority of those whom Frost and Lynch would like to have on board would be prepared to return and revive their roles, there have been a couple of encouraging signs to that effect. The first can be found on two of the Blu-ray box set extra features, where Lynch sits down for coffee with a few of the key actors and they all share their memories of making the show. For everyone it was clearly a hugely positive experience – all seem to have adored working with Lynch and a number of them, Kyle McLachlan included, state openly that they wish he had directed more episodes. Even more intriguing is the moment when they express the hope that Lynch would one day direct them again. Sitting right here was a clue that I failed to interpret, as far from shrugging this off, Lynch reciprocates in kind. At the time I thought he was simply being polite, but now it looks very much like he already knew that a Twin Peaks revival was a distinct possibility.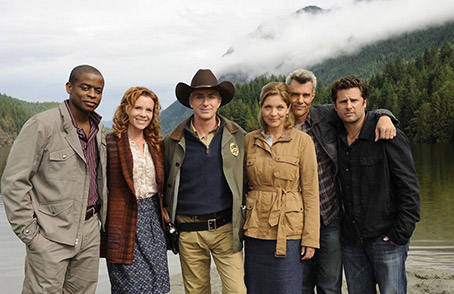 But there's more. Fans of the psychic detective comedy drama Psych will doubtless be familiar with the delicious 2010 Twin Peaks homage episode titled Dual Spires. This was littered with series references (and I do mean littered – according to the Psych website there are 724 references in the final scene alone) and had a supporting cast peppered with Twin Peaks actors, including Sherilyn Fenn, Sheryl Lee, Dana Ashbrook, Robyn Lively, Lenny von Dohlen and Ray Wise. There's even a cameo by Catherine Coulson as a comical carbon copy of her role as the Log Lady, or the Wood Woman as she has been renamed here. That so many of the actors were willing to participate in what was effectively devoted fans' homage (both director Matt Shakman and lead actor and episode co-writer writer James Roday are both self-confessed Twin Peaks obsessives) is indicative of the affection they still have for the series, something confirmed in the behind-the-scenes featurette you'll find on the DVD box set in which this episode sits (that's season 5 if you've not caught it yet).
None of which means that the revival will necessarily deliver all the audience may be hoping for. There was certainly some frustration on the original airing that season 2 ended on such a "what the fuck?" note, and in a manner that was clearly setting us up for a third series that by then we were aware was never going to happen. Hopes that Fire Walk With Me would clear up the mysteries were dashed when Lynch instead chose to explore the dark days leading up to the murder that drove the narrative of the series. The Showtime announcement makes some bold promises, notably that the revival will provide "long-awaited answers and a satisfying conclusion for the series' passionate fan base." I can't be the only one who wonders if the good people responsible for that statement have written it in the hope that it will happen rather than with any degree of certainty. After all, given that Lynch is not exactly known for delivering what the audience or even those who hired him expect (let's remember that the first cut of Mulholland Drive was originally a pilot for a series that commissioning network ABC chose never to air), and that premium American cable channels tend to give filmmakers more freedom to experiment and flex their creative muscles, it's just possible that Showtime might just have bitten off more than they can chew.
Either way, I look forward to 2016 when the series is due to be screened. Whether it will answer all of the questions left open by the series' cancellation is anybody's guess (and there were, by then, a lot of unanswered questions), and whether it does indeed reach the "satisfying conclusion" promised by the Showtime press release will doubtless be very much in the eye of the beholder. But the prospect of revisiting this uniquely enthralling place in televisual history, and particularly of seeing Lynch return to the drama director's chair after being convinced for so long that it would never happen, is enough to get me just a little excited. As the strange young boy (played by Lynch's son Austin Jack) says with a loud flick of his fingers early in season 2 of the original series, "Some time things happen just like that."
In case you missed it, here's the teaser: